This make-ahead banana pudding yogurt parfait is a quick and easy breakfast recipe that's perfect for those days you need to grab and go! Layers of yogurt, bananas, pecans, and vanilla cookies turn this simple morning meal into a treat.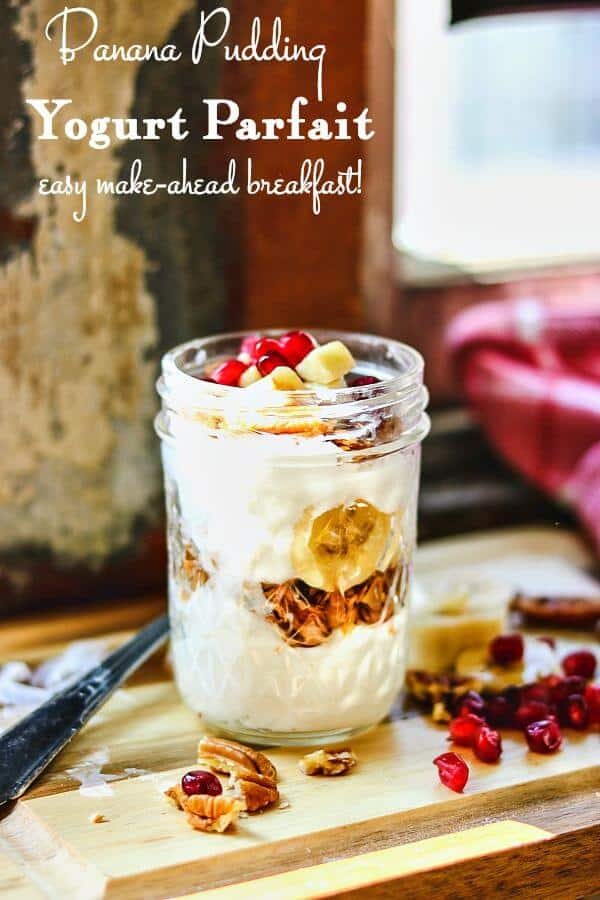 For this recipe you'll need: bananas, vanilla greek yogurt, chopped pecans, vanilla wafers, orange juice, optional pomegranate seeds for garnish
Yogurt Parfait Peer Pressure
Believe it or not yogurt wasn't really a thing in the early 1960s. Our moms sleepily poured cereal in a bowl, topped it with milk, and sat across from us drinking instant coffee with bleary eyed boredom while we read the back of the cereal box and shoveled in something sugary.
This was quality time with mom back before Pinterest.
Yogurt was hippy food right along with homemade whole grain breads and organic produce. Somewhere in that tumultuous time a company decided that yogurt shouldn't just be hippy food so they began to market it to middle America and by 1980 if you didn't eat yogurt you just weren't cool -- or healthy.
My parents, who used organic gardening methods before they were cool, jumped on the yogurt wagon pretty early on. I think it was because Mom no longer had to actually pour cereal and milk into a bowl - she could motion sleepily to the refrigerator and I could get my container of yogurt and a spoon by myself.
Now, of course, we've embraced the yogurt revolution and most people can't imagine it not being a part of their lives.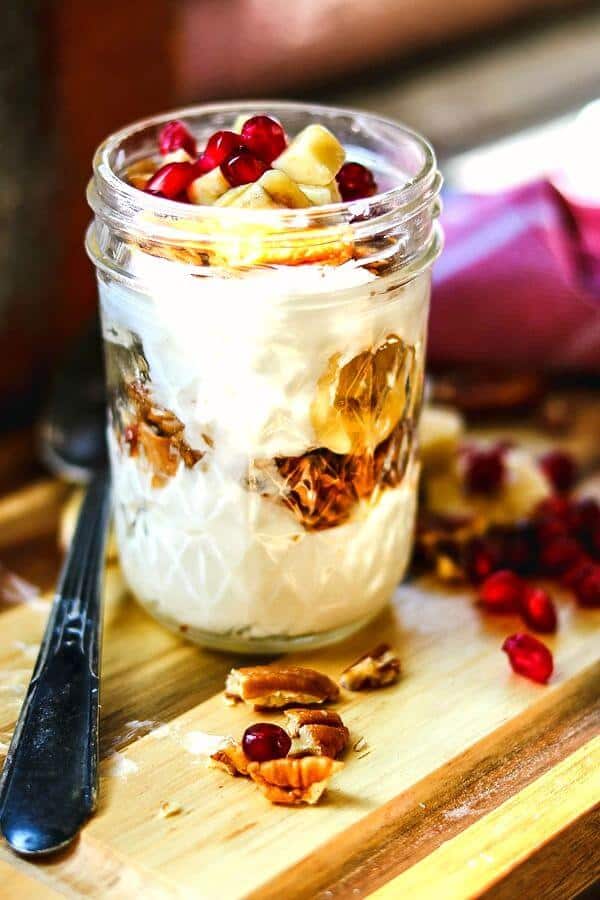 Variations
There are as many ways to vary this yogurt parfait as there are people who love to eat it!
Vanilla yogurt, chopped apples, raisins, dried cranberries, and pecans.
Lemon yogurt, blueberries, chopped white chocolate chips, graham crackers.
Plain yogurt sweetened with maple syrup, diced pears, walnuts.
Peach yogurt, vanilla yogurt, gingersnaps, pecans.
Vanilla yogurt, strawberries, crushed pretzels.
Coconut yogurt, mango cubes, granola.
Lime yogurt, strawberries, graham crackers.
Vanilla yogurt, raspberries, diced peaches, almonds.
Use chopped waffles for the crunch layer.
Top with sprinkles!
You May Need
The following are affiliate links. We are a participant in the Amazon Services LLC Associates Program, an affiliate advertising program designed to provide a means for us to earn fees by linking to Amazon.com and affiliated sites.
What's new? Check out my Restless Chipotle & Co. Store on Amazon! Thanks so much for being a part of Restless Chipotle!
I love these 8 ounce
jelly jars
for all kinds of things - they're just perfect for making these easy yogurt parfaits!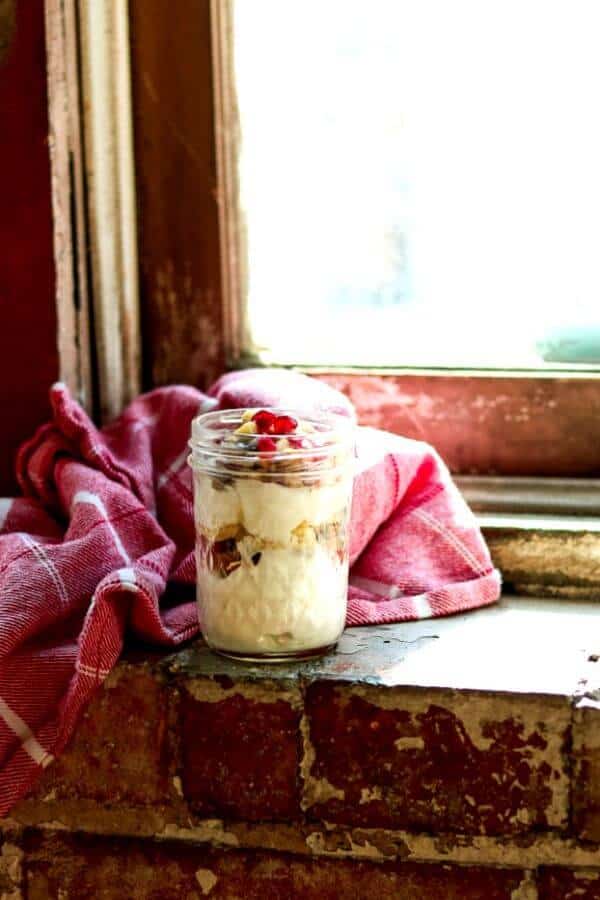 More Make-Ahead Breakfast Recipes
Banana Pudding Yogurt Parfait
If you're looking for an easy, make ahead breakfast that the kids will love you've found it! Creamy Greek yogurt is layered with bananas, pecans, and vanilla wafers - you can even make it up to 2 days ahead of time!
Ingredients
32

ounces

Greek yogurt

, vanilla or plain

1

cup

bananas

, cut in cubes or slices

1/2

cup

vanilla wafer cookies

, crushed

1/2

cup

pecans

, toasted and chopped

1/4

cup

orange juice

, to dip bananas (keeps them from browning)
Instructions
Chop or slice the bananas.

Pour the orange juice over the bananas and stir gently - let sit for a couple of minutes. This will keep the bananas from turning brown.

Divide the yogurt into 8 3-ounce servings. Or, eyeball it!

Add part of the yogurt to 4 8-ounce jelly jars or other container.

Top with 1/8 of the vanilla wafers.

Sprinkle on 1/8 of the pecans.

Repeat layers ending with the yogurt or pecans - as you prefer.

Store, tightly covered, in the refrigerator for up to 3 days or freeze for longer storage.
Notes
You may use lemon juice instead of orange juice if you prefer.
Nutrition
Calories:
339
kcal
|
Carbohydrates:
34
g
|
Protein:
25
g
|
Fat:
12
g
|
Saturated Fat:
1
g
|
Cholesterol:
11
mg
|
Sodium:
137
mg
|
Potassium:
614
mg
|
Fiber:
2
g
|
Sugar:
20
g
|
Vitamin A:
65
IU
|
Vitamin C:
12.6
mg
|
Calcium:
261
mg
|
Iron:
0.6
mg