A huge thank you goes out to Central Market for partnering with Restless Chipotle to bring you this recipe and tips for using and storing Hatch Chiles. This is a sponsored post written by me on behalf of Central Market.. All opinions are my own.
This Key Lime Hatch Chile Gelato recipe is ultra-rich and creamy with the tangy flavor of key lime cheesecake and a zesty punch of smoky Hatch Chiles. Once I tasted it at Central Market I knew I had to go home and recreate it myself!
For this recipe you'll need: milk, heavy cream, sugar, eggs cream cheese, salt, Hatch Chiles, key lime juice, limes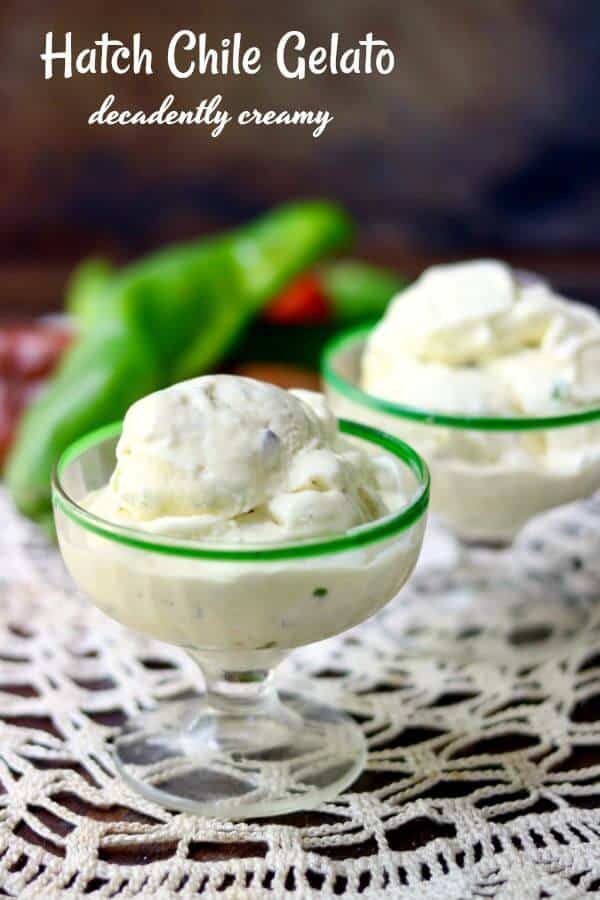 Hatch Chile Festival
Every year Central Market holds a huge Hatch Chile Festival in August, an extravaganza if you will. In fact, they've been working with the same farm for 20 years! They roast mountains of chiles right on site every day and the aroma that wafts through the air is incredible. You'd think you were in Santa Fe or Albuquerque or somewhere. Now, Central Market has scads of Hatch Chile products all year 'round but during August, they have giant piles of the fresh chiles, both mild and hot, and lots of their own products that are created with them. Things like:
Boneless chicken breasts with Hatch Tamale stuffing
Cheddar Hatch Pepper bread
Chicken Tamales with Hatch Green Chile
Hatch Hummus
Hatch Chile chocolate bars
Hatch Garlic and Waffle Chips
Hatch Crab Cakes
You get the idea, right?
As I said, I had a small cup of Central Market's Hatch Chile gelato. It was HEAVEN, y'all. SO good. By the time I licked out the cup (yes I did) I was ready to go back into the store for another. I decided to recreate it and I think I did a pretty good job - my version is the Key Lime Hatch Chile Gelato -- recipe is below.
Needless to say, I brought home a pile of those fragrant peppers to use in my own Hatch Chile recipes! I'll roast some of them myself to freeze and I'm also planning on making a Hatch Chile jam in the next few days. With school starting this week we'll see how my jam making pans out!
What IS a Hatch Chile?
Hatch Chiles aren't a species of pepper so much as they are a pepper that's grown in the Hatch Valley of New Mexico. There's something about the soil and growing conditions that gives these peppers a unique flavor that aficionados just can't get enough of. There are mild Hatch Chiles and hot Hatch Chiles but you'll have to taste them to tell the difference. They look alike to me.
Like most chile peppers the Hatch Chiles are long and thin with a meaty flesh. Even the hot version of the pepper is quite mild comparatively speaking. And, yes, you can use them without roasting but the process of roasting gives them a smoky, rich flavor that really sets your dishes apart.
Tips for Using Hatch Chiles
Here are a few tips for choosing and using your chiles:
Look for a bright, green color.
Chiles turn red as they ripen. This makes them just a bit spicier.
They should feel heavy for the size.
Choose chiles that have a firm, shiny skin with no bruises.
You can use them raw or roasted. Roasting them smooths down the heat a little and gives them a richer flavor. Using them raw is best for dishes like scrambled eggs where you're going to saute them.
If you can't find Hatch Chiles Anaheim Peppers are a good substitute.
And as far as how to use them? You can add them to anything you want to perk up with their unique flavor!
Scrambled eggs
Omelets
Deviled eggs
Soups, like my favorite corn chowder.
Stews
Add a long slice of roasted Hatch Chile to enchiladas and burritos before rolling them up
Fried potatoes
Dips
My Hatch Chile Gelato Recipe!
Chocolate
In other words - just about any recipe can be kicked up with a little Hatch Chile!
How to Roast Hatch Chiles
Central Market has their roasters going most of the day and it's easy to by your chiles already roasted and ready to go but if you want to roast your own it's easy to do. If you're doing a lot at a time I'd suggest the outside grill method because the smoke contains the oils from the chiles and a lot of it concentrated in a small, enclosed kitchen can cause breathing problems and make your eyes burn.
Oven: Put the oven rack 4 to 6 inches below the heating element of your broiler and preheat to high. Roast the chiles on a heavy baking sheet, turning as needed.
Outside grill: Heat up your gas grill. Add the chiles directly to the grill and turn them as needed. Watch them carefully!
Gas or electric burner: Cover the burner with a wire mesh and roast chiles on top of it. Watch carefully and turn them as they blacken.
My favorite way to roast a few Hatch Chiles at a time is with a plumber's torch. I did a video of it a while ago, have a look -
How to Store Chiles
Once the chiles are roasted you'll put them immediately into plastic bags and seal the bag so that the chile can "sweat". When they've cooled down you only have to rub the skin gently and all the black part with flake off leaving a perfectly roasted chile. Put them in recipe sized freezer containers and freeze them until you need them for your recipes.
I honestly keep my fresh chiles on the counter in a bowl. They'll last a few days and I always use them up. Putting them in the refrigerator will likely make them last longer -- but then I forget about them!
[clickToTweet tweet="This Hatch Chile Gelato recipe is ultra-rich and creamy with the tangy flavor of key lime cheesecake" quote="This Hatch Chile Gelato recipe is ultra-rich and creamy with the tangy flavor of key lime cheesecake"]
Hatch Chile Gelato Recipe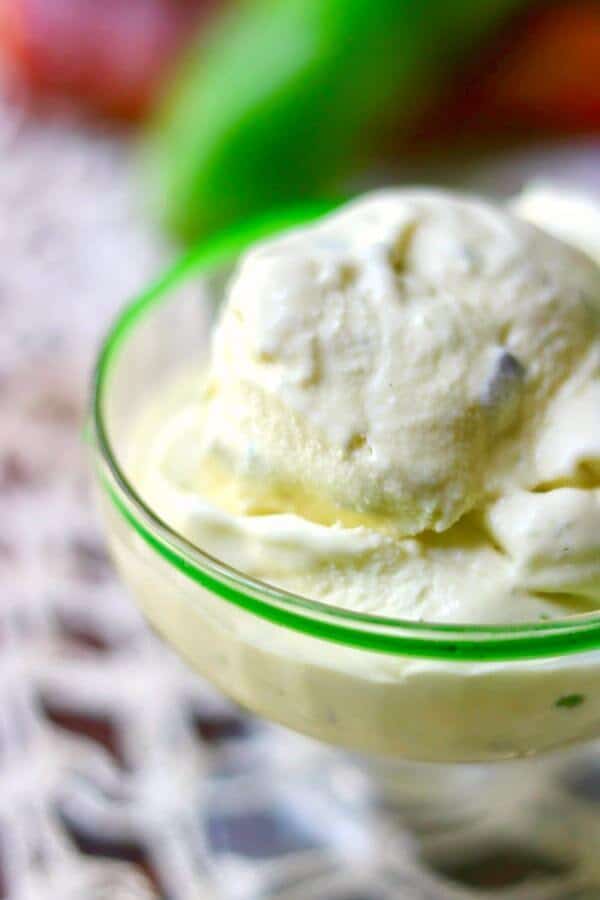 Unbelievably rich and creamy, this Hatch Chile gelato is a combination of tangy key lime pie cheesecake and spicy chiles in every luxuriously decadent bite.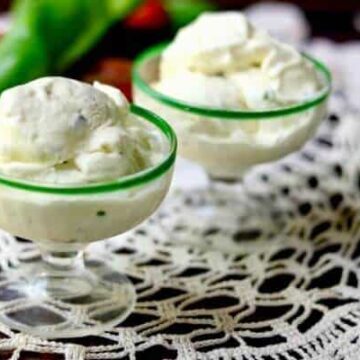 Hatch Chile Gelato
Print
Save
Go to Collections
This Hatch Chile Gelato recipe is ultra-rich and creamy with the tangy flavor of key lime cheesecake and a zesty punch of smoky Hatch Chiles.
As an Amazon Associate I earn from qualifying purchases.
Ingredients
5

egg yolks

⅔

cup

sugar

2

cups

whole milk

1

cup

heavy cream

2

ounces

cream cheese

,

, room temperature

3

tablespoons

key lime juice

1

tablespoon

lime zest

¼

cup

roasted Hatch Chiles

,

, chopped - divided use
Instructions
Beat the egg yolks and sugar until thick and lemon colored.

Heat the milk, cream, and cream cheese to a simmer, whisking until smooth.

With the mixer running slowly add the hot milk mixture to the eggs.

Pour the milk and egg mixture back into the pan and simmer until the mixture coats the back of a spoon.

Blend 2 tablespoons of the hatch chiles to a paste.

Whisk into the milk mixture with the lime juice and lime zest.

Refrigerate until cold, about 4 hours.

Add the cold mixture to your ice cream maker and freeze according to manufacturer's instructions. Add the remaining chopped Hatch Chiles to the mixture when it's solid but still soft - about halfway through.

Store, tightly covered in the freezer.
Notes
*Regular lime juice may be substituted for the Key Lime juice if necessary.
Nutrition Facts
Calories:
267
kcal
|
Carbohydrates:
21
g
|
Protein:
4
g
|
Fat:
18
g
|
Saturated Fat:
10
g
|
Cholesterol:
176
mg
|
Sodium:
81
mg
|
Potassium:
131
mg
|
Sugar:
20
g
|
Vitamin A:
795
IU
|
Vitamin C:
2.6
mg
|
Calcium:
110
mg
|
Iron:
0.3
mg
Sign up for the emails and never miss another recipe!!
We'll never share your email or send you spam. Pinkie swear.