I don't think there is a more family friendly comfort food than this easy shepherd's pie made with leftover pot roast. Since it's made with beef rather than lamb it's technically a cottage pie but you call it what you want. I call it really, really good! The cooked, leftover beef is covered with a layer of green beans, cheese, and mashed potatoes then baked to cheesy, bubbly perfection. This recipe has been updated from the January 2015 version for better reader experience.
For this recipe you'll need: left over pot roast or roast beef, carrots, potatoes, green beans, butter, milk, flour, Cheddar cheese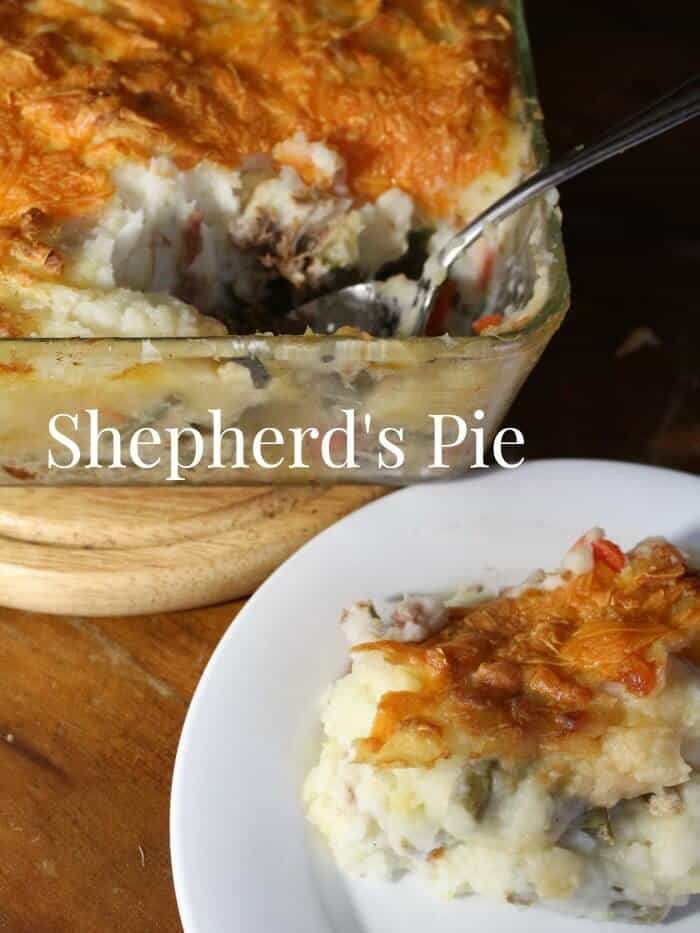 One thing I like to do is make a large pot roast in the slow cooker on Sunday or early in the week. I'd spend time looking up leftover pot roast recipes because I got kind of tired of leftover pot roast sandwiches. Finally one day I decided to try it in place of the ground beef in my shepherd's pie recipe and BINGO! I know most recipes call for ground beef but I promise you once you try it with leftover roast? You'll be hooked.
What is it about shepherd's pie anyway? There is the meat layer, then a carrot layer, then a green bean layer. I add creamy gravy over that and then top with mashed potatoes and cheese. It seems like simple enough ingredients but when it's baked it turns into something so incredible it's crazy!
It's really funny. My family is starting to get smaller. We are down to 4 kids at home now and they do not have the appetites of some of the kids who have moved out. It's been much harder to learn to cook smaller portions again than it was to learn to cook huge amounts. I am at that in-between stage where I frustrate myself by having to throw out way too much food. I miss the big family chaos, a lot. I am not sure I will ever get used to it — and it's one of those things that was a season that is now passed — no going back. I am grateful that I was able to be a stay at home mom, to homeschool, and to spend all the time with them that I did. I can't think of a better way to have invested my life.
Shepherd's Pie Recipe FAQs
Do you cover shepherd's pie when baking?
Not usually because you want that top to develop a thin, golden crust. If the top starts to brown too much or too quickly you can tent a piece of foil over it.
What are the layers of shepherd's pie?
That's really up to you. Since it is basically made of leftovers you could put in whatever leftover vegetables you have. Green beans and sliced or mashed carrots are common. So the first layer is the meat, followed by the green beans and/or carrots. Add any cooked vegetable you like. Next you'll pour the gravy over the whole thing, add a layer of potatoes, and then I like to add a layer of cheese even though it's not traditional.
Do you put cheese on top of shepherd's pie?
Traditionally speaking there isn't normally cheese in or on shepherd's pie. However, personally I love cheese on top. Cheddar, smoked Gouda… any cheese that melts well will work.
How do you make shepherd's pie sauce?
Again, this tends to be a matter of preference. Some people make a savory tomato and Worcestershire sauce while others (me!) prefer a cream gravy type of sauce. Try both and see which you like.
Is shepherd's pie made with lamb or beef?
Well, technically shepherd's pie is made with lamb and cottage pie (exactly the same except the meat) is made with beef.
I hope that clears a few questions up for you!
Easy Shepherd's Pie Recipe
At church we are doing a series on reclaiming mealtimes — putting away all electronics and concentrating on each other at three meals a week. It's always a good reminder what's important, you know? This is the kind of food that makes dinner one of those memorable times.
Once you try this easy shepherd's pie with leftover pot roast you'll be hooked. It's so quick and easy that it makes a great weeknight dinner– and you can even put it together a day or so ahead of time and bake it when you're ready to eat. If you love this recipe please give it 5 stars!
Easy Shepherd's Pie with Leftover Pot Roast
Print
Add to Collection
Go to Collections
Comfort food for a cold, rainy day - this shepherd's pie is made with leftover pot roast and plenty of mashed potatoes for an easy dinner the whole family will love.
Ingredients
1 1/2

pounds

cooked beef chuck

,

, shredded and then chopped coarsely

2

cups

sliced

,

, cooked carrots

2

cups

green beans

1/4

cup

butter

2

cups

whole milk

1/3

cup

flour

salt and pepper to taste

2 1/2

pounds

of potatoes

,

(about 3 to 4 large potatoes)

3/4

cup

whole milk

1/4

cup

butter

1

cup

shredded cheddar
Instructions
Preheat the oven to 375F.

Grease a baking dish and add the beef in an even layer.

Cover with the carrots, then the green beans.

Set aside.

Melt the 1/4 cup butter in a heavy frying pan.

Whisk in the flour and cook, stirring constantly until it is a golden color, about 2 minutes.

Whisk in the milk and simmer until the gravy is smooth and thick.

Pour over the meat and vegetables.

Set aside.

Peel and cut the potatoes into chunks.

Boil them in salted water until they are very tender.

Mash them with the 3/4 cup milk and 1/4 cup butter.

Season to taste with salt and pepper.

Spoon over the meat and vegetables and sprinkle the cheddar over the top.

Bake for 30 to 40 minutes or until the cheese it bubbly and the dish is heated all the way through.
Nutrition
Calories:
533
kcal
|
Carbohydrates:
27
g
|
Protein:
33
g
|
Fat:
32
g
|
Saturated Fat:
16
g
|
Cholesterol:
131
mg
|
Sodium:
391
mg
|
Potassium:
1090
mg
|
Fiber:
4
g
|
Sugar:
5
g
|
Vitamin A:
16.4
%
|
Vitamin C:
23.7
%
|
Calcium:
27
%
|
Iron:
42
%
Tried this recipe?
Tag me!! @Marye_RestlessChipotle
If you like Easy Shepherd's Pie you may also like…
From left to right: slow cooker Italian beef sandwiches, slow cooker meatball sandwiches, slow cooker pot roast with jalapeno cheese grits
Still looking ? You might like these recipes from some of my favorite bloggers –