This slow cooker pot roast recipe is full of Cajun spice and flavor. Making a mirepoix and searing the meat before cooking makes all the difference.
Sure, Cajun food is associated with Louisiana - but Texas does not discriminate based on location. We just enjoy it all.
Now, we all know there is just not anything more comforting than a fallin' apart pot roast that has been in the slow cooker all day. Comfort food is great but it can get a little boring if it isn't kicked up now and then. Well, I kicked it up with some Cajun flavor and you are going to love it.
Pinkie swear.
One of my very best friends is from Louisiana and I can tell you she is one of the few people that I let come in my kitchen and cook for me. Her food is amazing and when she makes stuff over here she adds plenty of love, nurturing, and a splash of Cajun style. If that wasn't enough, a few years ago I found out that one of my cousins, who I hadn't seen in literally decades, lived just about eight hours away in central Louisiana. Well, we headed over there to have a mini-family reunion and got to experience some of the most interesting foods and experiences of our lives. We had a blast. Just sayin' - I know a little bit about that fiery Cajun culture between these two!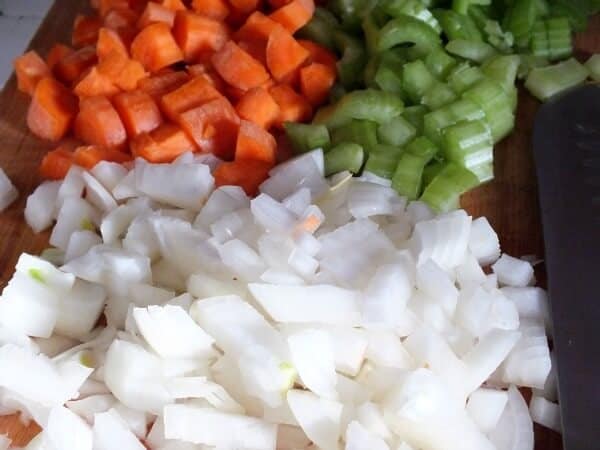 Mirepoix is one of the secrets of the deep flavor of this roast - as is a really good sear on the meat before it goes in the slow cooker. Here's what you do. Put a little olive oil in the biggest saute pan you have and let it heat up until it shimmers. You want it hot. You can't crowd the vegetables or they wills steam and not saute so you may need to do this in two parts. Once the oil is hot enough add the vegetables and let them sit in the oil until they caramelize a little around the edges on the bottom. Once that happens flip the vegetables over and do the same thing on the other side. If they aren't caramelizing you have too many in the pan and they are steaming not sauteing.
When the vegetables are done, spoon them out of the pan and add a little more oil if needed. Let the oil get really hot and put the seasoned meat in the pan.
Menu - Cajun pot roast, rice, salad, sour dough baguette, banana pudding
Let it caramelize on all sides and then take it out. Pour the red wine into the pan and stir it around scraping the blackened bits off the bottom of the pan. Add the beef broth and let reduce by about 1/4.
Then just pile everything in the slow cooker, set it on low for eight hours, and walk away. This pot roast recipe is just that easy! When you dish this up, hot and steaming on the plate, mouths will water. It is amazing. Spicy, rich, meaty, and everything a pot roast should be  - and then some.
The following are affiliate links. We are a participant in the Amazon Services LLC Associates Program, an affiliate advertising program designed to provide a means for us to earn fees by linking to Amazon.com and affiliated sites.
I use this 6-1/2-Quart Programmable Touchscreen Slow Cooker and I love it. It's the one I got for my TV appearance. Take a look but know that it's an affiliate link - if you buy the blog gets a little commission that helps support it. Thanks!
Yum. Use a premixed Cajun Spice or mix your own. I used smoked paprika, ancho pepper powder, kosher salt, cayenne, pepper, garlic powder, and thyme. Rub it all into the meat before you sear it.
Cajun Slow Cooker Pot Roast Recipe
Print
Add to Collection
Go to Collections
Tender, spicy pot roast makes a comforting family dinner.
As an Amazon Associate I earn from qualifying purchases.
Ingredients
3 1/2

lbs

chuck roast -trim off the extra fat

2-3

tablespoons

cajun seasoning

,

(Tony Chacheres is good)

1/2

cup

carrots - diced

1/2

cup

celery - sliced

1

cup

onion - chopped

4

garlic cloves - minced

1/4

cup

red wine

2

cups

beef broth
Instructions
Rub the seasoning into the meat on all surfaces and set aside.

Heat about 2 tablespoons of the oil in your pan until shimmering.

Add the vegetables and garlic but do not crowd - do it in two batches if necessary.

When the vegetables blacken slightly around the edges turn them and caramelize on the other side.

Remove the vegetables from the pan and add a little more oil.

Sear the meat well on all sides.

Remove the meat from the pan and deglaze it with red wine, scraping the bottom and sides until all of the bits that are stuck on are loosened.

Add the beef broth and reduce by 1/4.

Add the vegetables to the slow cooker, place the meat on top, and pour the wine mixture over all.

Slow cook for eight to ten hours on low.

Serve with rice.
Sign up for the emails and never miss another recipe!!
We'll never share your email or send you spam. Pinkie swear.
If you like this pot roast recipe you might like...