Classic Swiss Steak is the perfect family dinner any time of the year! It's an easy recipe for an old fashioned favorite that can be made in an oven or slow cooker. Dredged in a seasoned flour, it's browned then simmered with tomatoes, peppers, onions, and carrots until tender then served over rice, noodles, or potatoes.
Like salisbury steak, this is comfort food at its best - inexpensive, filling, and deliciously reminiscent of your grandmother's kitchen.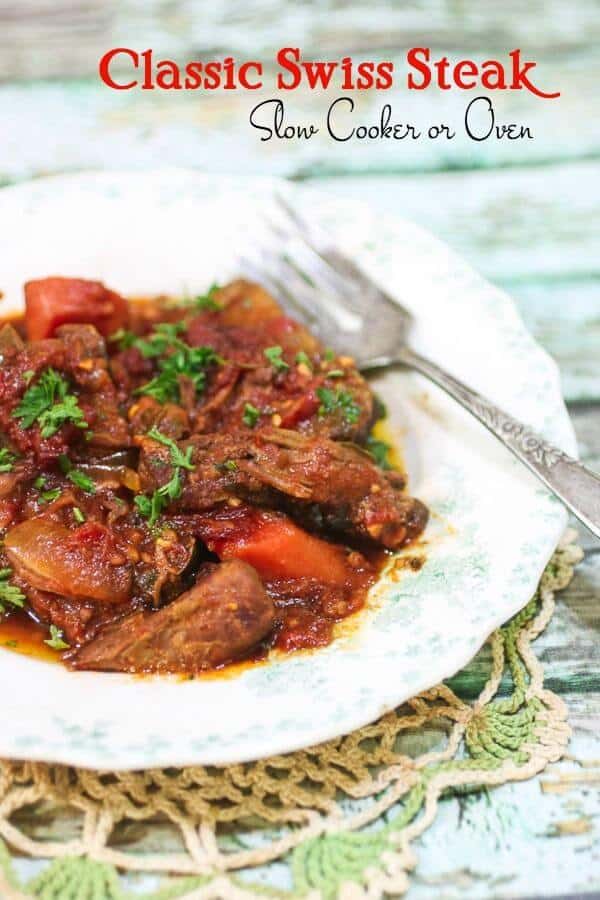 This post was updated from the July 2009 version. Last update: August 2018
For this recipe you'll need: flour, salt, pepper, Tony Chachere's Creole Seasoning (optional), onion, celery, carrots, parsley, jalapeno (optional), canned tomatoes, brown sugar, Worcetershire sauce, beef stock or water
Old Fashioned Swiss Steak
Probably one of my favorite recipes next to a good pot roast, classic Swiss Steak is cooked slowly in tomatoes, peppers, onions, carrots, and celery. The tomato helps to tenderize the meat. The flavor is so incredible that it's totally understandable why it was so popular with Mrs. Cleaver's crowd back in the mid-20th century! One thing I do a little differently is to add chopped Poblano or jalapeno pepper in place of the bell pepper. It adds just a touch of spice that I love.
Because it is one of those vintage recipes that tugs on my heartstrings I like to serve it with classic side dishes - sort of a Blue Plate Special, you know?
Swiss Steak or Beef with Red Eye Gravy... ah, the keys to my heart
What to Serve with Slow Cooker Swiss Steak
If you're drawing a blank when it comes to what to serve with this dinner here are some ideas. Some are classic and some are not... because you know... at Restless Chipotle we don't dish up predictable!
Mashed potatoes
Scalloped potatoes
Rice
Buttered noodles
Biscuits (spoon the meat right over a couple of buttered biscuits on a plate)
Thick toast (see above)
Add some buttered and seasoned green beans or a wedge salad and you're good to go. Of course homemade rolls are always nice, too!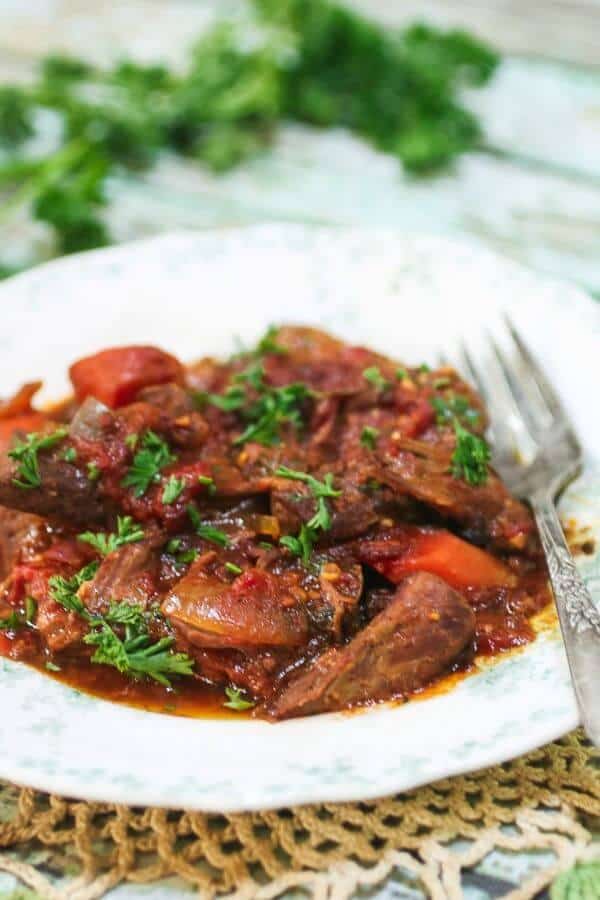 Round steak gets fall apart tender in the slow cooker!
Swiss Steak FAQs
Cooking level: Beginner - this is a super easy recipe anyone can make.
What is a swiss steak cut of meat?
Round steak is most often used for swiss steak but you can also use a chuck shoulder steak or other normally tough cut of beef. The long braising time tenderizes it beautifully.
How do you make Swiss steak?
You can make it in an oven or slow cooker - either is fine as long as it gets long, slow cooking on a low heat. There are notes in the recipe below for making swiss steak in an oven.
Why do they call it Swiss steak?
Swissing is another term for the process of tenderizing the steak before cooking - it has nothing to do with Switzerland or cheese! The original term came from a British term for describing how fabric is stretched between rollers.
Is cube steak and Swiss steak the same thing?
Cube steak is round steak that has been tenderized so technically yes, it is the same thing. If you get cube steak you won't need to pound it with the mallet or tenderize it any more than it is.
What part of the cow does a Swiss steak come from?
It is a round steak cut from the rear leg of a cow. Since it gets so much exercise the round develops more connective tissue around the muscle fibers - that's what makes it tough. Long slow cooking is the way to handle this type of meat.
Step By Step Instructions on How to Make Swiss Steak
This is one of the easiest recipes that you'll ever make, I promise!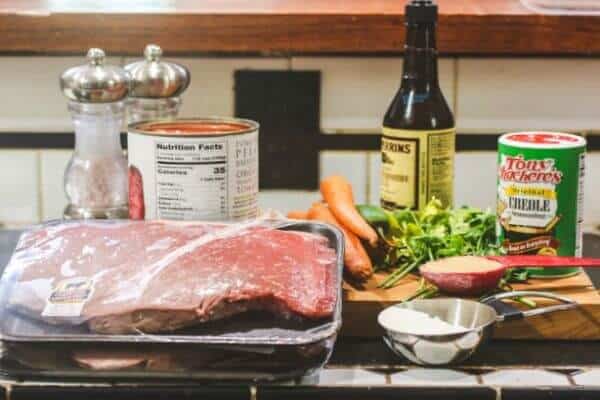 Slow Cooker Instructions
Let the meat sit out for 15 to 30 minutes to take the chill off if you have time. It will cook more evenly.
Will you're waiting mix the flour, herbs, spices, and brown sugar and chop the vegetables.
Add them to the slow cooker.
Pound the steak with the spiky side of the meat mallet - watch your fingers!
Flip it and pound the other side. You want to break up all of the tough fibers to ensure your Swiss Steak is tender.
Cut the beef into serving sized pieces.
Heat the oil in a heavy skillet until it shimmers.
Add the meat without over crowding it and cook just until it's golden.
Flip and repeat.
Repeat with all the pieces of beef.
Remove the beef from the skillet and add to the slow cooker.
Add the beef broth to the hot skillet and cook, scraping the bottom of the skillet with the spatula. This will only take a minute or two.
Pour the hot liquid and Worcestershire into the slow cooker, stir, and put the top on.
Set on low and cook for 8 hours.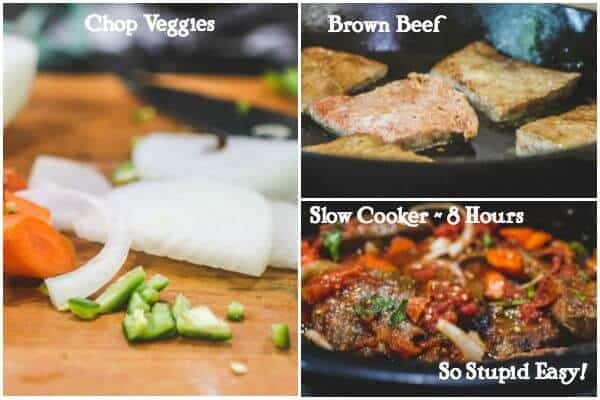 Swiss Steak is so easy! Just 1. Chop your vegetables. 2.Brown the beef. 3. Put in the slow cooker and wait. Waiting is the hardest part!
Oven Instructions for Swiss Steak
Follow the above instructions but use a baking dish instead of slow cooker.
Preheat the oven to 300F.
Cover the baking dish tightly with foil
Bake for 2 to 2 1/2 hours.
Take the foil off carefully so you don't get a steam burn.
Time Saving Tips
Save time by buying the prechopped vegetables.
If you buy "cubed" steak you won't have to pound it with the mallet.
Skip dredging the beef in the flour and just toss it in the slow cooker - you'll lose some flavor but save about 10 minutes.
Instead of making potatoes or rice to go with this make toast and serve it over the toast.
YOU MAY NEED
The following are affiliate links. We are a participant in the Amazon Services LLC Associates Program, an affiliate advertising program designed to provide a means for us to earn fees by linking to Amazon.com and affiliated sites.
Thanks so much for being a part of Restless Chipotle!
. If you need a slow cooker consider this Hamilton Beach Slow Cooker
on Amazon. It's the one I bought for one of my military kids a couple of years ago and I really like it. You can program it so that your food is ready when you are – makes it even easier than a regular slow cooker!

Classic Swiss Steak Recipe (Slow Cooker and Oven Instructions)
This is one of those comfort food recipes that you'll serve again and again. It's budget friendly, delicious, and filling - I know it will be a family favorite recipe at your house, too. It's fantastic when you want to take a meal to a potluck or to a friend who needs a little TLC.
If you love this recipe please give it 5 stars. Thanks!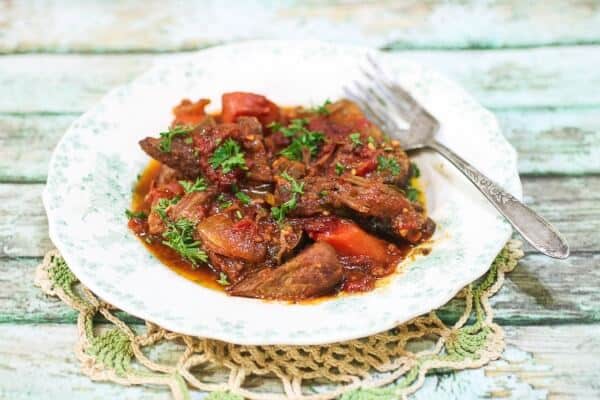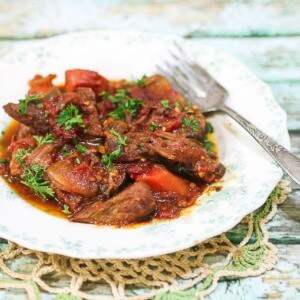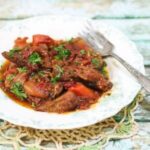 Swiss Steak
Print
Add to Collection
Go to Collections
Classic Swiss Steak is the perfect family dinner any time of the year! It's an easy recipe for an old fashioned favorite that can be made in an oven or slow cooker. This is comfort food at its best - inexpensive, filling, and deliciously reminiscent of your grandmother's kitchen. Freezes well.
As an Amazon Associate I earn from qualifying purchases.
Ingredients
3

pounds

round steak

,

, I use Certified Angus Beef

1/4

cup

flour

1/2

teaspoon

salt

1/2

teaspoon

pepper

1

tablespoon

brown sugar

1

tablespoon

Tony Chachere's

1

cup

onion

,

,sliced

1

cup

celery

,

,sliced

1

jalapeno pepper

,

,chopped

1

tablespoon

garlic

,

, chopped

25

ounces

tomatoes

,

, canned or home canned stewed tomatoes

1

cup

carrots

,

, sliced

1/2

cup

beef stock

,

, or water

2

tablespoons

Worcestershire sauce

1/4

cup

parsley

,

chopped
Instructions
Place the chopped vegetables, tomatoes, and garlic into a slow cooker.

Pound meat until thin with a meat mallet.

Mix flour, salt, pepper, brown sugar, and Creole Seasoning.

Dredge the meat in the flour mixture and rub it in.

Cut the meat in serving sized pieces.

Add about 2 tbs of olive oil to a heavy skillet.

Heat oil until it shimmers a bit then carefully add steak

Fry until just golden

Flip and fry on the other side.

Repeat with all steaks. You may need to add a little more olive oil

Place the steaks over the vegetables in the slow cooker.

Add the beef stock to the hot pan.

Stir and scrape the bottom with a spatula to get up any bits of meat that are stuck.

Pour the stock over the ingredients in the slow cooker.

Add Worcestershire sauce and cook on low for 8 hours.
Notes
You can make this in the oven, too. Just put the ingredients in a baking dish instead of a slow cooker, cover tightly with foil, and bake at 300F for 2 hours.
This recipe freezes well.
Nutrition
Calories:
300
kcal
|
Carbohydrates:
13
g
|
Protein:
40
g
|
Fat:
8
g
|
Saturated Fat:
2
g
|
Cholesterol:
107
mg
|
Sodium:
340
mg
|
Potassium:
996
mg
|
Fiber:
2
g
|
Sugar:
6
g
|
Vitamin A:
3745
IU
|
Vitamin C:
18.4
mg
|
Calcium:
64
mg
|
Iron:
4.5
mg
Sign up for the emails and never miss another recipe!!
We'll never share your email or send you spam. Pinkie swear.