Think of a grilled cheese sandwich; hot, melty, crisp grilled bread.... and I bet you thought of tomato soup on the side didn't you? Cream of tomato soup has to be one of those comfort foods that I love best... and if you add grilled cheese to it ..well it doesn't get better than that. Tomato soup and grilled cheese sandwiches remind me of blustery days in the early spring. I am not sure why, they just do. I am pretty sure you can eat it all year, at least I hope so. If not the Soup Nazi probably has my picture on his wall.
There are admittedly a lot of ways to make a great tomato soup. I love tomato basil soup, for example. Yet, cream of tomato soup is my favorite. Simple flavors that melt together to create pure tomato heaven. If you are used using a condensed substance to make tomato soup you are missing out on some real flavor. If you thought that was good? You just need to try this.
Rich and creamy, this tomato soup can be in your bowl in less than 10 minutes. I swear. I would not lie to you. 10 minutes! And you can make it organic....
The trick is to use organic tomato paste and organic tomato sauce. I buy mine at Costco and it is pretty reasonable. Make sure the cream or milk is warm before you add it to the tomato to keep it from curdling. A great homemade tomato soup recipe that you can make in minutes....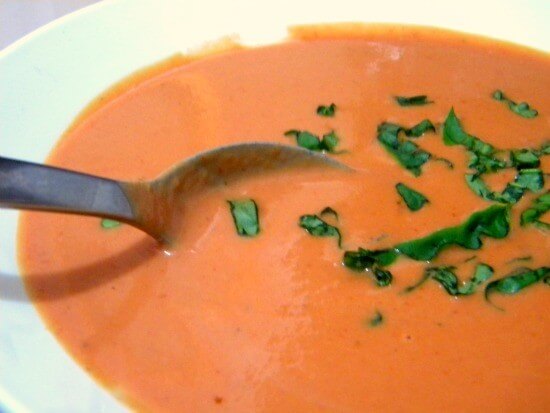 Next time you are craving tomato soup? Try this.
I added a low fat version below. It isn't as good, I don't think but if you are watching your fat you can substitute 5 cups skim milk for the milk/cream combo. It cuts off 61 calories per serving.
Homemade Cream of Tomato Soup
1 small can of organic tomato paste
2 cans of organic tomato sauce
1 cup organic heavy cream
4 cups organic whole  milk
¼ cup organic unsalted butter
¼ cup flour
1 tablespoon sugar
⅛ teaspoon cloves
¼ teaspoon cinnamon
pinch of salt
pepper to taste
Heat cream and milk to a simmer and keep at that temperature.
Melt the butter in a heavy saucepan and  whisk in the flour.
Add the tomato sauce and paste, whisking constantly.
Still whisking bring to a  simmer and let simmer 2 minutes.
Whisk in the cream/milk mixture.
Add the sugar, cinnamon, and cloves.
Adjust salt and pepper.
Cut fresh basil on a chiffonade (roll leaves and slice very thin) and sprinkle over the top.
Serves 8
Nutrition Information:
Calories  227
Fat  14 (saturated fat 8.7 )
Carbs 20.5
Fiber 2.6
Protein  7.1
Using 5 cups skim milk instead of milk/cream

Nutrition Information:

Calories 166

Fat 6.2 (saturated fat 3.8 )

Carbs 22.0

Fiber 2.6

Protein 7.9