Try It for 14 Days FREE!
Effortlessly Simplify Meal Planning: Save Over 4 Hours a Month with Our Time-Saving App for Busy Families!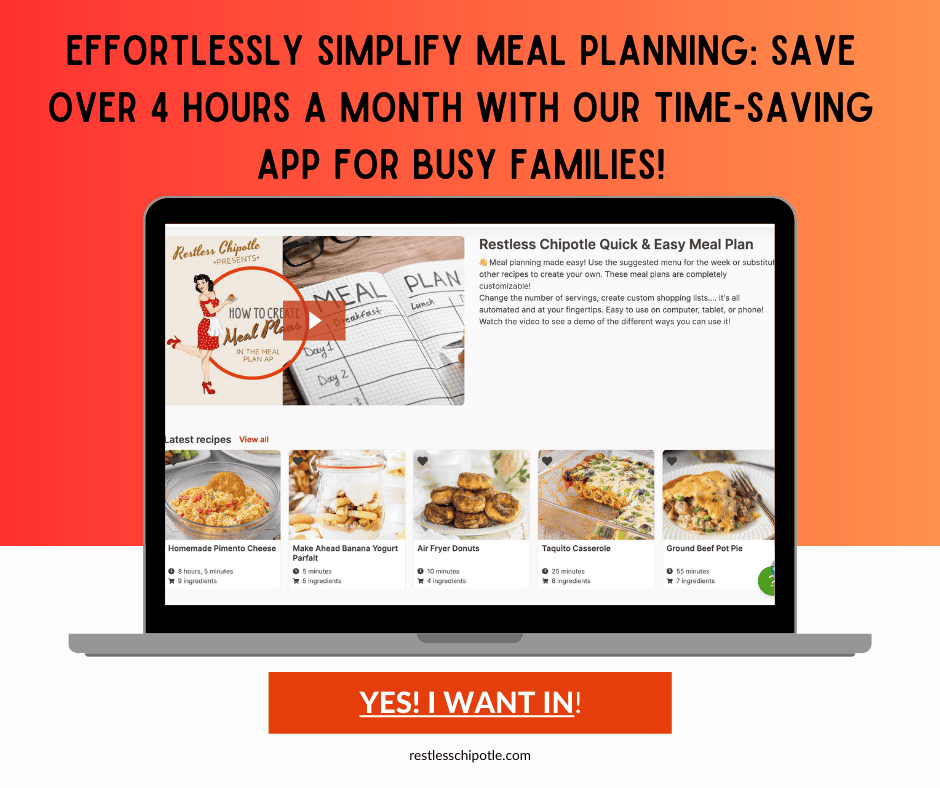 How would life be different if you had an extra 48 hours (or more) a year?
Learn a new hobby?
Catch up on Netflix?
Enjoy more relaxation?
See more movies?
How much would you love it if your meal planning time was completely automated?
What would it be like if you could
Know how to plan a week's worth of meals (including a grocery list) in minutes
Save money by eliminating food waste
Spend more quality time with your partner and your kids
Carve out more "me" time for the things you really want to do
This is not 1955
In the 1950s and 1960s women were largely homemakers. They worked hard to keep their homes and families clean, fed, and organized.
BUT
In 2023 we have a lot of those same responsibilities. We work hard at our careers then come home and feel responsible for all the at-home things, too.
soccer practice
helping with homework
getting dinner on the table
cleaning, laundry, and organizing
staying in shape
and more
Be honest. We have ALL the responsibilities of both 1950s men and women combined! And y'all, it's hard.
You've tried
It's not like you haven't tried to get kitchen chores under control. You've tried everything... and failed. It hasn't worked because...
Decision exhaustion
You're too tired on the weekend to figure it out
You are bored with the same old recipes
You grew up eating fast food a lot because your parents were too busy and too exhausted to cook so you never learned how
You don't have time to learn anything new
What if I told you...
You can access pre-made meal plans with recipes your family already likes
You can create your own meal plans in minutes
You can adjust the number of servings
When the meal plan is done the grocery list is, too
Sounds pretty great, huh?
Step - Get your plan
Sign up for the meal planner app. You'll be able to access it immediately!
Step 2 - Make it fit your family
Don't like a recipe that's in the featured meal plan for the week? Swap it out for one you do like! Have company coming on Thursday night? Increase the number of servings!
You are in control
Step 3 - Shop
Whether you shop online or you head out to your local grocery store the interactive grocery list goes where you go. You can use your computer and print it out or access it on your phone.
Step 4 - Breathe
Now, doesn't that feel good?
What about the recipes
First of all - no ads. There are no ads on the app at all.
The recipes are the recipes that you know and love from Restless Chipotle with new ones being added daily.
Here on Restless Chipotle we focus on quick and easy comfort food made from common pantry ingredients.
I recreate and rework a lot of vintage Southern recipes to simplify them. Every recipe is tested and tested and tested...
Of course, if meal planning and list-making is your favorite way to spend a Sunday afternoon you probably don't want this app.
For the rest of us - just click here and sign up today!