Chicken empanadas are easy game day snacks that you can either bake or fry. This chicken empanadas recipe is filled with a creamy, spicy chicken and cheese mixture that's sure to be a hit with your favorite football fans! Of course, no game day snack is complete without a great dip and, for this easy empanadas recipe, I've chosen Heluva Good! Cheddar and Jalapeno Dip for  a little extra cheesy goodness. This post was sponsored by Heluva Good! as part of an Ambassador Program and all opinions expressed in my post are my own.
For this recipe you'll need: Cooked chicken breast, Cream of chicken soup, cheddar cheese, chicken broth, onion, poblano, cilantro, cumin, butter,  Cheddar cheese biscuit dough or your favorite unbaked biscuits, Heluva Good! Cheddar and Jalapeno Dip
Jump to Recipe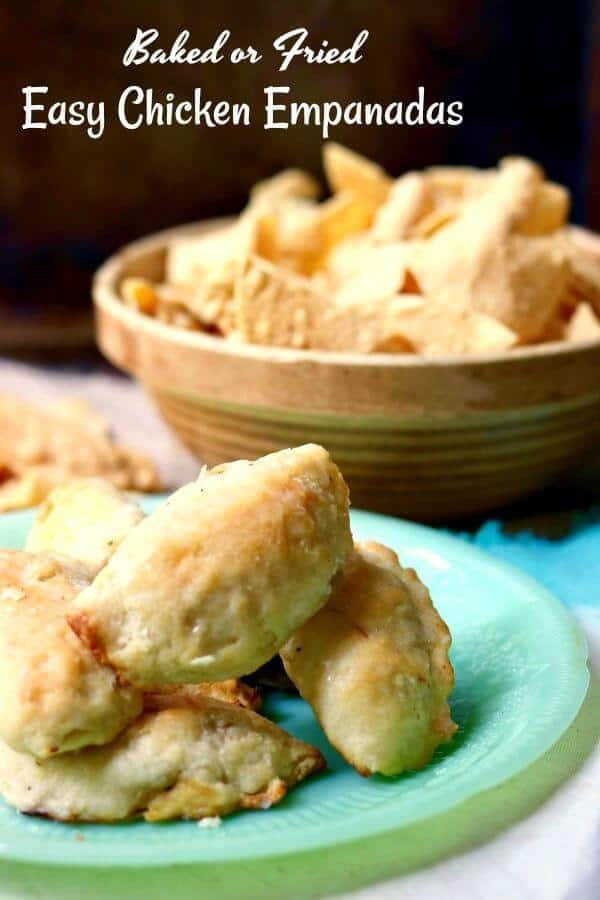 Let's face it – no great Game Day party (or Tailgating party for that matter) ever got called great without a fantastic dip. Let the other party goers serve plain old chips with their dips (the plebians!) but we're going to step it up with these snack sized chicken empanadas and spicy Heluva Good! Cheddar and Jalapeno Dip. It's spicy, cheesy, Tex-Mex overload – exactly the kind of football party food that disappears first.
Heluva Good! Dip is available in the dairy section at your local store – it's easy to find pretty much anywhere. It comes in an assortment of flavors, each made with real sour cream and flavorful spices, including French Onion, Buttermilk Ranch, White Cheddar & Bacon, and Bodacious Onion. Any of those dips would work well with these easy chicken empanadas, too.
What Is an Empanada?
So, you may be wondering what in the world I am going on about when I say empanadas, especially if you aren't from Texas or one of the Southwestern areas of the United States.
Popular in Latin American countries, the empanada comes from Spain. The name is derived from a Spanish word, empanar, which means to wrap in bread. Empanadas of all kinds have been around since Medieval  times.
Simply put, empanadas are pastry pockets filled with a spicy mixture and then usually deep fried. The filling can be any meat, cheese, bean, or vegetable and really is only limited by your imagination. They are super easy and you can even put them together, flash freeze them unbaked, and then bake them fresh right before your party!
How Do You Make Chicken Empanadas?
Wondering how to make authentic empanadas?
Ok – here's the thing. Everyone makes empanadas differently. Remember I said that the fillings could be any one of a variety of ingredients?
Well, same with the dough. Empanadas can be made with:
Puff pastry
Pie dough
Biscuit dough
Crescent roll dough
Yeast dough
It's really up to you. For this chicken empanada recipe I've decided on my favorite cheese biscuit dough (link in the recipe) to add an extra layer of cheesy flavor.
Once you've decided on your dough you'll cut it in your desired size and place a  little filling in the center. Fold the dough over to encase the filling and pinch to seal. That's really all there is to it!
See, I told you these were easy!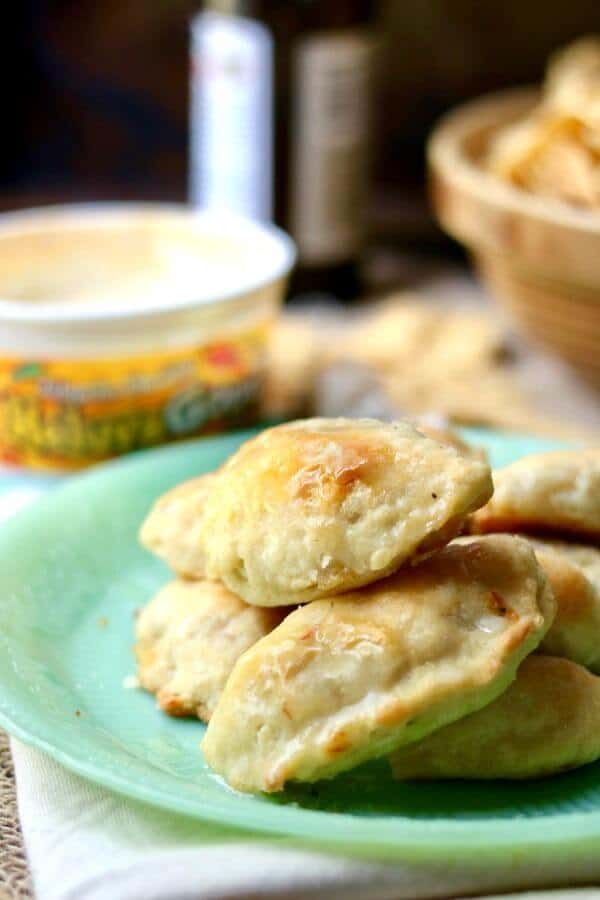 Can Empanadas Be Baked in an Oven?
Although the traditional empanada is deep fried I prefer to bake mine. It's quicker, easier, and less messy. Plus it saves a few calories, right?
[clickToTweet tweet="Empanadas are pastry pockets filled with a spicy mixture and then usually deep fried. Make them soon!" quote="Empanadas are pastry pockets filled with a spicy mixture and then usually deep fried. You can bake or fry these."]
To Bake Empanadas in an Oven:
Preheat the oven to 425F.
Brush empanadas with melted butter.
Bake for 10 to 15 minutes depending on the size of the empanadas.
Brush with melted butter and bake 5 minutes more, until golden.
Serve hot.
To Fry Empanadas
Heat oil in a deep fryer to 375.
Gently drop empanadas into the oil, a few at a time.
Fry until crispy and golden.
Drain on absorbent paper.
Game's Over – What to Do with the Leftover Chicken Empanadas?
If you have leftover chicken empanadas (unlikely) just cover them and refrigerate them. I have a shelf in the fridge dedicated to the stuff my kids can eat for snacks — all the leftover bits and pieces. Chicken empanadas microwave just fine and my kids eat them for breakfast on the way out the door if they're available.
But the dip? Argh! If you are like me you hate, hate, hate wasting food and leftover dip seems to always get pushed back to the dark recesses of the fridge, am I right? No problem. Here are some great ways to use up your leftover Heluva Good! Cheddar and Jalapeno Dip.
Tiny red potatoes can be steamed and put on toothpicks to be dipped with your chicken empanadas.
Leftover Heluva Good! Cheddar and Jalapeno Dip is great as a sauce for boiled potatoes for a quick side dish.
Warm is gently and spoon over cooked broccoli or cauliflower.
Stir leftover dip into creamy soups for added flavor.
Use as a spread on roast beef or ham sandwiches.
Spoon into an omelet.
Here's a novel idea – use it as a chip dip!
Use as a dip for pretzels.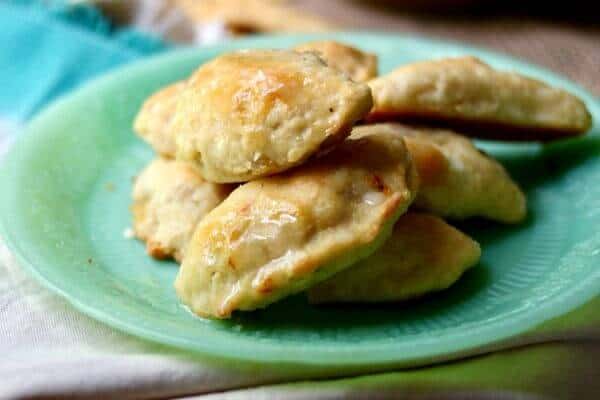 Easy Chicken Empanadas Recipe
I like to add leftover empanadas to school lunches as a fun finger food. It's a nice change from peanut butter and jelly! If you're looking for more football party recipes give the fajita steak skewers a try. They go really well with this easy chicken empanadas recipe!
Like this recipe? Please consider giving it a star rating below. ? Follow me on Facebook and Pinterest!
Easy Chicken Empanadas
Print
Add to Collection
Go to Collections
Tiny pockets of dough bursting with great Tex-Mex flavor! Easy Chicken Empanadas are perfect football party food or any time you need a yummy snack. A creamy, spicy chicken mixture is folded into dough and then baked to create this easy South of the Border appetizer.
As an Amazon Associate I earn from qualifying purchases.
Ingredients
1/4

cup

butter

,

, melted - divided use

1/4

cup

poblano pepper

,

, diced

1/2

cup

onion

,

, diced

1

teaspoon

cumin

1/4

cup

cilantro

,

chopped

1

can

condensed cream of chicken soup

1

cup

shredded Cheddar

,

, or Pepper Jack Cheese

1-1/2

pounds

chicken breast

,

, cooked and shredded

1

recipe

Cheddar Cheese Biscuits,

, unbaked
Instructions
Add a little of the butter to a pan and heat until sizzling.

Saute the poblano peppers and onion in the butter until tender and onion is translucent. Add the remaining ingredients, except the biscuit dough, and simmer until well blended and the cheese is melted.

Pulse in a food processor until chicken is cut small.

Roll the biscuit dough out about 1/4-inch thick.

Cut with a small biscuit cutter.

Add a teaspoon or so of the filling to the middle of the biscuit.

Fold half the dough over the filling and pinch edges to seal.
To Bake
You may flash freeze at this point then store in a freezer container. When ready to bake continue as directed.

Preheat the oven to 425F.

Brush with melted butter.

Brush with more melted butter.

Bake for 5 to 10 minutes more, or until golden.
To Fry
Heat oil in a deep fryer to 375F.

Gently drop in a few chicken empanadas at a time being careful not to overcrowd.
Notes
Nutrition
Calories:
339
kcal
|
Carbohydrates:
16
g
|
Protein:
24
g
|
Fat:
19
g
|
Saturated Fat:
8
g
|
Cholesterol:
87
mg
|
Sodium:
759
mg
|
Potassium:
420
mg
|
Sugar:
1
g
|
Vitamin A:
465
IU
|
Vitamin C:
4.9
mg
|
Calcium:
129
mg
|
Iron:
1.9
mg
Sign up for the emails and never miss another recipe!!
We'll never share your email or send you spam. Pinkie swear.
If you liked these easy chicken empanadas you may also  like…
From left to right: Chicken Crescents, Italian Meatballs in Naan, Candied Jalapenos
A big thank you to Heluva Good! for partnering with Restless Chipotle to bring you this easy recipe.
Included in Meal Plan Monday#84 Link up… Check out all the cool recipes!