Easy baked chicken wings have a spicy herb coating and a sweet and a tongue tingling honey bourbon glaze. So totally addictive that you just can't stop at one! Make them for football season and tailgating, summer parties, or movie night with the family – they are basically shake and bake! You can substitute boneless chicken breast or thighs for the wings if you like them better.
For this recipe you'll need: chicken wings, flour, Tony Chachere's seasoning, smoked paprika, cooking spray, barbecue sauce – your favorite, honey, bourbon, chipotle in adobo, butter, garlic powder.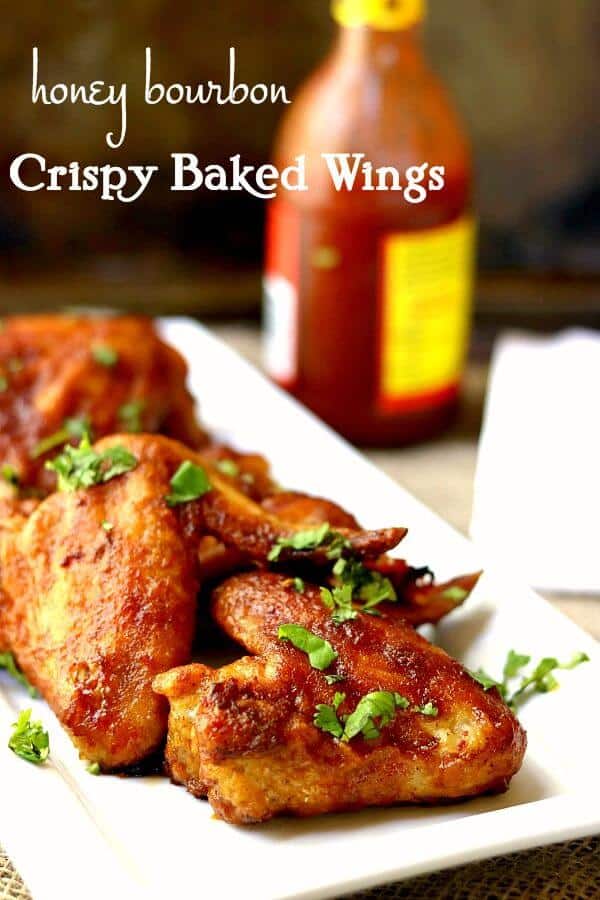 I don't know about you but I like food that makes my taste buds stand up and take notice. I love that little tingle that lingers after the bite is swallowed. AND I like chicken wings when they're done right. Believe me, y'all, these are done right.
The one thing I've always disliked about wings, though, is the frying. Let's be real for a minute — frying is messy. Like pools of oil, wadded up paper towels and dear-God-someone-call-a-cleaning-crew kind of messy.
The answer is baked chicken wings but so much of the time wings done this way are just sort of wrong. Insipid, even. The texture is off, the flavor is off…
These are not off — in fact they are very much ON.
Spicy cajun seasoning gives them both heat and crunch while the sticky honey bourbon sauce makes them sweet and even spicier. Grab one up, take a bite, enjoy that tingle, then lick your fingers…Repeat.
That's the way wings were meant to be eaten.
Baked Chicken Wings: Common Questions
You have questions? I have answers! Here are the most common questions about baking chicken wings.
How long do you bake chicken wings at 350? 375? 400? 425?
I prefer wings baked at 425 because I feel like it makes them crispier. Of course, different recipes will have different times. Here's a general rundown on the average times to cook chicken wings at each temperature but be sure to follow the individual recipe:
350F for about 50 minutes total
375 F for about 45 minutes total
400F for about 40 minutes total
425F for about 35 minutes total
What temperature should chicken wings be cooked to?
Just like any other chicken, wings should be cooked to about 165F. It's usually good to take them out of the oven at 160F and let them sit for 5 minutes or so. They'll continue to cook as they sit. That way they won't overcook and get dry.
How to Cook Chicken Wings in a Convection Oven?
Wings will cook at a slightly lower temperature and for slightly less time in a convection oven compared to a regular oven.
Set the convection oven to between 275F and 300F. As a general rule convection ovens should be set to about 1/4 less than a regular oven. SO, the conversion is something like this (note that the temperatures are rounded up since most people don't bake at 318F):
Regular – Convection
425F – 325F
400F -300 F
375F – 275F
350F – 250F
You'll also take a little time off the total baking time. Start checking about 15 minutes early. The internal temperature of the chicken should still be 160F -165F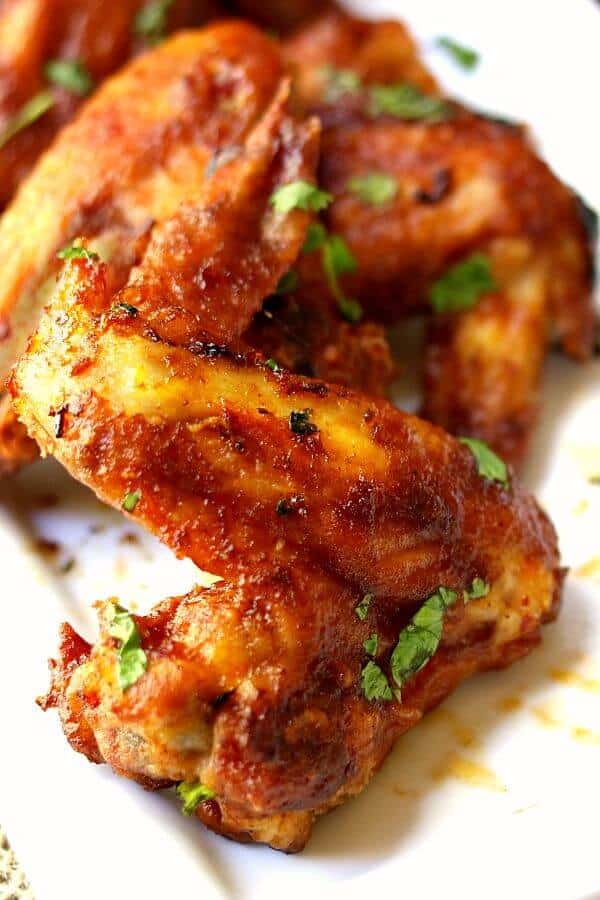 How do you prepare wings for baking?
Normally you'll disjoint them and separate the wingette and drumette, or you can buy they already done. Sometimes I get lazy and just leave the whole thing together – no one has ever complained. In fact, that's how I did these.
After they are disjointed pat them dry with paper towel. This ensures that the spice mixture sticks!
That's really about it – wings are super easy.
Make This Recipe with Chicken Breast or Thighs
If you've every had "boneless chicken wings" you probably know that the chicken used is skinless, boneless breast or thigh meat. It's an easy exchange.
You'll want to slice the chicken in strips a little wider, and about as long as, your finger.
Pat it dry and roll it in the spice mixture.
Let it sit for several minutes and then roll in the spice mixture again.
Bake, checking the internal temperature after 15 minutes and then keeping an eye on it.
Continue with the instructions as written.
You May Need
The following are affiliate links. We are a participant in the Amazon Services LLC Associates Program, an affiliate advertising program designed to provide a means for us to earn fees by linking to Amazon.com and affiliated sites.
Thanks so much for being a part of Restless Chipotle!
Tony Chachere's is the seasoning that I use with these wings. It's not super spicy but it does have a lot of flavor. If you like things really spicy add a pinch of cayenne, or to your taste.
Spicy Baked Chicken Wings with Bourbon Honey Sauce
Whether you're making these for game day or game night you're going to love how quick and easy these oven baked chicken wings are! The sauce is so good and works well for meatballs or barbecued chicken or pork. If you like this recipe please consider giving it 5 stars. My Dr Pepper BBQ sauce works really well in this recipe – give it a try!
If you are looking for more of a meal you might want to check out my yummy bourbon chicken recipe. OMG – so good.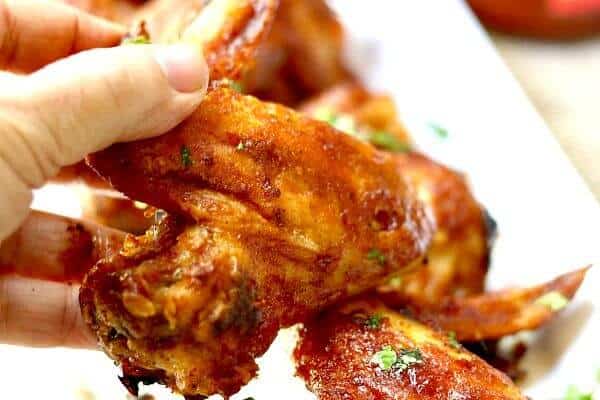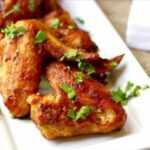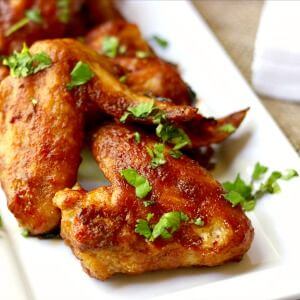 Spicy Oven Baked Wings with Honey Bourbon Glaze
Print
Add to Collection
Go to Collections
Who doesn't like wings? Spicy chicken wings are a must serve for game day but they're just as good for snacking all year. These tongue tingling wings are oven baked then sauced with a sticky honey-bourbon mixture that is addictively sweet and spicy.
Total Time
1
hour
15
minutes
As an Amazon Associate I earn from qualifying purchases.
Ingredients
Sauce
3/4

cup

barbecue sauce

1/2

cup

honey

3

tablespoons

bourbon

1

tablespoon

chipotle in adobo

4

tablespoons

butter

1/2

teaspoon

garlic powder
Instructions
Preheat oven to 425F.

Cover a large baking sheet with foil and spray with cooking spray.
Bourbon Sauce
Blend the sauce ingredients.

Simmer over low heat, stirring often, until thick – about 30 minutes.

Turn the burner off and let the sauce stand while you're making the wings. It will thicken.
Wings
Disjoint the wings and separate the drumettes from the wingettes OR leave them whole as I have here.

Blend the flour, Tony Chachere's seasoning, and smoked paprika in a bowl.

Blot the wings with paper towel to dry.

Dip the wings into the flour mixture until thoroughly coated.

Arrange them in a single layer on the baking sheet.

Place the baking sheet in the preheated oven.

Cook for 15 minutes, watching carefully so they don't burn.

Turn the wings and cook 20 to 30 minutes more, watching carefully.

Remove from the oven and dip the wings into the sauce. Be careful, they're hot!

Place the sauce covered wings back on the baking sheet.

Cook for 5 minutes more, or until an instant read thermometer registers 160F-165F.

Remove from oven and let stand for 5 minutes.
Notes
I did not disjoint the wings for this recipe. One serving =3 whole wings or 6 disjointed ones.
Nutrition
Serving:
3
wings
|
Calories:
594
kcal
|
Carbohydrates:
46
g
|
Protein:
28
g
|
Fat:
31
g
|
Saturated Fat:
11
g
|
Cholesterol:
131
mg
|
Sodium:
583
mg
|
Potassium:
360
mg
|
Fiber:
1
g
|
Sugar:
35
g
|
Vitamin A:
1225
IU
|
Vitamin C:
1.7
mg
|
Calcium:
36
mg
|
Iron:
2.5
mg
Sign up for the emails and never miss another recipe!!
We'll never share your email or send you spam. Pinkie swear.
If you liked this spicy baked chicken wings recipe you may also like…
From left to right: Chicken Empanadas, Chicken Crescents, Italian Meatballs in Naan,
Still looking? Check out these recipes from some of my favorite blogs:
Crispy Oven Baked Wings – Recipe Tin Eats – Super crispy oven baked wings that really are SERIOUSLY crispy! Easy, too!
Dry Rubbed Baked Wings – The Chunky Chef – Tender and juicy these baked chicken wings are coated in a mouthwatering homemade dry rub that will have your tastebuds singing!