Extra crispy oven baked chicken wings are a must for game day parties and playoff snacking! These tongue tingling wings are baked in the oven then dipped in a honey-bourbon mixture that is lusciously sweet and spicy and baked to a sticky glaze. Convection oven instructions included.
This easy recipe is a favorite during football season for game day and tailgating! Bake in a convection oven or regular oven. Instructions included for each.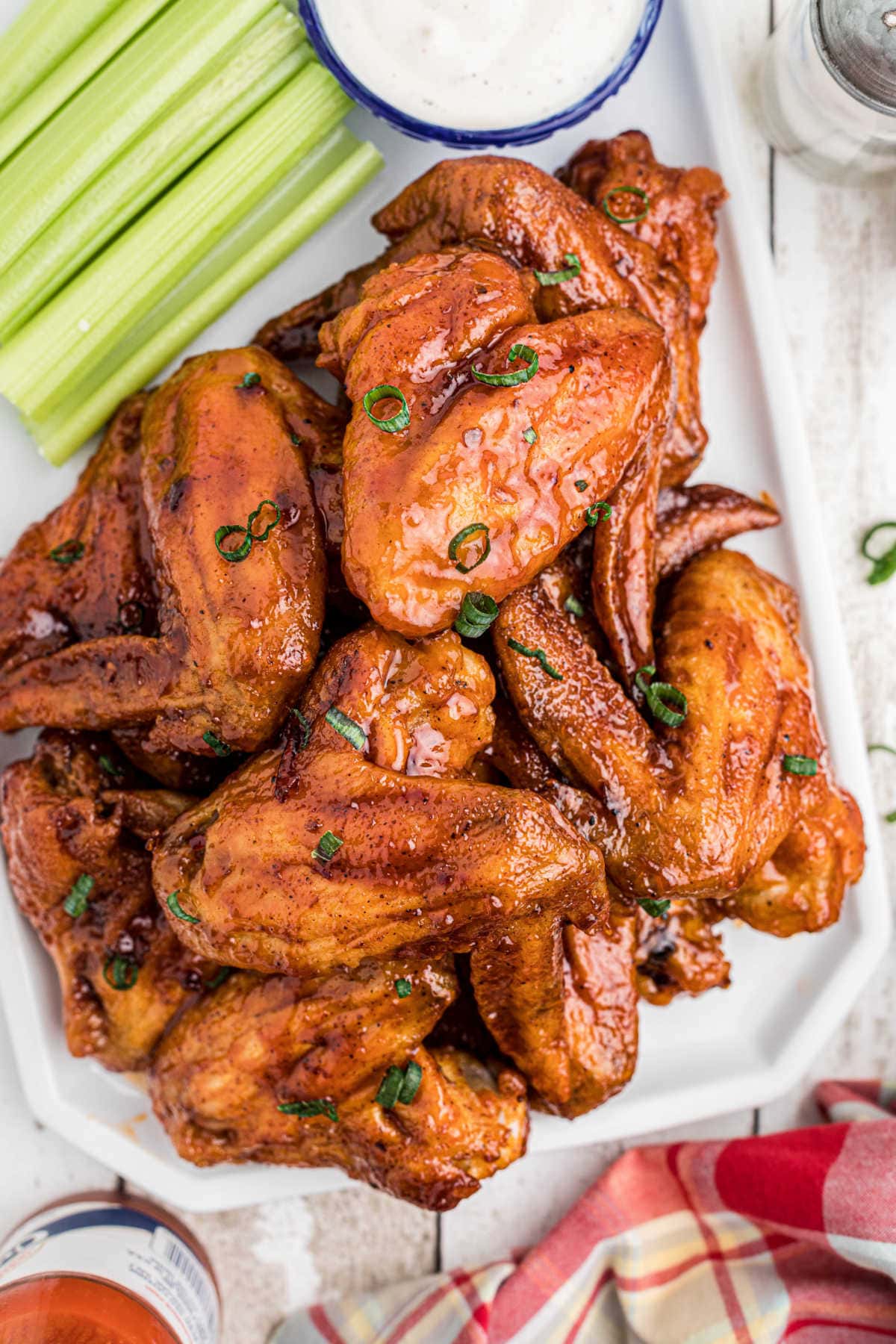 Table of Contents
🗝️ Key takeaways
I love the sticky, sweet, spicy sauce PLUS no need for heating up a lot of oil in the deep fryer because these crispy wings are baked.
Perfect for game day, tailgating, movie nights, poker nights...
Use the handy convection cooking chart to plan time and temperature changes.
Crispy baked chicken wings have never tasted so good, thanks to a homemade spice rub that provides Cajun flavor and Southern crunch. Then, each wing is glazed with a honey bourbon barbeque sauce—finger lickin' isn't just required, it's encouraged!
Pile these up on a plate next to a bowl of chips and a batch of Rotel sausage dip - it's practically required eating for football season.
🧾 Ingredients
This is an overview of the ingredients. You'll find the full measurements and instructions in the green recipe card (printable) at the bottom of the page.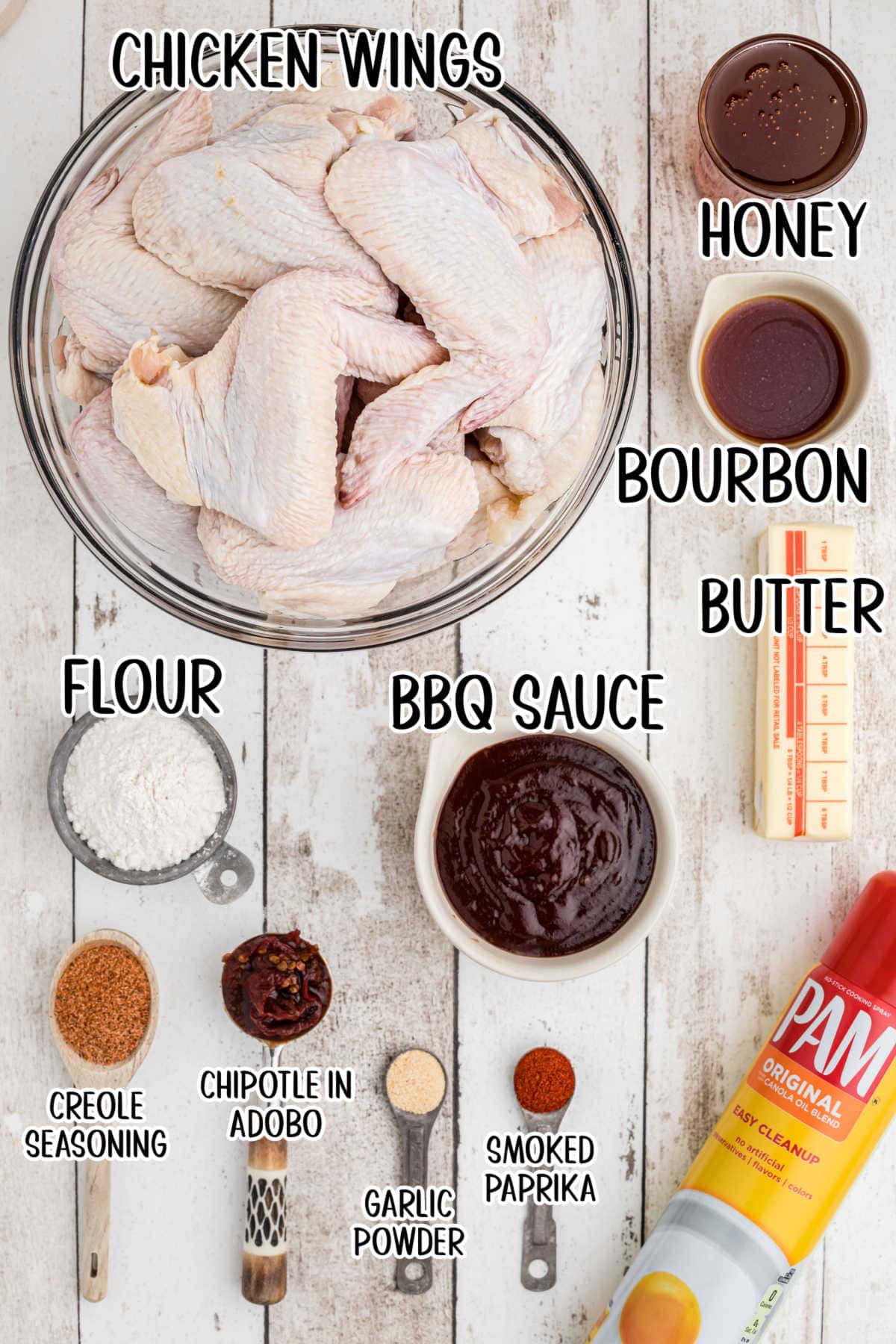 🔪 Instructions
This is an overview of the instructions. Full instructions are in the green recipe card at the bottom of the page.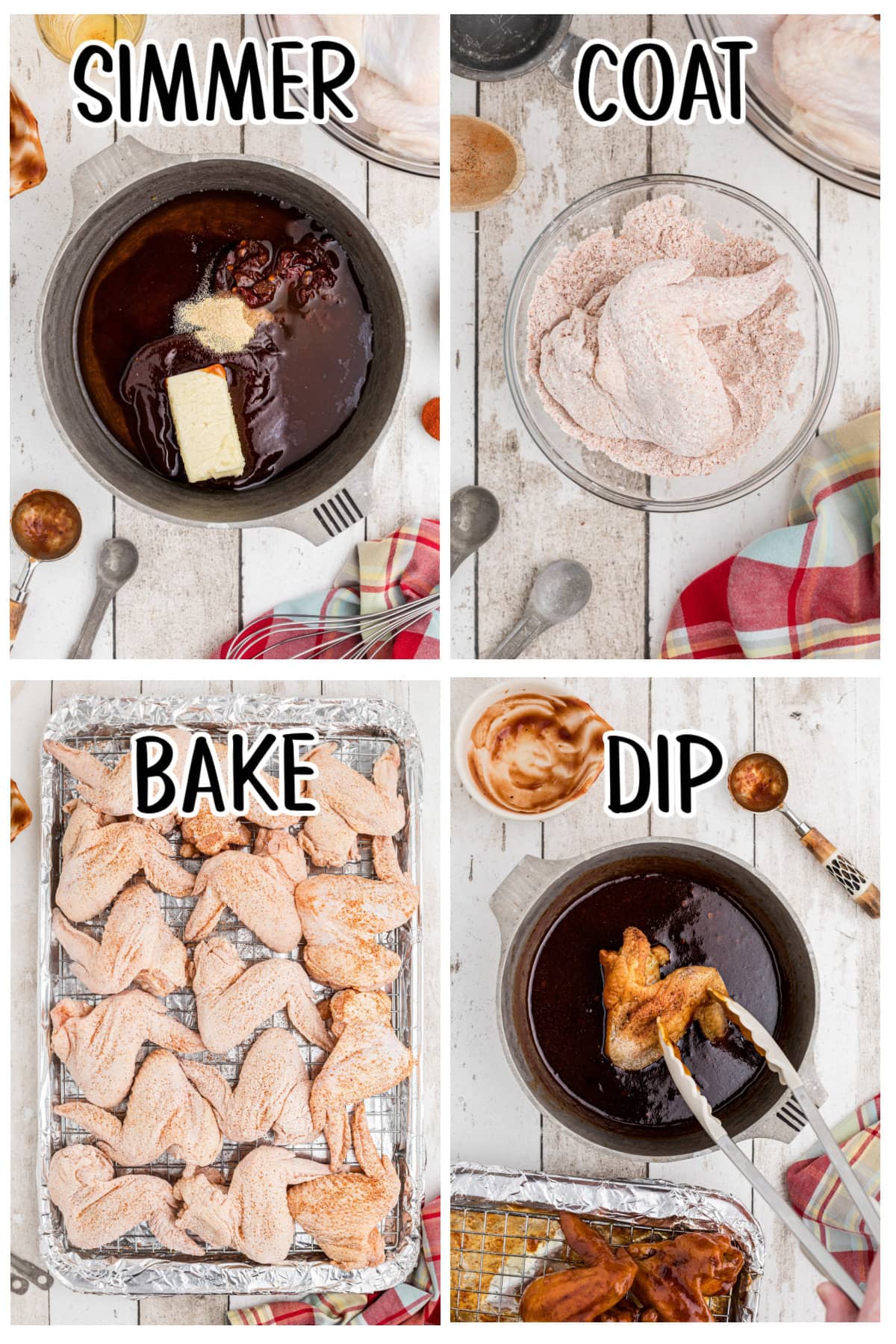 Simmer the sauce ingredients.
Coat wings in flour mixture.
Place chicken wings on prepared baking sheet and cook.
Dip wings into sauce.
The sauce is so good and works well for meatballs or barbecued chicken or pork. My Dr Pepper BBQ sauce works really well in this recipe - give it a try!
🌞 Convection cooking
If you have something else going in the oven, too, you can generally follow these guidelines.
Wings will cook at a slightly lower temperature and for slightly less time in a convection oven compared to a regular oven.
Set the convection oven to 375F. As a general rule convection ovens should be set to about ¼ less than a regular oven.
You'll also take a little time off the total baking time. Start checking about 15 minutes early. The internal temperature of the chicken should still be 160F -165F
| Regular Oven | Time | Convection Oven | Time |
| --- | --- | --- | --- |
| 425F | 35 minutes | 375F | 20 minutes |
| 400F | 40 minutes | 350F | 25 minutes |
| 375F | 45 minutes | 325F | 30 minutes |
| 350F | 50 minutes | 300F | 35 minutes |
How to cook chicken wings in a convection oven.
Cook to 165F.
🥫 Storage
This oven baked chicken wings recipe rarely makes it to the leftovers stage, but if you've got a few hanging around after the big game's over, here's what to do.
Store the leftover wings in an airtight container, like a sealable plastic bag. Refrigerate them for three to four days.
There's nothing better than crispy chicken wings straight out of the oven. To achieve the same texture as they had on day one, the best way to reheat wings is in—you guessed it—the oven. (Microwaving them is a fast hack, but can turn the wings' crispy skin soggy.)
Simply place your leftover wings on a rimmed baking sheet prepared the same way you baked them originally. Bake chicken wings at 350 degrees F for 10-20 minutes (depending on their size) or until heated through.
The sauce itself will last for a few weeks in your fridge. It's fabulous to keep on hand for BBQ'd chicken or pork, cocktail meatballs, and even along with take-out fried chicken wings. Trust me, it's better than anything you'll find in grocery stores!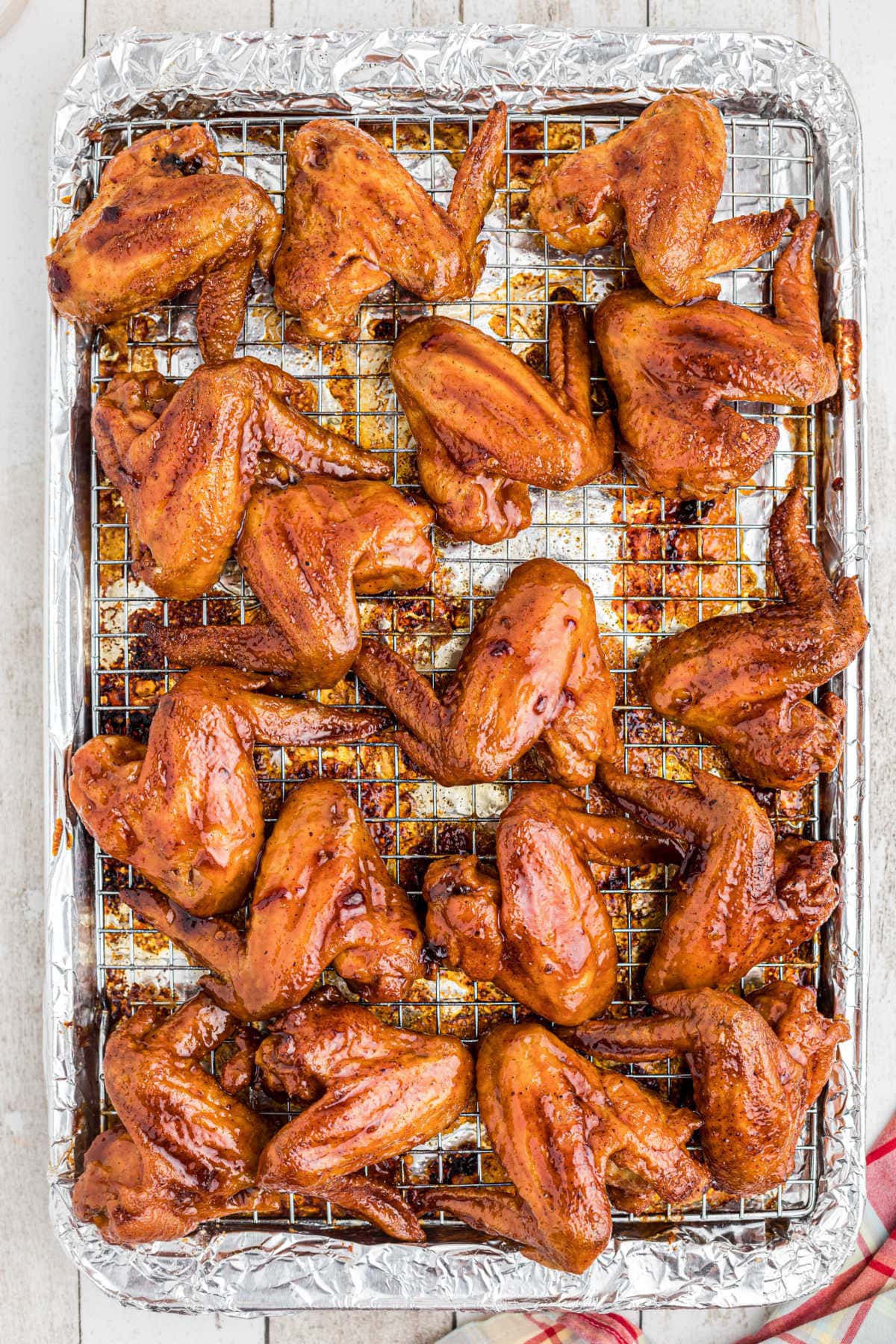 📖 Variations
I used whole chicken wings, but you can disjoint them or buy separated drums/wing pieces. Are you on team drum or team flat?
Don't like bones? Cut up chicken thighs, breasts, or tenderloins into nugget-sized pieces and follow the recipe otherwise for addictive boneless party wings—no bones about it! (Instructions in recipe card.)
You can use your favorite wing sauce in the recipe to adjust the flavor a bit. If you prefer wings sweeter, choose a more mild BBQ sauce. On the other hand, to kick up the spice a notch, pick a spicier BBQ sauce.
Talking about spice, add a few drops of your favorite super hot sauce if you want to take things from mild to high heat! Keep the milk nearby!
If you can't buy Tony Chachere's seasoning, a Cajun or Creole blend will work. Or, make your own with chili powder, cayenne pepper, paprika, onion powder, garlic powder, oregano, thyme, and black pepper.
Don't like to cook with bourbon? Gasp! It's okay—you can omit it, swap it for apple cider, or stir in a little brown sugar to replace the sweetness.
💭 Things to know
Expert Tip: Dry wings crisp up better! Use a paper towel to thoroughly dry off the chicken skin before getting started.
Plus, dry wings help the dry rub adhere better. If there's moisture between the skin and the spice, as the moisture evaporates, it'll create pockets that make the flour/spice mixture fall right off.
You can dredge your wings through the flour using a large bowl, but a paper bag is another easy way to do it—keeps your fingers clean, too!
If you have time, let the wings rest on the baking sheet for a few minutes before baking—another tip for crispy oven-baked chicken wings.
Aluminum foil makes cleanup easy, but don't forget to spray it with non-stick oil, or brush it with a little vegetable oil.
Try to place the wings in a single layer, not touching one another. Use two baking sheets if you can or have to.
Baking the wings on a wire rack over the cookie sheet helps them stay crisper, too. Some cooling racks are coated with plastic, which isn't oven safe. Just make sure your rack is all metal and made for oven use.
Don't forget your favorite dipping sauce! We love ranch and blue cheese dressing.
👩‍🍳 FAQs
How do you prepare the chicken wings for baking?
Disjoint them, separating the wingette and drumette. It helps to use a heavy knife and get it right in between the two bones. Otherwise, buy them already done. Or, leave them as whole wings! Once people get a taste of that sticky, sweet sauce, nobody ever complains.
Are buffalo wings and chicken wings the same?
Sort of... sometimes... but, not really. Buffalo wings are traditionally deep-fried and coated in a cayenne-based (buffalo) sauce. Instead, we bake ours and use BBQ sauce.

However, occasionally I've seen raw, unseasoned wings in the grocery store labeled or sold as "buffalo wings." Technically, at that point, they're just chicken wings, but we'll go with it.
Can I use buffalo sauce instead of BBQ sauce?
You could try buffalo sauce, but the BBQ sauce adds a sweet, smoky flavor that perfectly complements the other flavors of the delicious wings.
My mom always said baking powder was the secret ingredient to crispy baked wings—what's up?
I've got nothing against your mom, but there are different ways to achieve the same result. Baking powder is thought to break up the peptide bonds in the chicken skin so that it turns golden brown more quickly.

However, sometimes, baking powder can give wings a metallic taste. As long as you follow this recipe carefully, the juicy chicken wings bake up to crispy perfection—no leavening agent needed!
Can I bake chicken wings at... 350F? ...375F? ...400F?
The short answer is: I prefer oven baked chicken wings cooked at 425 because the higher oven temperature makes them crispier.
See the conversion chart above for how to change temperatures and times.
Can I serve oven-baked chicken wings as my main course?
Is a touchdown worth six points? YES! Oven baked chicken wings are a main dish the whole team will cheer for—I mean, the whole family! Serve with some veggies and your favorite dips, french fries, or a nice side salad.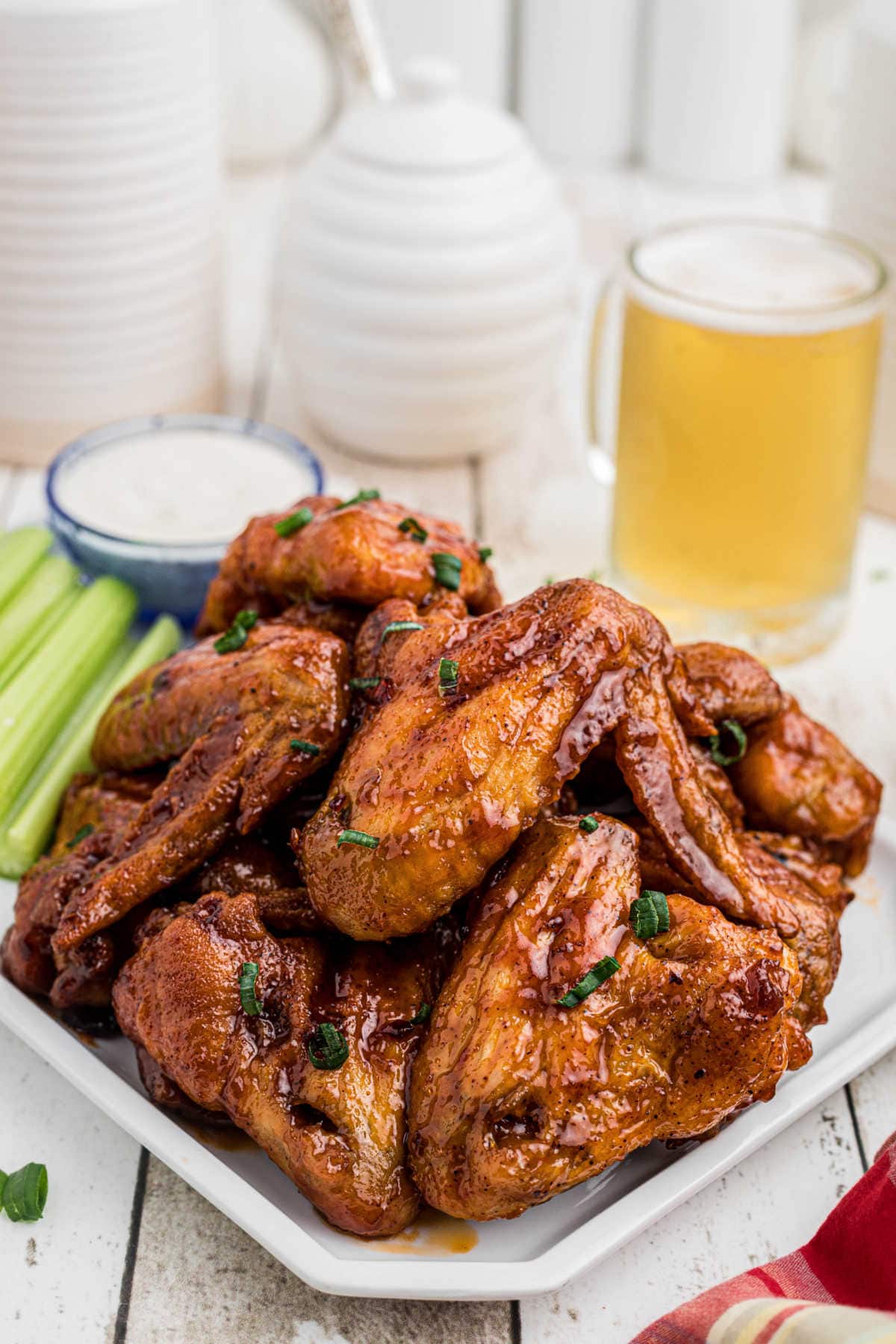 📚 Related recipes
Bacon-Wrapped BBQ Chicken is a basic recipe that delivers on flavor! It's sweet, salty, smoky, and you can make it in the oven or on the grill.
Prep this quickly (or do it ahead of time!) and have dinner ready in a flash—Buffalo Chicken Bake is a tangy, juicy dinner that everyone loves.
Air Fryer BBQ Chicken Thighs make you feel like it's grilling season no matter the weather! Made quickly with very little mess, this easy recipe is one you'll crave over and over again.
🍽️ Serve with...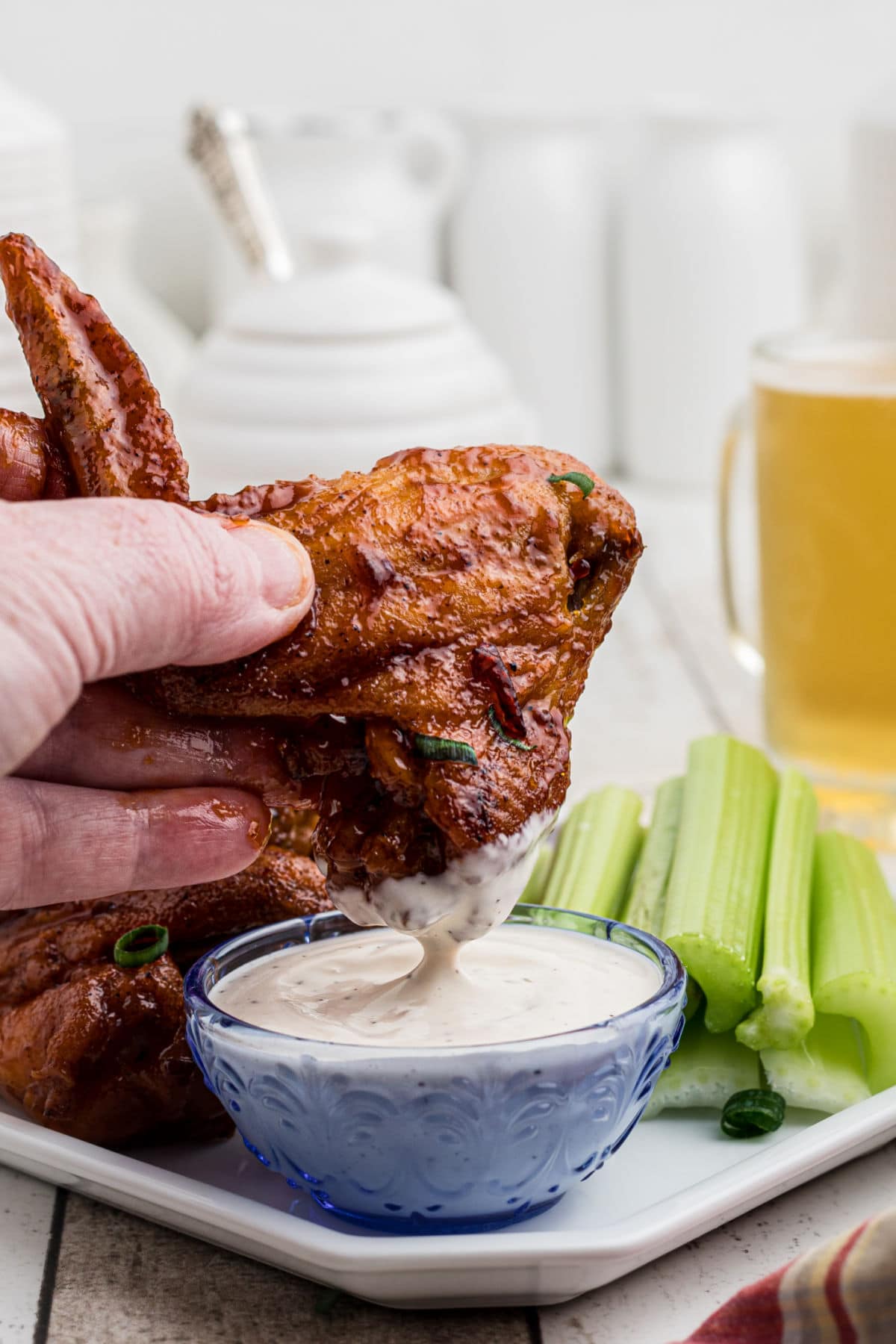 📞 The last word
Try this copycat bourbon chicken recipe next - it tastes like the food court favorite!
Leave the eyes off these cute Halloween Jalapeno Poppers and they're just a delicious snack for game day along with a big bowl of cream cheese sausage balls.
If you click on the number of servings in the recipe card you can adjust the measurements up or down for the exact number of servings you need.
If you love this recipe please give it 5 stars! ⭐️⭐️⭐️⭐️⭐️
📖 Recipe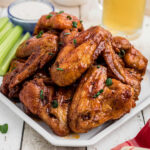 Spicy Oven Baked Wings with Honey Bourbon Glaze
Print
Pin Recipe
Save
Saved!
Extra crispy oven baked chicken wings are a must for game day parties and playoff snacking! These tongue tingling wings are baked in the oven then dipped in a honey-bourbon mixture that is lusciously sweet and spicy and baked to a sticky glaze. Convection oven instructions included.
Ingredients
Sauce
¾

cup

barbecue sauce

½

cup

honey

3

tablespoons

bourbon

1

tablespoon

chipotle in adobo

4

tablespoons

butter

½

teaspoon

garlic powder
I earn a commission from Instacart from qualifying purchases.
Instructions
Preheat oven to 425F.

Cover a large baking sheet with foil and spray with cooking spray.
Bourbon Sauce
Blend the sauce ingredients.

Simmer

over low heat, stirring often, until thick – about 30 minutes.

Turn the burner off and let the sauce stand while you're making the wings. It will thicken.
Wings
Disjoint the wings and separate the drumettes from the wingettes OR leave them whole as I have here.

Blend the flour, Tony Chachere's seasoning, and smoked paprika in a bowl.

Blot the wings with paper towel to dry.

Dip the wings into the flour mixture until thoroughly coated.

Arrange them in a single layer on the baking sheet.

Place the baking sheet in the preheated oven.

Cook for 15 minutes, watching carefully so they don't burn.

Turn the wings and cook 20 to 30 minutes more, watching carefully.

Remove from the oven and dip the wings into the sauce. Be careful, they're hot!

Place the sauce covered wings back on the baking sheet.

Cook for 5 minutes more, or until an instant read thermometer registers 160F-165F.

Remove from oven and let stand for 5 minutes.
Chicken Wings in a Convection Oven
Set the temperature of the convection oven to 375°.

Add the wings and cook for 35 to 40 minutes, turning about halfway through. Check them often.

Always check and make sure the internal temperature is at least 160° before removing from the oven. Let the chicken sit on the counter for 5 minutes so that the temperature has a chance to raise to a safe 165°.
Notes
I did not disjoint the wings for this recipe. One serving =3 whole wings or 6 disjointed ones.
Storage:
Store the leftover wings in an airtight container, like a sealable plastic bag. Refrigerate them for three to four days.
 Tips
Be sure to dry the wings by patting them with paper towels or the coating won't stick well.
Add the flour and seasoning ingredients to a paper bag and shake. It's an easy way to get the coating on evenly.
Let the wings rest on the baking sheet for a few minutes before baking if you have time.
Baking them on a rack over the cookie sheet will help them stay crisper.
To Make Boneless Wings
If you've every had "boneless chicken wings" you probably know that the chicken used is skinless, boneless breast or thigh meat. It's an easy exchange.
You'll want to slice the chicken in strips a little wider, and about as long as, your finger.
Pat it dry and roll it in the spice mixture.
Let it sit for several minutes and then roll in the spice mixture again.
Bake, checking the internal temperature after 15 minutes and then keeping an eye on it.
Continue with the instructions as written.
You'll find more helpful tips and variations in the body of the post.
Nutrition Facts
Serving:
3
wings
|
Calories:
594
kcal
|
Carbohydrates:
46
g
|
Protein:
28
g
|
Fat:
31
g
|
Saturated Fat:
11
g
|
Cholesterol:
131
mg
|
Sodium:
583
mg
|
Potassium:
360
mg
|
Fiber:
1
g
|
Sugar:
35
g
|
Vitamin A:
1225
IU
|
Vitamin C:
1.7
mg
|
Calcium:
36
mg
|
Iron:
2.5
mg
Nutrition information is estimated as a courtesy. If using for medical purposes, please verify information using your own nutritional calculator. Percent Daily Values are based on a 2000 calorie diet.
Sign up for the emails and never miss another recipe!!
We'll never share your email or send you spam. Pinkie swear.
First published July 2019. Last updated September 19, 2023 for more convection oven information.