Easy no bake cookies made with Ritz crackers and Rolo chocolate and caramel candies that are dipped in chocolate and topped with chopped pecans.
These easy, no-bake Rolo cookies are full of chocolate and caramel, then dipped in more chocolate with a generous sprinkle of pecans on top. Best of all they come together super-fast because you start with Ritz crackers.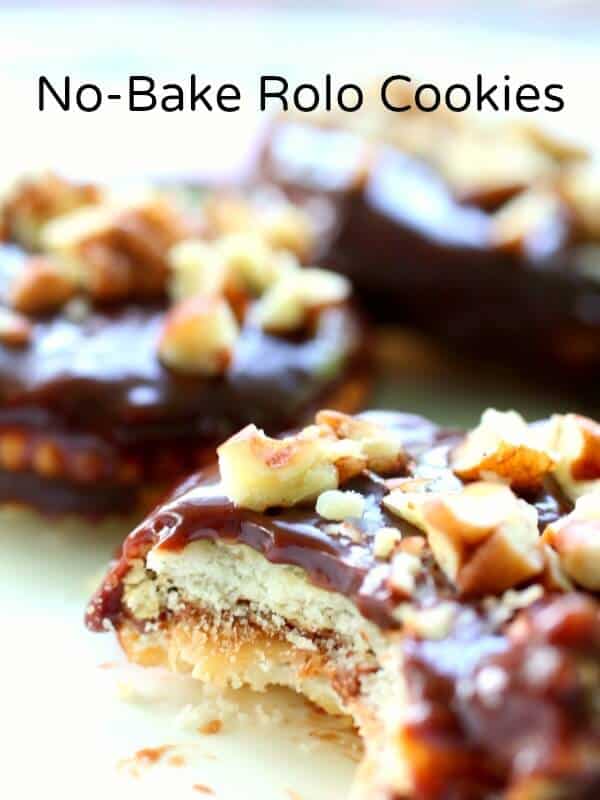 You know, my kids don't stop wanting sacks and treats just because it's 110F outside my kitchen window but that 110F degrees does stop me wanting to turn on my oven. I promise you there have been times when no matter how hard the air conditioner tries to keep up the kitchen is hot enough that butter pools in the butter dish. In other words, there is no way that I am going to bake cookies or anything else.
I have two teenage boys once again and they are constantly wanting a snack but I can only afford so much fruit so I've pretty much got to come up with something they can eat that is easy and won't set my 100 year old heart pine floors on fire from the heat in the kitchen. No-bake cookies and desserts are the answer, of course.
Sending your kid outside to play here in Texas is not something you want to do after about 10 AM when the blacktop starts to liquify and heat waves shimmer up off the pavement. We have a pool but it can even get too hot for that. Reading, watching TV, video games, and computer stuff is pretty much it around here -- except for the snacking. My kids have taken snacking to Olympic status - and when the grandkids come over the first thing they say after, "Where's Grampa?" (we know who the favorite is, don't we?) is, "I'm hungry, Gramma."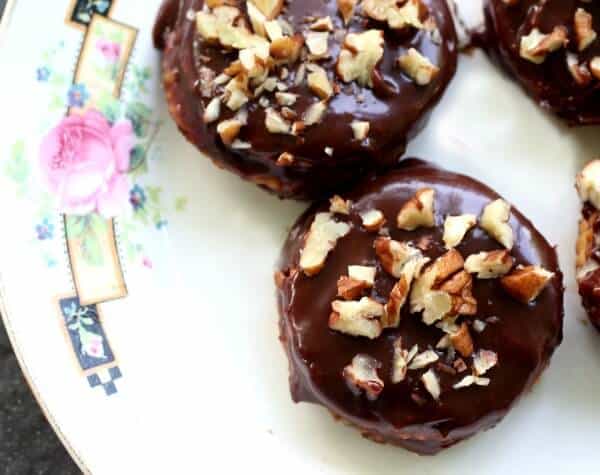 I remember playing Monopoly or Scrabble on the porch when I was a kid. We didn't use air conditioning as much as now and evenings were long, sultry, events filled with lightening bugs, cold sweet tea, and Hide and Seek. The adults would talk and the sound of their voices would become a buzz in my ears until I'd open my eyes to bright sunlight in my own room. I don't know that any of us got overheated. We gulped water from the garden hose when we were thirsty and waded ankle deep in cool creeks, looking under rocks for crawfish. Summer meant freedom and we were determined to grasp every moment. As Auntie Mame said, "Life's a feast!"
And it was.
Sometimes I feel bad because I feel like my kids are missing out on that freedom. I hate that they watch television (currently at our house they're binge watching Gilmore Girls) so much and miss out on the things that I treasured. I remember my mom saying the same thing and I've realized that they will have their own special memories and magic because summer magic is something you experience on an individual level. It can be described to, but not experienced by, those around you.
So, anyway, I'll be sharing a lot of no-bake snacks and desserts this summer. I'll probably talk way too much and share way to many memories but y'all know how to scroll down, right?
Today's recipe is really one of my favorites. If you have a microwave you can do these in about five minutes. These no-bake Rolo cookies are so good that it's just unbelievable. After all, who doesn't like chocolate, caramel, and pecans? Chewy, crispy, crunchy, gooey goodness on a plate. So easy that your kids can make them with little to no supervision, depending on how old they are.
If your house stays warm you'll want to keep them in the fridge or the chocolate will be all melty.

📖 Recipe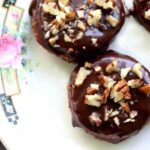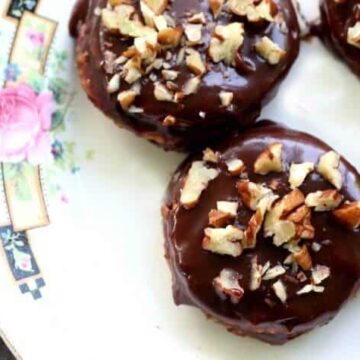 Easy, No-Bake Turtle Cookies
Print
Save
Saved!
Easy no bake cookies made with Ritz crackers and Rolo chocolate and caramel candies that are dipped in chocolate and topped with chopped pecans.
Ingredients
24

Ritz Crackers

12

Rolos

,

, wrappers removed

½

cup

milk chocolate chips or coating chocolate

⅓

cup

chopped pecans
I earn a commission from Instacart from qualifying purchases.
Instructions
Lay 12 Ritz crackers on a microwave safe dish.

Add 1 Rolo to the center of each.

Microwave for 1 minutes.

Gently press the remaining Ritz Crackers on top of the softened Rolos to make a sandwich.

Refrigerate while melting the chocolate.

Melt the chocolate chips in the microwave stirring ever few seconds until smooth.

Dip the Ritz sandwiches into the chocolate covering completely.

Sprinkle on the pecans while the chocolate is still melty.

Chill until the chocolate is set.
You'll find more helpful tips and variations in the body of the post.
Nutrition information is estimated as a courtesy. If using for medical purposes, please verify information using your own nutritional calculator. Percent Daily Values are based on a 2000 calorie diet.
Sign up for the emails and never miss another recipe!!
We'll never share your email or send you spam. Pinkie swear.
If you like No-Bake Rolo cookies you may also like...
No Bake Chocolate Billionaires