Slow cooker Pozole Verde, sometimes spelled Posole, is easy cold weather comfort food with lots of Southwestern flavor. Chicken, hominy, and plenty of  spices and herbs make it delicious while everyone's favorite appliance, the slow cooker, makes it easy.
For this recipe you will  need the following ingredients: olive oil, onion, poblano, jalapeno, garlic, diced green chiles, chicken stock, white hominy, chicken breast, cumin, and salt.
Optional garnish ingredients are: avocado, lime, cilantro, cojita cheese
If you're in a hurry click to go straight to the slow cooker posole verde recipe.

The Restless Chipotle Channel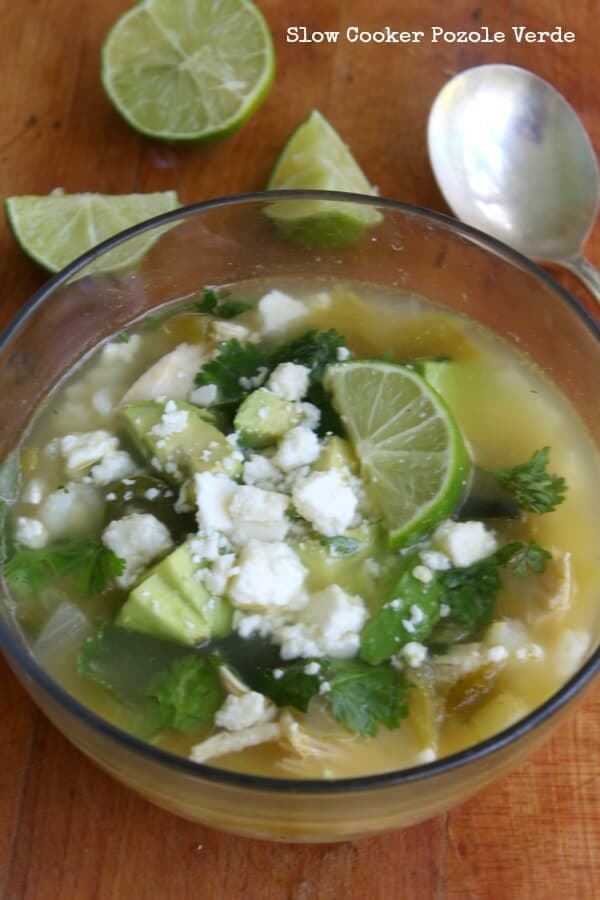 If you know me you know that I have a strong affection for Tex-Mex and other Southwestern flavors. You also know that I am not likely to have a lot of time to prepare those recipes so I have learned to use shortcuts. Nothing makes a soup or stew better than a slow cooker and there is nothing that makes your kitchen smell better than a big batch of this pozole verde. Chicken simmers all day in chicken stock seasoned with peppers, cumin, onion, and garlic. When you serve it up the meat literally falls apart in the ladle. The hominy is chewy and is the perfect contrast to the tender meat. The steam from the hot broth carries up the aroma of all of those seasonings and if you close your eyes you can easily imagine you're in Mexico.
I went to Mexico with my parents when I was little but I don't remember it. The next time I went was with my husband. We were on a cruise that stopped in to Cozumel on the way down the gulf to Belize, Honduras, and Roatan. While we were shopping in Cozumel we stopped at a little cafe to have lunch. After we had ordered the server brought us a batch of tortilla chips and queso. I was surprised by the queso because I was expecting salsa but I dug in with a chip and stacked up a layer of the orange queso on my chip. I happen to love queso so I wasn't missing the salsa a bit. I took a bite of that chip and I thought the top of my head was going to explode. It wasn't queso at all but a thick sauce made from habaneros.
Lesson learned. When in a foreign country don't assume anything.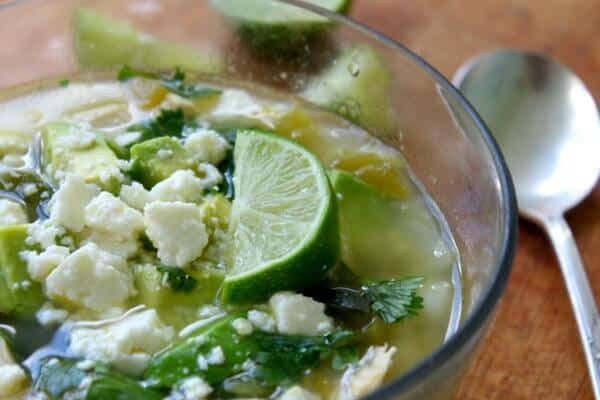 This slow cooker pozole verde is nothing you need to worry about. It's just mildly spicy, perfect for warming up on a bitter cold day. It's very brothy and I especially love it when I have a cold because it just seems to make me feel better every time. No matter how stopped up you are the flavors come through!
I like to serve this with warm tortillas, butter, and a crispy green salad with an orange vinaigrette.
The following is an affiliate link. If you click through and buy something I get a small commission which is used to maintain the blog. Thanks so much for being a part of Restless Chipotle!
If you are in the market for a new slow cooker consider this one. Although I LOVE my slow cooker I am totallyl besotted with this one by CrockPot because it hooks up to wifi and you can tell it what to do with your smart phone!
Ain't technology grand?


Crock-Pot Smart Wifi-Enabled WeMo 6-Quart Slow Cooker, SCCPWM600-V1

Here's the slow cooker pozole verde. Give it a try and let me know what you think.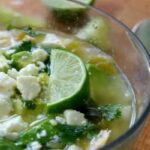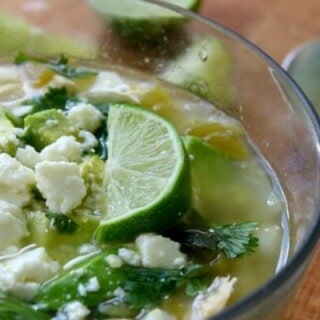 Print Recipe
Clickable Table of Contents
hide
Slow Cooker Pozole Verde
Pozole is a light, brothy Mexican soup that is often used in conjunction with a celebration. It's so good you won't want to wait for a party to make it. Serve Pozole Verde with a crisp green salad.
Ingredients
1

cup

diced onion

1

large poblano pepper

, cored and diced

1

jalapeno pepper

, sliced thinly in rounds (be sure to remove seeds)

3

cloves

garlic

, minced

3

(4-ounce) cans diced green chiles

6

cups

chicken stock

2

(14-ounce) cans white hominy, drained and rinsed

3

boneless chicken breasts

2

teaspoons

ground cumin

Salt to taste
If you liked Slow Cooker Pozole Verde you may also like…
Slow Cooker White Chicken Chili
Slow Cooker Chicken Fajita Soup
Slow Cooker Mexican Chicken Stew Sweet Peas and Saffron
Slow Cooker Fiesta Ranch Chicken Chef in Training