Chicken Pozole verde, sometimes spelled posole, is the best ending to a cold, rainy day. Tender chicken, chewy hominy, and plenty of southwestern spices and herbs come together in this spicy, brothy soup to create a mouthful of magic. Best of all - it simmers all day in the slow cooker making your kitchen smell delicious (Stovetop instructions included)! Welcome home!
In the mood for beef? Try my recipe for old fashioned beef and noodles.
First Published: December 28, 2015... Last Updated: September 23, 2019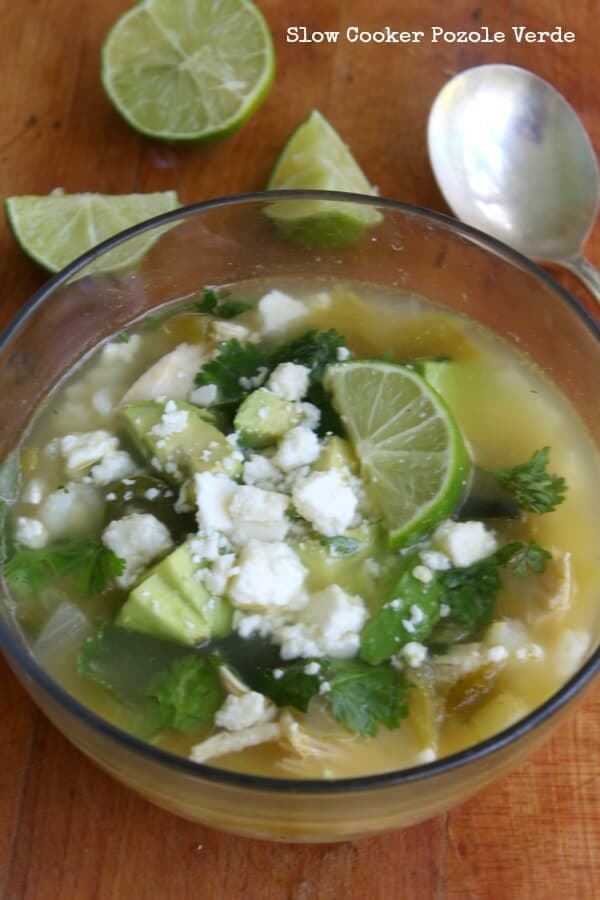 Ingredients for Chicken Pozole
This is the most basic of lists. You can add other green vegetables as you wish - think cabbage, spinach, zucchini, celery, etc.
Onion can be white or yellow. I prefer the zestier white onions in this recipe.
Poblano peppers are mild in heat but so delicious! You can substitute Bell peppers if you can't find poblanos.
Jalapenos add the heat. If you want to keep the spicy level down then be sure to seed and remove membranes before adding them to the soup. ALWAYS wear gloves when working with hot peppers!
Garlic is a big part of the flavor. Don't skimp!
Diced green chiles come in cans and they are relatively mild.
Chicken stock is my preference for this recipe because it has more flavor that broth. Homemade is best but if your stock/broth seems bland or weak add a little chicken bullion.
White hominy can be found in cans in the vegetable section at the grocery - usually next to the corn.
Chicken breast is what I use but you can use thighs if you like.
Cumin adds a nice, warm flavor - it's pretty essential to the recipe and keeps it from being a bowl of chicken soup.
Salt to taste. I use kosher salt so if you use table salt you'll need less.
Optional garnish ingredients are: avocado, lime, cilantro, thinly sliced radishes, shredded cabbage, cojita cheese
Slow Cooker Chicken Pozole
If you know me you know that I have a strong affection for Tex-Mex and other Southwestern flavors. You also know that I am not likely to have a lot of time to prepare those recipes so I have learned to use shortcuts.
Nothing makes a soup or stew better than a slow cooker and there is nothing that makes your kitchen smell better than a big batch of this chicken pozole verde.
Chicken simmers all day in chicken stock seasoned with peppers, cumin, onion, and garlic. When you serve it up the meat literally falls apart in the ladle. The hominy is chewy and is the perfect contrast to the tender meat. The steam from the hot broth carries up the aroma of all of those seasonings and if you close your eyes you can easily imagine you're in Mexico.
When Is Queso Not Queso?
I went to Mexico with my parents when I was little but I don't remember it. The next time I went was with my husband. We were on a cruise that stopped in to Cozumel on the way down the gulf to Belize, Honduras, and Roatan.
While we were shopping in Cozumel we stopped at a little cafe to have lunch. After we had ordered the server brought us a batch of tortilla chips and queso. I was surprised by the queso because I was expecting salsa but I dug in with a chip and stacked up a layer of the orange queso on my chip.
I happen to love queso so I wasn't missing the salsa a bit. I took a bite of that chip and I thought the top of my head was going to explode. It wasn't queso at all but a thick sauce made from habaneros.
Lesson learned. When in a foreign country don't assume anything.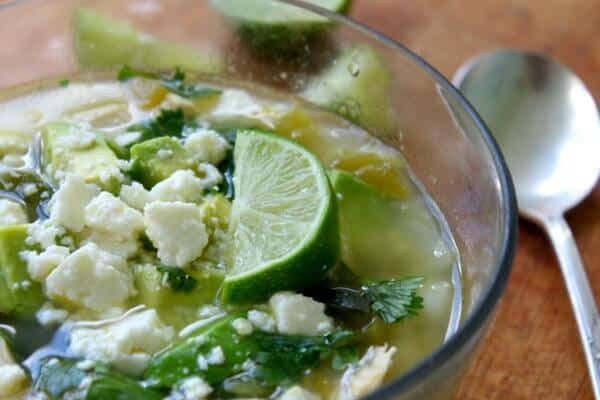 This slow cooker pozole verde is nothing you need to worry about. It's just mildly spicy, perfect for warming up on a bitter cold day. It's very brothy and I especially love it when I have a cold because it just seems to make me feel better every time. No matter how stopped up you are the flavors come through!
I like to serve this with warm tortillas, butter, and a crispy green salad with an orange vinaigrette.
Chicken Pozole Verde FAQs
Here are the questions I am most frequently asked about this recipe.
Is it spelled posole or pozole?
Either is correct. In Central Mexico you're more likely to see it spelled pozole and in the border areas it's often posole.
What is pozole made of?
There are two kinds of pozole. Red pozole (or pozole roja) is usually made with ground chiles and pork. Pozole verde is most often made with chicken and a clear broth.
How many days is pozole good for?
Pozole is good for 4 days or so when it's covered tightly and refrigerated
Is pozole healthy?
Actually it is! Chicken pozole is generally pretty low in calories and fat because it's made with broth and vegetables.
Can you freeze pozole?
Pozole freezes well for up to 3 months.
What is hominy?
Hominy is dried corn that's been soaked in lime. It puffs up and gets soft and chewy. You can usually find it in a can in the grocery store. The Kitchn has a great post about hominy here.
What can I use in place of the hominy?
Nothing. Without hominy pozole is just chicken soup.
What to Serve with Pozole
I like to keep it simple. This is an easy soup -- it's so flavorful that it's a shame to add too many other flavors. Here are some of my favorite dishes to serve with chicken pozole.
Warm flour tortillas are good with butter as a bread.
I also like the crunch of tortilla chips with this.
Sopapillas are good anytime. When I was in Santa Fe they served them like bread -without sugar.
A salad on the side is always welcome.
Finish dinner and relax into the evening with mugs of spiked Mexican hot chocolate.
Slow Cooker Recipes
Do you love your slow cooker?
I sure love mine! It makes getting dinner SO easy and we eat out a lot less. Here are some of my favorites from here on Restless Chipotle!

Slow Cooker Chicken Fajita Soup
A soul warming chicken soup full of Southwestern flavor that you make in the slow cooker. Your house will smell amazing!
Check out this recipe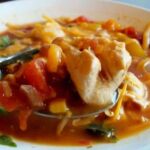 Creamy White Chicken Chili Recipe
Creamy slow cooker white chili filled with white beans, chicken, and cheese is a great way to warm up on a chilly icky day. Make it in the slow cooker or on top of the stove.
Check out this recipe
Slow Cooker Tequila Lime Chicken Tacos
Boneless chicken slow cooks all day absorbing the flavors of the cooking liquid. When you're ready to eat the meat is falling apart tender and ready to be added to your favorite tortilla. If you prefer not to use tequila then pineapple juice will work just fine. Serve this dish with rice, refried beans, and a tangy frozen margarita or pitcher of fruity sangria.
Check out this recipe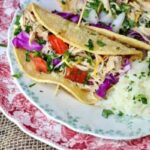 Beef Pot Roast and Jalapeno Cheese Grits
This is the best slow cooker pot roast recipe ever -- so easy and when you pair that tender, falling apart beef with the creamy, jalapeno cheese grits you won't need to call the family to dinner more than once. Not only does it make the whole house smell like Sunday at Gramma's; it tastes amazing. Easy recipe.
Check out this recipe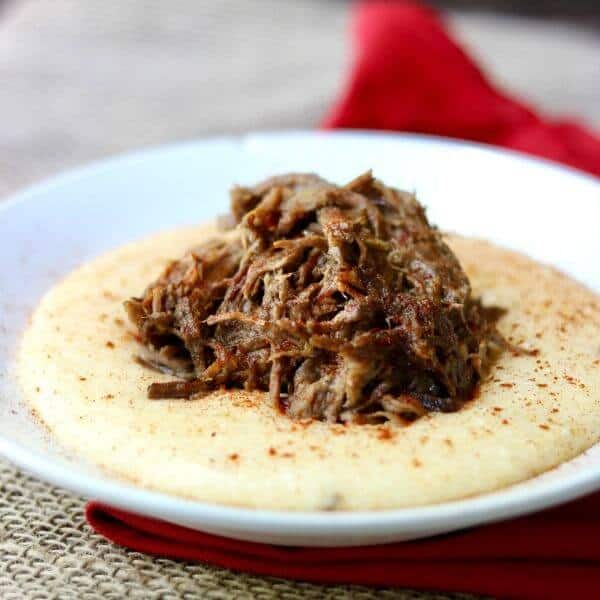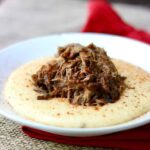 Slow Cooker Steak Sandwiches
Tender beef is seasoned with Texas style seasonings then slow cooked to buttery perfections. The shredded meat is piled atop homemade cornmeal sandwich rolls or
Check out this recipe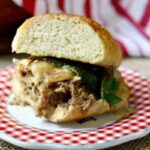 Tips for Chicken Pozole Perfection
This is seriously an easy dish but here are some things I've learned over my years of making it.
Always, always, always wear gloves when working with jalapenos. Trust me.
For even more flavor you can use bone in chicken and then remove the bones and any skin before serving.
If you like cilantro be generous with it.
To freeze pozole let it cool to room temperature and then add to firm freezer containers - I wouldn't recommend freezer bags. To thaw: place in the refrigerator overnight and heat before serving.
You May Need...
The following are affiliate links. We are a participant in the Amazon Services LLC Associates Program, an affiliate advertising program designed to provide a means for us to earn fees by linking to Amazon.com and affiliated sites.
What's new? Check out my Restless Chipotle & Co. Store on Amazon where you'll find all kinds of nostalgic goodness! Thanks so much for being a part of Restless Chipotle!
If you can't find poblano peppers you can get them on Amazon Fresh. Let's face it, someday we'll be buying our houses through Amazon. Sigh.... It is nice to be able to just order groceries and have them delivered, though. Have you tried it?
Chicken Pozole Recipe
This is seriously such a simple recipe that you'll be making it all winter long! Chicken pozole is light and fresh plus it's even better the second day. Make a big batch and eat it all weekend long!
If you click on the number of servings in the recipe card you can adjust the measurements up or down for the exact number of servings you need. Don't forget that you can click on "add to collection" to save it to your own, private recipe box!
If you love this recipe please give it 5 stars! ⭐️⭐️⭐️⭐️⭐️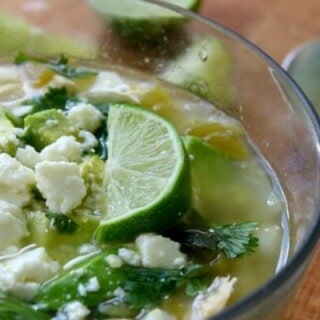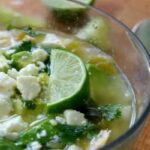 Slow Cooker Pozole Verde
Print
Add to Collection
Go to Collections
Pozole is a light, brothy Mexican soup that is often used in conjunction with a celebration. It's so good you won't want to wait for a party to make it. Serve Pozole Verde with a crisp green salad.
As an Amazon Associate I earn from qualifying purchases.
Ingredients
1

cup

diced onion

1

poblano pepper

,

cored and diced

1

jalapeno pepper

,

sliced thinly in rounds (be sure to remove seeds)

3

cloves

garlic

,

minced

12

ounces

green chiles

,

(canned) diced

6

cups

chicken stock

28

ounces

white hominy

,

drained and rinsed

3

boneless chicken breasts

2

teaspoons

ground cumin

Salt to taste
Garnish
Diced avocado

Lime wedges

Chopped cilantro

Crumbled cotija cheese

Cabbage

Thinly sliced radishes
Instructions
Add all of the ingredients except the garnish to your slow cooker.

Cook on low for 8 hours.

Shred the chicken with 2 forks before serving.

Garnish with toppings of choice, squeezing a little lime juice into each bowl.
Stovetop Instructions
Season chicken with salt and pepper.

Heat a little oil in a heavy skillet until rippling.

Brown chicken on both sides.

Turn heat down and cook until cooked through (165F)

Add pozole ingredients to a stockpot.

Dice or shred the cooked chicken and add it to the pot.

Simmer 10 more minutes, or until vegetables are tender.

Serve with garnishes as above.
Notes
Always, always, always wear gloves when working with jalapenos. Trust me.
For even more flavor you can use bone in chicken and then remove the bones and any skin before serving.
If you like cilantro be generous with it.
To freeze pozole let it cool to room temperature and then add to firm freezer containers - I wouldn't recommend freezer bags. To thaw: place in the refrigerator overnight and heat before serving.
Nutrition
Calories:
314
kcal
|
Carbohydrates:
35
g
|
Protein:
20
g
|
Fat:
9
g
|
Saturated Fat:
2
g
|
Cholesterol:
43
mg
|
Sodium:
1027
mg
|
Potassium:
480
mg
|
Fiber:
6
g
|
Sugar:
10
g
|
Vitamin A:
154
IU
|
Vitamin C:
28
mg
|
Calcium:
44
mg
|
Iron:
2
mg
Sign up for the emails and never miss another recipe!!
We'll never share your email or send you spam. Pinkie swear.