Beef is an excellent choice for dinner, and today you'll learn the main differences between two of the most popular cuts of meat: cube steak vs ground beef.
Don't want to scroll through the page to get to the recipe? Use the table of contents to click on the section you want.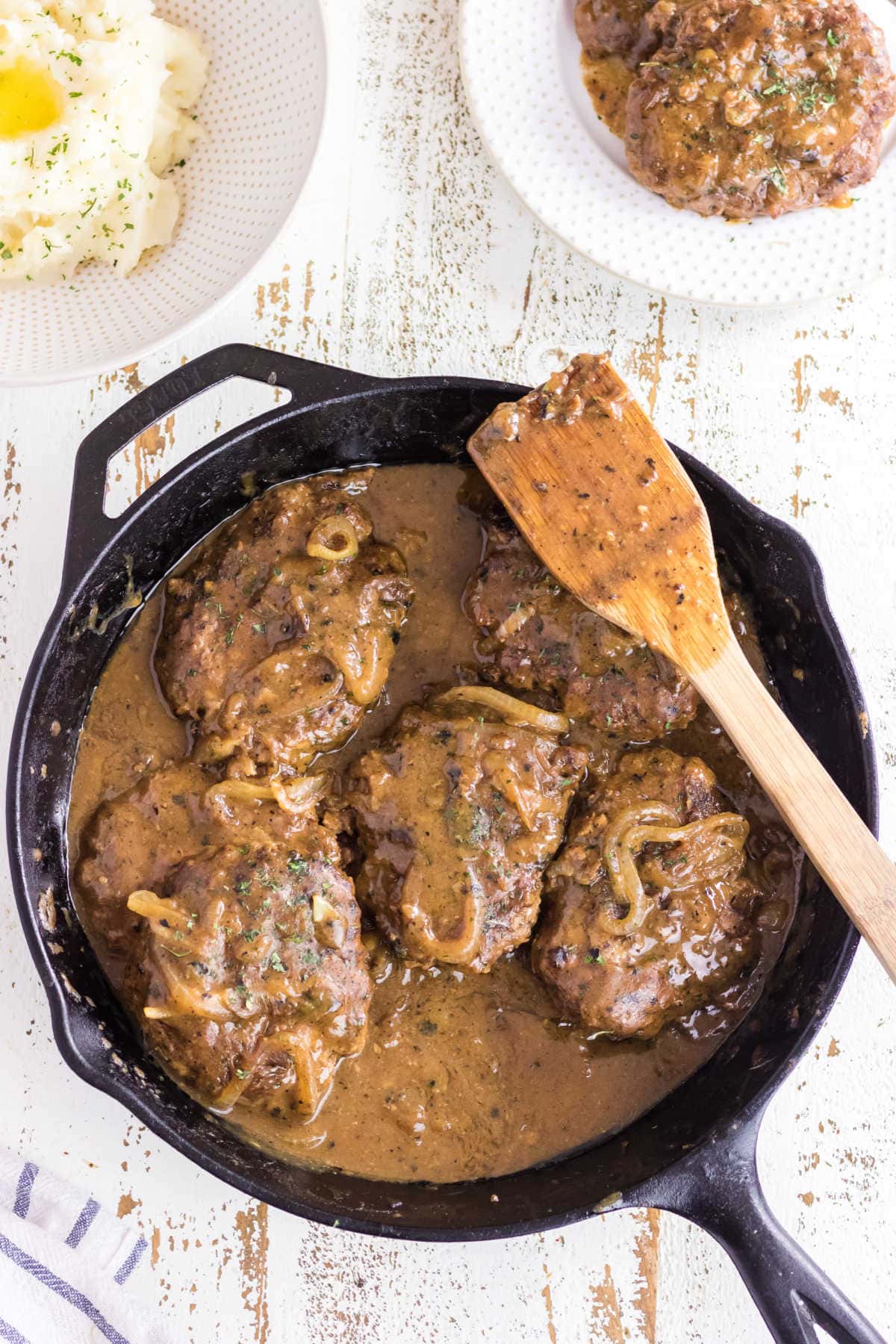 Copycat Cracker Barrel hamburger steaks
Jump to:
🗝️ Key takeaways
Both popular options are budget-friendly and quick to prepare.
There are so many easy dinner recipes using either cube steak or ground beef, so your meals always taste exciting!
For best results, cook cube steak like a regular steak. Ground beef is a great option for casseroles, tacos, and burgers.
We'll discuss the best way to handle and store each type of meat and address common questions so you can navigate grocery shopping and meal planning with ease.
What is cube steak
Cube steak (sometimes called "cubed steak") refers to tougher cuts of beef that have been pounded flat with a spiky meat cuber. You can do this at home with a meat mallet.
These cuts of beef have a low-fat content, so they undergo a tenderizing process that breaks up tough connective tissue.
Often called "minute steak," these thin cuts of meat cook in hardly any time at all.
Though they resemble ground beef at first glance, cube steak is simply a very thin slice of steak—it doesn't crumble apart.
Southern cooks use cube steak most often for delicious chicken-fried steak. However, many people also prefer the cut over ground beef patties when making Salisbury steak or poor man's steak.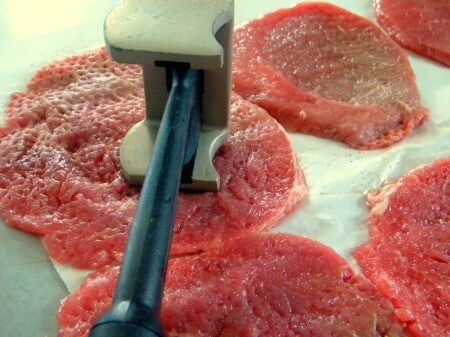 How to store cube steak
In the fridge, raw cube steak lasts for three to five days. Frozen cube steaks will keep for four to six months.
It's important to keep raw meat sealed in an airtight container or in its original packaging. Avoid cross-contamination by keeping all raw meat in one designated section of your refrigerator.
Cube steak lasts a little longer in storage when compared to ground beef because it has less surface area exposed to air. Of course, you should always check the "use by" date provided by your local grocery store.
What is ground beef?
Ground beef comes from a variety of cuts of beef and is usually labeled accordingly on the package. For example, you can buy:
Ground beef sirloin (from the mid-back)
Ground round (from the thigh)
Ground chuck (from the shoulder)
Instead of being flattened with a meat tenderizer, ground beef is processed according to its name: its ground—or cut—into small pieces. The tough fibers break apart during the grinding process.
Then, home cooks and pro chefs alike transform this simple meat into all sorts of delicious meals. Ground beef is a good choice for stews, casseroles, meatloaves, meatballs, and beef patties for hamburgers!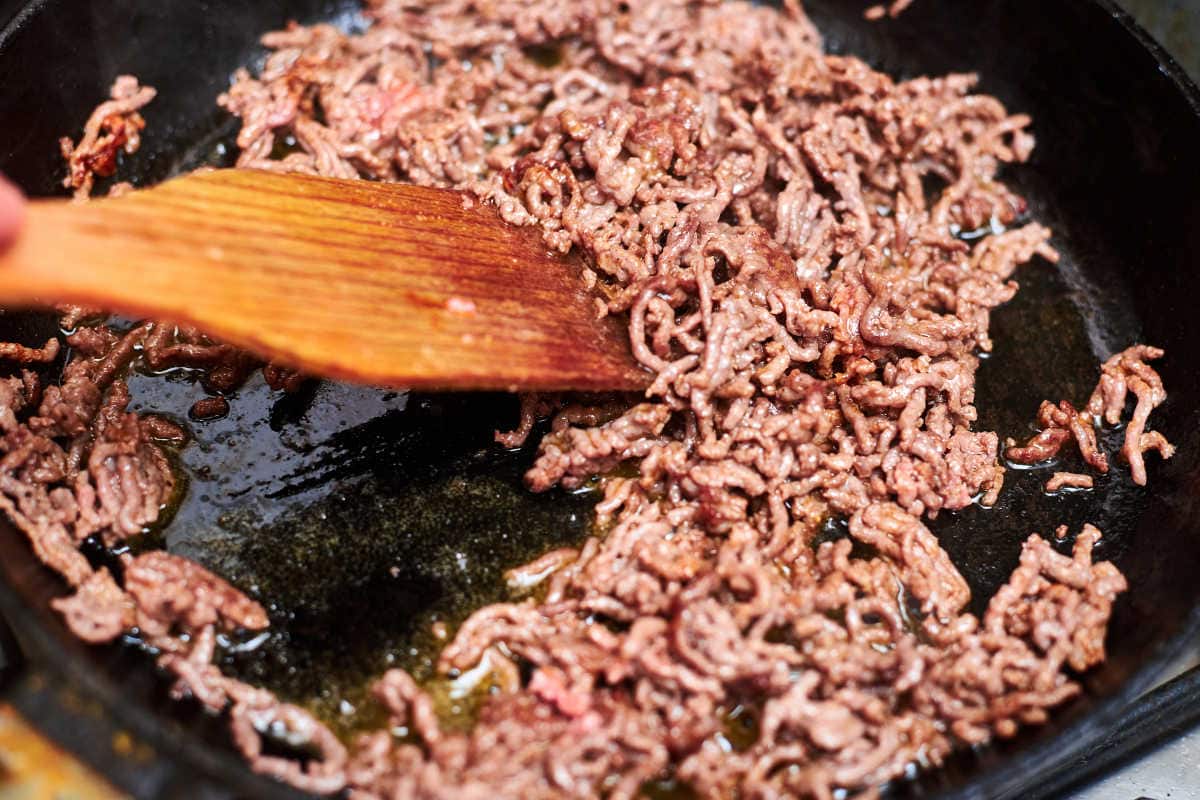 How to store ground beef
It's best to keep ground beef in its original, sealed packaging and use it within one to two days. If you won't use it in that amount of time, pop it into the freezer—it'll keep for up to four months.
Since ground beef is cut into small pieces, it has a large surface area exposed to air. That means there is plenty of opportunity for bacteria to grow.
So, you should keep it in a cooler spot in your fridge, like the back (as opposed to the door shelf.) If you must open the packaging, be sure to tightly seal the remaining beef with new plastic or in a heavy-duty bag.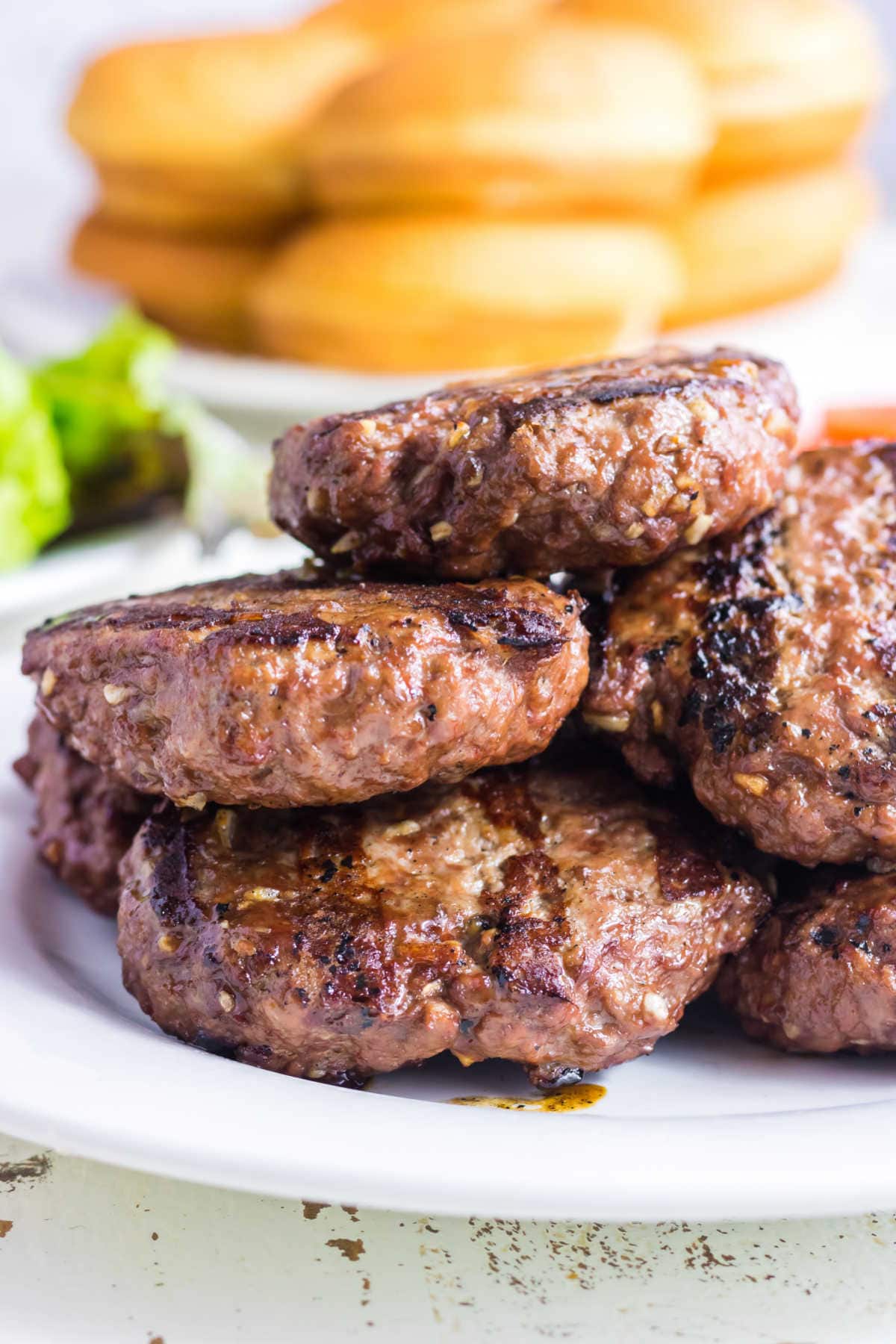 Old-fashioned Lipton onion soup burgers
💭 Things to know
Expert Tip: Both ground beef and cube steak must reach an internal temperature of at least 145 degrees F before it's considered rare. At 165 degrees F, beef is well-done and safe for all to enjoy.
Some people call cube steak "Swiss steak" because the tenderizing machine is called a Swiss machine.
When mixing ground beef with other ingredients, don't overwork it. This can make the resulting product (like meatloaf or burgers) tough.
You can generally cook both types of beef in a slow cooker. However, it's more common to use this "low and slow" method for cube steak.
When cooking ground beef in a large skillet, you don't usually need to add any additional fat (such as butter or olive oil.) However, when searing a cube steak, you will likely need to oil the pan.
Make cube steak tender by pounding it out with a meat mallet. Though it's already tenderizing during production, it doesn't hurt to break up any remaining tough muscle fibers.
👩‍🍳 FAQs
Do I have to rinse the cube steak before using it?
Nope! In fact, the FDA says that rinsing raw meat doesn't make it any safer and can actually spread harmful bacteria around your kitchen.
Why are cube steaks and ground beef cheap?
These cuts of meat are tougher because they come from the strong hindquarters of the cow. As a result, they are more affordable than the more sought-after, fatty, tender cuts (like Strip Steak, Delmonico, and T-bones.)
What are the best substitutes for ground beef vs cube steak? Can I use them interchangeably?
It all depends on the recipe and your personal preferences.

For example, you can generally replace ground beef with any other type of ground meat, and it'll cook similarly. (Instead of stuffed peppers with beef, use ground sausage. Swap the beef for turkey, and you have lean turkey burgers or meatballs.)

However, it's best to replace cube steak with another thin cut of beef, such as sirloin or ribeye. Of course, in some cases, you can get away with using ground beef, like in slow cooker recipes.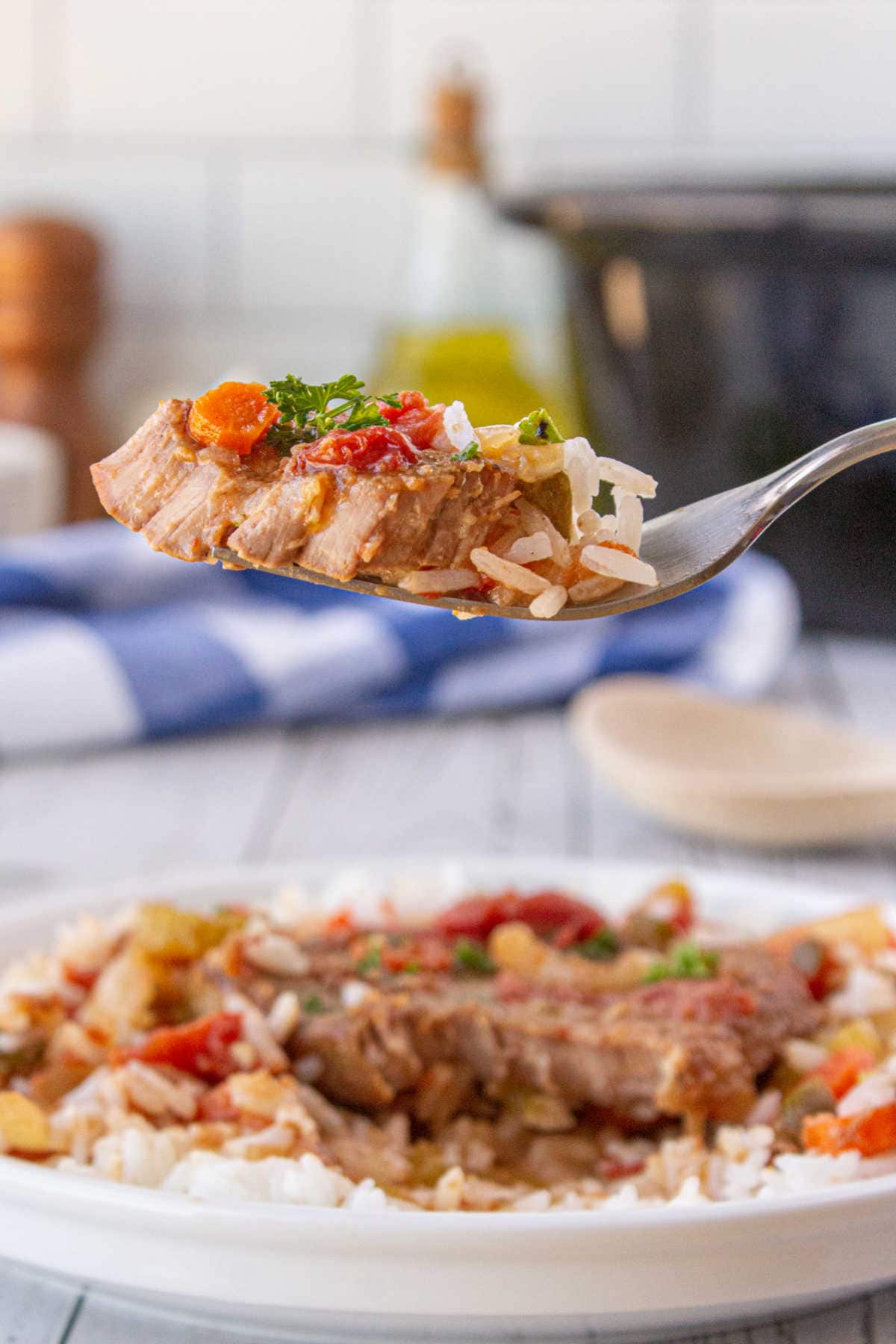 Cube steaks are perfect for this crockpot swiss steak recipe. The slow cooking process "melts" any remaining connective tissue and makes the meat even more tender.
📚 Related recipes
Either one is a great choice for easy dinner recipes during the week. Cube steak usually handles slow cooked dishes a little better than ground beef.
For many recipes, it's simply a matter of personal preference.
Ground Beef Dorito Casserole is loaded with Tex-Mex flavor and topped with delicious, cheesy nacho chips. What could be better?
This delicious Crockpot Salisbury Steak recipe comes together quickly using ground beef for comfort food that's ready when you are.
Swiss Steak tastes old-fashioned and hearty. It's also cheap to make and freezes great so you and the family can enjoy it with ease.
📓 Meal plans in minutes