A good Chicken Fried Steak has a crispy breading on the outside with tender beef on the inside then it's smothered with a rich cream gravy. Sometimes called "country fried", it's a carb heavy meal that is best served with biscuits, mashed potatoes, corn, and green beans... you know. For color.
To those of you who don't know - I am closing down my other blog, Texas Well Seasoned, and moving recipes here. Some of the images are tagged with the other blog's name - I haven't stolen them - they're mine. 🙂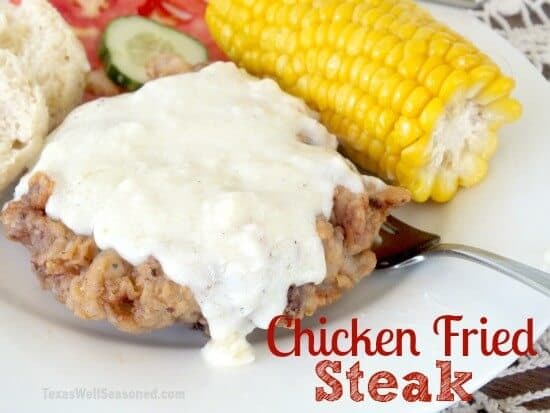 The method for cooking meat this way is thought to have been brought to Texas by the Czech and Germanic immigrants who moved to the Hill Country in the mid 1800s. A popular German food, Weiner Schnitzel is prepared very much like chicken fried chicken or steak, and would have been well known to the settlers of the time.
But seriously? Who cares! This stuff is rockin!
It is just thin cut round steak pounded with a mallet until you don't want to strangle your family anymore it is tender. The fibers in the meat are broken up and result in a cheap yet tender piece of meat. Once you put real Texas cream gravy on it, well, you could bread and fry a slice of skunk and put cream gravy on it and it would be wonderful. Almost. Maybe.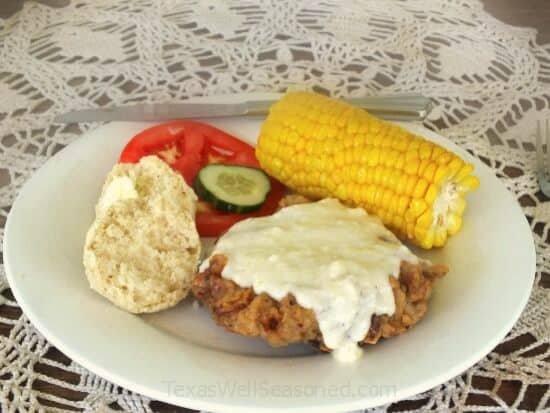 Some of the local grocery stores would have you think you could take a shortcut and buy it all ready breaded. If you want to test my skunk theory out, go ahead and buy that mystery meat but I do not recommend it. Uh Uh. Really this is easy to do. You can do this. You are a Texan! Remember the ALAMO! Here is all you need to do.
Put Yellow Rose of Texas on Pandora
Close your eyes and say, " I believe in bluebonnets" three times.
Spin twice to the left and once to the right.
Now, open your eyes.
This will absolutely not help you make chicken friend steak but it made me laugh thinking about you doing it.
Seriously, making chicken fried steak is this easy. Just run to the store and getcha a pack of round steaks, thinly sliced and trimmed of fat. You can get cube steaks but you will pay more and you can do the beating yourself - it is so much fun.
Now, spread a sheet of parchment or waxed paper on the counter and pound the steaks with a tenderizer, one of those mallets that has short spikes on it. Do both sides of the meat. The steak will spread out and you will have a much BIGGER steak than before. You can substitute boneless chicken breast for the round steak and have chicken fried chicken, another Texas specialty. No change in anything else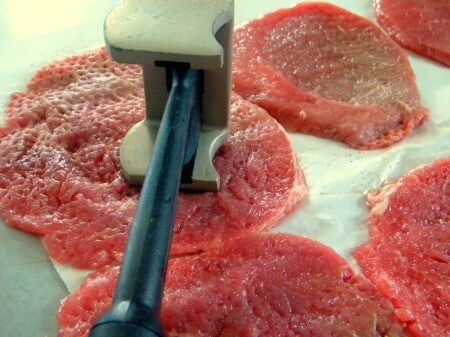 Once you have the meat pounded out you are ready to cook. It isn't difficult at all. And there is a pretty standard menu that goes with it. It will always be served something like this:
Chicken Fried Chicken or Steak
Cream Gravy
Mashed Potatoes
Biscuits
Green Beans or Fried Okra -I always make seasoned green beans to go with chicken fried steak. To do this I saute 2 slices of chopped bacon and 1 chopped onion in a pan to add to the green beans. I leave the drippings in the pan, flavored with the onion and bacon, and use this same pan to make the gravy. You should try it, it gives an amazing flavor.
So, if you are hungry for some real comfort food, Texas Style, give this a try. It is hard to pass up and you may become addicted.
If you like Chicken Fried Steak you might also like...
Copycat Popeye's Chicken Strips
Baked Chicken In Cream with Hatch Chiles
Buttermilk Fried Chicken Jo Cooks
Japanese Fried Chicken Just One Cookbook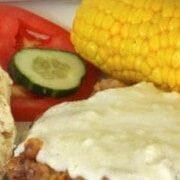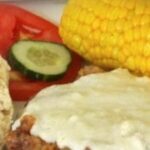 Country Fried Steak or Chicken
Print
Save
Go to Collections
A good Chicken Fried Steak has a crispy breading on the outside with tender beef on the inside then it's smothered with a rich cream gravy. It's a carb heavy meal that is best served with biscuits, mashed potatoes, corn, and green beans... you know. For color.
As an Amazon Associate I earn from qualifying purchases.
Ingredients
Steak
8

thin round steaks about 4 to 6 inches in diameter OR 4 boneless chicken breasts sliced in half through the thickness.

,

(hold your knife parallel to the chicken and slice through the center)

2

eggs

½

cup

buttermilk

2

cups

unbleached flour

,

(more or less)

Peanut oil

Salt and Pepper (about ½ teaspoon of each

¼

teaspoon

baking powder

Pinch of Cayenne

Pinch of smoked paprika
Gravy
⅓

cup

of flour

¼

cup

drippings or butter or combination

3

cups

of half and half cream

,

, heated to a simmer

Salt and pepper to taste

,

(go for lots of pepper)

Few drops of Louisiana Hot Sauce
Instructions
Steak
Let the meat come to room temperature, about 30 minutes and no more

Preheat oven to 375F

Beat the eggs and buttermilk together and set aside

Mix the flour, salt, pepper, baking powder,and cayenne together on a plate and set aside

Dredge one of the steaks through the flour on both sides, dip in the egg and then dredge through the flour again

Repeat with remaining steaks

Heat ½ oil in a heavy frying pan over medium high heat until a drop of water pops when dropped in

Add steak and fry on both sides until golden brown

Remove from oil and drain briefly; place on cookie sheet in oven

Repeat with each of the other steaks

Turn the oven off but leave the steaks in there while you make the gravy

Serve with a generous amount of gravy over top
Gravy
Whisk the flour into the hot drippings (or melted butter) until it forms a clump

Slowly whisk in the cream, beating to ensure there are no lumps

Simmer, stirring, until the gravy thickens

Taste and add salt and pepper and hot sauce

Serve hot over the chicken fried steak
Sign up for the emails and never miss another recipe!!
We'll never share your email or send you spam. Pinkie swear.