Smothered Chicken is a classic southern recipe that is quick and easy. This golden brown chicken smothered in a savory chicken gravy will bring the neighbors to the door with plates in hand! I use chicken breast but you can use any cut of chicken, bone in or boneless, that you like best. Similar to chicken and noodles – it is down-home comfort food, y'all. Enjoy!
Ingredients for this recipe: butter, chicken, Tony Chacheres seasoning, salt,pepper, flour, onions, celery, carrots, chicken stock, bacon grease or oil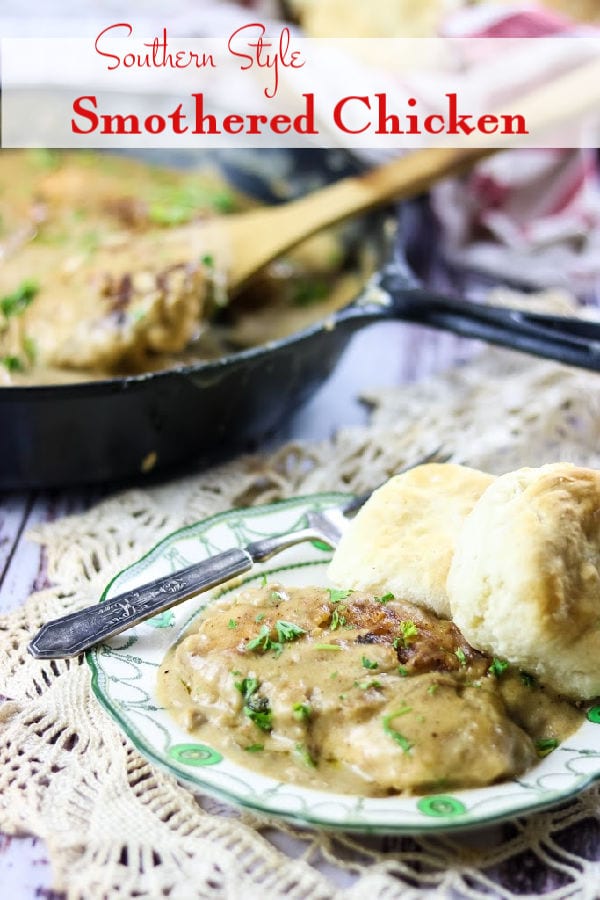 Smothered Chicken Welcomes You Home
There are some aromas that just smell like home –
Coffee
Chocolate chip cookies
Chicken frying
There's just nothing like walking in the door and knowing that someone has been cooking something good. This easy chicken recipe is one of those things.
It's so simple that even the most inexperienced cook can make it successfully the first time AND I don't know anyone that doesn't love it. Chicken simmers in a rich gravy and then is spooned over rice or mashed potatoes.
What's not to like?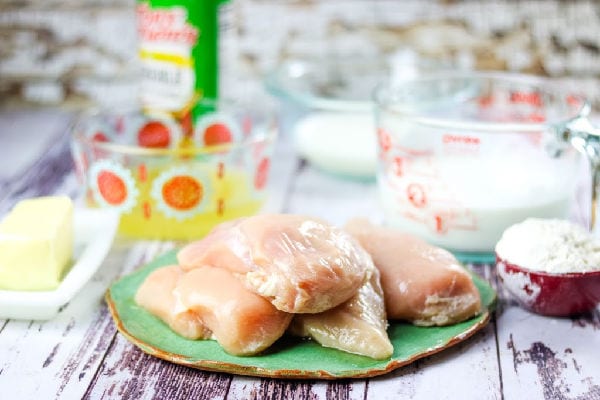 Smothered Chicken Ingredients and Variations
This is a simple dish that doesn't require a lot of ingredients but there are lots of ways to change it up.
Use bone in chicken parts – it's less expensive and your dish will have a little more flavor.
Use chicken thighs
Add sliced mushrooms
Add cooked sliced carrots
Sprinkle crisp bacon crumbles on top
Sprinkle with fresh parsley
Use poultry seasoning in place of the Creole seasoning
How to Make Smothered Chicken
Use these tips to make sure your smothered chicken dinner is the best it can be.
Bone in chicken will be juicier and have more flavor but it will also take a bit longer. I personally use chicken breast and it's fine.
Adjust the onions and garlic to your own tastes.
If you don't like spice use salt and pepper in place of the Tony Chachere's.
If you have time marinate the chicken in buttermilk for 30 minutes before cooking. It will make it even more tender.
If you've got a big iron skillet use it for this recipe. It' just works really well.
Be sure to pat the chicken dry before adding it to the hot pan.
Once you add the chicken to the hot pan leave it alone for about 4 minutes so it can get a nice crust before you turn it over. If the crust tears off when you flip it you turned it too quick.
You'll want the interior of the chicken to be about 160F – it will finish cooking to 165F while you are getting it one the table.
More information on chicken – cooking, safety, types…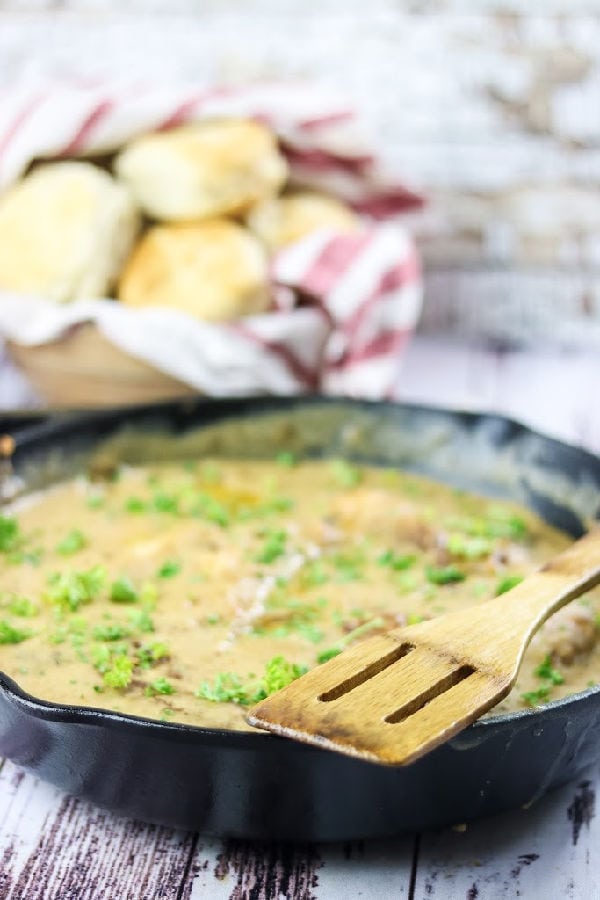 More Great Weeknight Recipes
Restless Chipotle has been around a long time now and I've got more than 1,000 recipes here on the blog. Here are some easy weeknight meals that I love –
You may also enjoy this 30 minute Country Captain Chicken from A Communal Table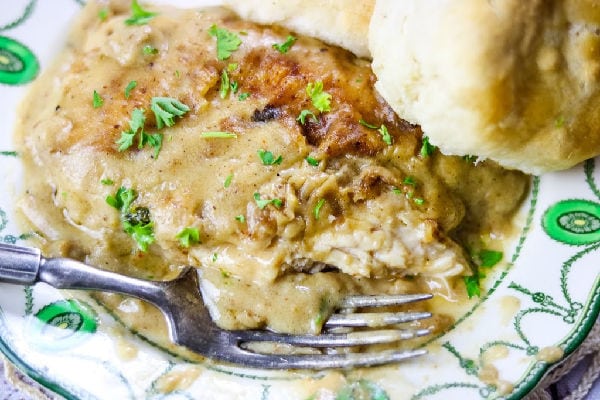 I trust your recipes implicitly! Last night I not only used my cast iron pan for the first time ever but made the Smothered Chicken and Gravy recipe!! I'm floored. Thanks so much for all your wonderful work!
Smothered Chicken Recipe
This easy chicken recipe is just so quick to make that you'll want to have it often. It's pure comfort food – easy on the wallet and a family favorite.
I'm suggesting you use a ball whisk with this. If you've never used one before they are the bombdiggity for creating perfect roux and gravy. There's a link in the recipe so you can take a look.
If you love this recipe please give it 5 stars!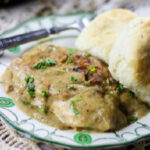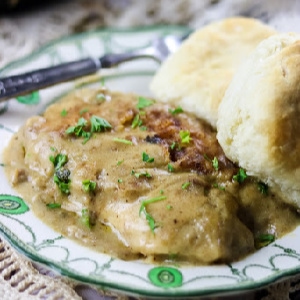 Southern Smothered Chicken
Print
Add to Collection
Go to Collections
Tender chicken is seasoned then simmered in a creamy gravy. It's been a budget friendly family favorite for generations.
Marinating (Optional)
30
minutes
Total Time
1
hour
10
minutes
As an Amazon Associate I earn from qualifying purchases.
Ingredients
2

pounds

chicken breast

,

skinless boneless – may substitute thighs

1

cup

buttermilk

2

tablespoons

Tony Chachere's Seasoning,

, may substitute salt and pepper or other seasoning mix, divided use

½

cup

flour

oil or bacon grease

1

cup

onion

,

peeled and sliced

½

cup

celery

,

sliced

1

tablespoon

garlic

,

chopped
Instructions
Marinate the chicken in the buttermilk if you have time.

Add 1 tablespoon of seasoning to the buttermilk and pour it over the chicken breast. Marinate 30 minutes.

Remove from the buttermilk and pat dry.

Mix the ½ cup flour and the Tony Chacheres seasoning (or salt and pepper).

Dredge the chicken in the flour mixture, covering all sides.

Heat the oil or bacon grease (or a mix) in the skillet – there should be just enough to cover the bottom with a thin layer.

Add the garlic, onions, and celery and saute for about 3 minutes, or just until they start to cook and become translucent.

Remove the vegetables from the skillet, set aside, and carefully add the chicken.

Cook for about 4 minutes, or until the bottom is golden brown, then flip and cook another 3 to 4 minutes.

Remove the chicken from the pan and set aside.

Melt the 2 tablespoons of butter in the skillet.

Whisk in the 3 tablespoons flour and reduce heat to low.

Cook, moving the flour around the pan so it doesn't scorch, for about 2 minutes.

Add the chicken stock slowly, whisking to keep it smooth.

Whisk in the milk and 1 teaspoon of Tony Chachere's seasoning.

Simmer for about 1 minute to let it begin to thicken.

Add the sauteed onion mixture and the chicken, spooning the gravy over the chicken.

Bring to a boil, reduce heat to low, cover the pan, and simmer for 20 minutes. Check and stir occasionally to ensure that it isn't boiling dry or sticking.

Serve over rice, mashed potatoes, or biscuits.
Notes
Make it super quick and easy – use commercial chicken gravy and cut up a rotisserie chicken into the gravy – simmer for 10 minutes. Is it as good? No, but it's still good – and sometimes you need something ultra quick.
Nutrition
Calories:
248
kcal
|
Carbohydrates:
15
g
|
Protein:
28
g
|
Fat:
8
g
|
Saturated Fat:
3
g
|
Cholesterol:
85
mg
|
Sodium:
263
mg
|
Potassium:
612
mg
|
Fiber:
1
g
|
Sugar:
4
g
|
Vitamin A:
19.4
%
|
Vitamin C:
4.2
%
|
Calcium:
5.4
%
|
Iron:
7.8
%
Tried this recipe?
Tag me!! @Marye_RestlessChipotle
Share Your Images
Let's Keep in Touch!