Generations of Southern cooks' reputations were made and ruined on the quality (or lack thereof) of their fried chicken. The tenderness of the meat, juiciness, crispness of the crust, and the overall seasoning was an art form something akin to medieval alchemy. Few successful cooks shared their secrets with anyone except a trusted daughter or daughter-in-law.
If anyone was really honest the truth is that the secret was in the marinating process that occurred before the frying oil was even put on the stove to heat up. You see, buttermilk is acidic and the acids in the buttermilk tenderize the  meat as well as add flavor. You could technically do the same thing with yogurt only those old timey southern cooks didn't have yogurt, they had buttermilk.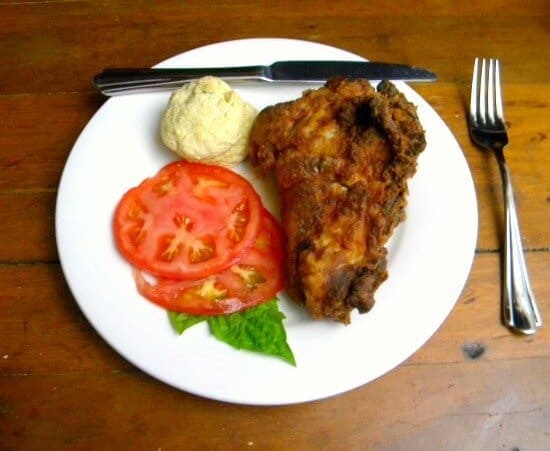 Now, tenderizing is only a step. You want that chicken to absorb flavors, right? So, for really awesome fried chicken you are going to want to put seasonings in the buttermilk, cover the chicken completely with it, and then marinate in the fridge for an hour, or up to 24 hours in a non-reactive dish.
When you are ready to fry just take the chicken out of the buttermilk and pat dry. Now, put your seasoned flour mixture in a paper lunch bag and add the chicken one piece at a time. Shake to coat and then place on a cookie sheet.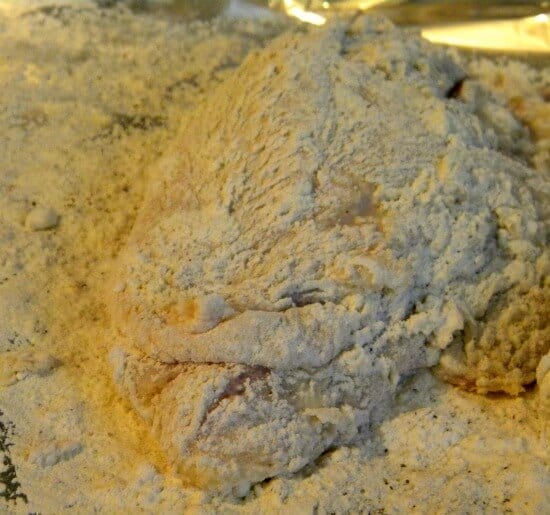 See, no big secret. The buttermilk tenderizes the meat, keeps it juicy and helps it absorb flavor. Be sure to use full fat, real buttermilk. Read the label.
Use peanut oil if no one has allergies, I just think it works the best for frying. This really doesn't take long once you start it and most of your prep is done ahead of time. You could get this done in less than 40 minutes easily…Keep the chicken pieces in the oven (325) on a cookie sheet until all the chicken is fried.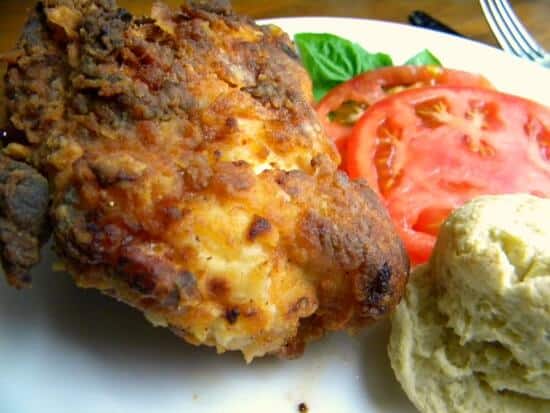 All that's left is to plan the rest of the menu. Me? I like to keep it simple; biscuits and ripe heirloom tomatoes.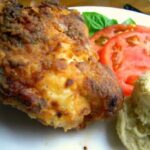 Buttermilk Fried Chicken
: tender seasoned chicken in a crispy crust
Ingredients
3

lbs

chicken parts

, skin on

1

quart

buttermilk

,

3

garlic cloves

, peeled

1/2

onion

, peeled and cut in chunks

2

tsp

.kosher salt

1

tsp

sugar

1

tsp

pepper

1

tsp

.Louisiana Hot Sauce

2

cups

flour

1

tbs

smoked paprika

1/2

tsp

cayenne

1

tsp

kosher salt

2

eggs

Peanut oil for frying
Instructions
Reserve 1/2 cup buttermilk and put in the refrigerator.

Mix the remaining buttermilk, garlic cloves, onion, kosher salt, sugar, pepper, Louisiana Hot Sauce in a non reactive bowl.

Add chicken, making sure that the buttermilk mixture covers the chicken parts.

Cover and chill for up to 24 hours

Remove chicken from buttermilk and pat dry

Discard buttermilk mixture

Beat together eggs and remaining 1/2 cup buttermilk in a bowl

Mix the flour,1 tsp salt, cayenne, and paprika in a dish

Roll the chicken in flour, dip in egg mixture, then roll in flour again.

Let rest for 10 minutes while you heat up the oil to 355F-360F in a large, heavy pan - the oil should be one inch deep

Place chicken in the hot oil, do not crowd.

Cook until golden on one side and then turn to cook on the other

Keep hot in a 325 oven while you cook the remaining chicken
images (c)
MaryeAudet
2011 all rights reserved