Wondering about a multi cooker vs. slow cooker? This quick guide will help you decide which countertop appliance is right for you!
This post is NOT sponsored by anyone - my completely unbiased opinion.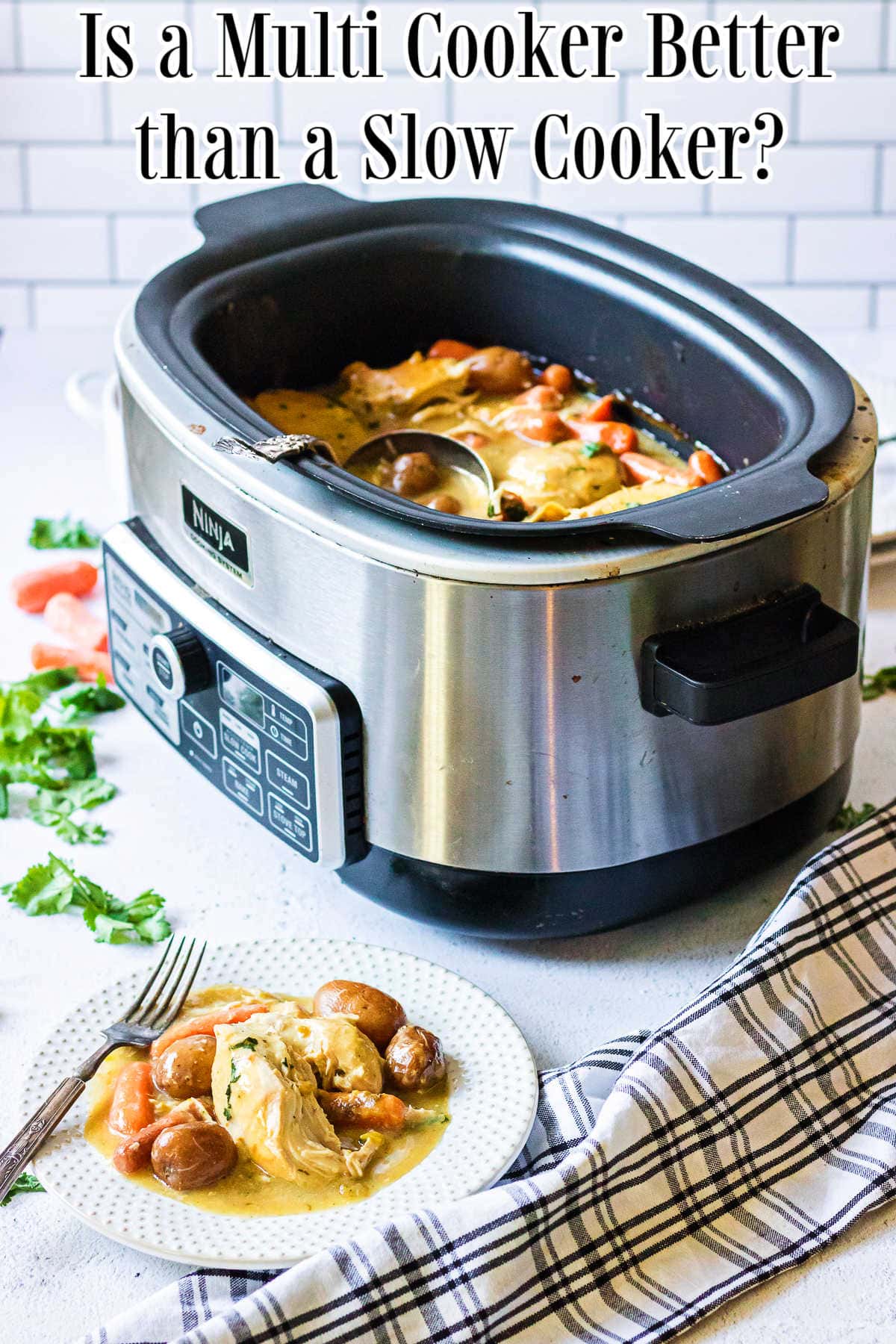 Jump to:
Why you'll love it
I get it. You need to replace that old, clunky slow cooker and you've been eyeing all of the options - and some of them are hella expensive.
It all comes down to one thing, is a multi-cooker better than a slow cooker?
I don't know about you but storage space in my kitchen is valuable - prime real estate so to speak. I have a rice cooker, a slow cooker, a pressure cooker, a deep fryer, and on and on.
When I can buy just one appliance that will step in and do the job of several I get excited!
A multi cooker does just that.
What is the difference between a slow cooker and a multi cooker?
Although I mention instant pots in the comparison I am not discussing them here. That is a different appliance completely and I don't have one for reference.
I have both a slow cooker and a multi-cooker and I use them often. My multi-cooker is a Ninja product that has been discontinued but I've done some research and found another product that is very similar and I'll be using it in the comparison.
Both have stainless steel exteriors and are relatively easy to clean. Usually the inner pot is dishwasher safe, too.
Traditional slow cooker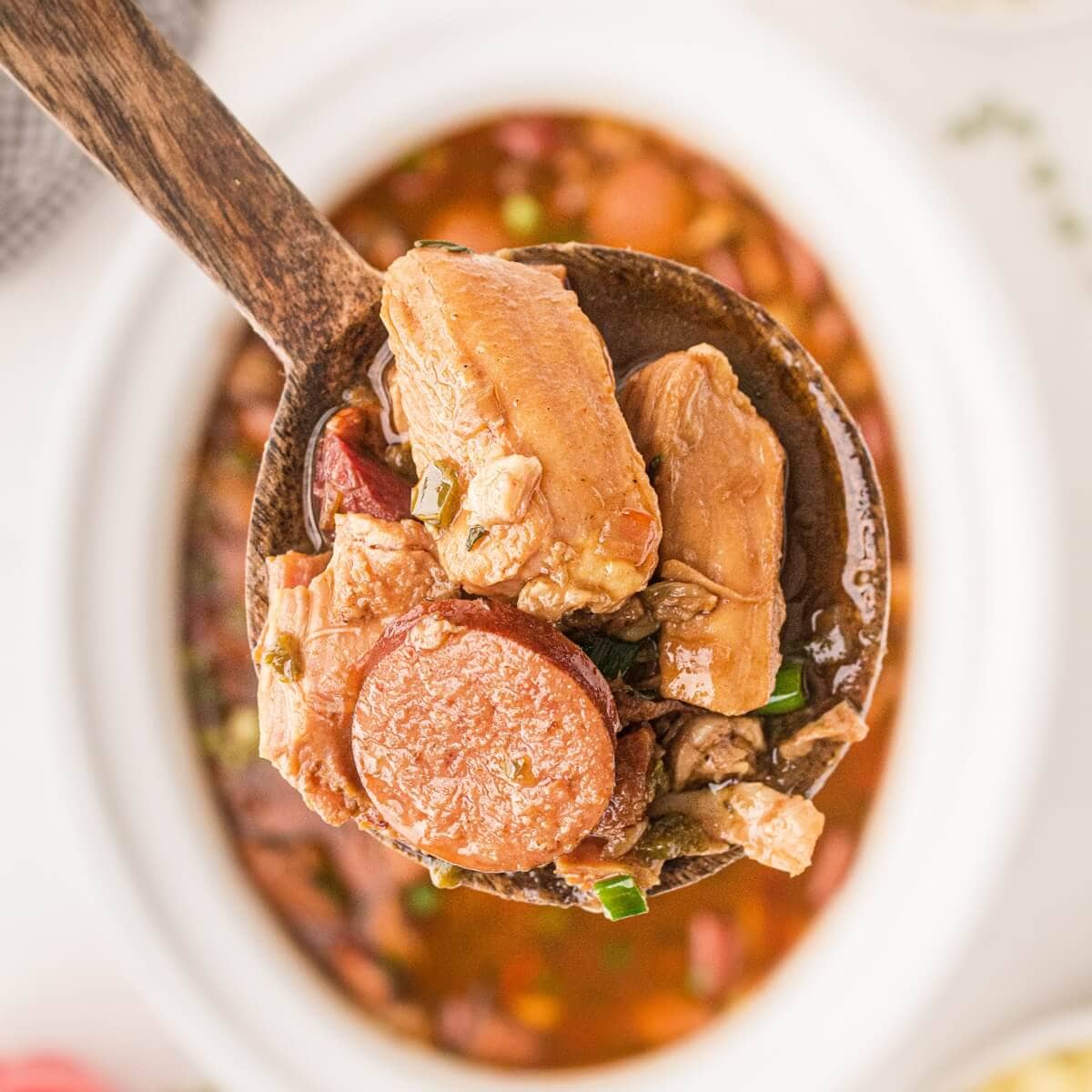 A slow cooker has one function. It slowly simmers all kinds of foods to tender perfection in the (usually) ceramic crock.
It's perfect for stews, soups, pot roasts, and slow simmered sauces like beef ragu and chicken cacciatore. It slow cooks dinner and keeps it warm for you until you get home.
Multi-cooker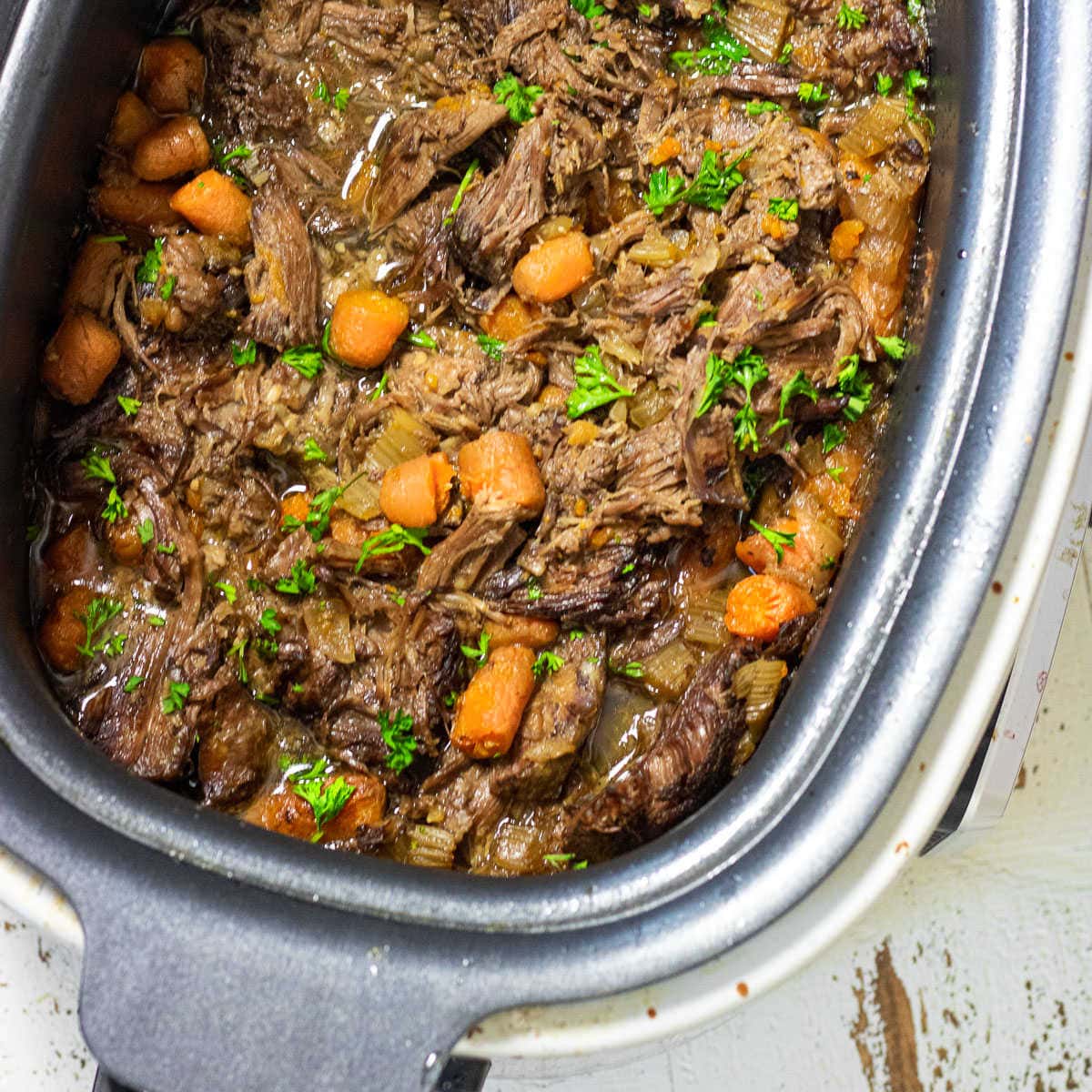 A good multi-cooker has slow cooker capabilities. Like a slow cooker it can gently simmer your chuck roast to buttery melt-in-you-mouth perfection and have it waiting for you when you get home.
But, it also allows you to sear that perfect roast and saute the onions right in the pot without having to use the stove.
I don't know about you but I think that few minutes of searing makes so much difference in the flavor and eye appeal of a pot roast!
Once you've seared the meat to a gloriously golden color you just turn a knob (or push a button), add the remaining ingredients, and slow cook your dinner as if it was a crock pot.
And it does much, much more.
Slow cooker vs multi-cooker vs instant pot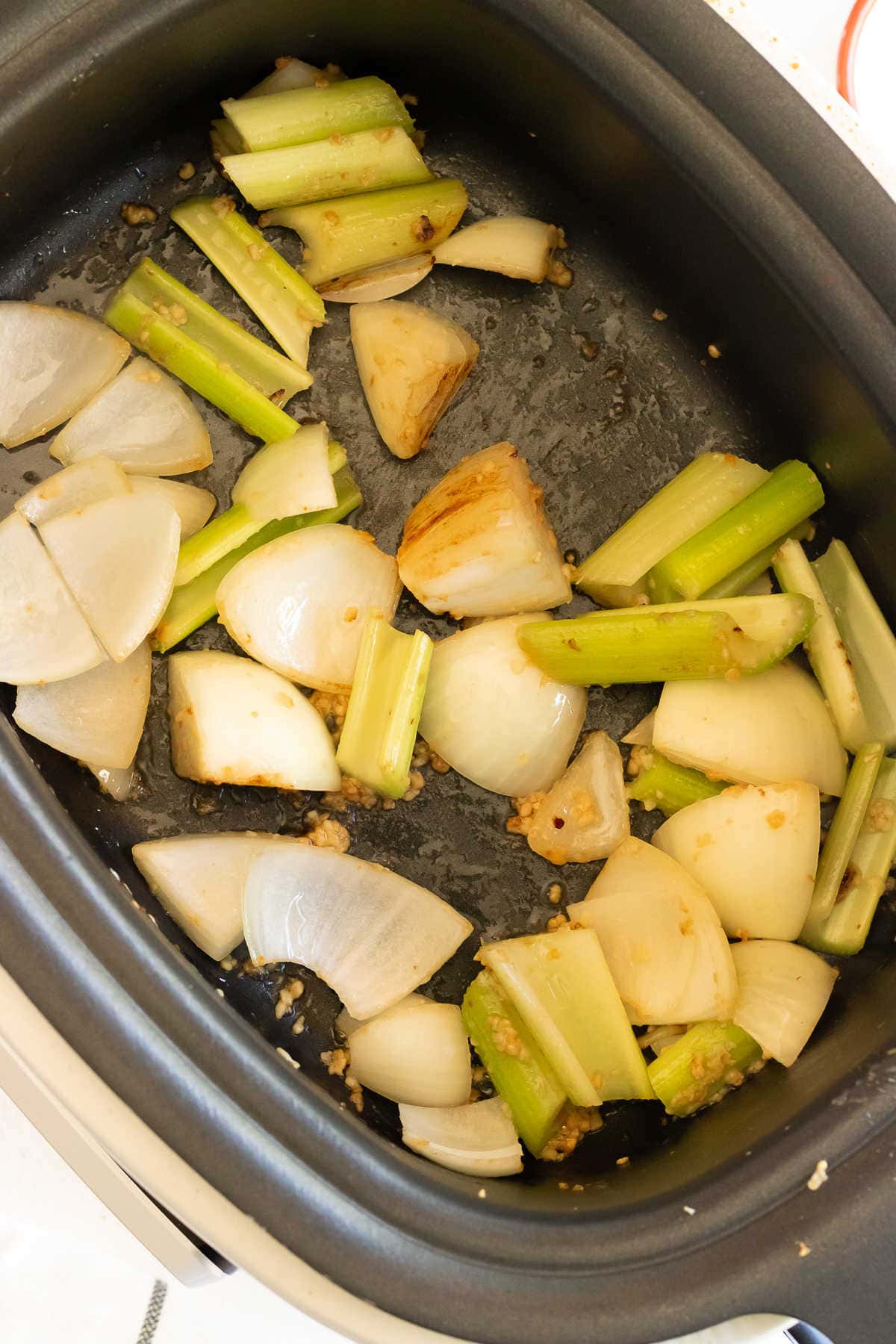 Here's a simple chart comparing slow cookers to multi-cookers and instant pots. There may be a little overlap - for example some slow cookers do allow you to sear and you can bake things like cheesecakes in some instant pots.
On average this is what you'll find, however.
Chart: Comparing the options
| Function | Slow cooker | Multi Cooker | Instant Pot |
| --- | --- | --- | --- |
| material | crockery | non-stick surface | non-stick |
| size | 6qt | 6 qt | 6 qt |
| slow cook | yes | yes | yes |
| pressure cook | no | no | yes |
| saute | no | yes | yes |
| steam | no | yes | yes |
| roast | no | yes | yes |
| bake | sort of* | yes | no |
| pan fry | no | yes | no |
| creamy sauces | yes | yes | no |
| max cook time | 24 hours | 12 hours | 8 hours |
| keep warm | yes | yes | yes |
| programmable | yes | yes | yes |
| easy to clean | varies | yes | yes |
| type of heat | moist | dry/moist | moist |
*Some baked goods like bread can sometimes be made in the slow cooker - but this is unusual.
Multi-cooker FAQs
 What can you cook in a multi-cooker?
Almost anything! Soups, stews, pot roasts, dry roasts, rice, vegetables, casseroles...My son even baked bread in his!
Is a multi-cooker safe?
It's just as safe as a slow cooker! Depending on what you're cooking there may be more hands on time but as far as safety goes it's about the same.
Are multi-cookers energy efficient?
Absolutely! They use much less energy than your stove or oven to do the same function. Plus, if you are baking in a multi-cooker you won't heat up the kitchen during the summer. That's a win for those of us in the south!
Is a multi-cooker a pressure cooker?
No. An instant pot works like a pressure cooker. A multi-cooker lacks that function.
Slow cooker vs multi cooker: Which is best?
That's a question that only you can answer. It depends a lot on your family, what you cook, and how you cook it!
If I could only choose one I would choose the multi-cooker because it can do so many different things from frying eggs to baking bread to making pot roast.
Restless Chipotle recommends...
These are the appliances I like best in each of the three categories. I've got the instant pot on my list!
Multi-cooker
This is the closest to my Ninja multi-cooker and the one I will buy when mine needs to be replaced.
Slow cooker
This is the slow cooker I have and I get for my kids when they move out! This slow cooker has been to Japan, Korea, the Middle East, and England as well as the US!
Instant pot
This is the instant pot I like best. It comes in an 8 quart size (!) and has 9 different programs from pressure cooking to making yogurt. It's on my "to buy" list.
Multi cooker recipes
Here are some of my favorites for crockpot & multi cooker cooking.
And even more-
Final thoughts...
So which should you get?
There's really no easy answer. If you can afford both a slow cooker and a multi cooker it's good to get both of them. If you have to choose one you'll need to decide if you need the extra capabilities in the multi cooker or not.
The slow cooker has more room - if you do potlucks or have a large family (I have 8 kids...) then a slow cooker is probably better because you can make more in it.
BUT if space is at a premium and you need something that will slow cook, steam, bake, brown, fry... and practically walk the dog?
Well, the multi cooker is what you want.
PS - I was kidding about the dog. Multi cookers don't do that...yet.