There's nothing like coming home on a cold, icky day and walking into a house filled with yummy dinner smells! Here are 31 easy slow cooker recipes that (mostly) have less than 15 minutes of prep time AND will make coming home the best part of the day.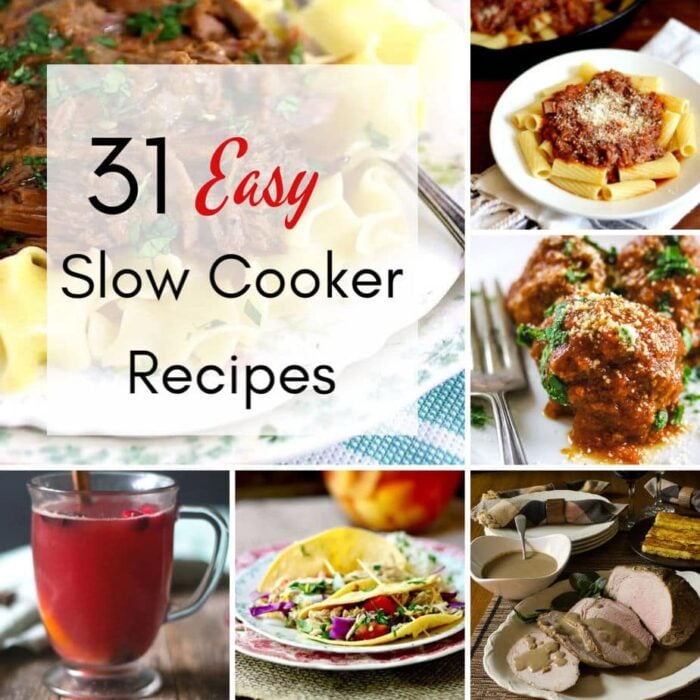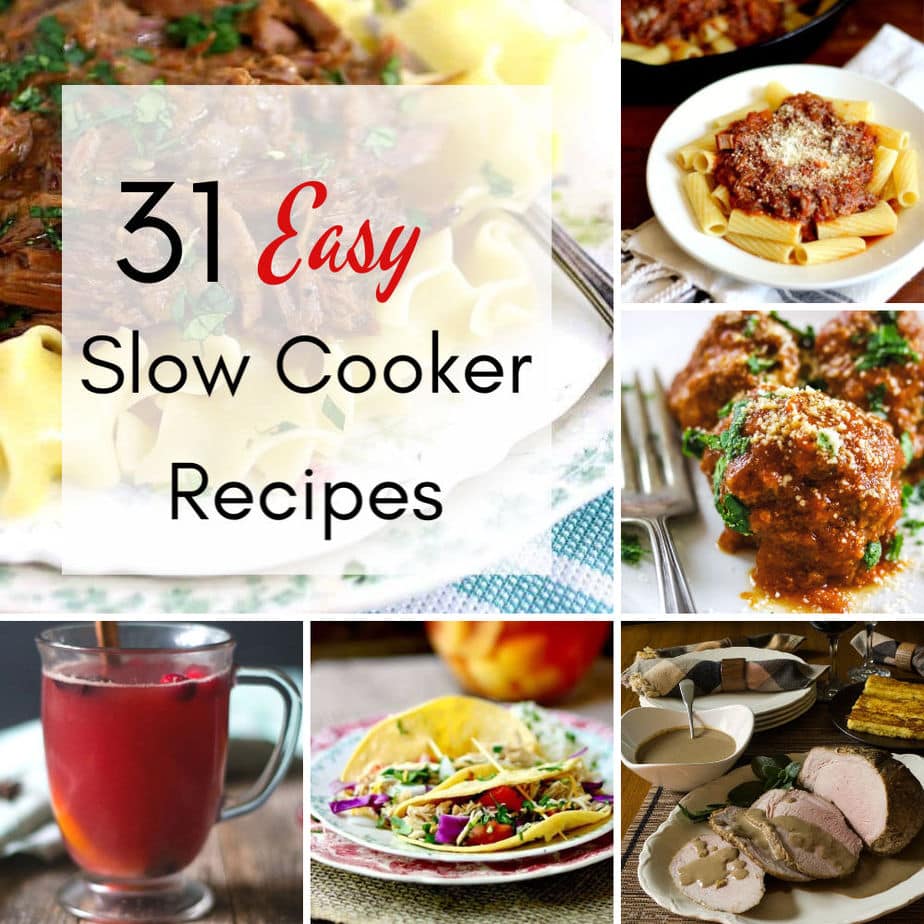 Tips
If you use your Crockpot or slow cooker a lot buy a second one. This way you're not frantically scrubbing the crockery insert out fifteen minutes before you need to leave for work.
Add a sprinkle of fresh herbs just before serving to brighten the flavors and add some visual appeal.
Add a squeeze of lemon or lime just before serving - same reason.
Prep as much as possible at the beginning of the week. Chop all the onions, celery, and carrots. Rub the seasoning on the meat... whatever you can do to save time when you're ready to cook.
You can make your own ready- to- cook slow cooker meals by adding everything except the liquid to a bag and vacuum sealing it. No need to freeze - it will be good for at least the week.
Always spray the inside of the crock with nonstick spray before using - it makes cleanup so much easier.
Slow Cooker Chicken Recipes
Chicken comes out tender and juicy in a slow cooker. I prefer using boneless, skinless chicken breast but thighs, or chicken pieces, or even a whole chicken all work well.
I've included a recipe for cornbread dressing in the slow cooker because I like to bring home a rotisserie chicken and have chicken and dressing - or lay cooked chicken over the top and add gravy.
Slow Cooker Beef Recipes
One of the best things about making beef in a crockpot is that you can use inexpensive cuts and they'll come out tender and delicious. Be sure to trim any excess fat or your dish may be too greasy.
Pork Recipes
We don't eat a lot of pork around here but when we do it's usually an easy slow cooker recipe!
More Recipes for the Crockpot
Slow cooker recipes that didn't fit anywhere else.
You May Need...
There are a couple of things that will make all of the difference in your slow cooking meal plan. One, of course, is a slow cooker. The other is a vacuum sealer that will make your life in the kitchen SO much easier!
If you need a slow cooker this 6 quart slow cooker from Hamilton Beach is the own I own, the one I love, and the one I give to each of the kids when they move out.
A vacuum sealer is priceless. I never thought I needed one until I had one... now I don't know what I'd do without it. It's perfect for saving time by prepping ahead.