Shipping cookies is one way we connect with our loved ones in other parts of the world.
Whether you're packing chocolate chip cookies to send to a barracks in Korea or putting together decorated sugar cookies for delivery to a college dorm you want them to get there fresh and unbroken.
Learn how to pack homemade cookies for shipping - it's the best way and not really that difficult!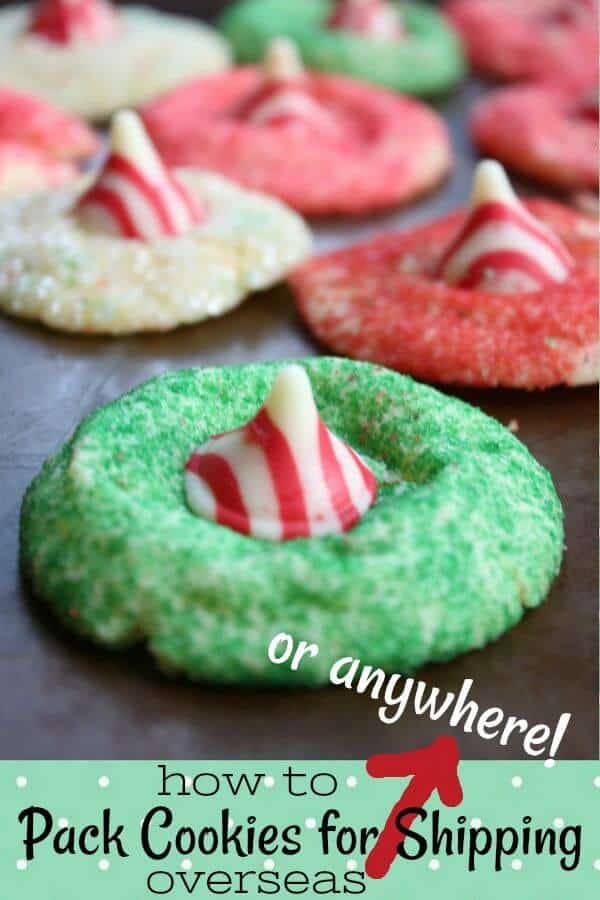 Jump to:
✈️ Shipping Cookies Overseas without Tears
O.k. maybe some tears.
The tears that fall as you pray over the cookies hoping your son or daughter (or husband, or friend) is safe count as tears!
The tears you shed because of the sweet memories that fill your mind as you pack them? Those count, too.
However, with this method of packaging and mailing cookies you won't be crying tears of frustration. Your favorite cookies will get there fresh, unbroken, and yummy.
I promise they'll arrive intact and ready to eat if you follow these steps for packing them.
With three sons in the military I've done this a time or two!
...so you can smile about that, right?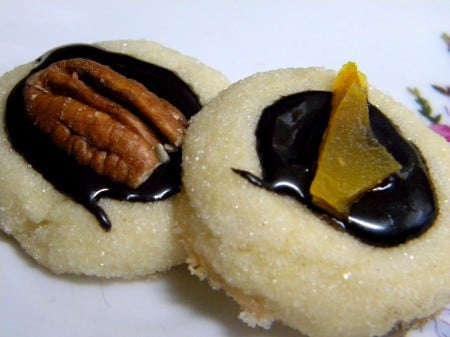 📭 Why this method works
I first found this method of shipping cookies in one of my World War II cookbooks.
It was the recommended method for packaging baked goods to send to loved ones all over the world in a time when mail was much slower than today. (Do keep in mind that it still takes weeks for a package to arrive in some remote military destinations ... plan accordingly!)
I figured if it worked then it would work now...and I was right.
🚚 My experiment with shipping
I wanted to send a test batch to Chris in the Middle East, time how long it took them to get there, and how they were once they were there. I figured that way it would be documented and not rely on my memory. So, A few weeks ago (in October 2009!) Kyrie and I baked Chris two kinds of cookies; chocolate thumbprints and blueberry white chocolate drops. We wrapped them carefully and sent them out...and we waited.
...and waited....
...and waited....
We mailed them out on October 27 and they got to Chris on November 15. Almost holiday cookies by that time.
But..were they crumbly? Broken? Stale?
Chris said that they were perfect. Not one was broken, not one was stale. And he was having to fend off his friends.
So this is a success story!
💭 Tips for success
EXPERT TIP: DO NOT pack the box with popcorn! Some people think this is a great idea, and environmentally friendly, but you run the risk of your cookies arriving at their destination covered with bugs.
Try to ship cookies the day of or day after baking.
Let cookies cool to room temperature before packing.
Placing the first cookie upside down works best.
Always pack 2 cookies with the flat bottom sides together.
Don't wrap two different kinds of cookies together - the flavors will blend.
Try to keep different types of cookies in different plastic bins or other type of sturdy cookie tin. Chewy cookies in one and crispy cookies in another.
As long as you pack two cookies together you can send almost any kind of cookie without a problem.
You don't want to send cream filled sandwich cookies, delicate cookies, or very perishable ones. In fact - I made a dairy free chocolate filling for the thumbprint cookie recipe and that worked really well.
If you are sending bar cookies like these brownies then you'll want to bake them in an aluminum foil baking pan and leave them right in the pan, uncut. Cut a sheet of parchment to fit over the top and then wrap in plastic wrap - then aluminum foil. They should be fine!
Cookies with dried fruit in them stay fresher during long shipping times. The dried fruit releases moisture during transit. Think raisins, dates, figs, apricots...
Homemade candy is nice to tuck into the box as well and usually travels like a charm.
How long does it take to ship cookies?
Plan on it taking 2 weeks during most of the year and 3 weeks during the holidays for a package to get from the United States to a military base in Japan or Korea. If you have a kiddo on a Navy ship in the middle of the Mediterranean then it will probably take a week longer than that (ask me how I know) - plan ahead and ship early!
What is the cheapest way to ship cookies?
Send your cookie package "First Class" with the US Postal Service.   Cheapest is not always best. You are usually better off sending priority mail. If you are sending to someone in the military you can get a military rate. Be sure to ask before you pack the cookies - it requires a special box.
What are the best cookies to send overseas?
Bar cookies like brownies, moist drop cookies like oatmeal raisin or chocolate chip, sturdy sugar cookies, or biscotti. Stay away from crumbly cookies like pecan sandies.
Will cookies stay fresh in a tin?
Yes, as long as you wrap them according to the instructions below. A plastic airtight container is perfect, too.
Will chocolate chip cookies melt in the mail?
They might get a little gooey. Consider the weather conditions - if the package is going to be traveling through hot climates save the chocolate for another time.
🛍️ You'll need:
a food safe plastic bin with a lid or other airtight container. You may need several depending on how many cookies you're sending
a cardboard box for shipping
bubble wrap
packing tape
a thick sharpie
parchment paper
tissue paper
cling wrap
cookies
🍪 How to Pack Cookies for Shipping
Time needed: 1 hour
Packing cookies for shipping (so they don't break) isn't difficult at ALL but it IS tedious.
It takes some time so grab a cup of coffee and put some Bing Crosby Christmas songs on your playlist (no matter what time of year it is) and let's get to work!
Start with plastic wrap and one cookie.

First you are going to set one lone cookie on cling wrap. Use a good cling wrap - the kind that is SO frustrating because it sticks to everything? Yep - that's what you want here. Since I did this post in 2009 I have learned that placing the first cooking upside down works best.


Separate cookies with parchment paper.

Have some parchment cut about twice the width of your cookies. I found that parchment works better than anything else. You could use waxed paper but it didn't work as well for me. Lay one piece of the parchment over the top of your lonesome cookie there on the plastic wrap.


Add the second cookie.

Now place another cookie on top of the parchment. Place this one right side up - that way the two flat sides are together and kind of support each other.



Wrap securely.

Wrap the two cookies securely in the plastic wrap. No need to trim the parchment unless you want to because it looks better.


Repeat with all the cookies.

Repeat with ALL the cookies. Don't wrap two different kinds of cookies together - the flavors will blend and ...ew. Pad the bottom of the plastic bin you are going to ship cookies in with bubble wrap or a layer of scrunched parchment.


Secure the cookies tightly with tissue paper.

Gently push parchment or tissue paper between the bundles to keep them from moving around and to help cushion them even more. Add a scrunched layer to the top.


Seal the plastic bin and check for rattles!

Now you're going to place the top on the bin and give it a gentle jiggle. Do the cookies move around? If so you'll want to add some more tissue paper. This method of packing cookies really keeps them fresh and unbroken!
📦 Packing cookie bins in the box
So, the question remains, how DO you pack cookies for shipping? And just as important - how do you pack cookies to keep them fresh?
Place a layer of bubble wrap in the bottom of the shipping box.
Place the bin(s) in the box.
You can push tissue paper between the bins to secure them even more but you don't have to.
Place another sheet of bubble wrap on the top.
Shut the box and tape it securely with the packing tape.
Address it and head for the post office!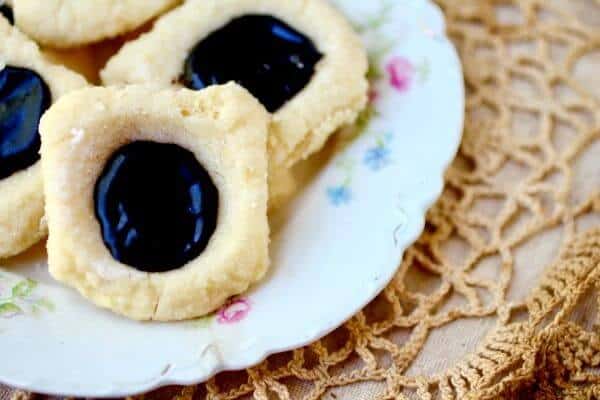 ⭐ Best cookies for shipping
Here are some of my favorites for sending to my military sons.
So what are you waiting for?
Shipping cookies is a great way to say, "I love you and miss you" anytime... And if you need some ideas you can start with this list of 50 Christmas cookies!
🎥 Video
Click on the image to watch me put together a box to send to England- from start to finish with extra tips! (Video opens in a new tab).
🛒 You may need...
The following are affiliate links. We are a participant in the Amazon Services LLC Associates Program, an affiliate advertising program designed to provide a means for us to earn fees by linking to Amazon.com and affiliated sites.
Thanks so much for being a part of Restless Chipotle!
You can use the cute Christmas and holiday tins for shipping cookies but the plastic food storage containers work just as well and they are cheap! Added benefit? They're light and that can make a huge difference in cost!
I go through a lot of parchment paper in my kitchen! And... don't forget the bubble wrap!
This post has been updated from the original November 2009 version. Last update September 7, 2021 for better instructions and readability.