Crispy, chewy, old fashioned peanut butter cookies are just like you remember them — full of great peanut butter flavor with a texture that has to be experienced– it can't be described.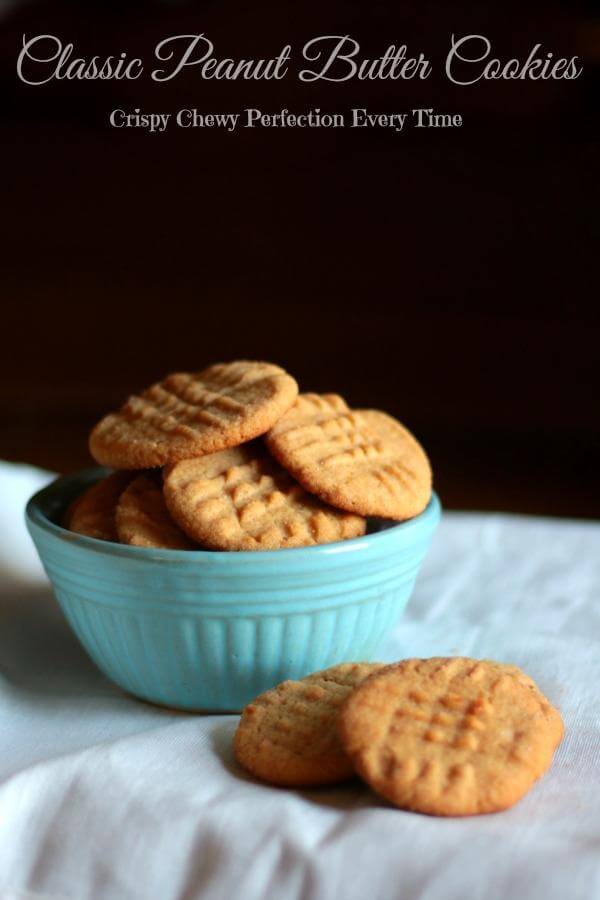 If you asked me what my very favorite cookie was I am not sure I could answer right away. Partly because I really like cookies of all kinds and partly because I have trouble making simple decisions.
For example, this afternoon I had to take my son to the doctor for x-rays. He had twisted his ankle on our very Victorian staircase a week ago and then, just as it was getting better, his ankle met an opponent's knee during sparring at karate last night. By this morning he could barely put a shoe on. After his college class we went and it took a couple of hours. That meant that I didn't have time to cook dinner before church.
So we ended up at In and Out for hamburgers. Although I have been eating carefully in order to get these last couple of pounds off (I optimistically bought a bikini this year) I decided I was going to have a shake. I just couldn't decide between chocolate, strawberry, or vanilla. After a few minutes I just asked for all three. It's called a Neapolitan shake and it is on their secret menu. Try it – it's yummy.
So, see? Not only do I have a hard time making a decision, I get off track easily as well.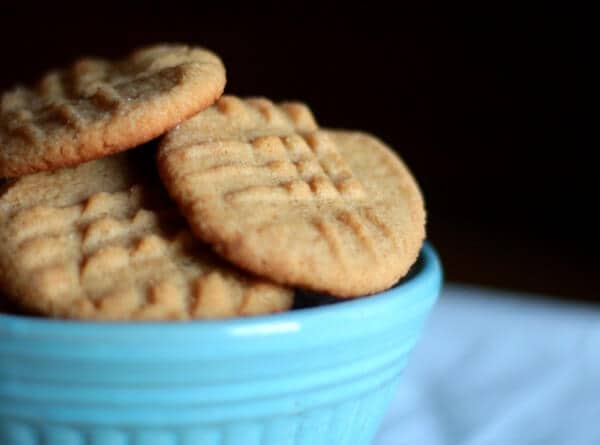 In the cookie wars I really can't give you my favorite but I can tell you that perfect old fashioned peanut butter cookies, crispy around the edges and chewy in the middle, is on my top ten list. There is something about the sweet, saltiness of the cookie that is addictive.
Peanut butter cookies are relatively new. They first appeared in Pillsbury's "Balanced Recipes" in 1933. They were followed by a version more like what we think of today in Ruth Wakefield's Tollhouse cookbook in 1936.
I have heard a lot of ideas about why the cookies have ridges. No one really seems to know for sure. The most plausible reason as far as I am concerned is that it makes them have a better texture. I wanted to see if it was true so I baked half of this batch of dough with the traditional criss cross pattern and the other half just rolled in sugar and placed on the baking sheet.
As you can see, the plain ones came out looking something like a gingersnap. They were softer and cakier than the ridged ones. Oddly enough, and it could just be my imagination, I thought they lacked flavor. The ridged ones were exactly how I like peanut butter cookies — delicately crispy around the edges and chewy in the middle. I have my answer. For me, it's the ridged old fashioned peanut butter cookies all the way.
The following are affiliate links. I've chosen these to help with the old fashioned peanut butter cookies. If you click through and buy something I'll get a small commission used to help keep the blog up and running. Thanks for being a part of Restless Chipotle!
I don't know about you but I love my silicone baking mats. No need to grease pans and my cookies sheets last longer — plus no more burnt bottoms or stuck on cookies! Another tool that comes in handy when you're making cookies is a cookies scoop. It allows you to create uniform sized cookies so that they are all done at the same time. Goodbye over baked little cookies next to half raw big cookies! Makes it super easy for the kids to help, too.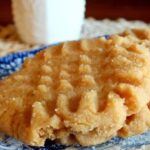 Crispy Chewy Peanut Butter Cookies
Print
Add to Collection
Go to Collections
Chewy, crispy, salty, sweet - these traditional peanut butter cookies come out perfectly every time. Use a shorter baking time for chewier cookies and a longer baking time for crunchier cookies.
As an Amazon Associate I earn from qualifying purchases.
Ingredients
1/2

cup

butter

,

, room temp

1/2

cup

peanut butter

1/2

cup

crunchy peanut butter

3/4

cup

cane sugar

1/2

cup

firmly packed dark brown

,

(cane) sugar

1

egg

,

, room temp

1

tablespoon

honey

,

, a strongly flavored honey like buckwheat is best

1

teaspoon

vanilla extract

1 1/4

cup

all-purpose flour

3/4

teaspoon

baking soda

1/2

teaspoon

baking powder

1/4

teaspoon

salt
Instructions
Preheat oven to 350F.

Blend flour, baking soda, baking powder, and salt. Set aside

Beat together butter and peanut butters until well combined.

Add sugars and beat until fluffy.

Add egg, honey, and vanilla extract and mix until smooth.

Add flour mixture and mix just until blended.

Roll balls of dough in white sugar before placing on an ungreased baking sheet.

Bake for 8 to 10 minutes. (bake longer for crunchier cookies, shorter time for chewier)

Do not over bake.
Tried this recipe?
Tag me!! @Marye_RestlessChipotle
If you like these Old Fashioned Peanut Butter Cookies, you may also like…
Peanut Butter Chocolate Chip Lunch Box Cookies Restless Chipotle
50 Best Cookie Recipes on the Internet Restless Chipotle
Crispy Butterfinger Cookies La Famille Noire
Potato Chip Cookies Butter with a Side of Bread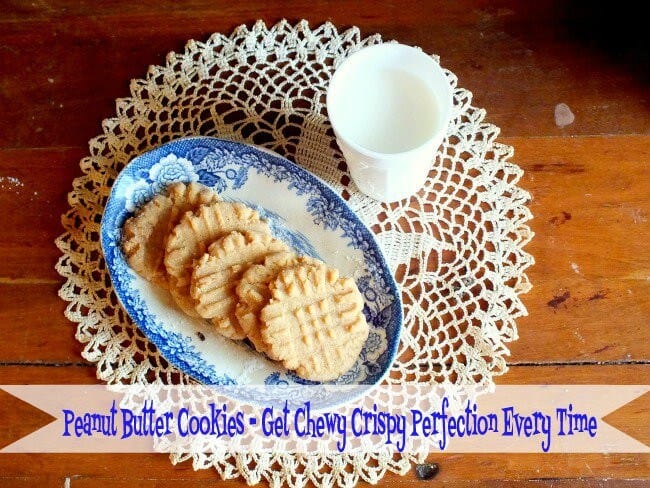 Included in Meal Plan Monday
Let's Keep in Touch!