Perfect for Christmas giving and eating, Peanut Butter Rolo Cookies are salty, sweet, crispy, chewy goodness and they are easy to make. You can even make them ahead and freeze them!
Ingredients List
For this recipe you will need the following ingredients: Unsalted butter, peanut butter, sugar, brown sugar, eggs, vanilla, all-purpose flour, baking soda, Rolos, and colored sugar for decorating. You'll need to have at least 15 minutes total for the prep time and the bake time.
In a hurry? Click here to skip straight to the Peanut Butter Rolo Cookies recipe.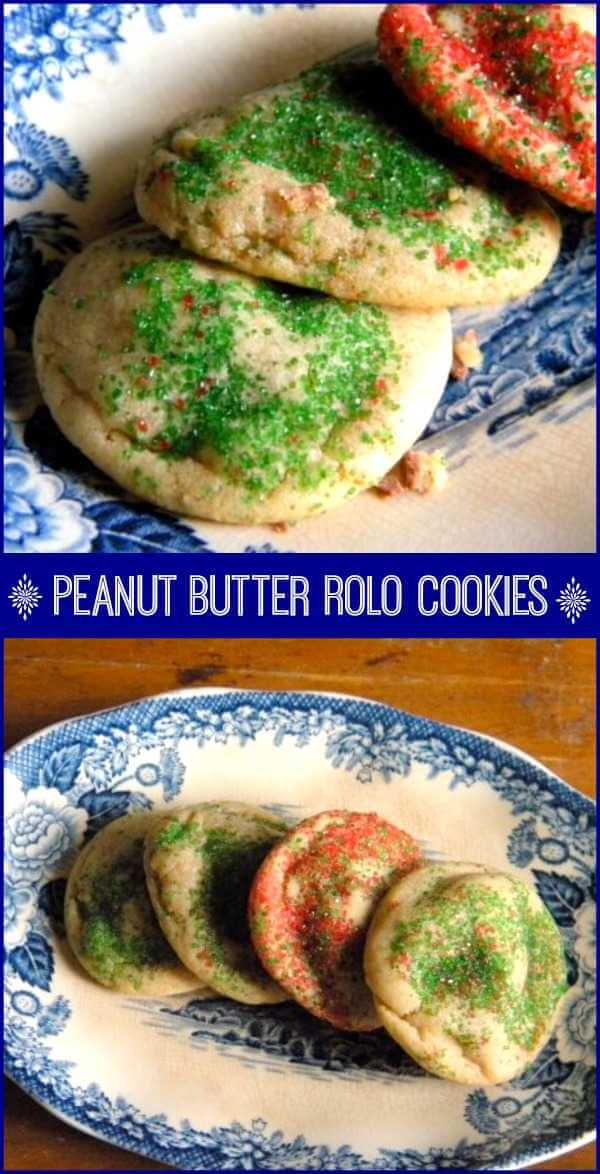 My kids love Rolos. Really. They fight over them like they do the last few marshmallows in Lucky Charms. Which leads me to a random question. Do your kids eat all the marshmallows out of the Lucky Charms and then leave the rest of the cereal there for eternity? Yeah, mine too.
Yum.
Although these cookies are good warm or cooled off, there was some debate about the exact perfect temperature. One of my children liked them really warm (be careful, the insides are hot) so that the caramel and chocolate are a liquid and drip out with every bite. Another thinks they are perfect at warm but not hot so that the caramel is gooey, and another liked them cold so that the caramel and chocolate are more solid. The texture and flavor changes in this cookie as it cools so you really are forced to try it at each temperature.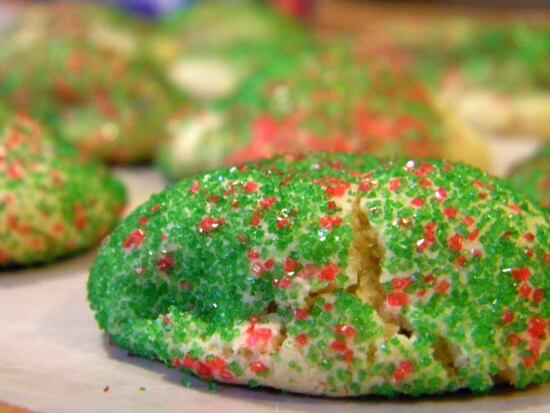 Forced, I'm telling ya.
In any case it is a tender cookie with the flavors of peanut butter, chocolate, and caramel in each bite. It takes a little practice to seal the dough around the candy but be sure to cover it completely so all that melty goodness stays on the inside.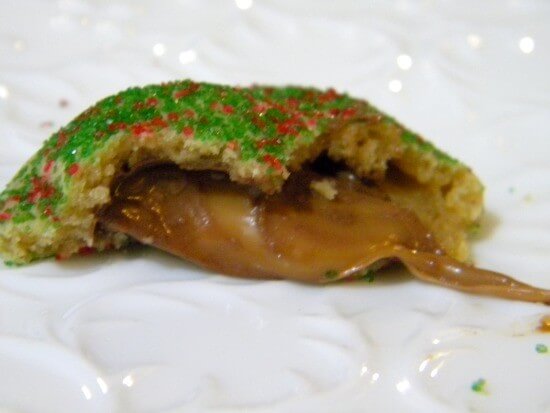 I am thinkin' if you leave a few of these out for Santa you just might get that really big gift you have been asking for every year. You know, yeah... that one.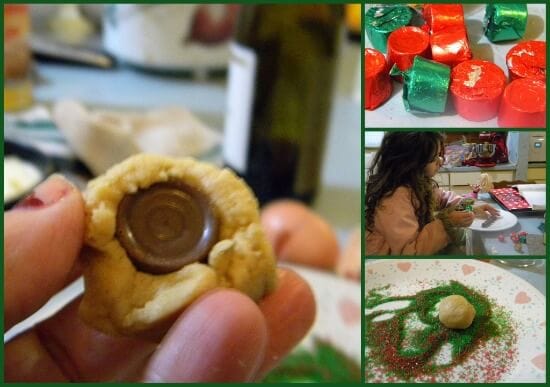 It's a good cookie for the kids to help with, too. You can wrap the dough around the Rolos and the kids can roll the cookie balls in colored sugar. Sprinkles work just fine, too.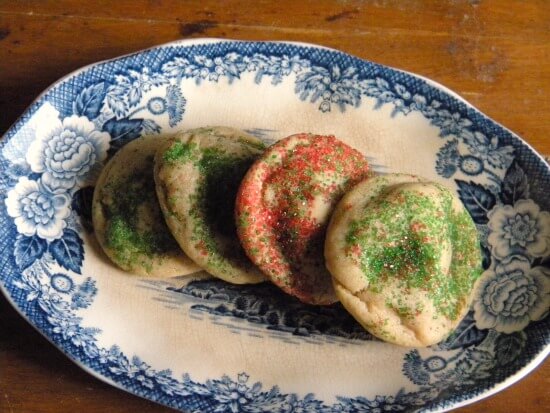 The following is an affiliate link. If you click through and buy something I get a small commission that does not affect your cost. Thanks for being a part of Restless Chipotle.


Rolo Creamy Caramels in Milk Chocolate
I thought these treat boxes were perfect for holding those holiday gifts from the kitchen! I don't know about you but I am always looking for something cute to give the cookies in.

Santa's Workshop Cardboard Treat Boxes
Here's the Peanut Butter Rolo Cookies Recipe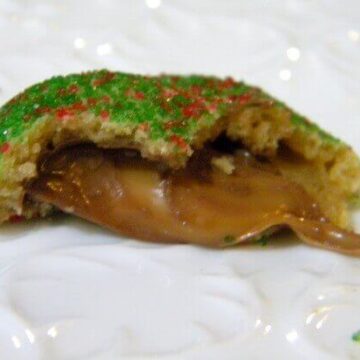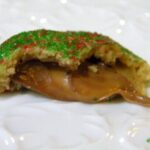 Peanut Butter Rolo Cookies
Print
Add to Collection
Go to Collections
Beautiful on any holiday cookie tray, these peanut butter cookies are stuffed with Rolos. Peanut butter, chocolate, and caramel? Wow!
As an Amazon Associate I earn from qualifying purchases.
Ingredients
Instructions
Preheat the oven to 350F and line a baking sheet with silpat

Cream butter, peanut butter, and sugars in the mixer until well blended

Beat in the eggs, one at a time

Stir in flour and baking soda

Using a well rounded teaspoon of the dough wrap it around a Rolo candy, encasing it completely

Roll in Turbinado sugar. Don't flatten! Place on baking sheets

Bake 8 to 9 minutes

Cool. Cookies will flatten out a little as they cool
Notes
freeze well, baked or unbaked.
Sign up for the emails and never miss another recipe!!
We'll never share your email or send you spam. Pinkie swear.
If you liked these Peanut Butter Rolo Cookies you might also like...
Cranberry Oatmeal White Chocolate Cookies
Frosted Peppermint Brownie Cookies Cooking Classy
Brown Sugar Pecan Cookies The Recipe Rebel