These quick and easy salted caramels are made in a microwave. When I say quick I mean it -- these buttery rich bites of yumminess take about six minutes start to finish.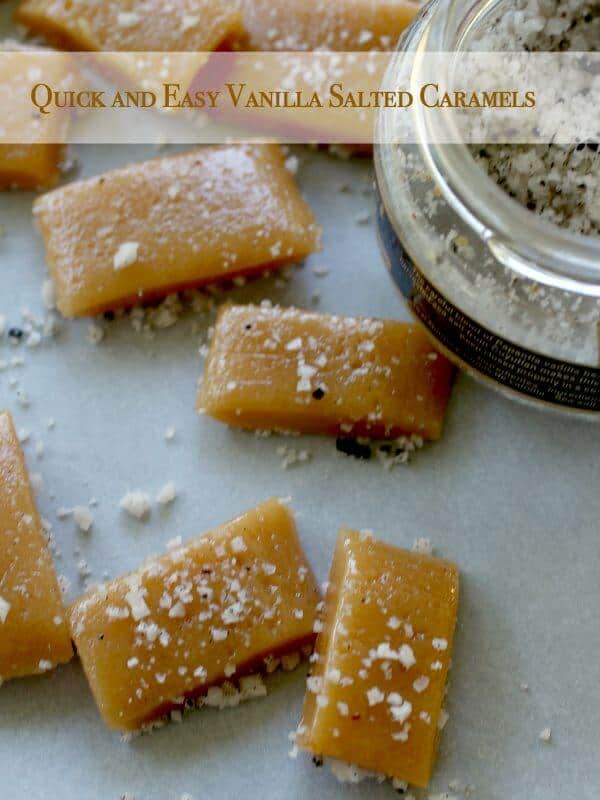 I've always enjoyed making candy. I used to make it to give as Christmas presents but lately I have figured out that it's just fun to make for no reason at all. The problem is always time. By the time I get done with all of my have-to-dos and client work for the day I don't want to spend an hour stirring something on the stove. Well, when I found these on Spend with Pennies I knew that this was going to be my go to candy recipe. You don't even need a candy thermometer.
These are firm enough that you can dip them in chocolate. If you do, I'd wait to add the vanilla sea salt until after the chocolate went on. If you are going to eat them as is then I'd twist some waxed paper around them to keep them from hardening up.
My first experiment at candy making was a long, long time ago. When I was a kid I was an avid reader. When I was in 5th grade I'd ride my bike to the library, pick up five books, read them, and repeat the process a couple of days later. Well, my favorites were the Anne of Green Gables books, the Little House on the Prairie books, and everything by Louisa May Alcott I could get my hands on. I don't remember what book I was reading but the characters had a taffy pull. It sounded like amazing fun - after all, hot sugar syrup? What could go wrong?
This was another time I decided to surprise my mom with my spectacular cooking skills. I did surprise her, too. There was sticky, sweet glue from one end of her once pristine kitchen to the other. There was sticky, sweet glue in my hair, on my clothes, and miraculously there were about three pieces of taffy on a plate. Those were the pieces that had actually solidified rather than running everywhere.
After my lengthy period of solitary confinement in my room I decided that taffy was best bought at the beach and brought home in white paper bags. It's a tradition I have continued to this day.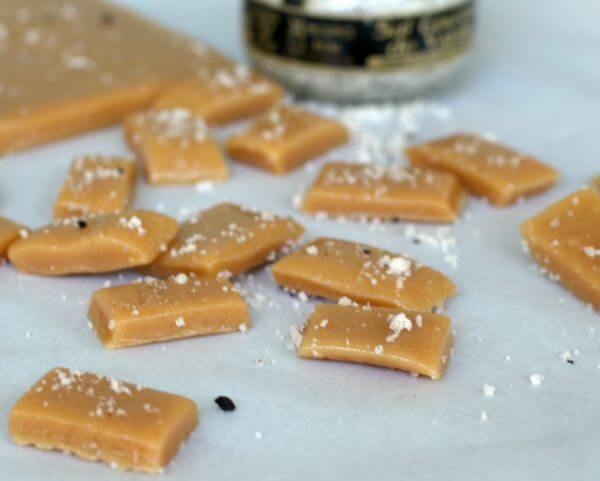 Anyway - you won't have that problem here, I promise. This quick and easy salted caramel sets up just like it's supposed to. You'll only use two dishes and a spoon plus measuring cups. You've got this. However, if you are under the age of 22 I suggest asking your mom if you can try this recipe. Don't risk solitary confinement - it's lonely.
The following is an affiliate link. If you click through and buy something I'll get a small commission which is used to keep the blog up on the Internet and running smoothly. Thanks so much for being a part of Restless Chipotle!
I used vanilla sea salt to give the sweet vanilla in the caramel a flavor boost from the salty vanilla in the sea salt. You may be able to find it locally but it's easiest to get it on Amazon. It's really just a finishing salt - you don't use much so it lasts forever. You can also stick a vanilla bean in some sea salt for a couple of months but I am not organized enough for that. This is my favorite.
Jacobsen Salt Co. Vanilla Bean Flake Sea Salt, 1.5 Oz.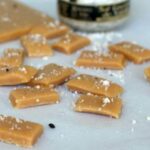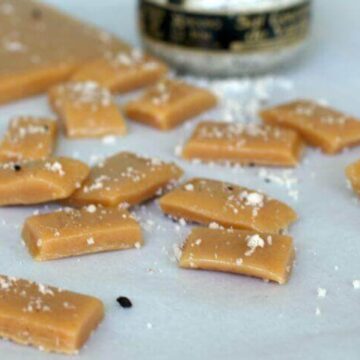 Quick and Easy Salted Caramels in a Microwave
Print
Save
Go to Collections
Quick and easy, these buttery rich caramels are sprinkled with just a touch of vanilla sea salt. They make great gifts!
As an Amazon Associate I earn from qualifying purchases.
Ingredients
¼

cup

butter

½

cup

white sugar

½

cup

brown sugar

½

cup

corn syrup

¼

teaspoon

salt

½

cup

sweetened condensed milk

Vanilla Sea Salt for sprinkling
Instructions
Spray an 8x8 inch pan with cooking spray or butter it generously.

In a glass or other microwave safe bow mix all of the ingredients

Microwave on high for 6 minutes, stirring every 90 seconds or so and watching carefully.

Pour into the prepared pan.

Let cool until set, about 5 minutes.

Sprinkle the vanilla salt crystals over the top. Don't use too much

Press in gently.

Let cool completely.

Cut into small squares.

Wrap in waxed paper or parchment to keep fresh.
Sign up for the emails and never miss another recipe!!
We'll never share your email or send you spam. Pinkie swear.
If you liked Quick and Easy Salted Caramels you may also like...
Boozy Chocolate Covered Cherries
Halloween Candy Bark Just a Taste
Homemade Mallow Cups How Sweet Eats