This triple layer orange layer cake is made from scratch. Tangy, rich cake layers are separated by thick layers of whipped orange frosting. This old-fashioned cake recipe is just right for any occasion.
For this recipe you'll need: cake flour, baking powder, salt, butter, sugar, egg yolks, milk, orange juice, orange zest, vanilla, Confectioner's sugar, orange-tangerine water enhancer (like MIO), heavy whipping cream
If you are in a hurry click here to go straight to the recipe.
As you are reading this, as long as you are reading it on the day it was published, I am flying across the Atlantic ocean on my way to France for a 10 day vacation with my husband. We're spending a couple of days in Paris then heading in a circle around the country and back to Paris before flying home via England. Yeah, we'll only be changing planes in England but technically I'll be there, right? I am beyond excited! This is the first vacation my husband and I have had alone in several years. We've had a couple of family vacations and I do love them… but Paris? With the man of my dreams?
Yes please.
While I'm gone I've scheduled several posts and Debbie from Made From Pineterest and Jennifer from Take Two Tapas will both be helping me out so be sure to check back often! Also, do me a favor and share on social media because I am not sure when I'll have WIFI and can do it. Thanks!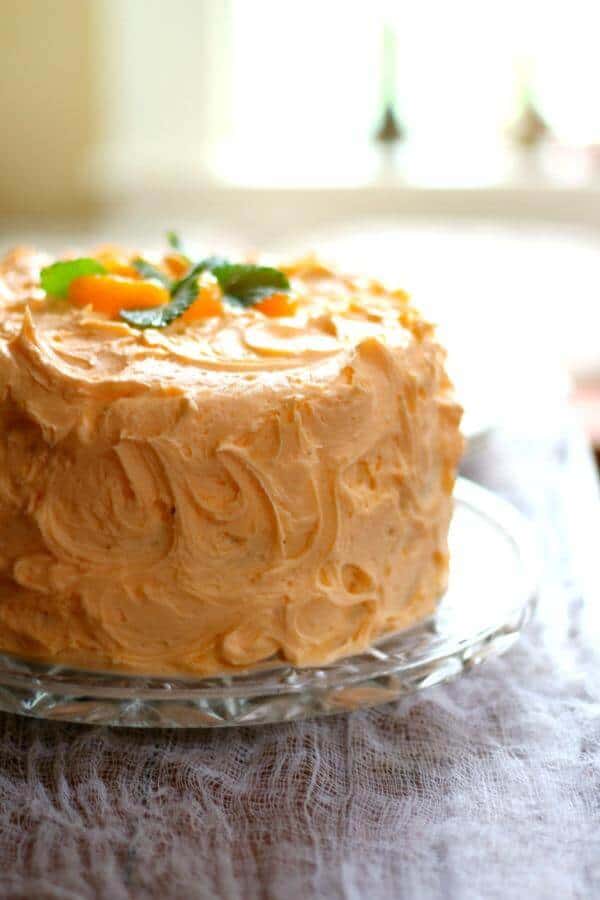 I know I've been posting a lot of cake recipes lately but sometimes my life is like that. We have a lot of Spring birthdays in our family thus we tend to eat a lot of cake this time of year. Terrible timing when you think about it — just before bathing suit season.
Honestly I ended up making this layer cake because of the Coconut and Nutella Cake that I made for Made From Pinterest last month. That cake called for egg whites so that left me with egg yolks. The only logical thing to do was to make another cake, right?
So, I looked through my various cookbooks and found an orange cake. A few adaptions later I had this, which I think is a pretty awesome cake. The whipped orange frosting is so light and fluffy and the cake has the most tender crumb ever because of the egg yolks. I put it on thick and swirled it the old-fashioned way. I know that's not so popular now but I still love how approachable it makes the cake. Like the cake is sitting there just begging you to drag your finger through the frosting and give it a taste.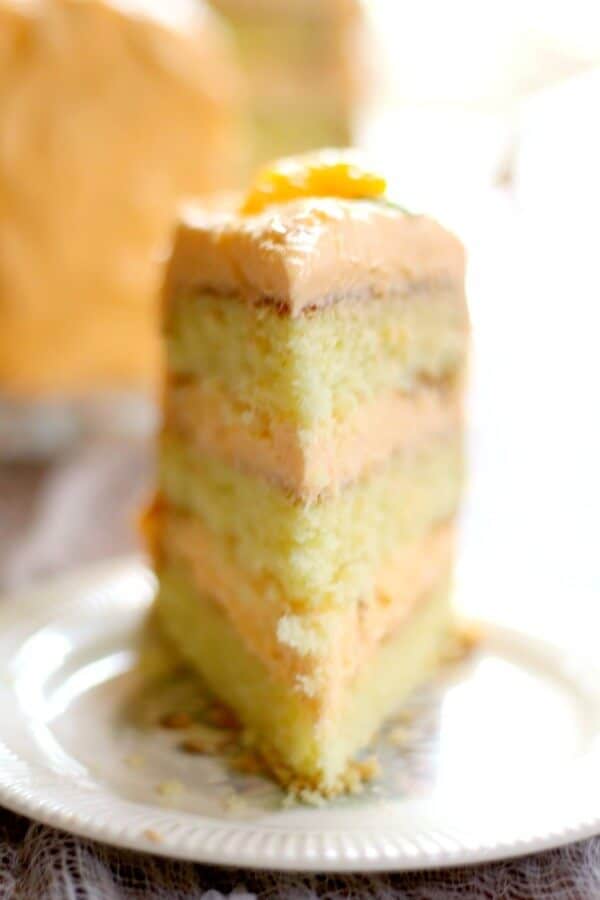 The following are affiliate links. If you click through and buy something I will get a small commission used for keeping the blog up and running smoothly. Thank you for being a part of Restless Chipotle!
Good cake pans are a must. I love these heavy, high sided cake pans from Wilton. The Mio orange-tangerine water enhancer is one of the reasons the frosting has so much flavor without losing its fluffy texture.
Here's the orange layer cake recipe. Find a reason to make it soon!

Orange Layer Cake
Print
Add to Collection
Go to Collections
This cake is a show-stopper. Three layers of moist orange cake with a tangy whipped orange frosting between each layer. There's so much fresh flavor it's unbelievable!
As an Amazon Associate I earn from qualifying purchases.
Ingredients
2 1/2

cups

cake flour

3

teaspoon

baking powder

1/2

teaspoon

salt

3/4

cup

butter

1 1/4

cups

sugar

8

egg yolks

1/2

cup

milk

1/4

cup

orange juice

1

tablespoon

fresh orange zest

1

teaspoon

vanilla
Frosting
1

pound

salted butter

10

cups

Confectioner's sugar

2

tablespoons

orange tangerine water enhancer

,

I used MIO

1

cup

heavy whipping cream
Instructions
Preheat the oven to 375F.

Grease and flour 3 8-inch round cake pans.

Mix the dry ingredients together and set aside.

Beat the egg yolks until they are light, thick, and lemon colored and form a ribbon when you pull the beaters out.

Set aside.

Cream the butter thoroughly.

Add the sugar gradually and beat until light and fluffy - 5 minutes on high.

Add the egg yolks and beat well.

Mix the milk, orange juice, vanilla, and orange zest.

Add the flour alternately with the milk mixture beating thoroughly after each addition.

Spoon into prepared pans.

Bake for 20 - 30 minutes or until cake tests done.

Cool in pans 5 minutes.

Turn out carefully to cool completely.
Frosting
Beat the butter until fluffy.

Add 2 cups Confectioner's sugar and the water enhancer.

Beat until well mixed.

Add 1 cup of the sugar at a time, beating well after each addition.

With mixer on high speed add the cream slowly and whip for 3 to 5 minutes, or until thick and creamy.
Tried this recipe?
Tag me!! @Marye_RestlessChipotle
If you liked this orange layer cake you may also like…
Ultimate Chocolate Chip Cookie Layer Cake Life Love and Sugar
Fresh Strawberry Cake Cooking Classy
Let's Keep in Touch!