This tender cake is moist and buttery with tangy citrus flavor in every luscious bite.
Jump to:
❤️ Why you'll love it
Perfect balance between fresh and sweet flavors
Egg yolks make the cake layers extra moist and rich
The slightly tangy orange frosting is lick-the-spoon good
This homemade orange cake recipe hits all the marks of a perfect citrus dessert. Plus, the orange buttercream frosting is made with love (and whipping cream) so that it's super creamy and light—as the famous saying goes, it really is the "icing on top of the cake.
🥫 Storage
American-buttercream cakes (like this one) last at room temperature for two to three days, and then two to three days after that in the refrigerator. Though the frosting is made with butter, the large quantity of sugar helps to preserve it from going bad quickly.
In fact, storing a tender cake in the fridge can dry it out faster. There are always exceptions, of course (like if you add a filling that requires refrigeration) so follow recipes carefully!
Put the cake (or leftovers) in an airtight container—like a cake carrier, in Tupperware, or on a serving plate with a cloche. Once the cake is sliced, I like to press a piece of plastic wrap against the inside of the exposed cake to help it retain some of that delicious moistness.
How To Freeze Orange Layer Cake
Layer cakes like this one hold up really well to freezing. Flash freeze either the whole cake (lucky you if you have the freezer room!) or individual slices until you can handle them without messing up the frosting.
Then, wrap the cake or slices in plastic wrap. Cover the plastic wrap with a layer of aluminum foil for extra protection. You can freeze the cake for about three months.
Unwrap the frozen cake before thawing, then let it sit at room temperature until you're ready to eat! Depending on the size, it might take a few hours or more to fully thaw.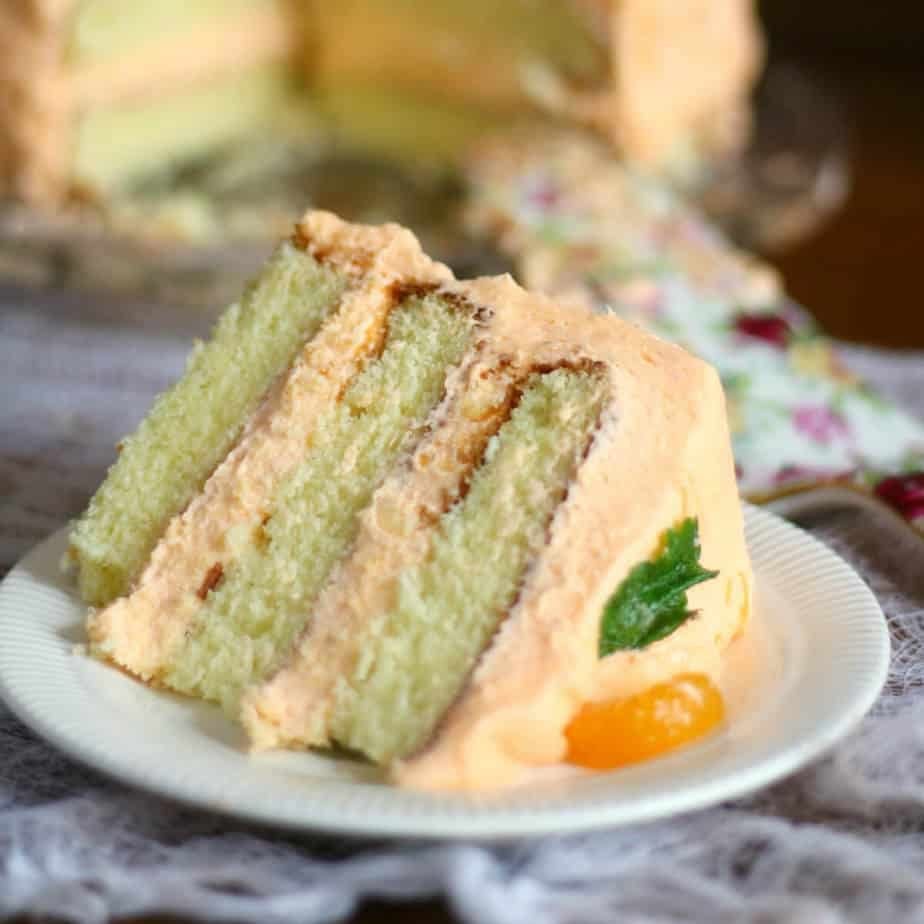 📖 Variations
Don't feel like making a layer cake? Don't have 8-inch pans? No worries! You can still use our favorite orange cake recipe with...
2 standard cupcake tins (start checking for doneness after 20 minutes)
2, 9-inch round cake pans
1, 9x13 sheet cake pan
2 dozen hollowed-out and dried orange halves (from 12 fresh oranges.) Set the orange halves in a muffin tin, or slice off just a bit of the bottom of the orange peel so they don't roll. Divide batter evenly into each orange, filling about ⅔ of the way, and bake like cupcakes!
In this orange cake recipe, you'll use the heavenly frosting both as the filling inside and on top. However, next time, feel free to add another filling:
Dark chocolate ganache—chocolate/orange is a decadent combo!
Vanilla cream cheese frosting
Orange curd filling
Pineapple compote—just make sure it's not too watery.
Blueberry jam
A crumble made of almonds, oats, and brown sugar
Here are some other substitutions you may find helpful:
You can use fresh juice or store-bought.
Make fresh orange juice from blood oranges for a slight grapefruit/berry flavor.
If you can't find the water enhancer, use a tablespoon of orange extract. Don't use orange juice in the buttercream or it will curdle.
Lemon zest can be swapped for orange zest if you need it.
Some people prefer the flavor of almond instead of vanilla extract.
Garnish the cake with sugared orange slices, a fresh basil leaf, a sprig of rosemary, more zest, or some slivered almonds for an eye-catching presentation.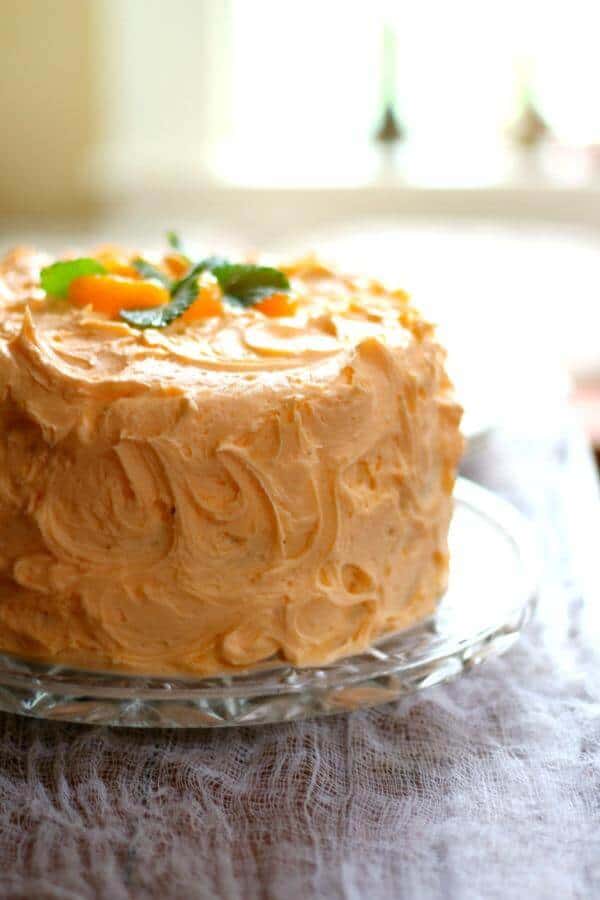 💭 Things to know
Expert Tip: Good citrus flavor is key to this orange cake recipe, so you want really fresh ones. Give them a quick sniff before buying—if they don't smell orange-y, they won't taste it, either.
Use room-temperature ingredients unless the recipe says otherwise!
Cold eggs separate more easily. So, let them come to room temperature after separating, not before.
Cake flour is used in some of the most popular cake recipes! I don't recommend swapping all-purpose flour in this orange cake.
Make sure your baking powder is fresh! If it's even nearing expiration, it could have disastrous results on the cake.
Use either an electric stand mixer or a handheld mixer.
Let the cakes cool on a wire cooling rack before frosting. Otherwise, you'll have a slippery, slidey, melty mess!
Sift your powdered sugar before using it to get out the lumps. It really makes the buttercream taste so much more smooth!
Instructions for Removing Cakes Cleanly from the Pans:
Spray the pan with cooking spray, or butter and flour it.
Line bottoms of the pans with parchment paper circles.
Re-spray or butter and flour the top of the parchment paper.
Tips For Decorating:
You can build and decorate your cake on the final cake plate if you're nervous about moving it after frosting.
For a rustic, old-fashioned look, spread the buttercream onto the cake with an icing spatula. We like a nice, thick, swirled layer that makes you want to stick your finger right in the frosting!
Or, use a turntable and a cake board if you're more experienced.
Nowadays, it's popular to create pristine, smooth cakes. To achieve this Instagram-worthy look:

First, add a crumb coat, or a thin layer of frosting on the top and sides of the cake. Smooth it as best as you can with an offset spatula or cake scraper. It's okay if you see the cake through this layer. Its purpose is to "lock in" the crumbs for the final coat.
Chill the cake in the fridge until you can gently touch the crumb coat without denting it.
Apply another layer of frosting to the top and sides of the cake.
Smooth out the top and sides as best as you can, using a light touch to buff out any air bubbles. Run your offset spatula or scraper around the cake a couple of times for the best results.

Flat cakes stack up best. If your cakes are domed, slice off the tops. These scraps are "bonus" treats for you, the hard-working baker!
Once you've added your filling and stacked the layers, press a few plastic straws or cake dowels down into your cake to stabilize it. Thick, bubble tea straws work really well.
🥚 Recipes with Leftover Egg Whites
This orange cake recipe will leave you with a lot of egg whites. Don't throw them out! Use them in an omelet, or try these sweet treats that use only egg whites: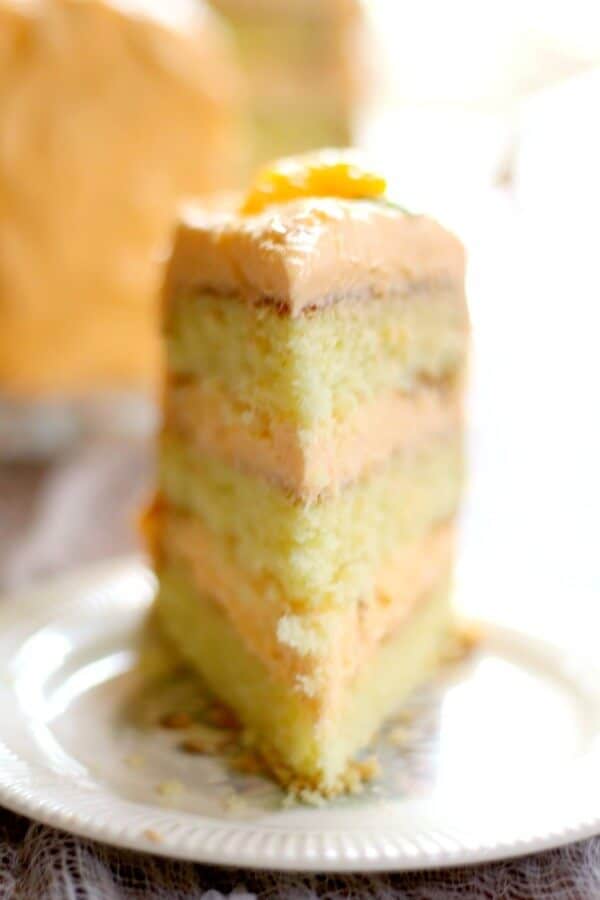 👩‍🍳 FAQs
How do I know the orange cake layers are baked?
Check the cakes with a toothpick or cake tester. Moist crumbs mean done, but wet batter requires more baking. The cakes will turn golden brown and start to pull away from the edge of the pan when they're nearing doneness.
Is this similar to orange creamsicle cake?
It is! If you've ever had the nostalgic popsicle, this cake tastes similar. Sweet, creamy, and delectable orange tang—without drippy, sticky hands!
Can I make this cake in advance, decorating later?
Sure! After your cake layers have fully cooled, wrap them in plastic. Leave at room temp overnight or pop them in the freezer.

Cover the buttercream with plastic wrap and store it in a cool, dark place overnight, or in the fridge for up to a week. Let the buttercream come to room temperature before use.
Can you stack the layers while still frozen?
Yep! If your orange cake layers haven't fully thawed, that's no worries at all! Stack and decorate as normal—they'll thaw as you work.
Why does my cake batter look oily/curdled/chunky?
Usually, the culprit is using too cold of ingredients. This easy orange cake comes together perfectly, as long as you follow the directions carefully—temperature and all!
Can I still use curdled batter?
If you've gotten to this point, you can still use it. However, your cakes may be denser/drier due to the fat not dispersing evenly throughout the sponge. Next time, follow the recipe card instructions carefully!
I have a small bowl of orange buttercream frosting left over; how can I use it up?
You can freeze it for three months in a ziplock baggie. Or, dip your favorite snacks in it, like shortbread cookies, gingerbread, vanilla wafers, or even pretzels!
📚 Related recipes
This Lemon Layer Cake alternates fluffy layers of cake with sweet white chocolate filling and a light, citrus frosting—lemon lovers rejoice!!
If you love chocolate and peanut butter, you need to try this Burnt Sugar Fudge Layer Cake ASAP. The decadent, rich layers are contrasted beautifully with light and airy peanut butter mousse. 10/10 recommend.
Pig Pickin' Cake (sometimes called Sunshine Cake) is made with oranges and pineapple. Not only is it SUPER easy, but it's addictive.
🍽️ Serve with...
📞 The last word
If you click on the number of servings in the recipe card you can adjust the measurements up or down for the exact number of servings you need. Don't forget that you can click on "add to collection" to save it to your own, private recipe box!
If you love this recipe please give it 5 stars! ⭐️⭐️⭐️⭐️⭐️
📖 Recipe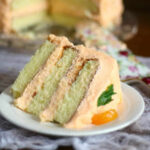 Orange Cake with Whipped Orange Buttercream
Print
Save
Saved!
This cake is a show-stopper. Three layers of moist orange butter cake with a tangy whipped orange frosting between each layer. There's so much fresh flavor it's unbelievable!
As an Amazon Associate I earn from qualifying purchases.
Ingredients
Frosting
1

pound

salted butter

,

room temperature

10

cups

Confectioner's sugar

,

sifted to get the lumps out

2

tablespoons

orange tangerine water enhancer,

I used MIO - you may use 1 teaspoon orange favoring instead. Orange juice will curdle the buttercream.

1

cup

heavy whipping cream

,

ice cold
I earn a commission from Instacart from qualifying purchases.
Instructions
Preheat the oven to 375°.

Grease and flour 3 8-inch round cake pans.

Mix the dry ingredients together and set aside.

Beat the egg yolks until they are light, thick, and lemon colored and form a ribbon when you pull the beaters out.

Set aside.

Cream the butter thoroughly.

Add the sugar gradually and beat until light and fluffy - 5 minutes on high.

Add the egg yolks and beat well.

Mix the milk, orange juice, vanilla, and orange zest.

Add the flour alternately with the milk mixture beating thoroughly after each addition.

Spoon into prepared pans.

Bake for 20 - 30 minutes or until cake tests done.

Turn out carefully to cool completely.
Frosting
Beat the butter until fluffy.

Add 2 cups Confectioner's sugar and the water enhancer.

Beat until well mixed.

Add 1 cup of the sugar at a time, beating well after each addition.

With mixer on high speed add the cream slowly and whip for 3 to 5 minutes, or until thick and creamy.
Assembly
Smear a tablespoon or so of frosting on your cake plate.

Add the first layer and press down gently.

Add a ½ cup or so of the frosting.

Add the next layer and press down gently.

Frost the top and sides of the cake.
Notes
Always use ingredients at room temperature unless the recipe says otherwise.
Smell the oranges when you are buying them. If they don't smell orangey the zest won't taste orangey. Try to stick with organic since you'll be using the peel.
Separate the eggs while they're cold and let them come to room temperature afterwards.
Sifting the Confectioner's sugar get's the lumps out and ensures smooth buttercream.
This recipe is made with cake flour. It keeps it very light and moist. I don't recommend all-purpose flour for this.
Be sure to spray your pans with baking release spray or butter and flour them well. Lining the bottom of the pan with greased and floured parchment paper or waxed paper helps the cake not stick, too.
Once you've added the filling and stacked the layers run a couple of straws or thin dowels down through the cake to keep the layers from sliding while you finish frosting it.
You'll find more helpful tips and variations in the body of the post.
Nutrition Facts
Calories:
791
kcal
|
Carbohydrates:
107
g
|
Protein:
5
g
|
Fat:
40
g
|
Saturated Fat:
25
g
|
Cholesterol:
203
mg
|
Sodium:
367
mg
|
Potassium:
143
mg
|
Fiber:
1
g
|
Sugar:
90
g
|
Vitamin A:
1345
IU
|
Vitamin C:
2.6
mg
|
Calcium:
75
mg
|
Iron:
0.5
mg
Nutrition information is estimated as a courtesy. If using for medical purposes, please verify information using your own nutritional calculator. Percent Daily Values are based on a 2000 calorie diet.
Sign up for the emails and never miss another recipe!!
We'll never share your email or send you spam. Pinkie swear.
First published April 13, 2016. Last updated September 7, 2022 for editorial improvements.
What's new? Check out my Restless Chipotle & Co. Store on Amazon where you'll find all kinds of nostalgic goodness! Thanks so much for being a part of Restless Chipotle!