Chewy, buttery, and full of cinnamon this soft snickerdoodle recipe is a family favorite. These cookies are fluffy, soft in the middle and just a little chewy on the edges. Seriously the BEST snickerdoodle recipe out there.
For this recipe you'll need: salted butter, sugar, brown sugar, eggs, vanilla, almond extract, flour, cream of tartar, baking soda, salt, cinnamon, sprinkles (optional)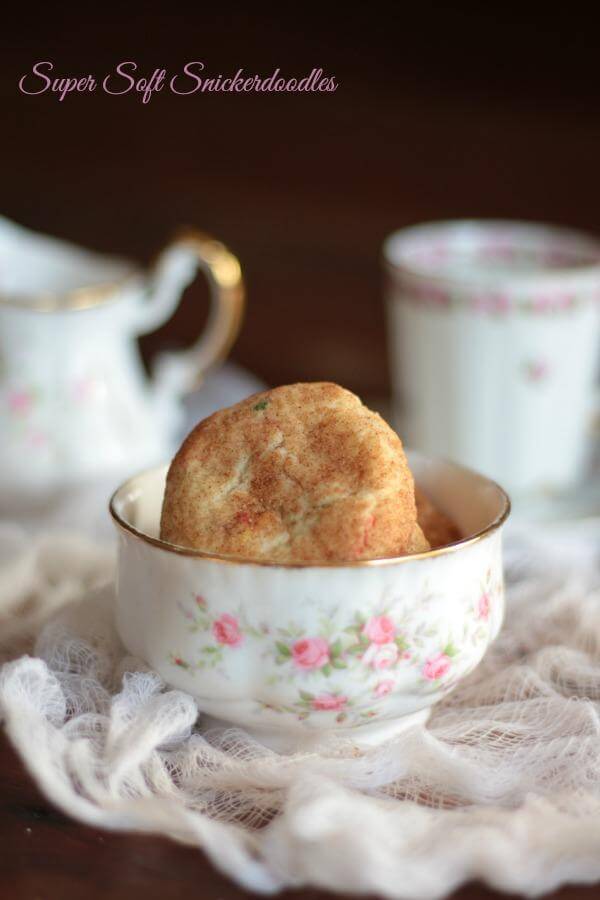 Snickerdoodles are weird. No one really knows where they came from and depending on who you talk to the name is from the Dutch  or German word for snail or from some crazy New Englander in the 19th century. I am not even going to try to figure it out but snickerdoodles don't look like snails and I've known a few crazy New Englanders so I'm going with that.
These were not a cookie that was in my house growing up. In fact, I had never even eat ONE of them... had never even HEARD of them... until I spent the night with a friend in the 8th grade and she and I made cookies. Snickerdoodles.
Dang. Chewy, soft, just a tiny bit crisp on the edges? I'm pretty sure we finished them off. ALL of them. I moved not long after that and lost track of her but the snickerdoodles remained a flavor that I wanted more of. The first several years of my adult life were full of snickerdoodle experiments until, in an old Southern cookbook I found what would be the foundation for this soft snickerdoodle recipe and every other snickerdoodle I've made since.
Let's talk cinnamon, shall we?
Cinnamon comes in more than one type. I know, it's a mind blower but it's true. What's even more amazing is that each type of cinnamon has a slightly different flavor and level of spiciness! Totally crazy. So, if you feel like you aren't getting the flavor you want try a different type of cinnamon and see what that does. I've got them listed below in the affiliate links section.
So, you can make these plain or you can add sprinkles to make them festive. I suggest festive because, hey, the world needs more sprinkles. Plus you can choose sprinkles to coordinate with your party decor or the holiday! Red, white, and blue for the fourth of July, red and green for Christmas... whatever. Use your imagination.
To Freeze This Snickerdoodle Recipe
These freeze very well baked but what I like to do is make the dough, shape the balls, and then flash freeze them on a cookie sheet. Once frozen I put them in a freezer container. Anytime I want cookies I just take the dough balls from the freezer, roll in cinnamon and sugar, and bake them according to the original directions. Super easy!
The following are affiliate links. If you click through and buy something I get a small commission which is used to keep the blog up and running smoothly. Thank you for being a part of Restless Chipotle!
China Cinnamon - extra strong and spicy.
Vietnamese Cinnamon - Extra flavorful. If you use this you can actually cut back the cinnamon called for in the recipe.
Korintje Cinnamon - This is what your mom probably used. Sweet and mild.
Ceylon Cinnamon - Extra mild with a slight citrus flavor.
My favorite is the Vietnamese cinnamon because it is intense and flavorful. If there's any way you can try all of them to see what you like best you should do so!
Here's your new favorite cookie, yep - this soft snickerdoodle recipe!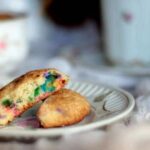 Soft Snickerdoodle Recipe
Print
Add to Collection
Go to Collections
As an Amazon Associate I earn from qualifying purchases.
Ingredients
1

cup

salted butter

1 1/2

cups

sugar

,

divided use

1/4

cup

golden brown sugar

2

eggs

2

teaspoons

of vanilla

1/4

teaspoon

almond extract

1/2

cup

colored sprinkles

,

optional

2 3/4

cups

flour

2

teaspoons

cream of tartar

1

teaspoon

baking soda

1/4

teaspoon

salt

1 1/2

tablespoons

cinnamon
Instructions
Preheat the oven to 400F.

Cream the flour, 1 1/4 cups sugar, brown sugar, eggs, vanilla, and almond extract together until light and fluffy.

Gently stir in the sprinkles.

Mix the flour, cream of tartar, baking soda, and salt together.

Beat into the butter mixture.

Shape rounded teaspoonfuls of the dough into balls.

Mix the remaining 1/4 cup sugar and the cinnamon together on a plate or in a bowl.

Roll the balls in the sugar mixture.

Place 2 inches apart on ungreased baking sheets.

Bake for 8 to10 minutes.

Let cool for a few minutes before removing from the sheet.
Sign up for the emails and never miss another recipe!!
We'll never share your email or send you spam. Pinkie swear.
If you liked this soft snickerdoodle recipe you might also like...
Classic Chocolate Chip Cookies
Chewy Crispy Peanut Butter Cookies
Cinnamon Caramel Cookies Inside Bru Crew Life
Butter Pecan Cookies Sally's Baking Addiction