Chewy, crusty baguettes that you can make in about 30 minutes. Perfect for sandwiches, garlic bread, or sopping up pasta sauce. Beginner recipe
You can make this quick French bread in just 30 minutes! Perfect for sandwiches, garlic bread, or sopping up pasta sauce.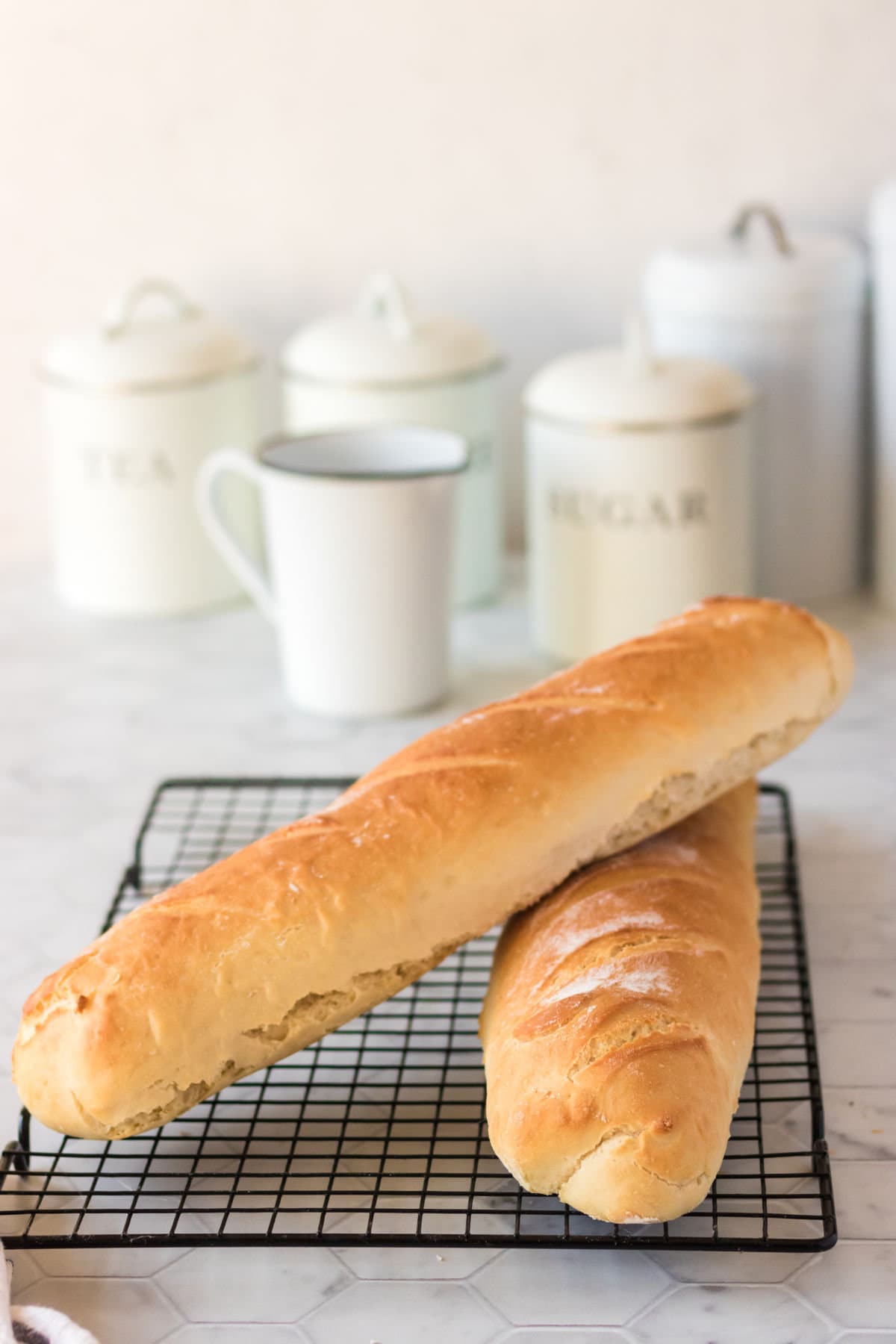 Table of Contents
❤️ Why you'll love it
Crispy crust while chewy and soft inside
Homemade baguettes are tastier than store-bought
You don't have buy bread flour because all-purpose works great
Homemade bread doesn't have to take hours upon hours.
This great recipe gives you delicious, chewy bread in just over 30 minutes! Plus, you don't need any fancy equipment—no bread machine, no baguette pan, no problem!
A thick, warm slice of this, with butter melting into it, is one of my favorite sides to serve with this hearty ravioli soup.
🧾 Ingredients
This is an overview of the ingredients. You'll find the full measurements and instructions in the green recipe card (printable) at the bottom of the page.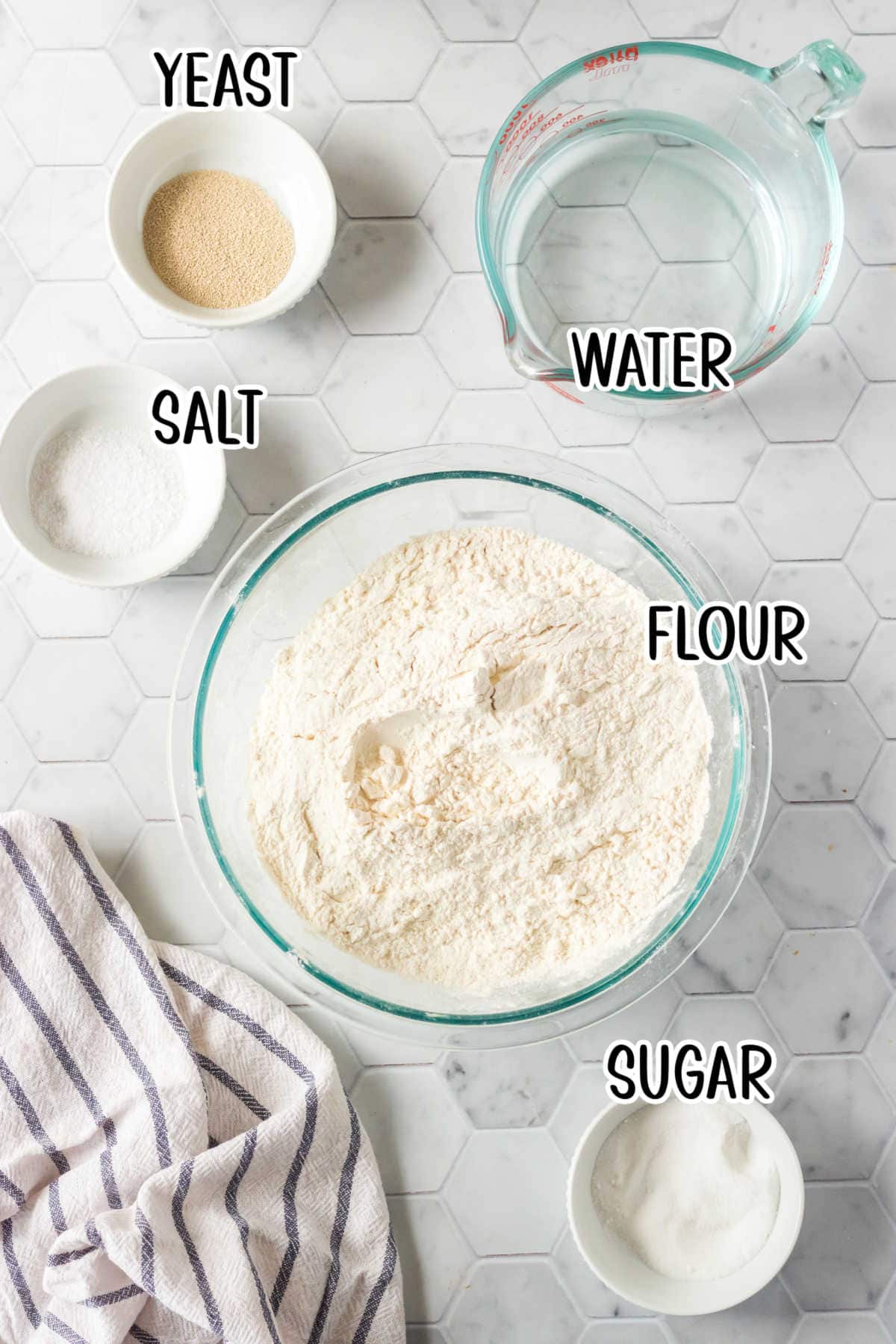 🔪 Instructions
This is an overview of the instructions. Full instructions are in the green recipe card at the bottom of the page.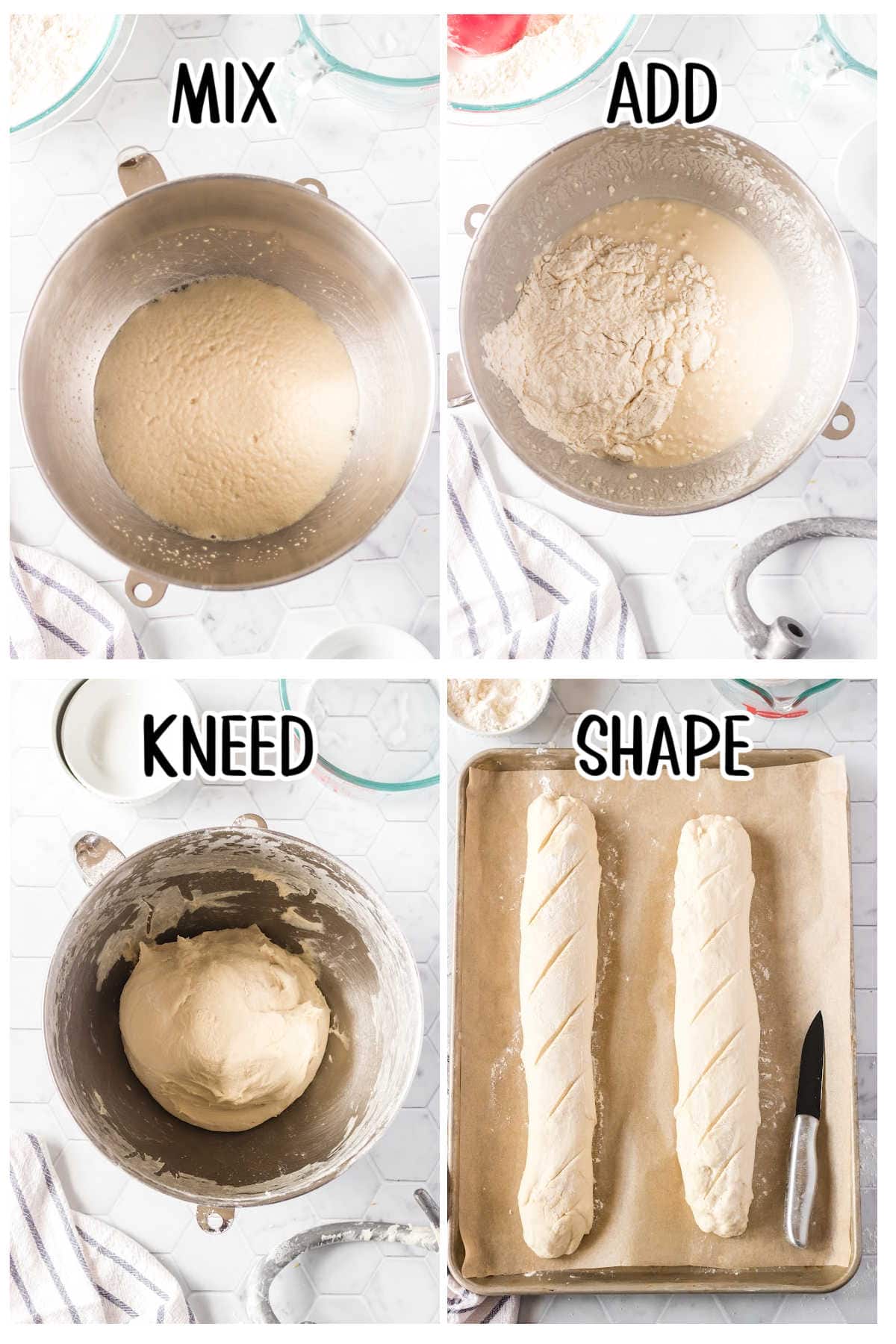 Mix the warm water, yeast, and sugar in the bowl of a stand mixer.
Add salt and all-purpose flour, combining with the dough hook.
Knead the bread dough for about five minutes.
Place dough onto parchment paper and shape it into long loaves. Slice with a sharp knife or razor blade and bake your homemade baguettes.
Keep some on hand for this easy garlic bread casserole recipe!
🎥 Video
Click on the image to watch me make this recipe from start to finish with extra tips! (Video opens in a new tab).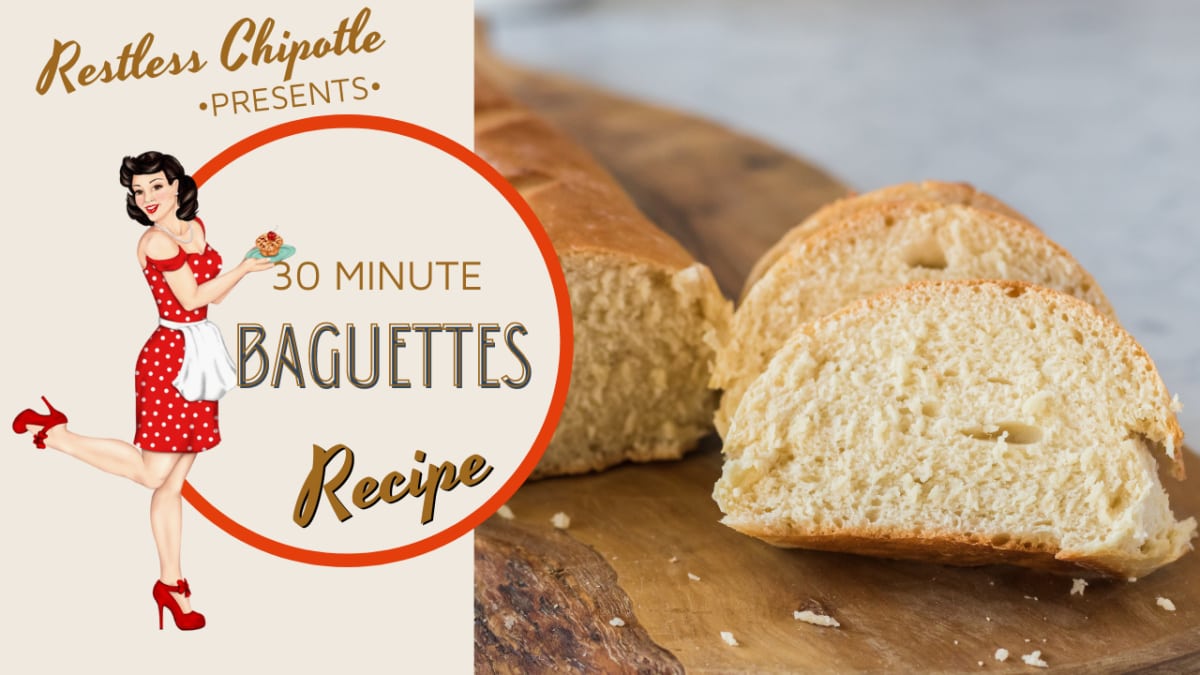 🥫 Storage
Homemade baguettes taste best right out of the steaming hot oven. You know, when the soft, warm bread transforms a pat of butter into a delicious gloss right before your very eyes! However, they'll last for two to three days at room temperature.
Simply store the leftover bread in an airtight bag or storage container. You can also wrap the loaves in a little bit of plastic wrap if you prefer.
Worried about a stale baguette? Without the yucky preservatives of store-bought bread, homemade loaves can dry out more quickly. So if, over the next day or two, your homemade French bread goes a little stale, wrap it in a damp towel and revive it in the oven for 10 minutes at 375 degrees F.
Crusty French baguettes also freeze beautifully, and it's great to have fresh homemade bread ready to go in an instant! My favorite way to prep the bread for freezing is to slice each baguette and put a square of parchment paper between each piece.
Then, wrap the whole loaf tightly. However, you can skip the slicing if you know you'll want to thaw the entire baguette at one time. Freeze homemade baguettes for up to 3 months.
Let full baguettes thaw in the fridge or at room temperature. For frozen sliced bread, you can speed up the process by popping a slice or two straight into the toaster.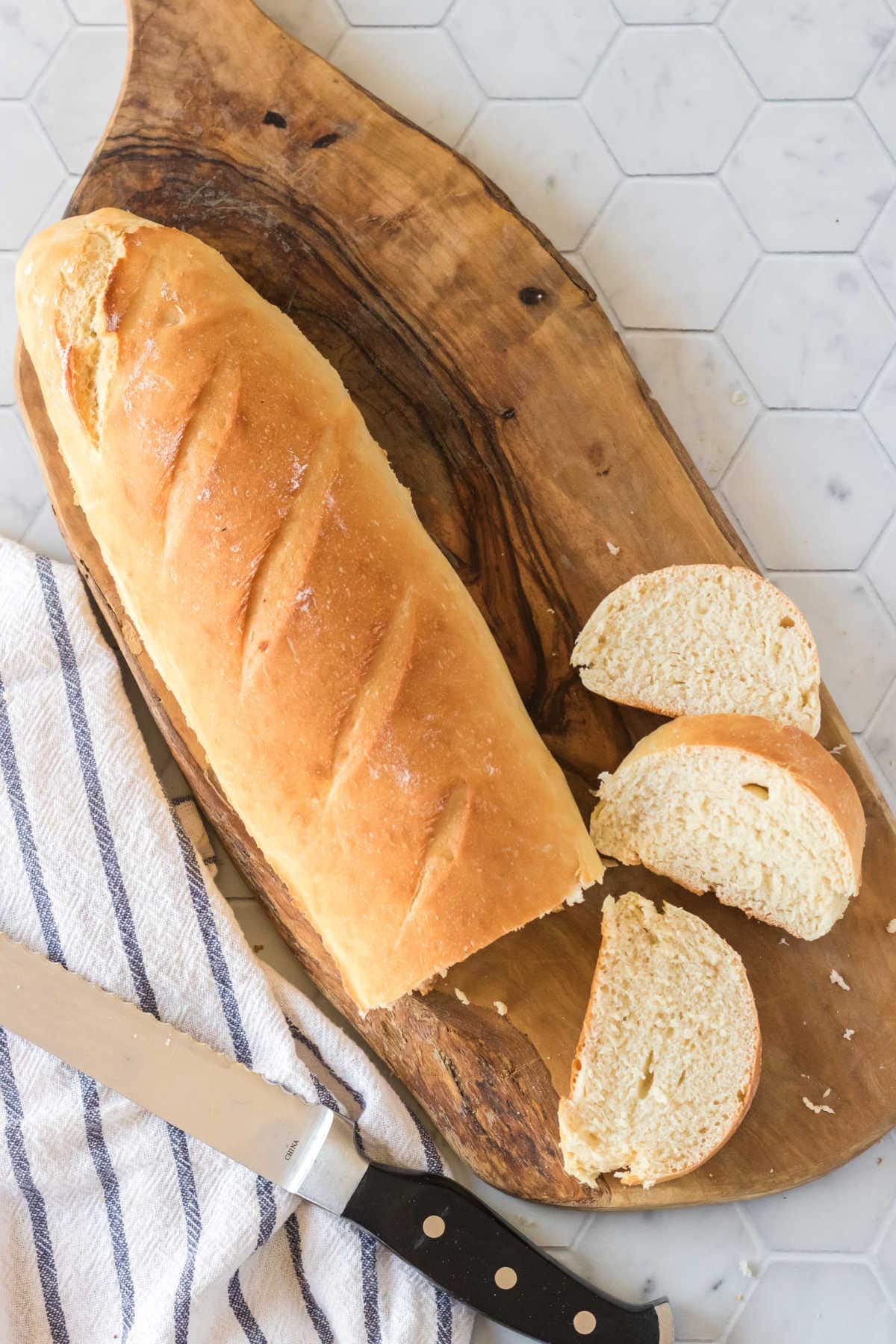 📖 Variations
Adjust the size to fit your meal. If you want a loaf of bread for sandwiches, divide the dough into two rounder loaves. However, if you want a thinner, crunchier homemade baguette (perfect for dipping) then divide the dough into three or four long sections, instead.
Nurturing a sourdough starter? You can swap the active dry yeast with a cup of the starter to make sourdough baguettes. However, you'll have to increase the rise time by a few hours, and reduce the amount of flour and water in this recipe by the approximate amount that is in your sourdough starter.
Add some flavor! Crusty French bread is delicious plain, but it also makes fabulous cheesy or garlic bread. Brush some butter or olive oil on the tops of the loaves and sprinkle with herbs, cheese, and other fun seasonings.
A note for high-altitude bakers: flour loses some moisture in drier climates, so you'll likely need to add a bit more liquid than the recipe calls for. Also, if letting the fresh baguette dough rise, don't let it sit too long, or you can actually over-proof the dough.
About whole wheat flour (and other options.) I don't recommend blindly swapping the all-purpose flour for another kind without first reading my flour guide. Once you're up to date on all things flour, however, you can experiment and see what different textures and flavors your family prefers.
💭 Things to know
Expert Tip: Cold ice cubes and hot glass are not friends. Be careful to avoid dropping the ice on the oven door window or it could shatter!
When using simple ingredients, it's important that they are as fresh and high-quality as you can afford. You can tell a major difference between a crusty baguette made with fresh, good ingredients versus one with old, cheap flour and expired yeast.
After the first step, set the yeast mixture in a warm place so that the yeast can bloom. It should look bubbly and fizzy within 5-10 minutes.
If the yeast doesn't create air bubbles or get foamy, I recommend dumping it out and starting again. Your yeast might be dead or expired, and, in this case, would result in flat, dense bread.
I use Kosher salt in this recipe. However, if you use regular table salt, reduce the measurement to one teaspoon.
The best way to knead dough is with the heel of your hand. Fold the dough over itself and press down very firmly. Rotate and repeat.
If your dough is too sticky to knead at first, coat your hands with a little flour. Don't add too much extra flour or your baguettes will be dry.
If you're particular about the size of your loaves, you can weigh the dough on a kitchen scale for perfectly equal portions.
Use the heaviest sheet pan you have for equal, even baking. If you have a pizza stone or baking stone, that's even better!
Adding cold water to the hot oven makes steam. This is traditionally what creates the crisp crust that artisan bread recipes are known for.
You don't have to use the steam tip if you prefer a softer crust.
Some new ovens come with a handy, built-in steamer—it's that shallow little dish attached to the lower rack. If yours has one, add the water or ice cubes to it, rather than the bottom of the oven.
The water/ice won't damage your oven floor, but if you're nervous about it, put a large baking sheet on the floor of your oven while it preheats. Then, just before baking, put the water on that, instead.
Make homemade baguettes in advance by adding an extra ½ teaspoon of yeast. Then, let the dough rise in the fridge overnight.
I love this bread for meatballs sandwiches. I use this easy crockpot meatball recipe and let them simmer all day then just pile in the warm baguette. YUM!
👩‍🍳 FAQs
What exactly is a baguette, anyway?
Traditionally, baguettes are a type of French bread with a chewy interior crumb and crispy crust. They are usually about two inches in diameter and a few feet long. A freshly baked French baguette is the perfect simple recipe to accompany almost any meal!
Why does yeast never get bubbly or work for me?
If you've made sure your yeast is fresh and followed the storage/ blooming instructions carefully, but it still doesn't work, try using bottled spring water instead of tap. Sometimes, your water can contain a chemical or mineral that's not harmful to your health, but one that the yeast doesn't like.
How do you create the long, baguette shape?
Place your hands in the middle of the loaf. Roll them back and forth as you gradually widen your hands, spreading them apart from each other. Rather than pulling on the ends of the bread dough, you get a much better result by rolling it out—kind of like a log of Play-Doh!
Can I freeze unbaked homemade baguettes?
You can, but this easy French baguette recipe comes together so quickly and freezes so well after baking that it's usually not necessary. However, if you plan to freeze the dough, do so immediately after shaping the baguettes. Wrap them tightly and let them thaw in the fridge once you plan to bake them.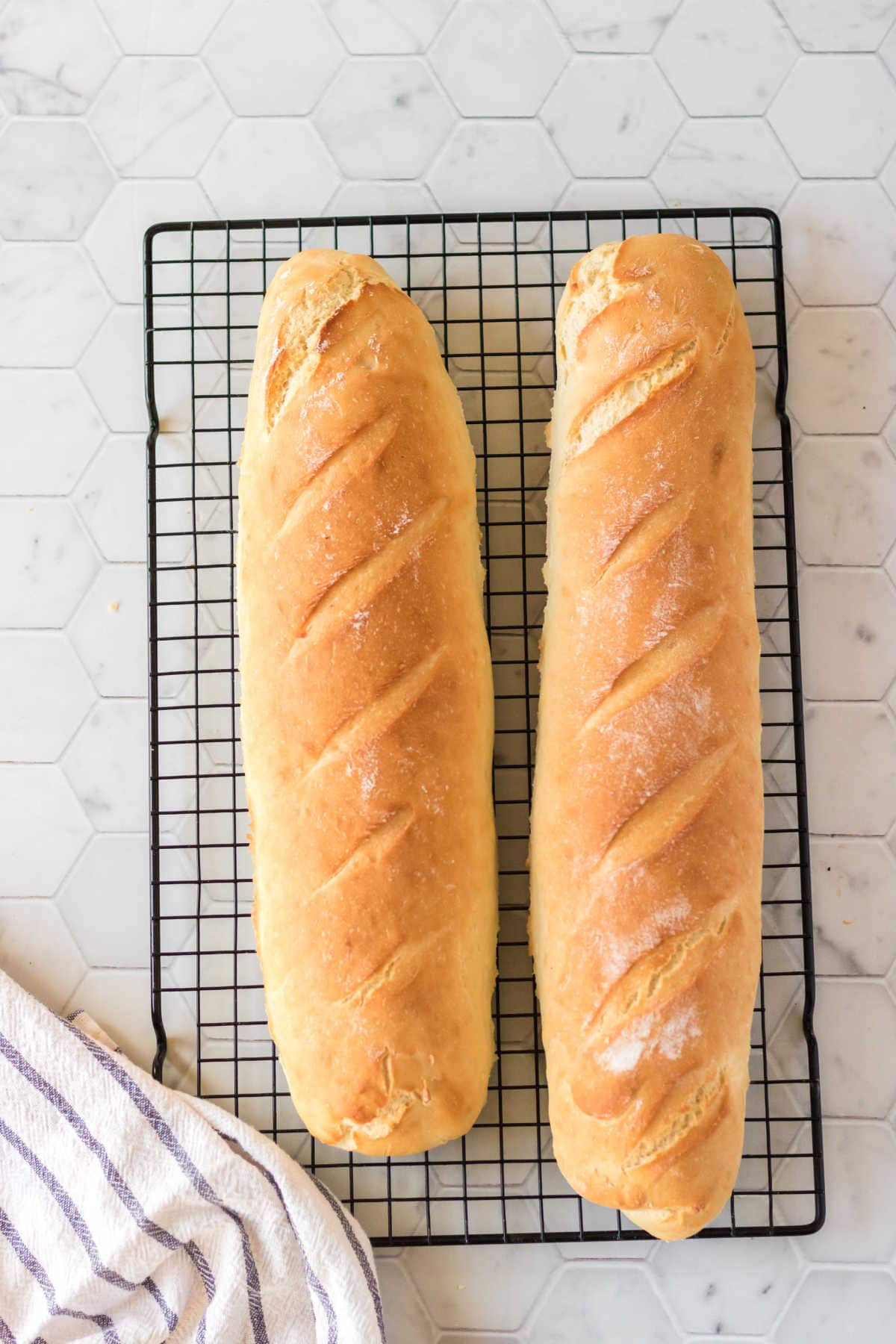 📚 Related recipes
I have mastered plenty of tasty and easy homemade bread recipes (here's the full list) but these are a few of my absolute favorites:
Honey Buttermilk Bread is a sweet, country-style loaf that makes the best sandwiches—it's your secret to earning the title of "lunch queen!"
There is nothing better than the warm aroma of crusty, thick bread made in a dutch oven—add this Rustic Cloche Bread to your list ASAP!
If you've been tempted to venture into the tangy, tender world of sourdough bread, this No-Knead Sourdough recipe will change your life—yes, it's that perfect.
🍽️ Serve with...
📞 The last word
Y'all, this is so easy and it if you smear it with garlic butter it makes the BEST garlic bread!
Let me tell you, this is amazing with lasagna soup.
If you click on the number of servings in the recipe card you can adjust the measurements up or down for the exact number of servings you need. Don't forget that you can click on "add to collection" to save it to your own, private recipe box!
If you love this recipe please give it 5 stars! ⭐️⭐️⭐️⭐️⭐️
📖 Recipe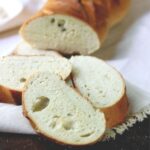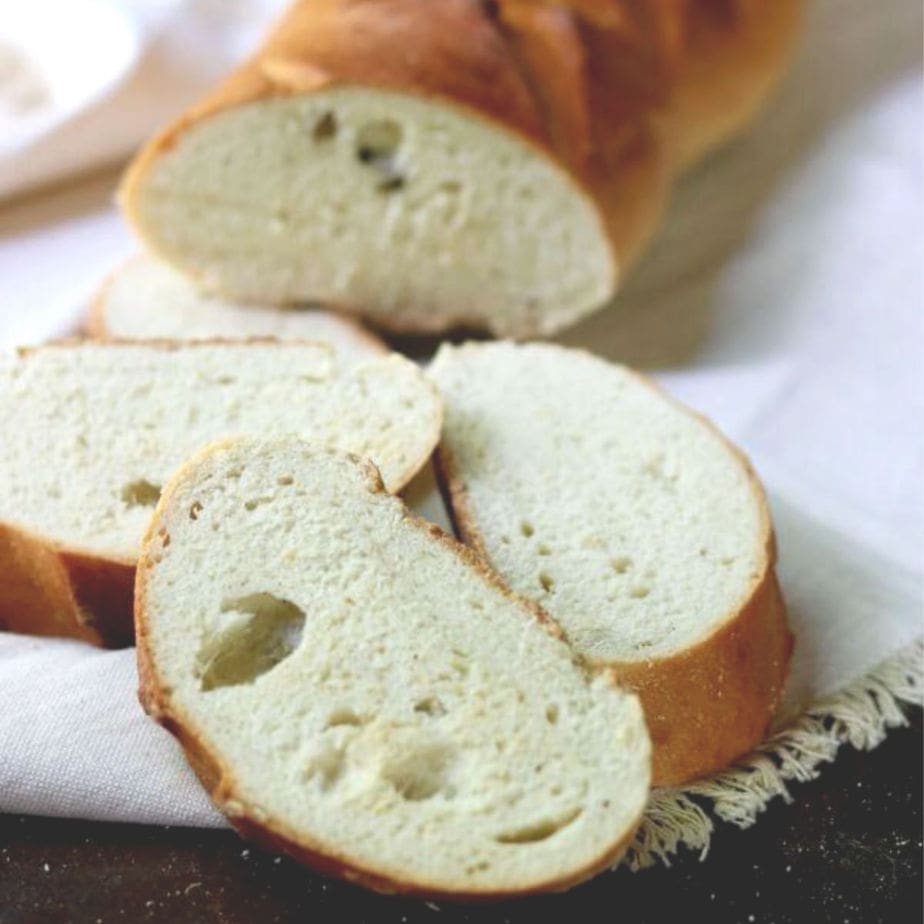 Quick and Easy Homemade Baguette
Print
Pin Recipe
Save
Saved!
Chewy, crusty baguettes that you can make in about 30 minutes. Perfect for sandwiches, garlic bread, or sopping up pasta sauce. Beginner recipe
Ingredients
2

cups

water

,

110F, comfortably warm

1

packet

active dry yeast

2

tablespoons

sugar

1 ½

teaspoons

salt

4 - 5

cups

all-purpose flour

,

may need more but dough should be sticky

coarse cornmeal for dusting the pan
I earn a commission from Instacart from qualifying purchases.
Instructions
Start preheating the oven to 425F before you even take the ingredients out of the pantry.

Put the 110F water, yeast, and sugar in the bowl of your mixer.

Mix briefly, just until blended.

Set in a warm place for 10 minutes.

After ten minutes stir in the salt and 1 cup of the flour.

Using the dough hook mix on medium speed for about 2 minutes.

Add the rest of the flour, ½ cup at a time until you have a soft dough.

Knead for about 5 minutes until the dough is no longer sticky and dough is elastic.

Form the dough into 2 or 3 long loaves on a heavy cookie sheet dusted with coarse cornmeal.

Use a sharp knife to score (slice shallow gashes) in the top of the bread.

Allow the loaves to rise for ten minutes in a warm place if there is time. If not - just go straight to the next step.

Fill a 1 cup measure with ice and cold water

Put the loaves into the preheated oven and toss the ice on the oven floor.

Close the door quickly and don't open it until you are ready to take the bread out of the oven, 15 to 20 minutes later.

Cool slightly before cutting.
Notes
Making this bread into 2 loaves instead of 3 makes it more like a thicker Italian loaf. If you want a thinner, crunchier loaf then divide the dough into 3 or 4 parts.
Notes
Use fresh ingredients - the best you can afford. When the ingredient list is simple like this one you need good ingredients.
If you consistently have trouble getting the yeast to work right try using bottled spring water - there may be something in your water that's not harmful to you but the yeast doesn't like.
Throwing the water on the floor of a hot oven creates a ton of steam - this gives the bread its classic texture. Be careful though, you don't want steam burns! A cup of ice also works for this.
Kosher salt is used in this recipe.
When you score the top use a very sharp knife and cut it on a 45 degree angle. This helps it to rise properly.
You can add ½ teaspoon extra yeast and let the dough rise in the fridge overnight if you need to.
You'll find more helpful tips and variations in the body of the post.
Nutrition Facts
Serving:
1
slice
|
Calories:
100
kcal
|
Carbohydrates:
21
g
|
Protein:
3
g
|
Fat:
1
g
|
Saturated Fat:
1
g
|
Sodium:
147
mg
|
Potassium:
31
mg
|
Fiber:
1
g
|
Sugar:
1
g
|
Calcium:
5
mg
|
Iron:
1
mg
Nutrition information is estimated as a courtesy. If using for medical purposes, please verify information using your own nutritional calculator. Percent Daily Values are based on a 2000 calorie diet.
Sign up for the emails and never miss another recipe!!
We'll never share your email or send you spam. Pinkie swear.
First published September 1, 2013. Last updated for better images and editorial content on November 23, 2022