This easy, no knead sourdough bread is made with a homemade sourdough starter. The long rising time gives it a tangy flavor, a chewy texture, and a thin, crispy crust. If you like authentic sourdough bread you'll love this recipe!
For this recipe you'll need: active sourdough starter, pure spring water, bread flour, sea salt, a heavy dutch oven with a cover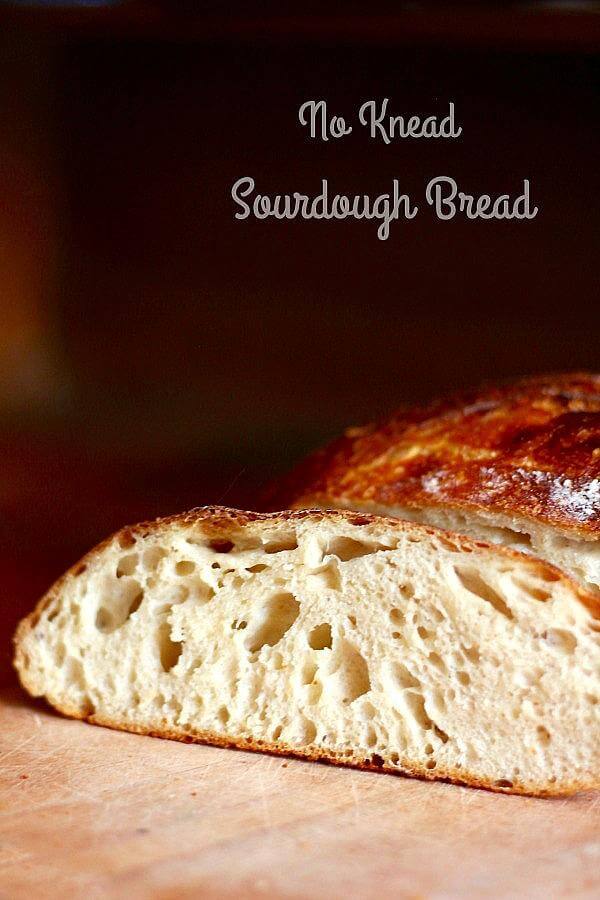 I love sourdough bread!
When I was in the Army I was stationed in Monterey, California. There were a ton of really awesome things about living there but the fresh food was probably my favorite. Of all of that good food the thing at the top of my list was sourdough bread. That super crispy crust and tangy, sour aroma called me every time I was within sniffing distance.
When I moved back to Texas I decided to learn how to make the stuff. Dang. That was an eye opener. My homemade sourdough was even better!
When you make it yourself you can kind of control how sour it gets by the amount of time you let it rise and where you let it rise. If you let it rise in a proofing oven (or Texas kitchen in July) at 100F it will rise more quickly but be less sour. If you let it rise in your refrigerator for 12 hours or so it will be significantly tangier. You'll just need to decide how long to let it go so that it's just right for you.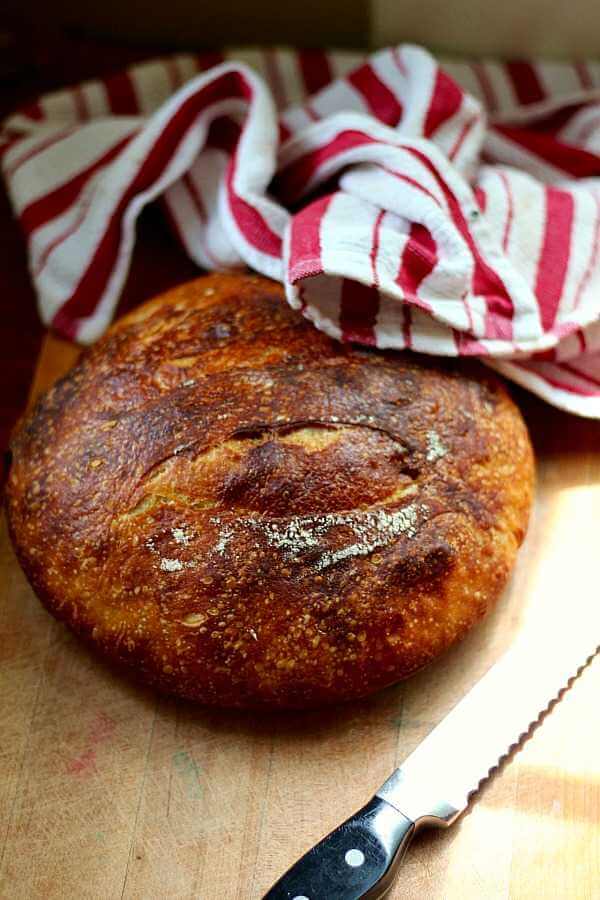 This no knead sourdough bread is made with an active starter but no commercial yeast. You'll find my recipe for sourdough starter here. I've seen that some people feed their starter twice a day but I've always just done it once. I'll try the twice a day starter soon and see if I like that better.
The trick is to use filtered water or bottled spring water in both your starter and your bread. The chemicals in tap water kill off the wild yeast.
You have to be patient when you are making sourdough. The rising times can be painfully long -- especially in the colder months of the year. You'll know when it's ready, don't hurry it.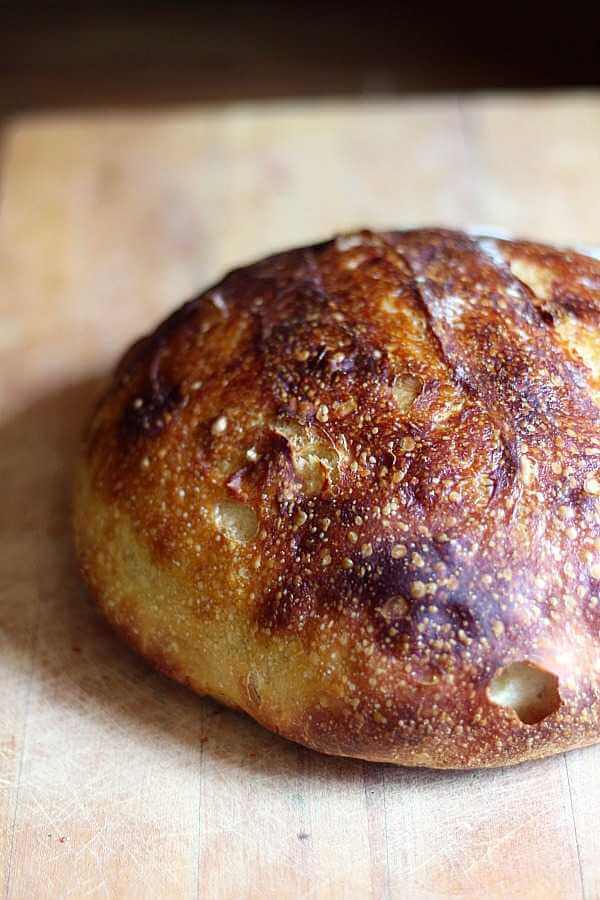 The following are affiliate links. We are a participant in the Amazon Services LLC Associates Program, an affiliate advertising program designed to provide a means for us to earn fees by linking to Amazon.com and affiliated sites.
What's new? Check out my Restless Chipotle & Co. Store on Amazon where you'll find all kinds of nostalgic goodness! Thanks so much for being a part of Restless Chipotle!
I made this bread in my Le Creuset dutch oven. It is really heavy and helps you get that thin, crispy crust you're looking for. You can use it in the oven so it's as handy for bread making as it is for making stew. If that's not in your budget this Lodge dutch oven is similar for about 1/4 the cost.

Here's the no knead sourdough bread recipe. Enjoy!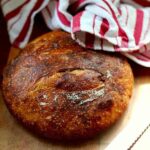 No Knead Sourdough Bread
Print
Add to Collection
Go to Collections
Classic sourdough bread has a chewy crumb and thin, crisp crust. It's so easy to make because there is no kneading required.
As an Amazon Associate I earn from qualifying purchases.
Ingredients
1

cup

active starter

,

250g

1 1/2

cups

filtered water

,

350g

4

cups

bread flour

,

500g

2

teaspoons

sea salt dissolved in 1 teaspoon warm water

,

10g
Instructions
Sponge
Combine the starter, water, and flour in a large bowl.

Mixture will be thick -- you'll need to stir with your hands until all of the flour is mixed in.

Cover with plastic wrap and let it rest one hour.
Dough
Lightly grease a heavy dutch oven and sprinkle lightly with cornmeal.

Add the salt and water mixture to the dough and squish in with your fingers.

Place the dough back in the bowl.

Cover with plastic wrap and let stand until doubled - about 6 to 12 hours.
Baking the Sourdough.
Gently east the dough out of the bowl - you don't want to break up the air pockets.

Shape it into a round and place it carefully in to the dutch oven.

Put the cover on.

Let it rise until puffy, about 45 minutes.

Make 3 shallow slashed in the dough with a very sharp knife.

Preheat the oven to 450F.

Bake for 20 minutes.

Remove the cover and bake until golden brown - about 30 to 40 more minutes. You can double check the temperature by inserting and insta-read thermometer in the center. When it's done the temperature will be about 205F.

Remove the loaf immediately from the dutch oven and let cool completely before slicing.
Sign up for the emails and never miss another recipe!!
We'll never share your email or send you spam. Pinkie swear.
If you liked this No Knead Sourdough Bread recipe you may also like...
Sourdough Bread (with commercial yeast)