Simple no-knead sandwich bread is made with just 5 ingredients. A great bread for beginners because there's no kneading involved.
This recipe uses the batter method and it's so easy! It's the perfect recipe for beginning bread bakers.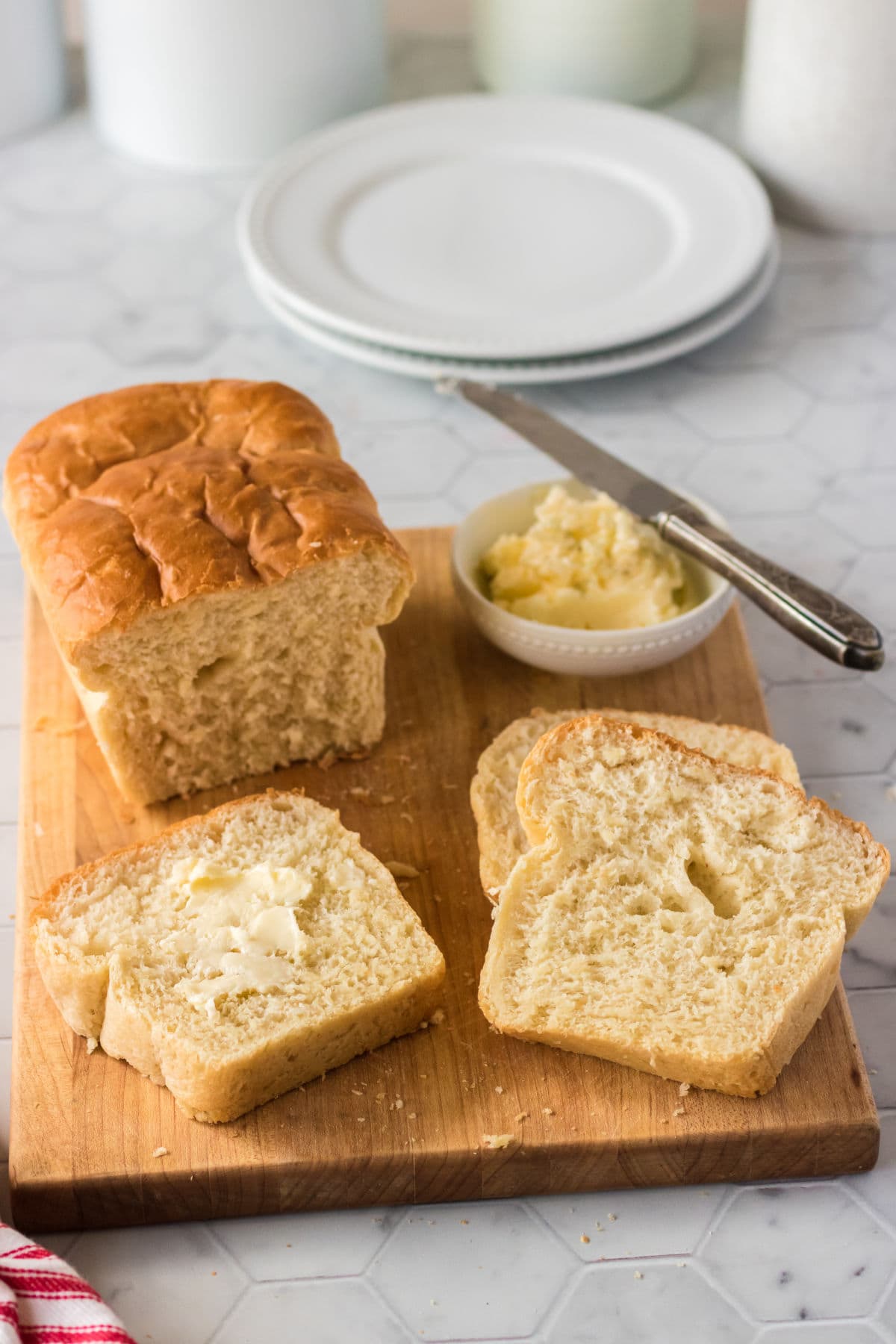 Table of Contents
🗝️ Key takeaways
Easiest yeast risen bread to make. This is a beginner-friendly recipe.
Unlike many no-knead breads this is made in a loaf pan. It's perfect for school lunches (PB&J yum!), breakfast toast, or served warm with dinner.
Follow this recipe and you'll master the basics of baking other types of homemade bread.
Bread dough tends to get a tough reputation, but this easy batter bread recipe is about to change that!
With just a handful of simple ingredients, a bit of wooden spoon mixing, one loaf pan, and a touch of rise time, you'll have yourself a delicious, warm homemade loaf of bread.
The only hard part is trying not to eat the entire loaf in one sitting!
🧾 Ingredients
This is an overview of the ingredients. You'll find the full measurements and instructions in the green recipe card (printable) at the bottom of the page.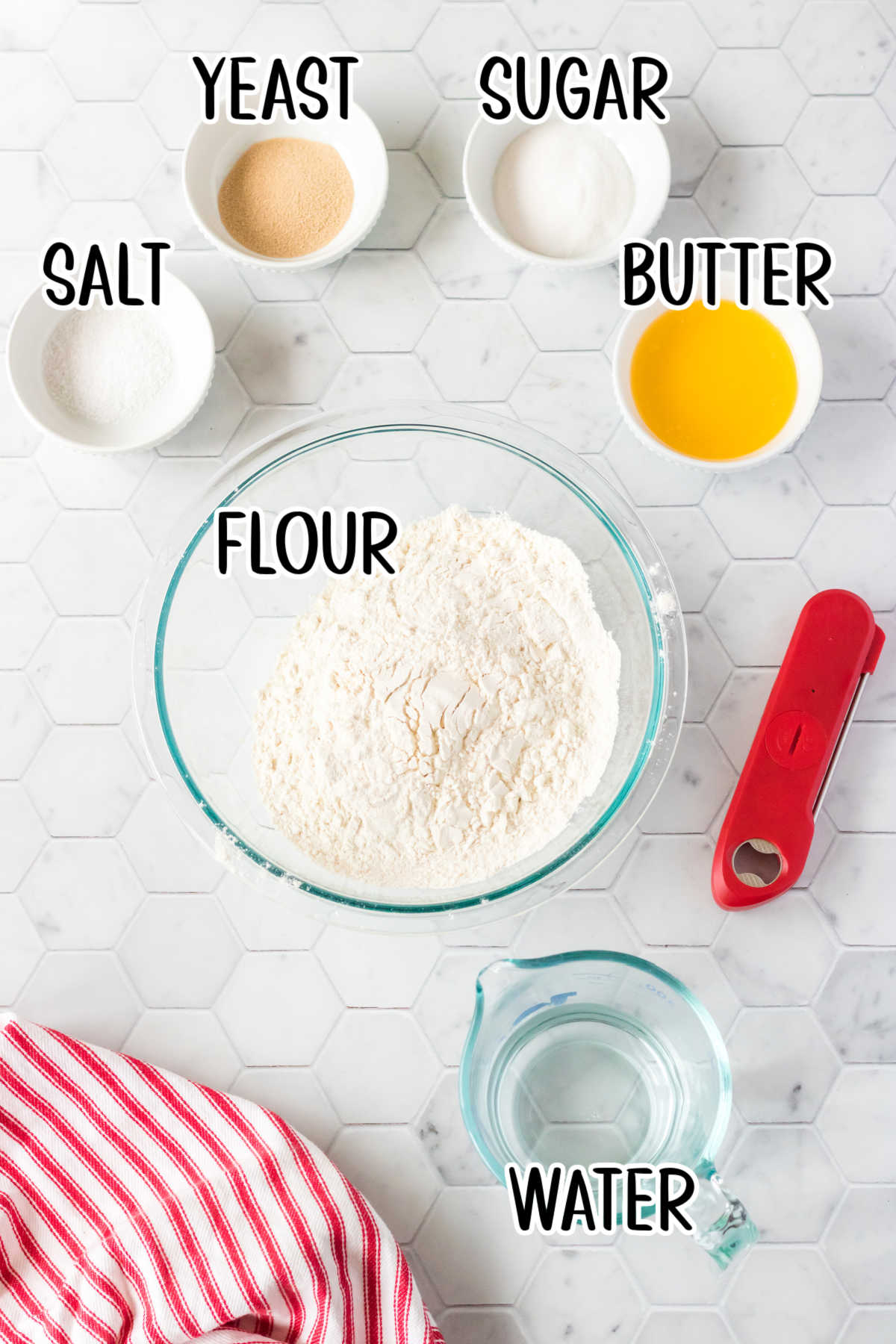 🔪 Instructions
This is an overview of the instructions. Full instructions are in the green recipe card at the bottom of the page.
Combine the ingredients and let rise in a warm place.
Stir the batter to deflate it and scrape the sides of the bowl.
Scoop the batter into a greased 5-inch bread pan.
Let the dough rise again before baking.
🥫 Storage
Unlike sandwich bread from the grocery store, homemade batter bread doesn't have any chemical preservatives. So, it doesn't last very long.
However, if your household is anything like mine, devouring the whole loaf before it gets stale is never an issue.
Store at room temperature
For best results, store leftovers tightly covered at room temperature for two days.
You can also keep it in an airtight plastic container.
Freezer Storage
You can also freeze bread wrapped in a double layer of plastic for up to three months.
I like to slice it and freeze it with parchment paper or wax paper between the slices.
That way I can grab a slice or two as needed without having to thaw the whole loaf of bread.
You can thaw it and eat it as is, pop it in the toaster, make it into a sandwich, or even use it for french toast.
The special thing about this great recipe is that it's so versatile!
🎥 Video
Click on the image to watch me make this recipe from start to finish with extra tips! (Video opens in a new tab).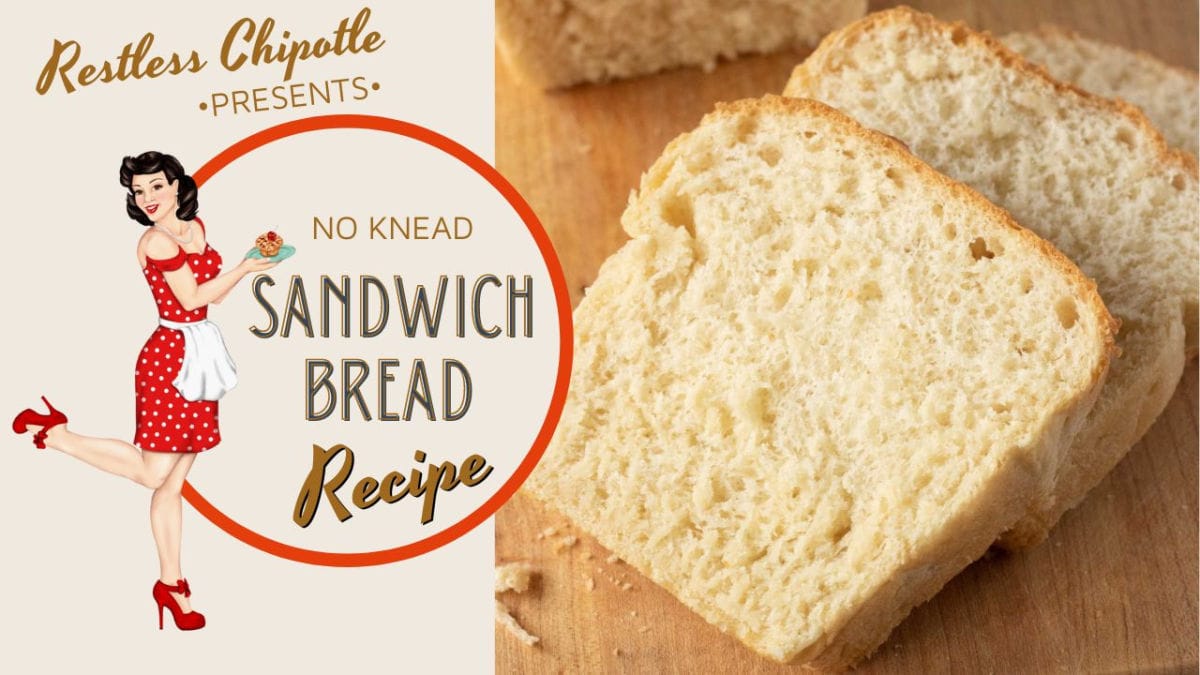 📖 Variations
There are quite a few ways to change up this no-knead bread recipe. Here are some things you can do differently!
First, let's talk flour. You can use all-purpose flour, bread flour, part all-purpose/part whole wheat flour, or even ground oatmeal. I have a really detailed post all about the different types of flours if you're curious.
Gluten is good! It helps dough rise and creates texture. So, for a fluffier kind of bread that stays fresh longer, substitute two tablespoons of whatever flour you're using for 2 tablespoons of vital wheat gluten.
Sugar swaps: sugar feeds yeast, which helps the no-knead bread rise. Though white sugar works just fine, you could swap it with another natural sweetener, like brown sugar, honey, agave, or syrup.
Speaking of yeast, you can use either active dry yeast or rapid rise.
Instead of melted butter, in a pinch, light-flavored vegetable oil, coconut oil, or margarine will work. Olive oil is fine but you can sometimes taste its flavor.
What about the water? If you have some, swap the water for milk to make the no-knead bread more tender. Starchy potato water works great, too, if you've boiled potatoes recently. (Want to know why? Check out this article about helping your bread rise!)
Prefer to prep in advance? Cover the bowl of batter with greased plastic wrap and let the bread rise in the refrigerator for up to 24 hours. Then, spoon it into the pan and continue with the recipe.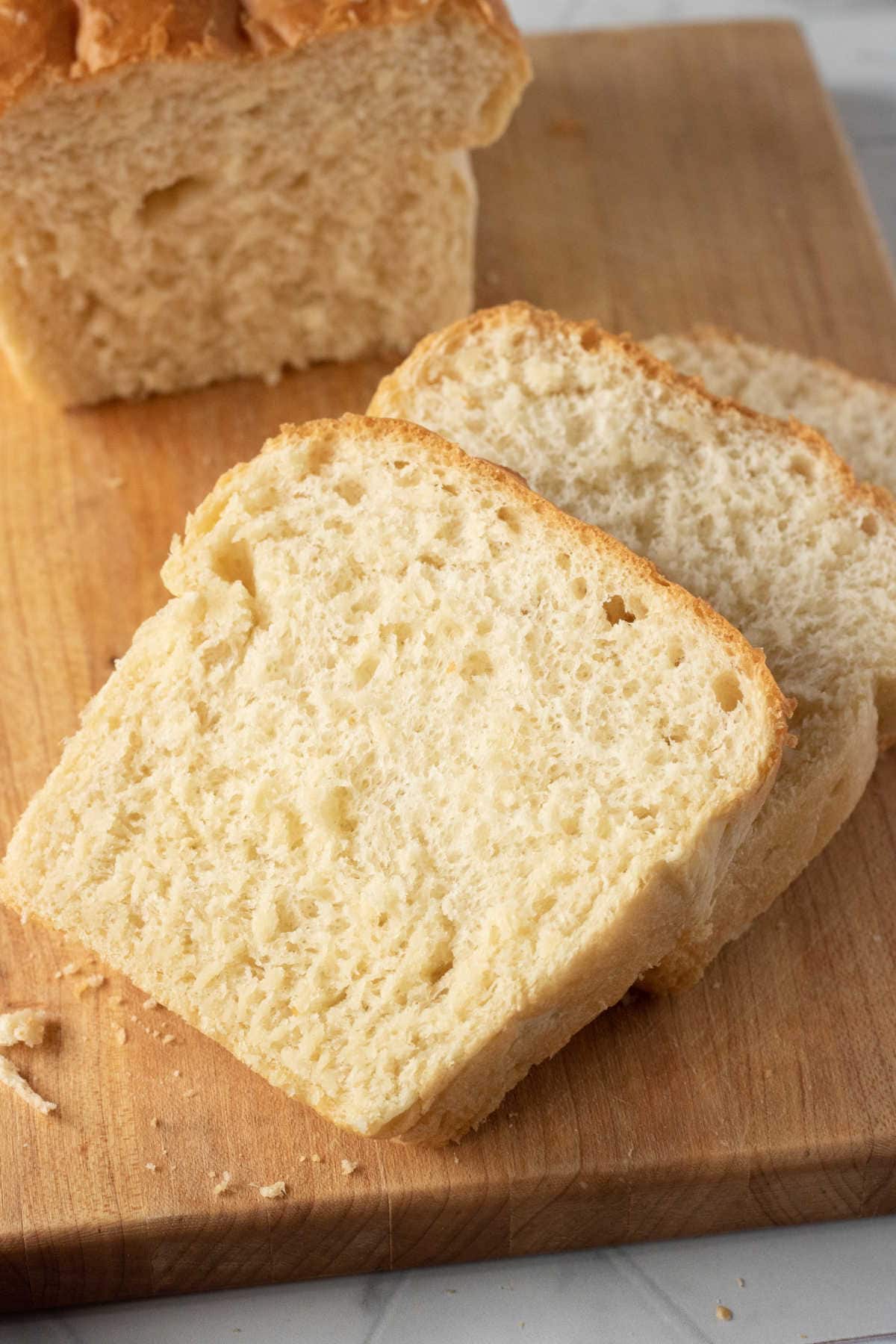 💭 Things to know
Expert Tip: In yeast-risen bread recipes like this one, it's important to make sure your yeast is fresh. If it's too old, the dough won't rise and your loaf will be flat—no matter how long you let it sit.
Not sure how old your jar of yeast is? Test it to make sure it's still good. Combine a tablespoon with a cup of 110-degree F water and a few teaspoons of white sugar. Let it sit for ten minutes in a warm spot. If the yeast mixture gets foamy and bubbly, your yeast is still good!
Adding a little bit of extra yeast is a great way to help your bread batter rise more quickly.
If you'd like a soft crust cover it with a clean tea towel as it cools.
The liquid temperature is very important! If you don't have an instant read thermometer, aim for bath water-like temperature. You don't want it too hot, but you do want relatively warm water (or milk.)
If you use the microwave to melt your butter, be sure to let it cool down first. Butter from the microwave can be steaming hot, and too hot of temperatures can harm your yeast!
Don't use sugar substitutes (like Equal). If you have to omit the sugar altogether, you can, but add an additional 30 minutes to one hour of rising time.
Vital wheat gluten makes a stiff batter, so I'd recommend only going that route if you can use a mixer. Otherwise, your arm is going to be tired!
Don't add too much flour! For no-knead bread, you want the dough to be very "goopy." It's not like regular kneaded dough that you can plop onto your work surface and play around with. Add extra flour sparingly.
When mixing the bread batter in an electric mixer, don't use medium speed—and never use high speed! Generally setting 1 or 2 (low speed) is best, and won't burn out your mixer's motor.
Set your dough mixture in a warm, draft-free place to rise—especially if you don't have a lot of time to wait. The dough will rise more quickly in a warm (but not hot) area.
👩‍🍳 No knead bread FAQs
What does "batter bread" mean?
While true recipes for bread have you make a tedious dough, our no-knead batter bread skips the tricky parts. However, in order to turn out properly, the flour mixture is less dough-like. It's not exactly as thin as the consistency of pancake batter, but you get the idea.
Can I make this into a sourdough loaf?
Nope. Sourdough breads and regular yeast breads are similar in many ways, but they start off differently. Regular yeast bread simply uses dry yeast, like in our no-knead batter bread recipe.

A sourdough bread begins with a "sourdough starter"—essentially, fermenting bacteria and wild yeast. This "starter" can take weeks to form before you can actually bake with it.
Why is my bread dense?
Keep in mind that no-knead and batter breads will not have the same texture as regular kneaded bread. However, following our easy bread recipe should result in a light, fluffy, enjoyable loaf. If your no-knead bread is dense it's likely that you added too much flour. Remember, the batter needs to be very wet.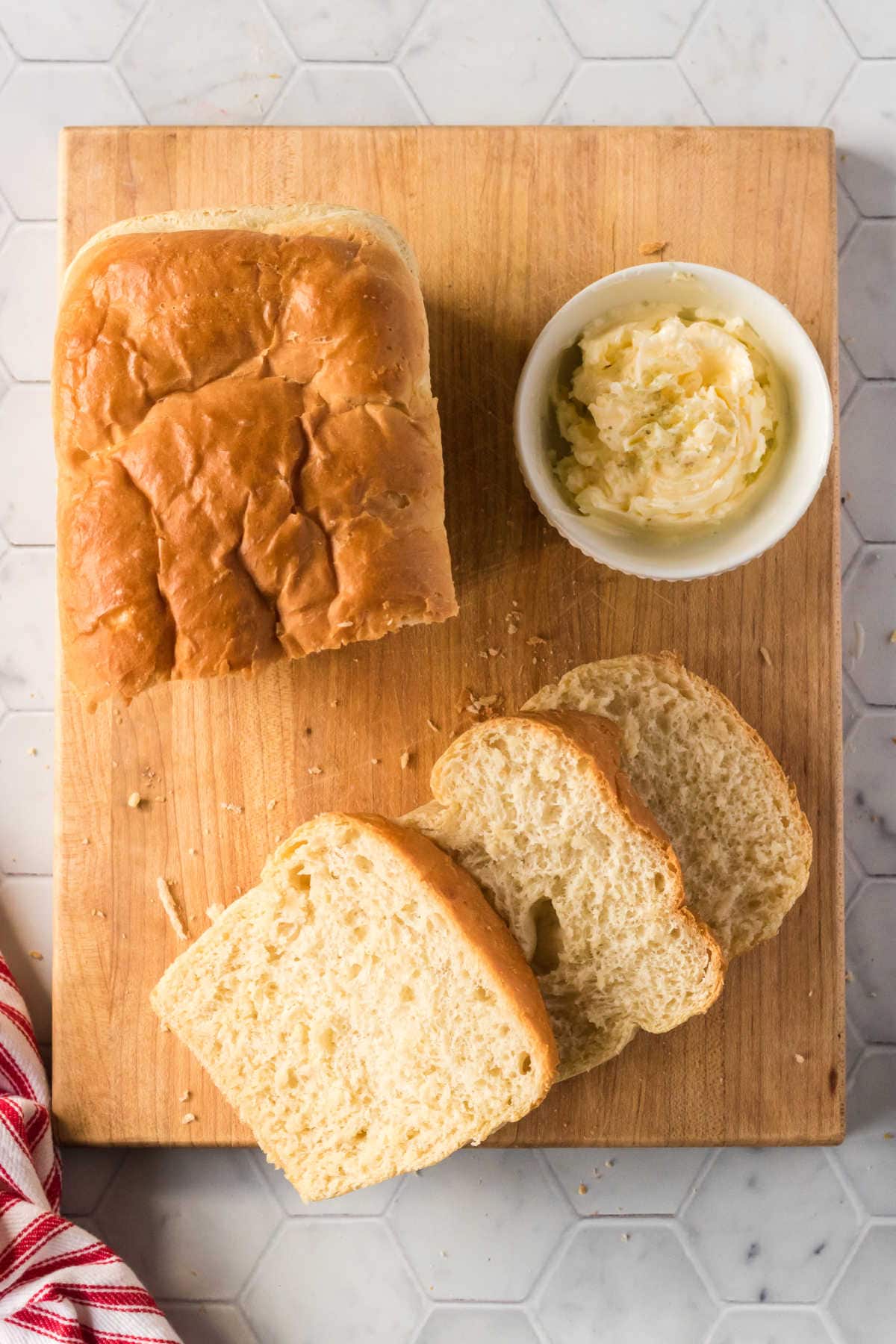 📚 Related recipes
Made easily and quickly, No-Knead Beer Bread is rustic, slightly sweet, and the perfect complement to your favorite cozy comfort foods!
Oatmeal Batter Bread doesn't use flour or yeast, so it's a great bread to make when you haven't shopped in a while—or you just have a taste for something different!
Who'd have thought you could make delicious, crusty, chewy Homemade French Baguettes in just a half hour? It's an easy recipe that will leave your guests in awe. Bakeries, beware—you've got competition.
🍽️ Serve with...
📞 The last word
This no knead sandwich bread is a favorite around here. Sometimes I use a bit of honey instead of the sugar called for.
I've also used half whole wheat flour in this and it works great.
If you click on the number of servings in the recipe card you can adjust the measurements up or down for the exact number of servings you need.
If you love this recipe please give it 5 stars! ⭐️⭐️⭐️⭐️⭐️
No flour? Try this gluten free oatmeal batter bread!
📖 Recipe
No Knead Sandwich Bread
Print
Pin Recipe
Save
Saved!
Simple no-knead sandwich bread is made with just 5 ingredients. A great bread for beginners because there's no kneading involved.
Ingredients
I earn a commission from Instacart from qualifying purchases.
Instructions
Whisk together flour, sugar, salt and yeast in a large bowl.

Add water and butter. Stir 500 strokes or mix in a stand mixer about 5 minutes - dough will be wet and sticky.

Cover with a cloth and let rise until doubled - about 1 hour.

Stir down and scoop into greased loaf pan.

Let rise until doubled - 30 minutes.

Preheat oven to 350F.

Bake for 30 minutes or until done
Notes
Storage:
For best results, store leftovers tightly covered at room temperature for two days.
You can also freeze bread wrapped in a double layer of plastic for up to three months.
Tips:
You can let the batter rise overnight in the refrigerator if you want. Cover with greased plastic wrap.
Store tightly covered at room temperature for 2 days.
Freeze for up to 3 months.
For lighter, more soft and fluffy bread replace 2 tablespoons of flour with the same amount of vital wheat gluten.
Sugar can be replaced with honey, maple syrup, molasses, brown sugar, agave, or other natural sweetener.
You can use 110F milk or potato water for the liquid in this recipe.
You'll find more helpful tips and variations in the body of the post.
Nutrition Facts
Calories:
138
kcal
|
Carbohydrates:
22
g
|
Protein:
3
g
|
Fat:
4
g
|
Saturated Fat:
2
g
|
Cholesterol:
10
mg
|
Sodium:
229
mg
|
Potassium:
31
mg
|
Fiber:
1
g
|
Sugar:
2
g
|
Vitamin A:
118
IU
|
Calcium:
5
mg
|
Iron:
1
mg
Nutrition information is estimated as a courtesy. If using for medical purposes, please verify information using your own nutritional calculator. Percent Daily Values are based on a 2000 calorie diet.
Sign up for the emails and never miss another recipe!!
We'll never share your email or send you spam. Pinkie swear.
🥄Restless Chipotle Recommends
The following are affiliate links. We are a participant in the Amazon Services LLC Associates Program, an affiliate advertising program designed to provide a means for us to earn fees by linking to Amazon.com and affiliated sites.
You'll need the following items to make this recipe successfully:
First published March 15, 2020. Last updated July 22, 2023 and more helpful information.