No flour? Try this gluten free oatmeal batter bread!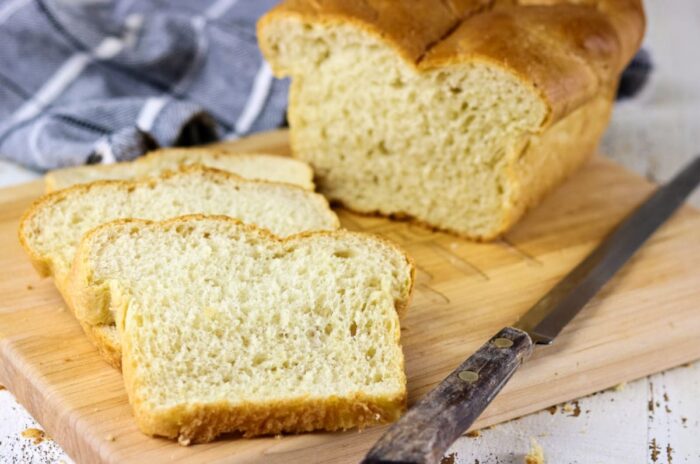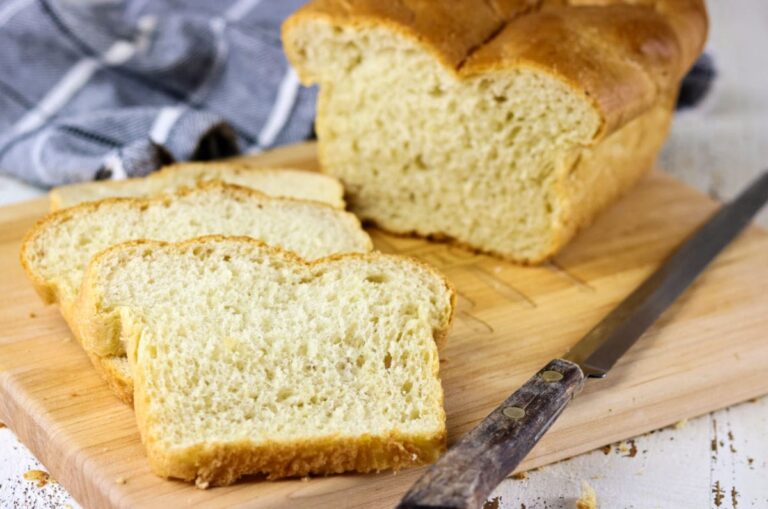 Jump to:
Shopping list
Flour - I used all purpose flour. Adding some gluten flour will help it rise better. You can use bread flour, all purpose flour, or part whole wheat flour. If you can't get flour at all try this batter bread made with ground oatmeal.
Salt - I used kosher salt which has a slightly larger crystal than table salt. If you use table salt use about ¼ teaspoon less.
Sugar - helps the yeast grow and the bread rise. I used white sugar but you could use brown, honey, agave, maple syrup, corn syrup, or some other natural sweetener. Don't use sugar substitutes such as Equal. If you don't want to use a sweetener at all you can leave it out but let the bread rise an extra 30 minutes to an hour.
Yeast - I use active dry yeast and, since I use it by the jar not packet, I always use a little extra to help it rise faster. You can use a packet of active dry yeast or use Rapid Rise if you want.
Butter - adds flavor and moisture to the bread. If you are out of butter you can use a light flavored vegetable oil, coconut oil, margarine, or leave it out all together.
Water is the liquid here. You can use milk if you like - it will enrich the dough, make the bread more tender and softer. You can use potato water if you happen to have made boiled potatoes recently.
Instructions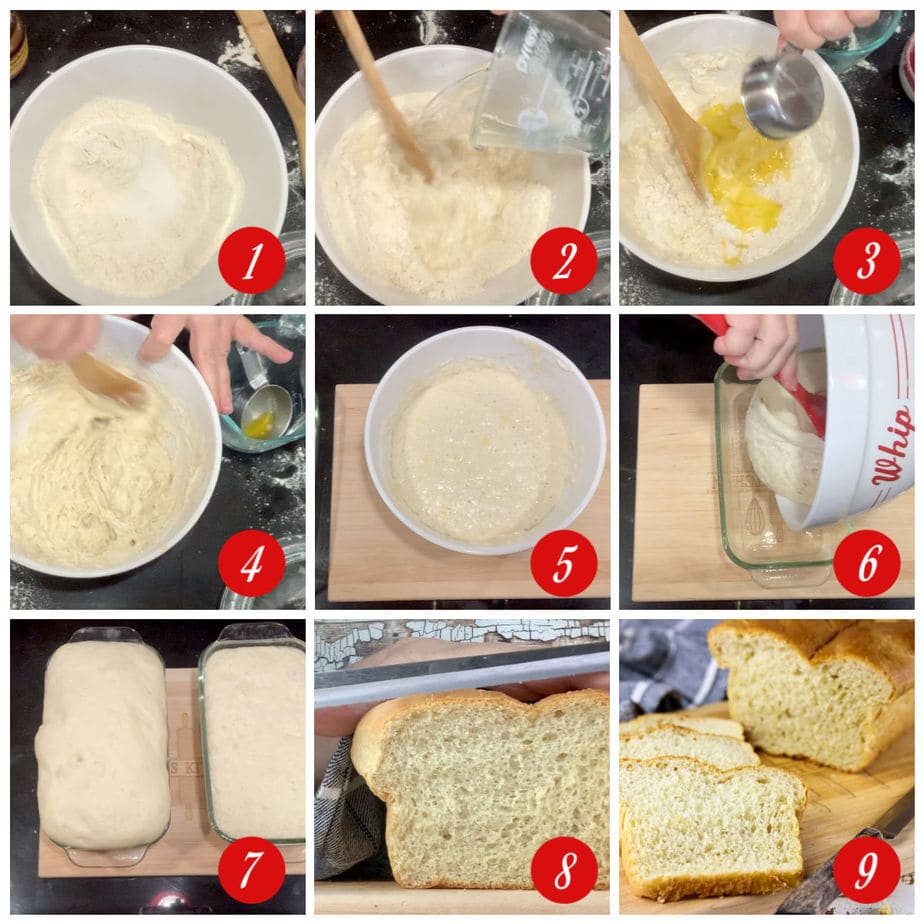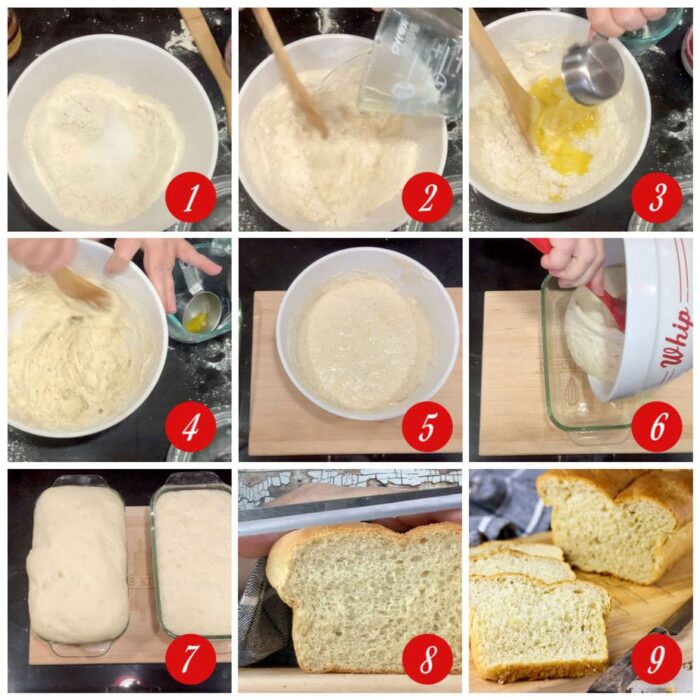 Mix the dry ingredients together.
Add water and blend.
Add melted butter.
Beat 500 strokes by hand or 3 minutes with a mixer.
Let rise.
Spoon into a greased loaf pan.
Let rise.
Bake.
Cool and slice.
FAQs
Here are the questions I am most frequently asked about this recipe.
Why is it so dense?
Keep in mind that when you are making a no knead or batter bread it will not have the same texture as regular kneaded bread. However, if your no knead bread is dense it's likely that you added too much flour. You want the batter to be very goopy.
How long can you let it rise?
You could actually cover the bowl with greased plastic wrap and let it rise in the refrigerator up to 24 hours before spooning it into a loaf pan.
Storage
You'll want to store this, tightly wrapped, at room temperature for up to 2 days or freeze for up to 3 months.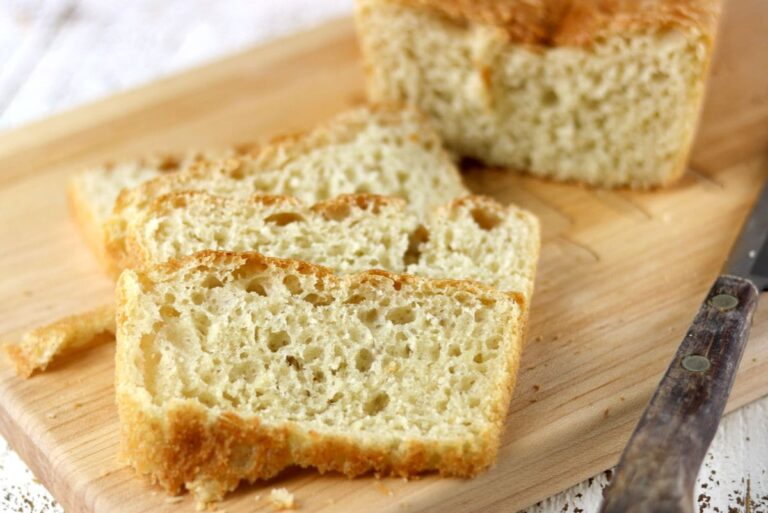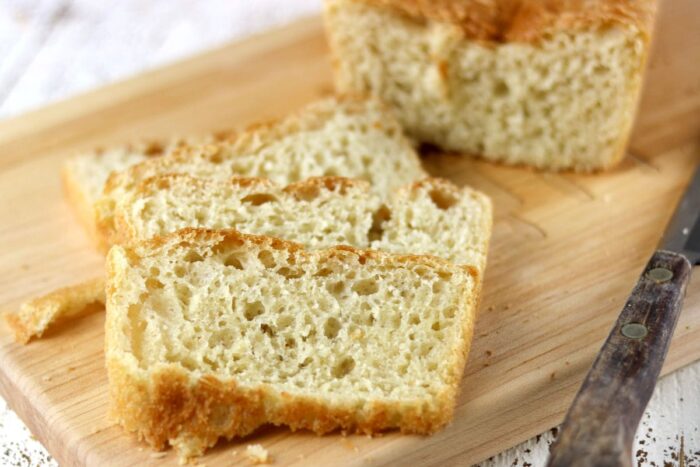 Extra gluten flour
You can make this with all purpose flour, bread flour, or either one plus extra vital wheat gluten. If you use the vital wheat gluten you'll substitute 2 tablespoons of it for 2 tablespoons of the flour and then follow the instructions as written.
It will be harder to mix by hand if you add gluten - you'll need a stronger arm and a longer mixing time. I'd suggest doing it in the mixer in this case.
The extra gluten helps the no knead bread dough rise better and stay softer. Keep in mind, it's not necessary.
Click through to 5 Ingredients to Help Your Bread Rise (updated for 2020) to find more great ideas including a recipe for a natural dough enhancer -
Related recipes
I love making bread. Here are some of my favorites.
Amish White Bread is an easy, tender sandwich loaf that slices easily without crumbling. Its velvety texture and sweet flavor make it a hit with the kids. Freezes well.
Beer Batter Bread is made with whole wheat for a hearty, rustic side to all your soups and stews! Instructions for quick bread version included.
English Muffin Bread has all of those nooks and crannies and craters of an English muffin but in a quick, no-knead toasting bread loaf. It's a fragrant batter bread with that distinct yeasty flavor that we all love.
☕️ Kaffeeklatsch
Honestly, I love to knead bread dough. It's relaxing and it makes me feel in control of life - if I can make a perfect loaf of bread I can do anything!
But sometimes you need something fast - and I get that. Sometimes you don't have a mixer and have to stir by hand. This is the perfect emergency bread because you don't even need milk. Just the basics and a few hours later you're ready for sandwiches.
I love being independent. I was raised by parents who'd lived through the Depression so I really value knowing how to DIY as much as possible. How about you? Are there things you'd like to learn how to make?
📖 Recipe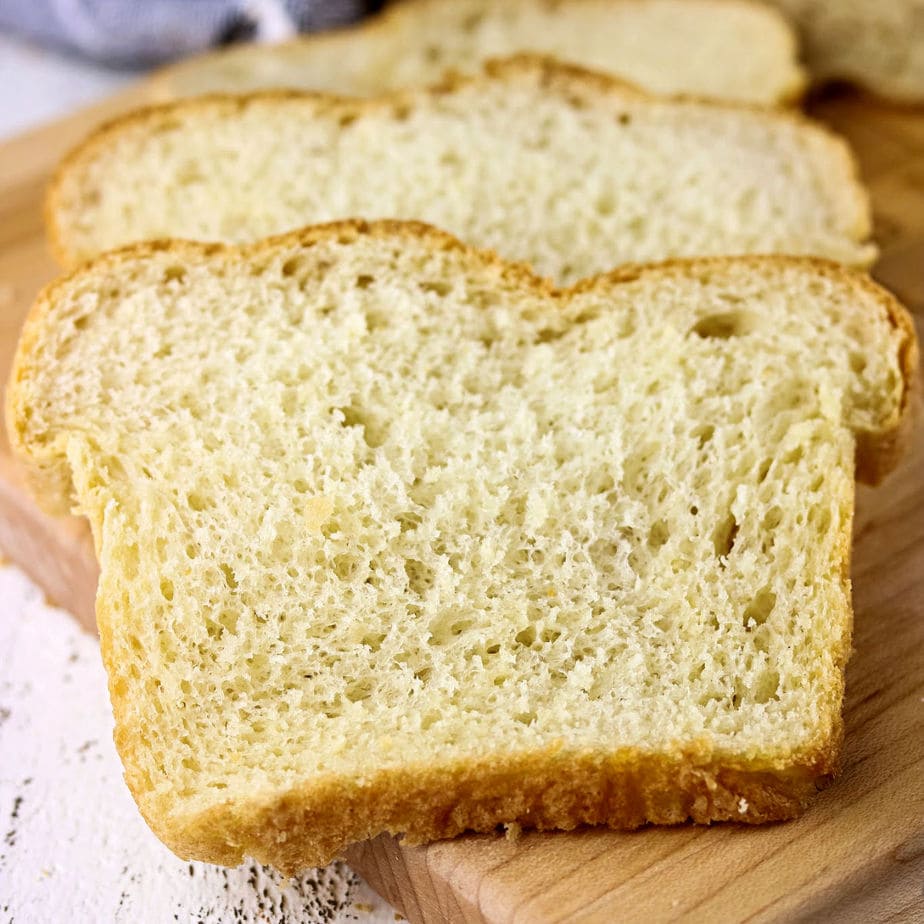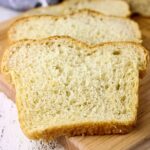 No Knead Sandwich Bread
Print
Pin Recipe
Save
Go to Collections
This simple, 5 ingredient, batter bread is made with the most basic ingredients. A great bread for beginners because there's no kneading involved.
As an Amazon Associate I earn from qualifying purchases.
Ingredients
Instructions
Whisk together flour, sugar, salt and yeast in a large bowl.

Add water and butter. Stir 500 strokes or mix in a stand mixer about 5 minutes - dough will be wet and sticky.

Cover with a cloth and let rise until doubled - about 1 hour.

Stir down and scoop into greased loaf pan.

Let rise until doubled - 30 minutes.

Preheat oven to 350F.

Bake for 30 minutes or until done
Notes
You can let the batter rise overnight in the refrigerator if you want. Cover with greased plastic wrap.
Store tightly covered at room temperature for 2 days.
Freeze for up to 3 months.
For lighter, more soft and fluffy bread replace 2 tablespoons of flour with the same amount of vital wheat gluten.
Sugar can be replaced with honey, maple syrup, molasses, brown sugar, agave, or other natural sweetener.
You can use 110F milk or potato water for the liquid in this recipe.
Nutrition Facts
Calories:
138
kcal
|
Carbohydrates:
22
g
|
Protein:
3
g
|
Fat:
4
g
|
Saturated Fat:
2
g
|
Cholesterol:
10
mg
|
Sodium:
229
mg
|
Potassium:
31
mg
|
Fiber:
1
g
|
Sugar:
2
g
|
Vitamin A:
118
IU
|
Calcium:
5
mg
|
Iron:
1
mg
Sign up for the emails and never miss another recipe!!
We'll never share your email or send you spam. Pinkie swear.