No knead beer bread recipe is made with whole wheat for a hearty, rustic side to all your soups and stews! Instructions for quick bread version included.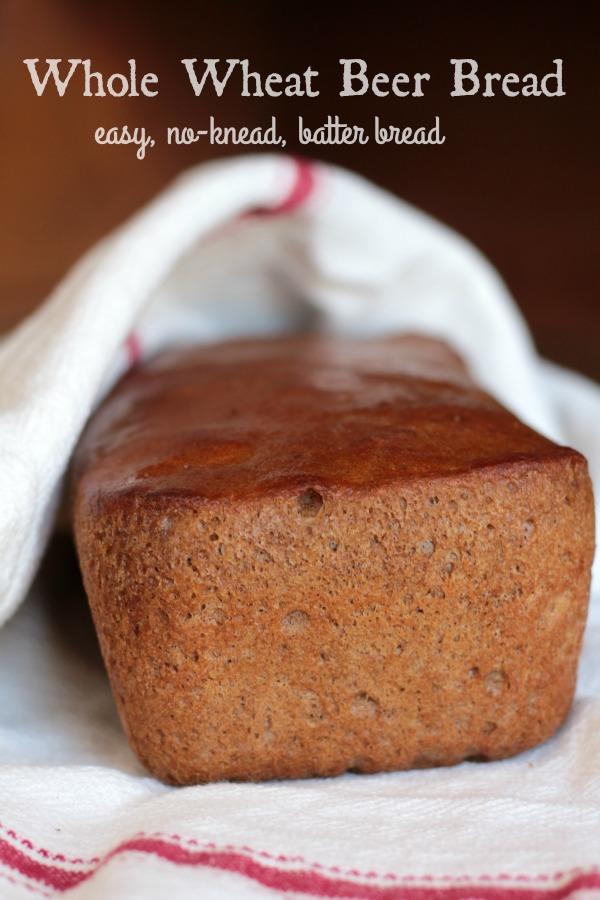 Table of Contents
❤️ Why you'll love it
This simple bread recipe can be adapted easily by adding in herbs, cheese, garlic, or even chilies!
There's no kneading of the bread dough required for this, making it an incredibly easy recipe - a truly no-fail bread, even for beginners. AND easy cleanup!
It's a great way to use up any leftover bottle of beer in the refrigerator, adding rich flavor to this delicious bread. You can also use any beer you like!
No knead beer bread is chewy, crusty, and slightly sweet - There's not a lot of beer flavor, really. The flavor depends on the beer you use.
It's got the wholesome, nutty flavor of whole wheat in the easiest loaf of yeast bread you ever made. It's at its best warm from the oven and oozing with butter!
🥫 Storage
Store your fresh bread in an airtight container at room temperature for 3 days.
Beer batter bread can also be frozen for up to 3 months by wrapping it in plastic wrap and aluminum foil, once fully cooled. 
📖 Variations
For a cheesy beer bread, add ¾ cup shredded sharp Cheddar or Pepper Jack cheese.
For a herb beer bread, add ¼ cup chopped rosemary to the batter and brush the top of the batter with olive oil prior to baking. Alternatively, you could add 1 ½ teaspoons Italian herb blend - delicious when served with minestrone!
For a Mexican-inspired beer bread, add ¾ cup shredded Cheddar and ¼ cup chopped chiles or sliced jalapeno.
For a more aromatic beer bread, add 2 Tablespoons minced garlic to the beer batter.
I love using whole wheat flour in this beer bread but you could opt to only use all-purpose flour instead. If you do only use all-purpose flour, use white sugar instead of brown.
Consider using microbrew beers like a rich pumpkin beer for a seasonal Fall treat!
💭 Tips
Expert Tip: Dark beer adds greater depth of flavor to the bread so try different beers to see what you enjoy the most.
When using a light beer like a pale ale or when only using all-purpose flour, switch from brown sugar to white sugar (or even honey).
Slicing your beer bread prior to freezer storage means that you get to remove the exact amount desired without having to thaw an entire loaf.
When using sweeter beers, use less sugar in the recipe. The opposite applies when using bitter beers.
Try to wait to slice your beer bread once cooled on a wire rack as you'll end up with a nicer looking slice of bread that will cut easier too.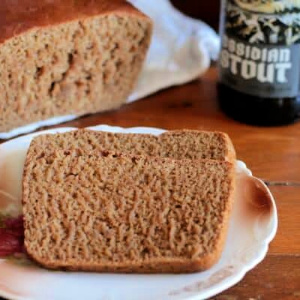 👩‍🍳 FAQs
What is the texture and taste of this easy beer bread?
It's a slightly sweet and rich-flavored bread thanks to the use of brown sugar and darker beer (I usually enjoy using stout beer for this recipe). The texture isn't as smooth as a kneaded bread but it's not crumbly like soda bread, so a good medium!
What kind of beer works best in this recipe?
You can honestly use any type of beer that you have on hand but if you intentionally purchase beer for this bread then consider using Shiner Bock or Oktoberfest. Stella Artois is more readily available and also works well.
I don't cook with alcoholic beverages. What else can I use?
An equal amount of real ginger ale can be used instead of beer if you don't enjoy cooking or baking with alcohol or beer specifically. You could also use non-alcoholic beer.
Why do I need to use warm beer?
The dry yeast requires warm liquids to activate which is why the recipe calls for warm water as well as warm beer. It's ideal to have the beer a little warmer than room temperature.
Can I make beer bread without yeast?
Yes you can. Substitute 1 tablespoon baking powder for the yeast and bake immediately according the the instructions.
Do I have to use glass bread pans to make this recipe?
No, use whatever you have. I prefer glass but it's a personal choice.
More questions about yeast and bread baking? Here's a bread FAQ sheet you might find helpful.
📚 Related recipes
If you love more traditional bread recipes that produce billowy loaves then you need to try my Buttermilk Bread!
I've often used this homemade beer bread recipe for sandwiches or even appetizers but you could also use Soft Multigrain Sandwich Bread or No Knead Sandwich Bread instead. 
This cinnamon raisin bread is made right in a slow cooker!
🍽️ Serve with...
This simple bread recipe is the absolute best when served warm with some butter as an enjoyable snack. 
It also pairs beautifully with a favorite bowl of soup, stews, and chili recipes!
📞 The last word
I have quite a bit of beer left from when all of the kids were home for Christmas. I like beer and I'll drink one now and then but not often enough to make it worth buying unless someone is here that drinks it, too.
I can drink a glass of wine by myself but beer is one of those things I tend to drink when everyone else is having one. I can tell you that I have enough beer in the back refrigerator to last me until they come home again.
Anyway, I had been wanting to make a batter bread and, since I had the beer and some whole wheat flour left over, I decided that those would be the main ingredients.
One quick note -- the dark patches in the slices in the picture are a result of me cutting the bread while it was still warm because... warm bread, duh! 
The actual texture is much less coarse if you wait until it has cooled... yeah right.
If you click on the number of servings in the recipe card you can adjust the measurements up or down for the exact number of servings you need. Don't forget that you can click on "add to collection" to save it to your own, private recipe box!
If you love this recipe please give it 5 stars! ⭐️⭐️⭐️⭐️⭐️
📖 Recipe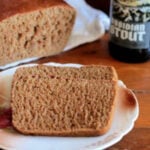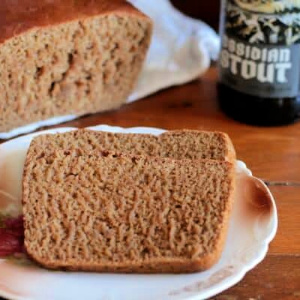 Beer Bread Recipe
Print
Pin Recipe
Save
Saved!
No knead beer bread recipe is made with whole wheat for a hearty, rustic side to all your soups and stews! Instructions for quick bread version included.
Ingredients
1 ¾

cups

all-purpose flour

1

cup

whole wheat flour

1

tablespoons

yeast

1

tablespoon

brown sugar

,

or more to taste

¼

cup

warm water

1

teaspoon

kosher salt

1 ¼

cups

warm beer
I earn a commission from Instacart from qualifying purchases.
Instructions
Mix the all-purpose and whole wheat flours.

Set aside.

Mix the yeast, brown sugar, and water.

Set aside until bubbly.

Add the beer and one cup of the flour mixture to the yeast mixture.

Blend well with a wooden spoon.

Add the remaining flour and the salt and stir until the mixture is uniformly wet and "goopy".

You should have a very soft, goopy dough. Yes. I said goopy.

Spoon the dough into a greased loaf pan.

Set aside in a warm place until the batter has risen to the top of the pan. This may take 30 to 45 minutes.

Preheat the oven to 425F

Bake for 20 minutes or so. Loaf will sound hollow when tapped.

Cool in pans for 5 minutes then turn out to finish cooling.
For Quick Bread
Use all-purpose flour instead of bread flour.

Substitute 1 tablespoon of baking powder for the yeast and add it with the first cup of flour - omit the water.
Notes
Variations of Beer Bread
Add ¾ cup shredded sharp Cheddar or Pepper Jack cheese
Add ¼ cup chopped rosemary to the batter and brush the top with olive oil before baking
2 Tablespoons minced garlic can be added
1 ½ teaspoons Italian herb blend is especially good when you'll be serving it with minestrone
¾ cup shredded Cheddar and ¼ cup chopped chiles or jalapeno
Notes:
If you are using a sweeter beer then cut down on the sugar a bit or if you are using a bitter brew you might want to add a little more.
Make sure your beer is a little warmer than room temperature - unless you live in Texas and your room temperature is 110F. Don't

boil

it but let it get at least room temperature if it's been refrigerated.
Experiment with the seasonal and microbrewed beers in your area. A pumpkin beer is really good with the whole wheat flour - very rustic.
Batter bread only rises once and you don't let it rise over the tops of the pans because the batter is so loose that it would goop up your oven floor. This really is a "quick" yeast bread -- I think you'll like it.
If you can wait until it cools to cut a slice please do. The slice will look nicer, cut better, and basically act like a slice of bread. However, if you're anything like me you're not going to wait so at least let it cool a couple of minutes.
You'll find more helpful tips and variations in the body of the post.
Nutrition Facts
Calories:
115
kcal
|
Carbohydrates:
22
g
|
Protein:
4
g
|
Fat:
1
g
|
Saturated Fat:
1
g
|
Sodium:
196
mg
|
Potassium:
64
mg
|
Fiber:
2
g
|
Sugar:
1
g
|
Calcium:
7
mg
|
Iron:
1
mg
Nutrition information is estimated as a courtesy. If using for medical purposes, please verify information using your own nutritional calculator. Percent Daily Values are based on a 2000 calorie diet.
Sign up for the emails and never miss another recipe!!
We'll never share your email or send you spam. Pinkie swear.
🥄 Equipment
The following are affiliate links. We are a participant in the Amazon Services LLC Associates Program, an affiliate advertising program designed to provide a means for us to earn fees by linking to Amazon.com and affiliated sites.
You'll need the following items to make this recipe successfully.
First Published February 11, 2016. Last updated January 7, 2022 for readability.