If you like Mexican elote as a side dish you're going to love the way the sweet savory flavors update a comfort food classic! Mexican Street Corn Soup has all of that spicy, tangy, creamy goodness stirred into the best corn chowder you ever tasted! This is probably one of my two favorite soup recipes – it's right up there with Stuffed Pepper Soup!
For this recipe you'll need: corn kernels (fresh, canned, or frozen), onion, garlic, lime, chicken stock, heavy cream, crema or sour cream, mayonnaise, limes, cilantro, chili powder, chipotle in adobo, sugar, salt, pepper, cumin, Tajin seasoning, cojita cheese, liquid smoke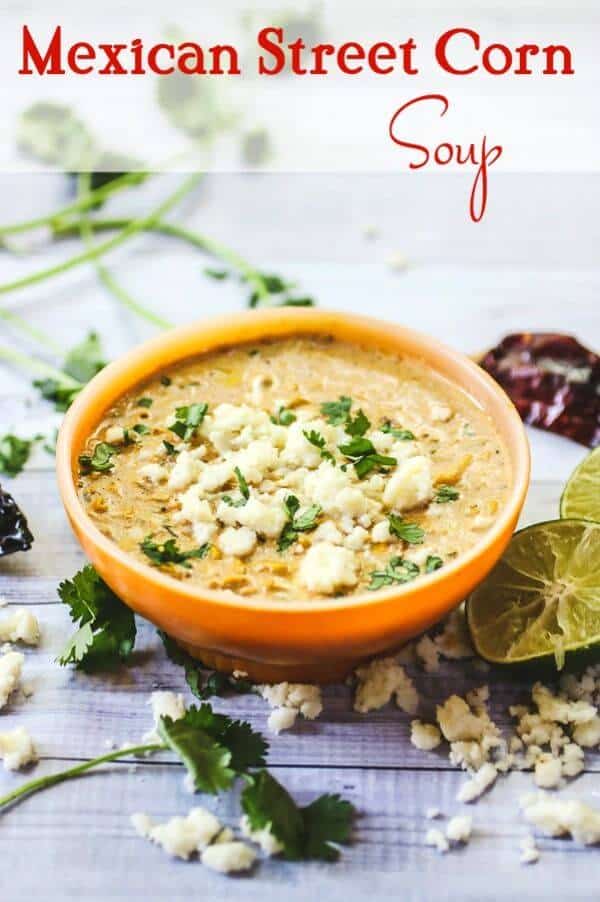 Mexican Street Corn Soup Recipe Back Story
Although Dallas is mostly a mish-mash of cultures in the 21st century that wasn't always the case. Back in the 1970s when I was growing up here there were very definite areas that were hispanic, black, asian, and white. There weren't many people from the Middle East yet so our concept of Middle Eastern food was primarily based on chunks of steak pushed on a skewer with some onion and pepper slices then grilled. Whoo HOO! Shish-ka-bob!
One area specifically of Oak Cliff (Dallas but not Dallas – hard to explain) was hispanic. Now, for most of us white kids, living in the wealthy suburbs, Mexican food was either a trip to Panchos or picking up an order at the Taco Bell drive through.
I suspected that what I was eating was not real Mexican food for a very long time. Once I got my drivers' license and a car I knew that the first time I lied about going anywhere I was going to lie about going to Oak Cliff. I had been schooled on the stupidity of going to "those areas" of town but I was determined to taste real Mexican food… so I did.
Nothing horrible happened – there were a few catcalls, a few raised eyebrows, but I got my Mexican food which included a cup of Elote. It was love with the first tangy spoonful.
I was right – I fell in love with all of it AND Mexican Street corn was nothing like Pancho's or Taco Bell. OR the Patio Frozen Mexican Dinners my mom bought.
Thank God.
Cook's Notes
Difficulty Level: Easy
What is Elote?
Elote, or Mexican Street Corn, is grilled corn on the cob covered with a mayonnaise, crema, and spicy herb mixture. It's then rolled in Cojita cheese – a Mexican cheese similar to Feta. It's a popular snack that's sold on the street by vendors. If it's prepared off the cob and served in a cup it's properly called esquites.
How To Make Elote
Making elote couldn't be more simple!
Roast the corn until it has golden brown areas on the kernels.
Whisk together the mayonnaise, crema, lime juice, herbs (usually some type of chili powder), and cumin in a bowl.
Place crumbled Cojita on a plate.
Cover the corn with the mayonnaise mixture then roll it in the Cojita.
Sprinkle with Tajin before serving.
How to Make Elote ( Esquites) in a Cup
If you are using canned or frozen corn kernels lay them out on a towel and pat as dry as possible.
Place them in a single layer on a heavy baking sheet.
Broil, stirring often until the kernels begin to take on color OR use a plumber's torch to caramelize them.
Mix the mayonnaise ingredients as above.
Stir in the corn.
Sprinkle the top with the Cojita.
Mexican Ingredient Substitutions
While all of the ingredients are SO easy to find here in Texas you might have trouble if you live elsewhere. Here are some substitutions.
Crema – Sour Cream
Cojita Cheese – Feta or Farmer's Cheese
Tajin – Chili powder + lime zest + a touch of sugar
Chipotle in Adobo – Chipotle peppers are canned in a red sauce. This is very spicy and there's really no substitute BUT you can order it on Amazon – I'll leave a link in the recipe.
You May Need
The following are affiliate links. We are a participant in the Amazon Services LLC Associates Program, an affiliate advertising program designed to provide a means for us to earn fees by linking to Amazon.com and affiliated sites.
What's new? A brand new store full of things to help you make the recipes, celebrate the days, and create the memories! Check out Restless Chipotle & Co. As always, thanks so much for being a part of Restless Chipotle!
Here's the link for the chipotle in adobo. I love adding a tiny bit to soups and other comfort foods to give it a little zing – like in this Mexican Street Corn Soup!
You can get Tajin on Amazon as well!
More Tex-Mex Recipes from Restless Chipotle
If you love this recipe for Mexican Street Corn Soup you'll likely love these other Tex-Mex recipes.
Mexican Street Corn Soup Recipe
This soup was so good that it disappeared in minutes. Creamy, rich, spicy, tangy – it's got all of the flavor! I like to serve it with a squeeze of lime and the Tajin sprinkled on top. If you like this recipe please give it 5 stars!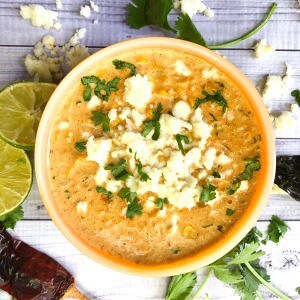 Mexican Street Corn Soup
Print
Add to Collection
Go to Collections
Mexican Street Corn Soup is a mashup between your favorite Tex-Mex street food and your favorite fall comfort food! Quick and easy - you'll love this tangy, spicy, southwestern dish!
As an Amazon Associate I earn from qualifying purchases.
Ingredients
6

cups

corn kernels

2

tablespoons

butter

,

melted

1

cup

yellow onion

,

chopped

2

cloves

garlic

,

chopped

1 1/2

cups

chicken stock

1/2

cup

heavy cream

1

tablespoon

chipotle in adobo

,

mashed

1

teaspoon

chili powder

1

teaspoon

cumin

1/2

cup

crema

,

,may use sour cream

1/4

cup

mayonnaise

1/4

cup

cilantro

,

,chopped

2

tablespoons

lime juice

1/2

teaspoon

liquid smoke

,

,optional

1/2

cup

Cotija cheese

,

,crumbled

Lime wedges

Tajin as desired

1

teaspoon

sugar

,

,optional
Instructions
Dry the corn and spread it out on a heavy baking sheet.

Broil for 5 minutes or so, stirring around often, to caramelize the kernels.

Set aside.

In a large stockpot melt the butter.

Add the onion and sauté until it begins to soften.

Add the garlic - sauté for about 3 minutes.

Add the chicken stock, heavy cream, chipotle, chili powder, and cumin to the stock pot.

Bring to a simmer and add the corn.

Simmer for about 10 minutes, stirring often.

Remove 2 cups of the corn to a blender.

Add 2 1/2 cups of the hot broth.

Blend until smooth.

Return to the pot.

Bring back up to a simmer.

Stir together the crema, mayo, 2 tablespoons cilantro, and lime.

Add to the stockpot and stir until smooth.

Taste and adjust seasonings to your preference.

Ladle into bowls and top with the Cojita cheese and remaining chopped cilantro.
Notes
To make in a slow cooker follow through instruction 8 but leaving the cream out. Heat on low for up to 8 hours. Just before serving add the cream  and blend the corn and broth in the blender - then continue with the recipe.
Nutrition
Calories:
300
kcal
|
Carbohydrates:
27
g
|
Protein:
6
g
|
Fat:
19
g
|
Saturated Fat:
7
g
|
Cholesterol:
48
mg
|
Sodium:
570
mg
|
Potassium:
272
mg
|
Fiber:
2
g
|
Sugar:
6
g
|
Vitamin A:
12.1
%
|
Vitamin C:
6.2
%
|
Calcium:
9.4
%
|
Iron:
6.2
%
Tried this recipe?
Tag me!! @Marye_RestlessChipotle
Let's Keep in Touch!