This Homemade Dried Fig Jam with Chipotle is made from dried Black Mission figs so you can make it anytime of the year. Using dried figs enhances the sweetness of the jam giving it more depth and flavor. The chipotle adds a little smoky heat that is absolutely addictive. Best of all, it's super easy!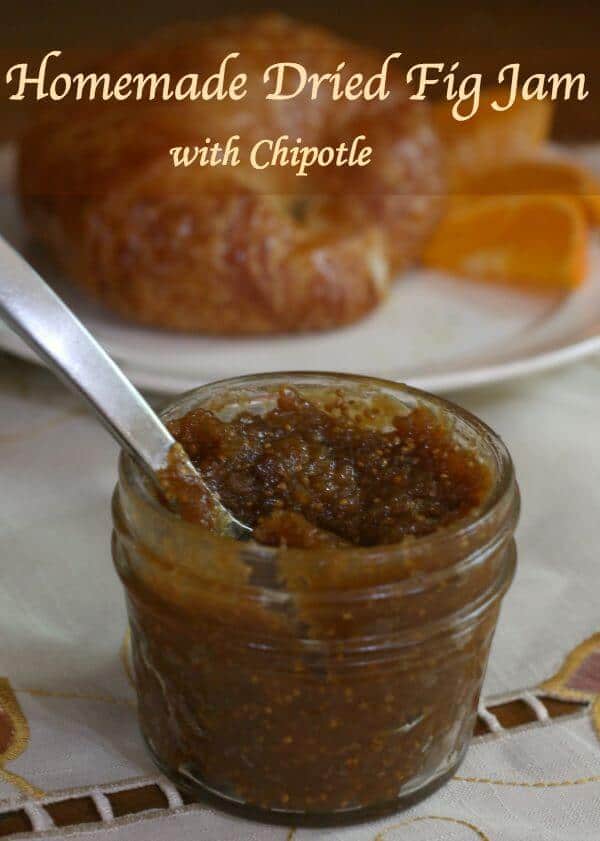 I have canned, picked, preserved, and made my own jams and jellies for years thanks to a mom and aunts who grew up on a farm, lived through the depression, and carried on the tradition. There have been many, many years where I trotted down to Farmer's Market for a couple of flats of strawberries and spent an afternoon creating a sticky, but wonderfully perfumed, kitchen.
Those days might be over.
I haven't canned anything in over 6 years, and it might be closer to a decade. There's a variety of reasons why I haven't and I won't go in to them here. :::cough cough:::: started working:::cough cough::::
BUT fig jam, now that's a totally different story. You can make small batches, as often as you want, in a short period of time, any time you want. At least with this recipe, you can.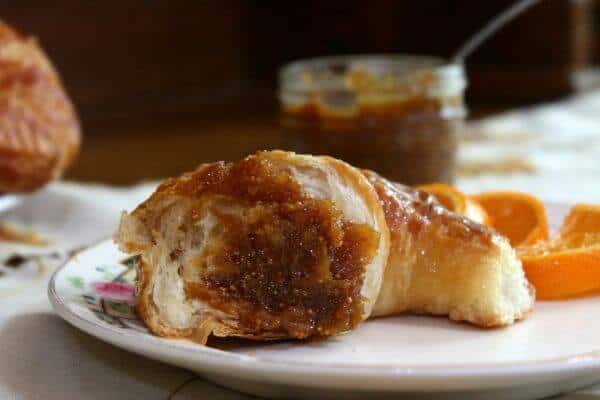 I prefer to use dried figs.
To me, dried figs give fig jam a deeper flavor. It's sweet and rich with nuances and depths that jam made from fresh figs just doesn't have. It's the difference between caramelizing vegetables and just steaming them. I don't think fresh figs would hold up to the chipotle, either. And, trust me here, spicy smoky chipotle and sweet syrupy dried figs are poetry in flavor form.
I'd let it cool and then adjust the chipotle to taste by stirring in a little ground, dried chipotle.
Homemade dried fig jam is great on toast or croissants. It's wonderful spooned over a schmear of chevre on a cracker. It even makes a great ham glaze. If you are having one of those days you can eat it off the spoon, I won't tell. I understand.
You may also like this amazing strawberry margarita jam!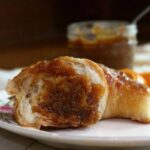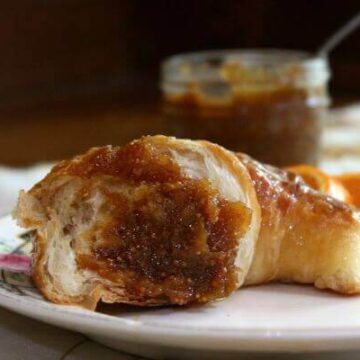 Homemade Chipotle Fig Jam
Print
Save
Go to Collections
Sweet, smoky, and a little spicy this fig jam goes with everything from croissants to ham! It's so easy to make and you can make it anytime since it uses dried figs.
As an Amazon Associate I earn from qualifying purchases.
Ingredients
12

ounces

dried Black Mission Figs

2

cups

water

2

chipotle chiles,

, cut in half with seeds removed

¼

cup

brown sugar

¼

cup

honey

1

tablespoon

lemon juice

⅛

teaspoon

of chipotle powder if needed after jam cools.
I earn a commission from Instacart from qualifying purchases.
Instructions
Chop the figs finely in a food processor.

Set aside.

Mix the the water, honey, chipotle, and lemon juice in a saucepan.

Add the chopped figs and bring to a simmer.

Simmer for about 5 to 10 minutes, or until it is as thick as you like.

Remove the chipotle peppers.

Let cool.

Taste and cautiously add chipotle as desired.
Sign up for the emails and never miss another recipe!!
We'll never share your email or send you spam. Pinkie swear.