An authentic, chewy Jewish rye bread with caraway seed that is the perfect base for those midnight pastrami sandwiches - and the heartburn that goes with them. Has that slightly sourdough flavor that makes it perfect. Freezes well.
Jewish rye bread — you can't make a decent Reuben without it, right?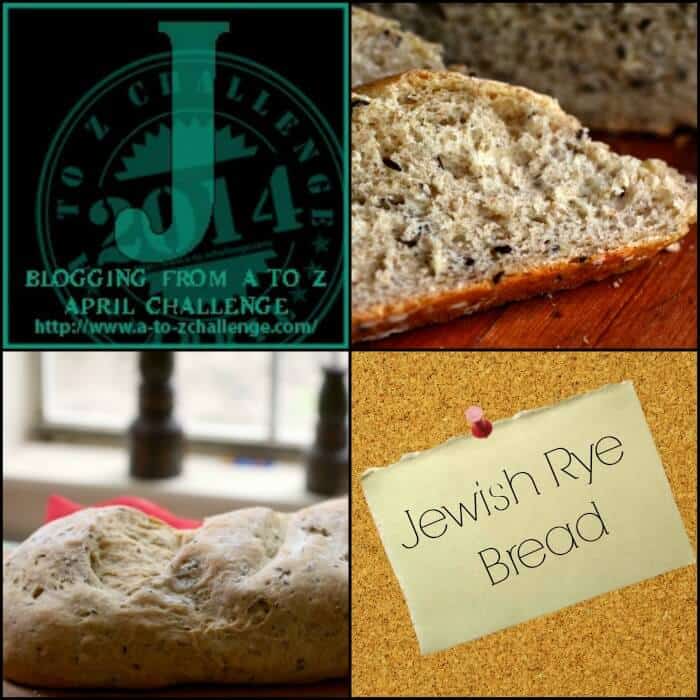 The perfect loaf of Jewish rye has a dense, chewy texture with a sour-ish flavor that is almost sourdough but not quite. There's an elusive something that makes it Jewish rye and not pumpernickel or some other type of rye. Guess what?
This bread has that elusive something.
A Little Jewish Rye Bread History
Jewish rye bread is not an ancient, traditional bread of the Jewish people. It is, in fact, nothing like the traditional European ryes. Traditional rye bread was made with a sourdough starter, 100 percent rye, and baked for long hours in the cooling wood-fired ovens. It allowed the bakers to get the most out of their ovens - the bread cooked overnight in the residual heat from the day's work. About the time there were a lot of immigrants to America gas and coal ovens were becoming more available to the bakeries. These ovens could cook the bread fast at an even temperature. The rye that baked so beautifully in the European wood fired ovens did not fare so well in the quick cooking gas ovens so the bakers started adding part white flour to the rye and it became known as Jewish rye.
A Little Marye History
There were a couple of years when I was a kid that my dad worked in NYC. He took the train in everyday, got off at Times Square where his offices were (I think) and went to his office in the top of a very tall building. I know this because my dad believed in take your daughter to work day long before it was popular. He would randomly give me the day off from school to ride the train with him and make the walk from the train station to his office. Just before we got to his office we always stopped at this deli to have a bagel slathered with a thick swirl of cream cheese.
After the bagel it was a few more steps to the office building and through the doors with a smile to the doorman. My dad seemed to know everyone from the deli guy to the doorman by their first name and they always called me "Miss" which made me feel very sophisticated and grown up.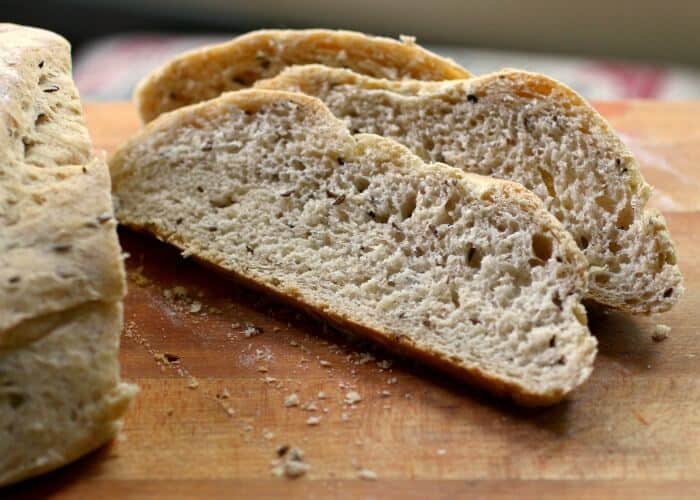 When it was time for lunch we nearly always went back to the deli. He'd order us the same thing — corned beef or pastrami, peppery and spicy and salty, piled high on thick slabs of Jewish rye bread that had been warmed and then finished with a schmear of grainy mustard. Paper thin slices of Swiss cheese were draped languidly over the meat in the most tantalizing way. They were thin enough to see through but added that burst of sharp flavor that you need with a rich deli meat like pastrami. A pickle and a handful of potato chips finished up the plate. Two, black cherry Doctor Brown's sodas were pulled from a tub of ice. They were so cold that the first sip was full of slushy bits.
There were times we went to fancy restaurants, my dad was a food adventurer, but my favorite times were at that little deli. This Jewish rye bread is very similar to what I remember. It always takes me back there.
What makes Jewish rye different from other rye breads is the liberal use of caraway seed. It really is the perfect sandwich bread — unless, of course, you're having peanut butter and jelly.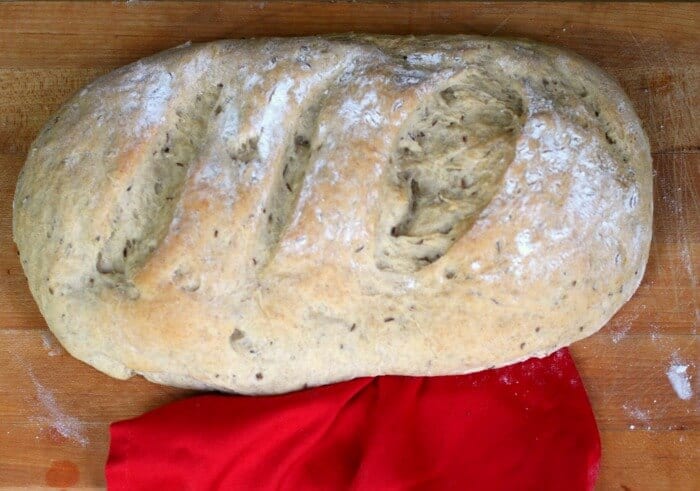 If you've never worked with rye I can tell you it is a pain in the butt to work with. It has gluten but in such a small amount that it is difficult to get it going. Using 2 parts bread flour to 1 part rye is the answer. You get the nice chewy texture from the gluten and the flavor of the rye. It still requires extra kneading so be prepared to knead this stuff by hand for at least 10 minutes.
You can make Jewish rye bread in bread pans, shape a round loaf, or make it in the traditional oval. If you are making it for the first time try the bread pans. They give it a bit more structure. If you make it round or oval be sure to slash the tops. I like to gently rub a little flour onto the top. I just like how it looks.
I don't know about you but I don't have time to wait three days for the sourdough to get going. When I am in the mood for rye I am in the mood for rye! Well, the secret to the flavor of this loaf is dill pickle juice. It imparts and little sour tang that intensifies after the bread has cooled.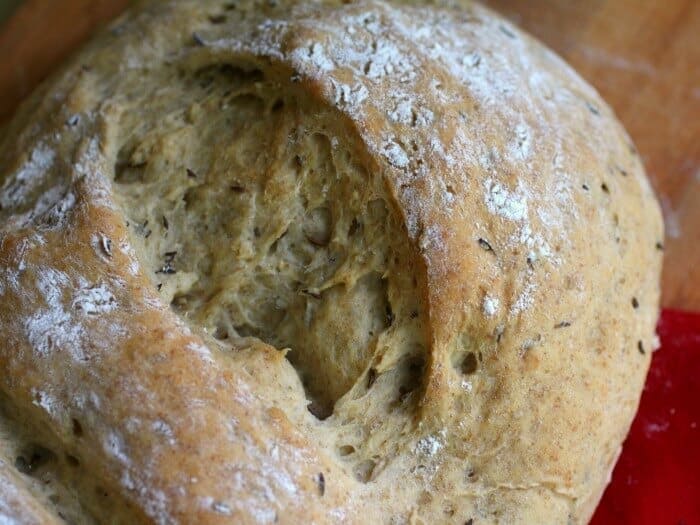 When I made these Jewish rye bread loaves I misjudged on the size and they turned out really huge. In the future I'll make this recipe into three or four loaves.
📖 Recipe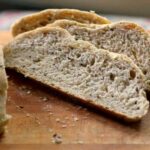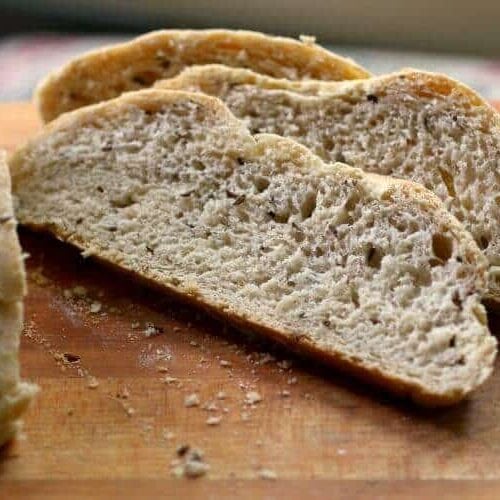 Jewish Rye Bread and the Secret to Getting It Right
Print
Save
Saved!
An authentic, chewy Jewish rye bread with caraway seed that is the perfect base for those midnight pastrami sandwiches - and the heartburn that goes with them. Has that slightly sourdough flavor that makes it perfect. Freezes well.
Servings:
3
loaves, 10 slices each
Ingredients
2

tablespoons

active dry yeast

2

cups

water 110F

½

cup

dill pickle brine

,

(from a jar of your favorite dill pickles)

½

cup

your favorite mild flavored oil

,

(I use peanut oil, sometimes olive oil)

4

to 5 cups bread flour

2

cups

dark rye flour

,

, preferably stone ground organic

½

cup

dried potato flakes

¼

cup

dried onions

,

, optional

1

tablespoon

salt

¼

cup

caraway seed

¼

cup

brown sugar

,

, tightly packed
I earn a commission from Instacart from qualifying purchases.
Instructions
Add the water and the sugar to the yeast in the large bowl of your mixer, or a large bowl if doing this by hand.

Let stand 5 minutes. The mixture will be bubbly.

Add the remaining ingredients, using only 2 cups of the bread flour and reserving the rest.

With the mixer running add the remaining flour, a half cup at a time, until the mixture pulls away from the sides of the bowl and is firm but still slightly sticky. (Rye dough will always be sticky - it feels different than other doughs)

Turn out on a lightly floured counter top and knead a couple of times.

Form into a ball.

Oil a large bowl and add the ball of dough.

Oil the top of the dough and cover with a clean towel.

Let rise for one hour, or until doubled.

Preheat oven to 350F.

Punch dough down and shape into 3 oval loaves.

Place loaves on a lightly floured baking sheet.

Sprinkle tops with bread flour - not too much.

Slash tops with a sharp knife.

Let rise 30 minutes.

Bake for 30 to 40 minutes or until done.

Let cool before slicing.
You'll find more helpful tips and variations in the body of the post.
Nutrition information is estimated as a courtesy. If using for medical purposes, please verify information using your own nutritional calculator. Percent Daily Values are based on a 2000 calorie diet.
Sign up for the emails and never miss another recipe!!
We'll never share your email or send you spam. Pinkie swear.
If you liked Jewish Rye Bread you may also like...
Homemade Rye with Starter Tide & Thyme
Heidleberg Rye Tangled Up in Food
Swedish Limpa (rye with orange) Restless Chipotle
Yeast Bread Baking Tips (3 part series) Restless Chipotle