This fougasse recipe is full of smoky cheese and bacon flavor. Dense and chewy, this popular French flat bread is easy to make and SO good with soups and stews.
To make this fougasse recipe you'll need: sugar, yeast, water, bread flour, bacon, smoked Gouda, kosher salt, and olive oil. A heavy baking sheet is good to have as well.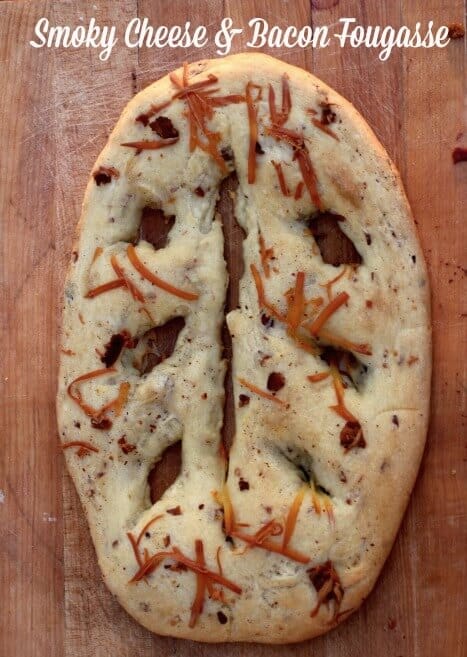 People often believe that focaccia and fougasse are the same thing but one bite of this smoky cheese and bacon fougasse will convince you that these breads are unique in every way.. Both are delicious but, like chocolate mousse and chocolate pudding, there are subtle differences that give each its own character.
Fougasse is from the Provence region of France. It is a flat bread that is slit in several places so that it resembles a leaf. It's interesting to note that originally fougasse was used to check the heat of the oven to ensure it was the correct temperature for the "real" bread. The dough would be put in the wood fired oven and the baking time recorded. This would tell the baker the temperature of the oven and he could time his bread accordingly.
Of course over the years bakers figured out that they could make a little money with the throw away loaf. They began adding olives, onions, and herbs to the fougasse recipe and it became a popular treat on its own. Now you can even find sweet versions with fruit and chocolate.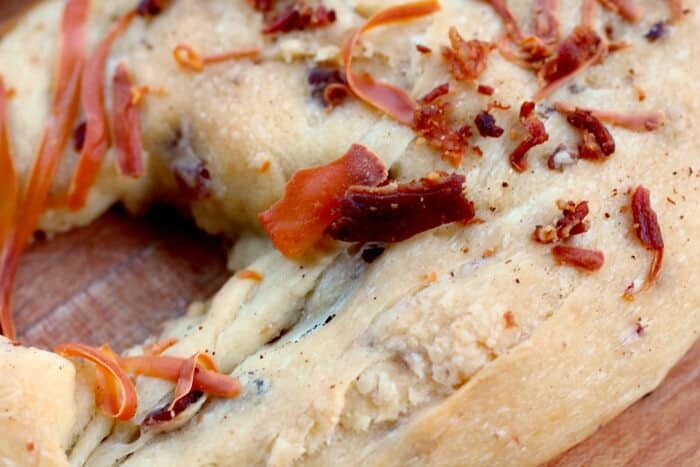 I've never traveled a lot. I've always wanted to see Europe, and especially France. One thing that my little cooking hobby has allowed me to do is to travel through flavors and foods. It's one reason why I believe so strongly that traditional, regional foods must be preserved. Recipes that use local ingredients and that are passed down through generations are a connection with the area and help us experience the culture.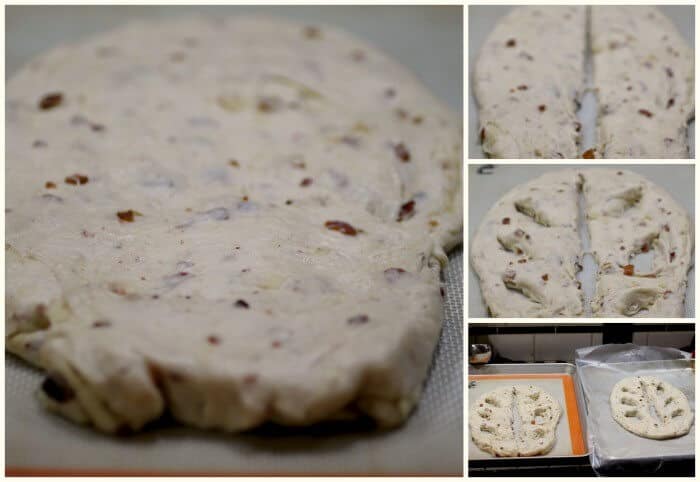 This isn't hard to make at all but you are looking at some rising time. Give yourself at least three hours to complete this recipe. In the second rising stage you can let it go for several hours if you need to. It will take on a little different flavor with the extra rising time.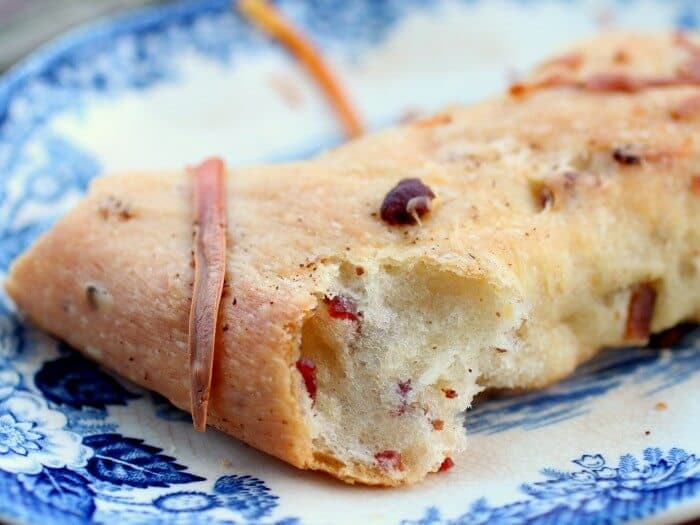 This is a great loaf to serve with soups or salads. Traditionally the bread is torn rather than cut. The tearing makes the most of the texture of the bread, which is light and airy with a crispy crust.
Like most breads, this smoky cheese and bacon fougasse will freeze well for up to about six months. Serve it warm for the best flavor and texture.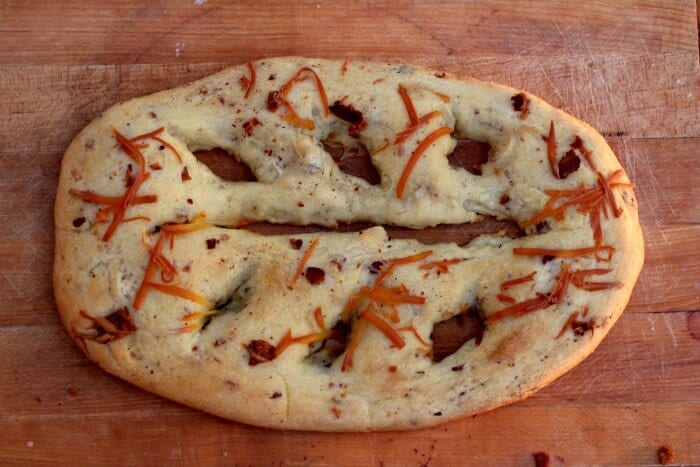 The following are affiliate links. We are a participant in the Amazon Services LLC Associates Program, an affiliate advertising program designed to provide a means for us to earn fees by linking to Amazon.com and affiliated sites.
Homemade Smoky Cheese and Bacon Fougasse Recipe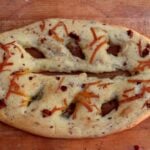 Smoky Cheese and Bacon Fougassse
Print
Add to Collection
Go to Collections
A savory, crusty bread, flavored with bacon and smoked Gouda that goes perfectly with soup or salad. It is easy to make, doesn't take very long, and freezes well. What's not to like?
Total Time
2
hours
40
minutes
Servings
2
loaves/24 servings
Ingredients
Starter
1

teaspoon

sugar

1/2

cup

warm water

,

(105–115°F)

1

tablespoon

active dry yeast

1/2

cup

bread flour
Bread
12

ounces

of bacon

,

, cooked crisp and crumbled, reserve the fat

8

ounces

smoked Gouda

,

, shredded

1 1/2

teaspoon

Kosher salt

2/3

cup

water

1/3

cup

olive oil

3 1/4

cups

bread flour
Instructions
Starter
Stir the water and sugar together in the bowl of a mixer.

Add the yeast and let stand until foamy. This will take about five minutes.

Whisk the flour into the yeast mixture and let stand for 30 minutes in a warm spot.
Dough
Add the water, olive oil, and salt to the starter.

With the mixer on medium low, and the dough hook in place, add the flour a little at a time until the dough pulls away from the sides of the bowl.

Add the cheese and bacon, reserving some of each for topping the loaves.

Knead for 5 minutes or until it is elastic. By hand it will take 8 to 10 minutes.

Place in an oiled bowl, oil the top, and cover with plastic wrap.

Let rise for 1 1/2 hours until doubled.

Punch the dough down. Gently deflate it, but do not knead it.

Cut it into two equal parts.

Gently form each part into an oval about 12 to 15 inches long and 1/4-inch thick.

Place on two baking sheets covered with parchment OR using a baking stone as directed.

With a sharp knife cut a long slash vertically through the oval, leaving 1-inch on either end.

Cut three diagonal slashes on each side of the vertical slash, once again leaving a 1 inch border of dough.

Preheat oven to 375F.

Let rise for 30 minutes or until puffy.

Brush with the reserved bacon fat and sprinkle with the reserved cheese and bacon.

Bake at 375F for 30 to 40 minutes, or until done.

Serve warm.
Tried this recipe?
Tag me!! @Marye_RestlessChipotle
If you liked this easy Fougasse bread you may also like:
Roasted Red Pepper Fougasse Passionate About Baking
Olive and Sun Dried Tomato Fougasse Bon Appetit
Homemade Baguettes in Under an Hour Restless Chipotle
Potato Garlic Baguette Restless Chipotle
Let's Keep in Touch!