Hatch Chile Cheese bread is delicious as a sandwich bread or as toast. Smoky cheddar cheese combines with spicy Hatch chiles to bring out a magical flavor in this light, tender yeast bread recipe.
Hatch Chile Cheese Bread is light and fluffy, airy with a nice crispy crust thanks to the addition of amber ale. The smoked cheddar is just the right compliment to the spicy Hatch chiles. It slices thin when cool and makes awesome sandwiches.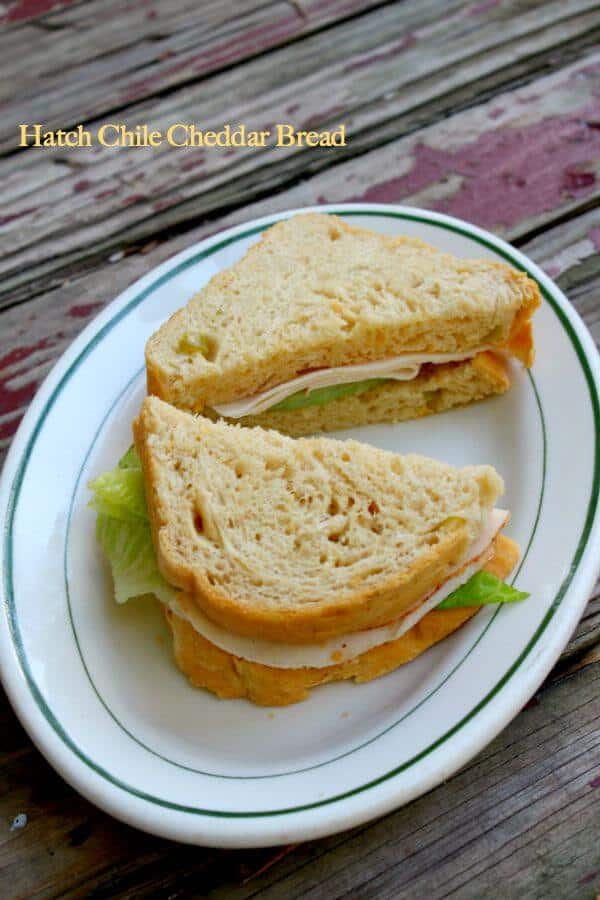 Ha! When you put the wrong title on the image.... way to go, Marye.
Once September hits you see pumpkin spice everything all over the Internet but not me... this time of year means one thing to me -- Hatch chiles!
Oh, don't get me wrong, I really love pumpkin, I do. I just prefer it in October or November after the Hatch chiles have gone out of their yummy, if brief, season. I am not the only one that thinks they're kinda special. Hatch chiles have a depth and complexity of flavor that you just don't find in other chiles. I love all kinds of peppers from Ghost peppers to Poblanos but Hatch chiles? Well, they are kinda like...
I don't know what they're like. Just trust me. They are awesomeness.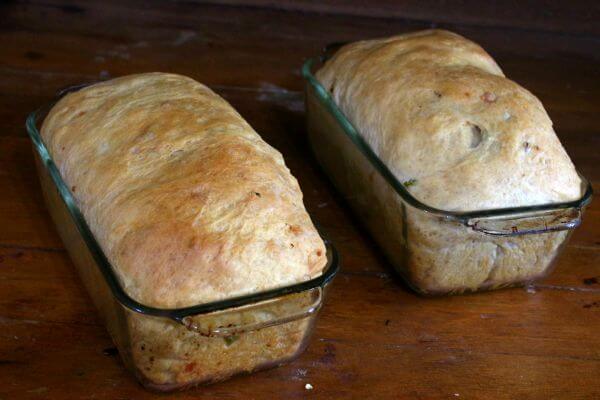 Hatch chiles always make me want to curl up on the window seat with a quilt (and really, how crazy is that? It's 90F today) and read travel articles about Santa Fe. Someday Santa Fe, someday.... It just seems like a romantic spot to me. I imagine staying in a B&B, exploring cool, artsy shops as it gently begins to snow. Heading back to the B&B to cuddle in front of a roaring fire... Somehow they embody the flavor of that fantasy.
Y'all do understand that I am a writer, right? And everything that I don't experience in my life I imagine I'm experiencing... I identified with Anne Shirley (Green Gables) way too much as a kid....
No real secret to making this. Use a flavorful beer or ale or you might as well just use water. Go for something dark but not necessarily expensive. I like a smoky cheddar in this but feel free to use any kind of cheddar you like. I use gluten flour a lot in my bread recipes and I have had people ask me if you can leave it out. Yes you can but you have to understand that it REALLY changes the texture. This bread has a lot of heavy ingredients in it to hold up. If you don't use gluten it will not be light and fluffy, it will be dense and not rise as well. As long as you understand that you're good.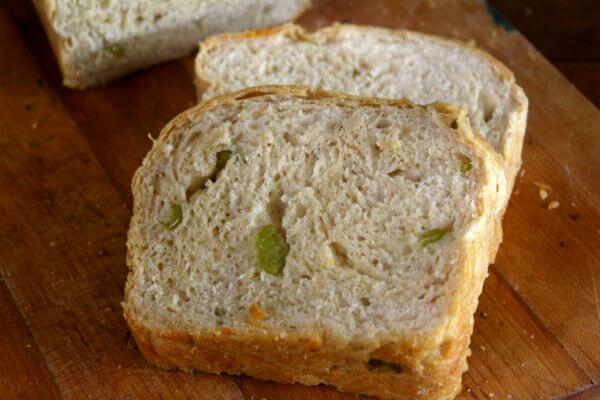 I've also added potato flakes to help make the bread crumb tender and light. When I work out a bread recipe it's based on how I know the ingredients are going to work together. You are welcome to change, omit, and substitute however you like -- but I can't guarantee the results.
This makes amazing toast and perfect sandwiches. Just a little spicy - not too much. The crust is crispy and fantastic but if you like a soft crust remember to cover the Hatch Chile Cheese Bread loaves while they are cooling.
Is it just me? Is there a food that reminds you of a place that you'd love to visit?
The following is an affiliate link. If you click through and buy I get a small commission which is used to keep the blog up and running smoothly. Thank you for your support!
If you'd like to hone your bread skills, whether you are just beginning or a seasoned baker, you are going to love my book. It takes you through the process step by step to ensure success every single time.

Bread Bootcamp: It's Not a Cookbook...It's an Adventure
Or you can download the quick eBook and be baking tonight! Click here: Bread Bootcamp
📖 Recipe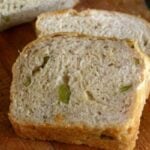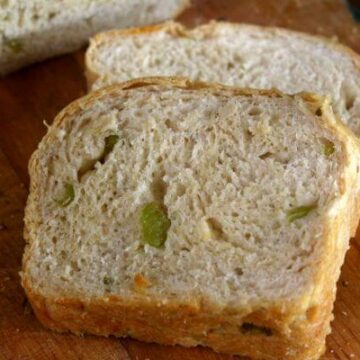 Hatch Chile Cheese Bread
Print
Save
Saved!
Hatch Chile Cheese bread is delicious as a sandwich bread or as toast. Smoky cheddar cheese combines with spicy Hatch chiles to bring out a magical flavor in this light, tender yeast bread recipe.
Ingredients
2

tablespoons

yeast

1

tablespoon

sugar

12

ounces

(about 2 ½ cups) beer, at room temperature (I used Killian's Red Ale)

2

or 3 teaspoons Kosher salt

,

(taste the cheese , if it's really salty use the lesser amount)

1

cup

warm water

¼

cup

olive oil

½

cup

vital wheat gluten

,

(may omit )

½

cup

potato flakes

4

to 5 cups bread flour

½

cup

Hatch chiles

,

, diced small (may use jalapeno or poblano if desired.)

8

ounces

smoked cheddar cheese

,

, diced
I earn a commission from Instacart from qualifying purchases.
Instructions
Add the yeast, sugar, and beer to the bowl of your mixer.

Let the mixture sit for about 5 minutes, it should bubble up.

At the water, gluten flour , and potato flakes with the mixer on low.

With the mixer running add the chiles, salt, and cheese.

Add the bread flour, 1 cup at a time, until the mixture forms a ball.

Knead for 4 to 5 minutes by mixer or until the dough is springy and elastic.

Form the dough into a ball, rub with olive oil, and place in a large, oiled bowl.

Cover with a clean tea towel.

Let rise for 1 hour or until doubled.

Punch down.

Form into a ball, cover, and let rise until doubled again. (You may omit this step if you like but I think it helps the flavor develop)

Punch down

Form into two loaves.

Bake at 350F for 30 to 40 minutes, or until the bottoms sound hollow when tapped.
You'll find more helpful tips and variations in the body of the post.
Nutrition information is estimated as a courtesy. If using for medical purposes, please verify information using your own nutritional calculator. Percent Daily Values are based on a 2000 calorie diet.
Sign up for the emails and never miss another recipe!!
We'll never share your email or send you spam. Pinkie swear.
If you liked Hatch Chile Cheese Bread you may also like...
Honey Buttermilk Cracked Wheat Bread
Cheesy Beer Bread (quick bread) Dine and Dish
Beer Cheese Bread Buns in My Oven