Frito pie is a classic Texas recipe that's found at nearly every high football concession stand as well as in many high end restaurants. It's quick and easy, has many variations, and is addictively good. This is the original Frito Pie recipe, created by the wife of one of the Fritos executives in the 1950s. Plain, simple, and delicious! This post has been updated from the original February 2011 version.
For this recipe you'll need: Fritos corn chips, Wolf Brand Chili, green onions or white onions, shredded cheese, sour cream optional
Jump to Recipe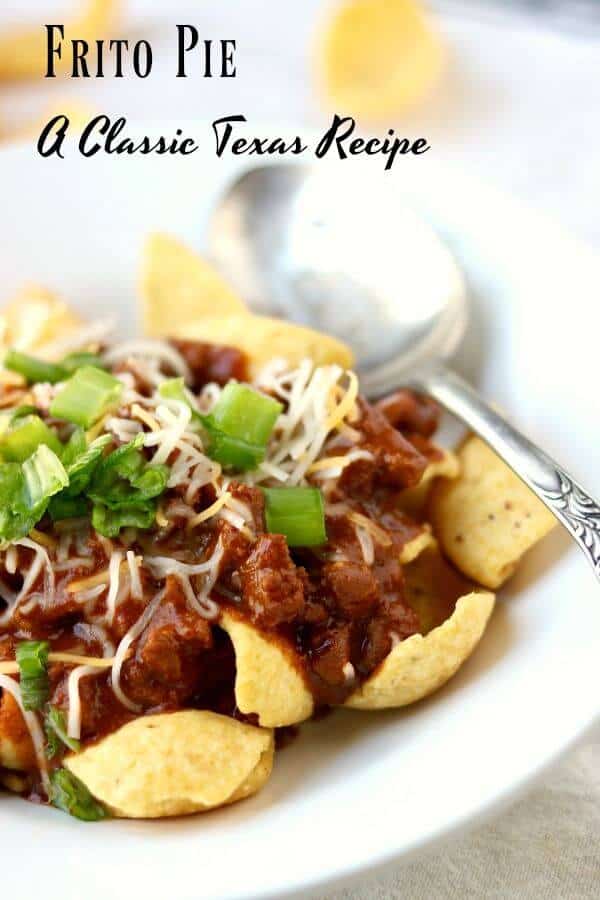 I know. After I write this post about Frito pie I will need to create a new identity, dye my hair, and move to Far North Dakota, the frozen tundra... Frito pie? Really Marye?
Umm... yeah. Really.
I would love to tell you that I made homemade chili and hand fried the corn dough for the Fritos but I don't lie. Real Fritos, Wolf Brand Chili (no beans), a hunk of cheddar, and some sour cream. Welcome to my happy place. No one ever leaves. It is like the sailors in the Lotus Eaters:
But, propped on beds of amaranth and moly,
How sweet—while warm airs lull us, blowing lowly—
With half-dropped eyelids still,
Beneath a heaven dark and holy....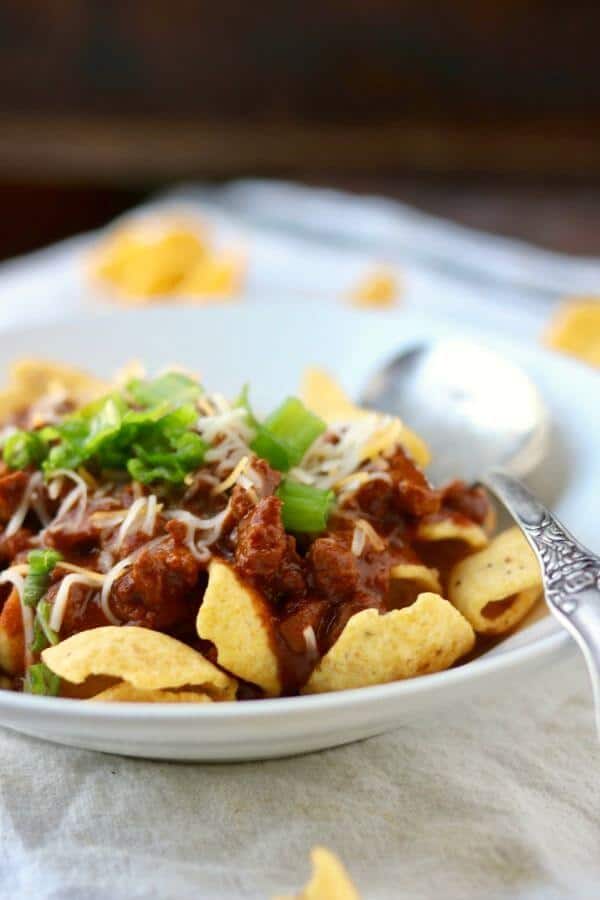 I was first introduced to Frito Pie at a sixth grade football game. We had recently moved to Texas and I was a shy, plump adolescent with a Philadelphia uptown accent and knee socks. No girl in Texas wore knee socks past the age of 8 in the 1970s. The mamas were all ready teaching those girls about Texas big hair and pantyhose. Not one of the guys realized that in 12 short months I would sprout a chest the size of the Rocky Mountains and my waist would shrink to the point I looked like a wasp.
Hello, boys.
But that was a year away. That first game I was encouraged by my mom to get out, meet people, learn to fit in... so I, the shy introvert, stood uncomfortably by the bleachers trying to figure out what to do with my hands. All of a sudden a guy carrying a small Frito bag sauntered by. The Frito bag was sideways and cut open and something dark and spicy and wonderful seemed to be poured across the top.
"Um, where did you get that?"
He gave me a disdainful look and nodded over at the concession stand. I headed over there and tried to figure out what it was...Frito Pie.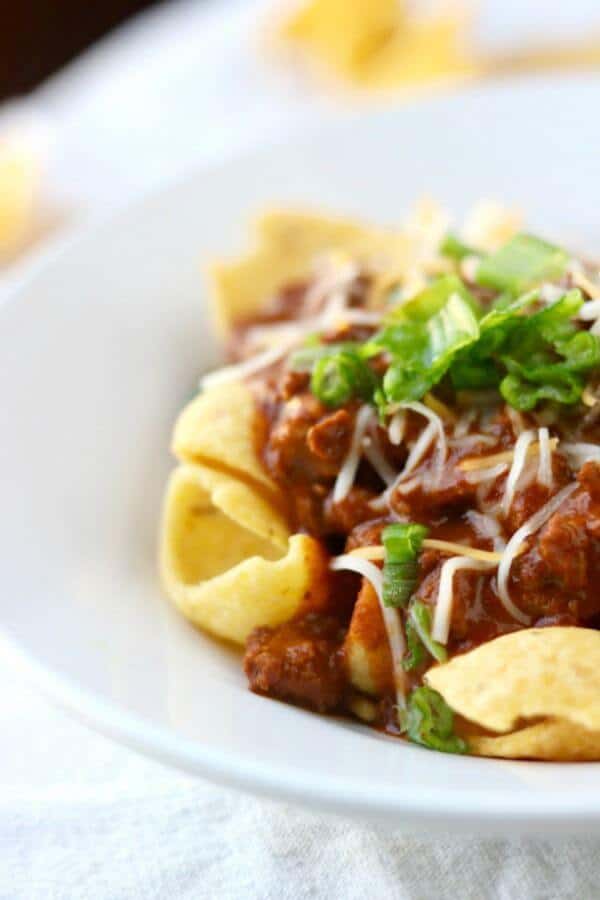 The first bite had me hooked and the second created those half dropped eyelids...
Honestly? I never did fit in. Jr. High was painful and High School was unbearable. But... I did learn how to make killer Frito Pie.
Frito Pie is a 3 minute dinner. You can make it in a casserole OR it would be fun for Super Bowl Sunday or any game day party to get the snack size bags and create Frito Pie high school football stadium style. Just open the bag sideways and dump in the chili then add your toppings.
It also is good made with this creamy white chicken chili!
Easy, right? And it is good. But please, don't tell anyone where you got the recipe. I have an image to uphold. 'K?
One more thing.
Frito Pie, delicious as it is, is not very photogenic.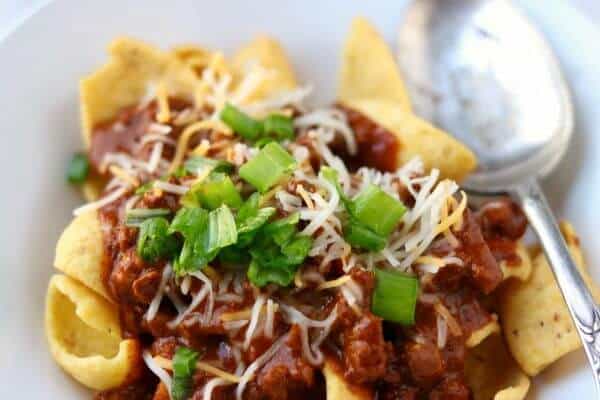 Authentic Frito Pie Recipe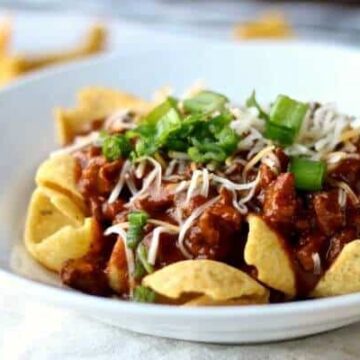 Authentic Texas Frito Pie
Print
Save
Go to Collections
This is the original Frito Pie Recipe, created by the wife of one of the Frito executives in the 1950s. It's a classic, perfect football game food or anytime you want something that's quick and easy that the whole family will love. There are a lot of variations but this is the original!
As an Amazon Associate I earn from qualifying purchases.
Ingredients
8

ounces

Fritos Corn Chips

,

, a little more wouldn't hurt

48

ounces

Wolf Brand Chili

,

, no beans

1

large onion

,

, chopped

2

cups

Cheddar cheese

,

, shredded
Instructions
Heat the chili until it is steaming hot.

Place Fritos in a lightly oiled casserole dish.

Serve sprinkled with onions and sour cream if desired.
Notes
You can also serve this right in the individual sized bags of Fritos. Just turn the bags on their sides, snip the top edge to open, and pour in the hot chili. That's the classic way it's served at football games around here.
Nutrition Facts
Calories:
566
kcal
|
Carbohydrates:
28
g
|
Protein:
22
g
|
Fat:
39
g
|
Saturated Fat:
14
g
|
Cholesterol:
67
mg
|
Sodium:
1073
mg
|
Potassium:
574
mg
|
Fiber:
6
g
|
Sugar:
3
g
|
Vitamin A:
1585
IU
|
Vitamin C:
5.1
mg
|
Calcium:
313
mg
|
Iron:
3.1
mg
Sign up for the emails and never miss another recipe!!
We'll never share your email or send you spam. Pinkie swear.
If you liked this easy Frito Pie you may also like...
From left to right: King Ranch Chicken, Creamy Burrito Casserole, Candied Jalapenos (which would be amazing on top of the Frito Pie, by the way!)