This easy Black Forest Cupcakes recipe results in deep, dark chocolate cupcakes that are moist and tender. They are filled with a boozy cherry pie filling then topped with stabilized whipped cream and grated bittersweet chocolate. So good that people will swear you've been taking culinary classes but so easy that you can finish them in time for dinner!
For the recipe you'll need: all-purpose flour, dark cocoa, baking soda, baking powder, salt, butter, sugar, oil, egg, vanilla, milk, chocolate balsamic vinegar (or cider vinegar in a pinch), milk, hot coffee, Kirsch or spiced rum, cherry pie filling, cherry balsamic vinegar (optional but yummy), heavy whipping cream, Confectioner's sugar, bar of bittersweet chocolate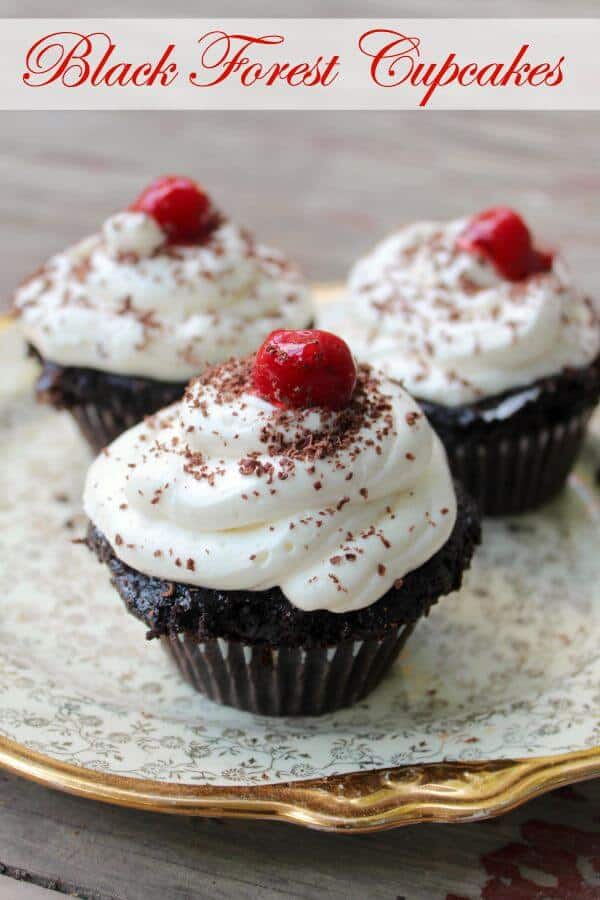 The Restless Chipotle Channel
I have a friend that has stood by me through all of the drama of a crumbling marriage followed by an icky divorce, the loss of almost my entire support system, family stuff, and kids leaving home. She is empathetic enough to let me cry and feisty enough to stand up to me when she wants me to hear her opinion.  Oh, and don't ever let her hear you criticize me. I am not totally sure what she'll do but I can tell you it will be painful. This girl has my back…
There isn't a lot I can do for her in return but one thing I can do? Celebrate her birthday! So, when she called to tell me she planned to come over for a few hours on Saturday, which conveniently was her birthday, I decided to make something cake-like. Very cake-like. And chocolate … because… well…
Chocolate.
Getting ready for back-to-school takes so much time (and money! ACK! It was over $900.00 between supplies and uniforms!) that I knew a full size cake was out of the question. Cupcakes it was.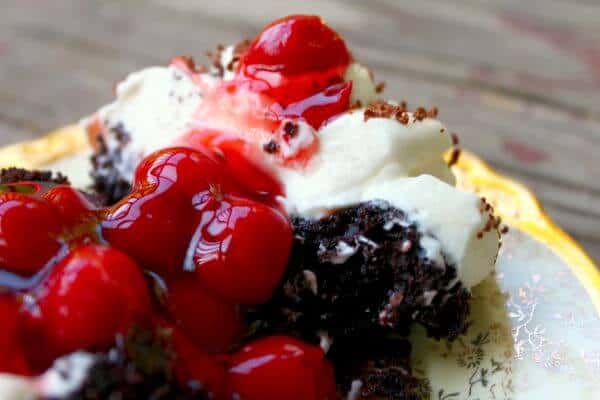 I used a favorite chocolate cake recipe and then filled the center of the baked cupcakes with cherry pie filling. I bought the canned cherry pie filling to keep it easy — but I added a couple of tablespoons of spiced rum. You know, just because.  Then I piped on a stabilized whipped cream frosting, topped with some grated chocolate and a cherry.
Voila!
They were gorgeous. Best of all? They were delicious! Best, best of all? This easy Black Forest Cupcakes recipe goes together fast and it really is easy.
The first time I ever had Black Forest Cake I was out to dinner with my dad. He was an adventurous eater and I got a lot of my love of food from him. My mom didn't like to go out to eat much, she preferred simple foods, and pizza from Pizza Hut. So, on occasion Dad and I would head out for an evening of food experimentation. This particular time we were at some restaurant in Dallas — it's always fuzzy when I try to remember where we'd go — maybe it was the Old Warsaw?  Anyway after a sumptuous meal we split a Black Forest Cake for dessert and, because of that, this is one of my favorites.
Dark chocolate, cherries, booze, and whipped cream… what's not to like?
In this recipe the butter is melted and browned, then cooled. This adds a discreet, nutty flavor to the chocolate — you can't really taste it but you just know there's something really good about the chocolate flavor. Don't overmix, don't overbake, and you should get a perfect, chocolatey result!
You'll have some cherry filling left so plan to bake a couple of tarts or something.
How to Fill Black Forest Cupcakes
Or any cupcakes for that matter. You don't need a special gadget – in fact I think the special gadgets actually make it more time consuming. Just grab a sharp paring knife and you're ready to go.
 Hold the cupcake in your hand gently.
Push it into the top of the cupcake, slightly off center and about halfway down to the bottom.
Rotate your knife so that you create a crater in the cupcake and pull off the top.
trim the cut edge of the top of the cupcake until it's flat.
Spoon in your filling.
Add the top of the cupcake and gently push down.
Add your frosting as directing in your recipe and you are ready to roll!
YOU MAY ALSO NEED
The following are affiliate links. We are a participant in the Amazon Services LLC Associates Program, an affiliate advertising program designed to provide a means for us to earn fees by linking to Amazon.com and affiliated sites.
Thanks so much for being a part of Restless Chipotle!
I love being able to send cupcakes to school with the kids and not have them mashed by lunchtime. These cupcake carriers are so cute and they work perfectly! I have one for each of my kiddos. 🙂 They come in several different colors, too.
Easy Black Forest Cupcake Recipe From Scratch
This is seriously one of my favorite homemade cupcake recipes. They always come out tender, moist, and chocolatey and it's easy to make them Pinterest-pretty. If you don't want to use the Kirsch or rum in this recipe just leave it out of the cherries. No need to substitute anything else. To leave it out of the cake just substitute hot water for the alcohol. It will still be amazing! If you like this from scratch Black Forest cupcakes recipe please give it 5 stars!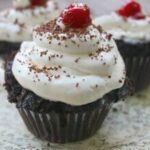 Print Recipe
Black Forest Cupcakes
Rich, dark chocolate cupcakes are hollowed out and filled with a boozy cherry pie filling then topped with a whipped cream frosting.
If you don't want to use the Kirsch or rum in this recipe just leave it out of the cherries. No need to substitute anything else. To leave it out of the cake just substitute hot water for the alcohol. It will still be amazing!
Nutrition
Calories:
443
kcal
|
Carbohydrates:
51
g
|
Protein:
3
g
|
Fat:
24
g
|
Saturated Fat:
14
g
|
Cholesterol:
89
mg
|
Sodium:
299
mg
|
Potassium:
246
mg
|
Fiber:
1
g
|
Sugar:
16
g
|
Vitamin A:
21.1
%
|
Vitamin C:
4.6
%
|
Calcium:
7.2
%
|
Iron:
5.9
%
If you liked this Easy Black Forest Cupcakes Recipe you may also like…
From left to right: Mexican Hot Chocolate Cupcakes, Peaches and Cream Cupcakes, White (Wedding Cake) Cupcakes
Still looking? Here are some more recipes from some of my favorite blogs!
Black Forest Mousse Cake Sweet Gastronomy
Black Forest Tiramisu Not Quite Nigella