Black Forest cake is just elegant. When you think of it you usually don't think of the local cafe or anything, right? Tender, dark chocolate cake. Tangy cherries. Whipped cream frosting. It's cake perfection.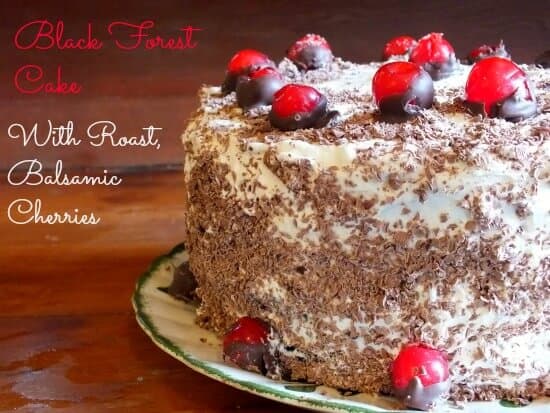 Desserts like that are intimidating for most people to even consider making at home. It does have several steps and it isn't one of those desserts you can put on the table in half an hour - but when you want an absolutely fabulous show-stopper of a dessert this is the one to reach for. It is an old recipe but not an ancient one - it was first published in the early 1930s according to some sources.
Who knows? More importantly, who cares?
This is chocolate, people. You don't need to know a whole lot more than that.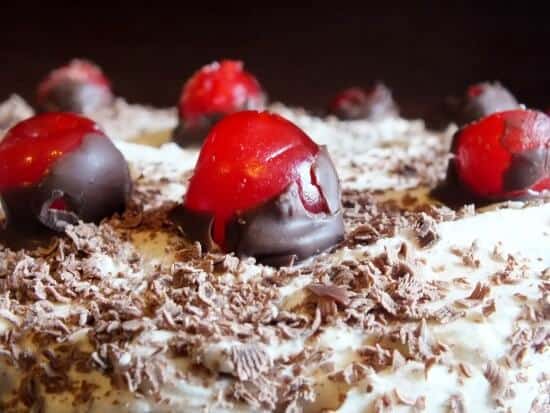 Anyway, a few days ago Ethan came into the kitchen, totally out of the blue, and asked me to make one. A Black Forest Cake. Not that my kids are spoiled or anything but I would like to point out that they are very casual when asking me to make things, as if there was no doubt in their minds that whatever their palates desired I would be glad to make.
Funny. It's true.
Black Forest cake is not something you are going to want to eat every week unless you are in training to be a counterweight for a military tank. There are probably a billion calories in each slice - and I am not figuring the nutrition information on this because, quite frankly, there are some things I would rather not know.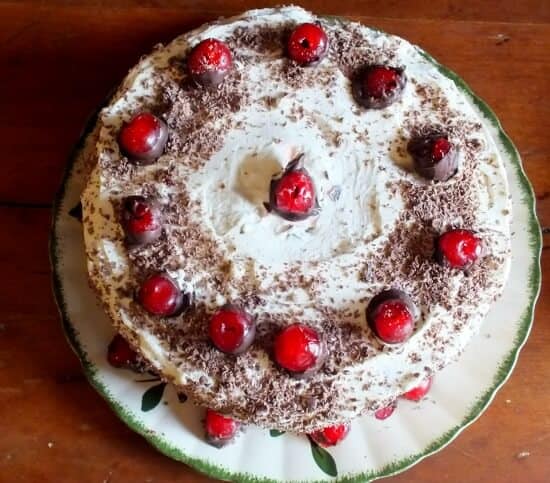 I used a basic recipe out of one of my old cookbooks and tweaked it a little... umm... a lot. I wanted a sophisticate flavor with lots of punch. Something memorable but not too sweet, not too tart. I did not want it to have cherry pie filling because I think that usually that canned filling is just bland - and I didn't want to mess with the gel stuff in my cake.
Here's what I did and why.
I used sesame seed oil. You can use vegetable oil if you like but the sesame oil gave it a smoky, nutty nuance that wasn't even really a flavor.

I used chocolate balsamic vinegar. This stuff is amazing. It is just hard to describe. If you can't get it go ahead and substitute a good balsamic vinegar instead.
I used Hershey's Special Dark Cocoa because I think it really does make things deeper and richer.
I used a mixture of cherries, both tart and sweet. I used canned because they aren't in season but if they were I would have used fresh.
I marinated the cherries in rum and chocolate balsamic.... because I could.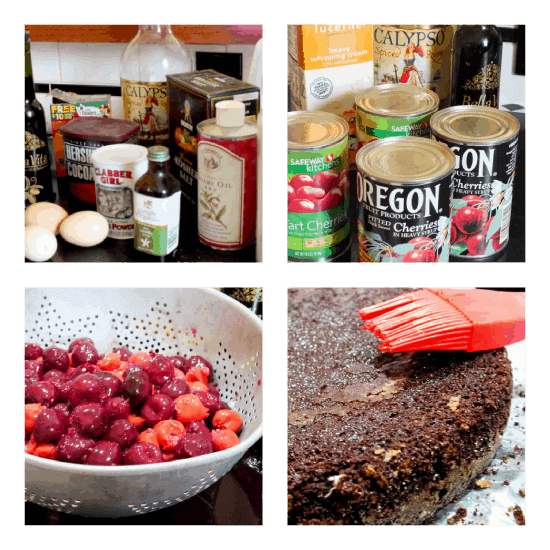 I made this cake in an afternoon but if I was doing it again I would take two or three days just to make it easier. Please try it - it isn't as difficult as it looks and I think you'll be pleased with the result.
Make sure the cherries are cold before you put them on the filling or they will melt the delicate whipped cream.
Here are a couple more hints:
Slice the layers in half with a long serrated knife. Make it easier by freezing them slightly before cutting.

Stabilize the layers before frosting them. To do this just poke several drinking straws down through the cake. I used four each about three inches from the edge.

Chill it after it's assembled. This will make it easier to cut.
Keep an eye on the cherries while they are roasting - they will burn fast.
Here's what the cherries look like when they are roasted: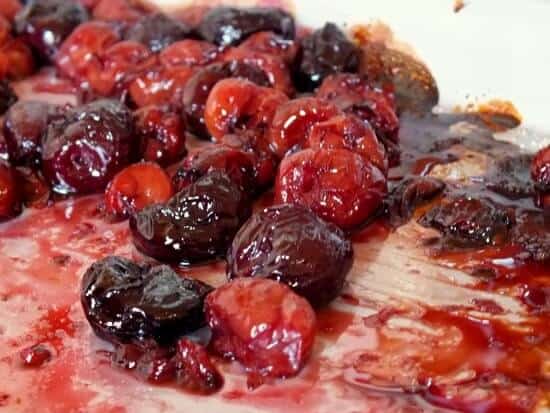 You can see that the juices have gotten thick and almost jelly like. Oh and here is how you poke the stabilizers in the layers - nothing difficult about it.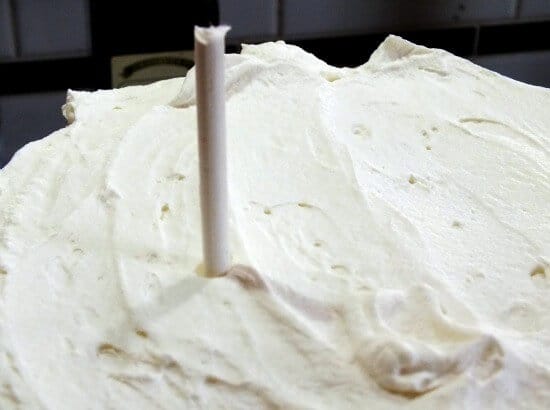 Ready to give it a try? Please let me know how it goes! If you run into trouble or have questions I am usually easy to reach on the Restless Chipotle Facebook fan page.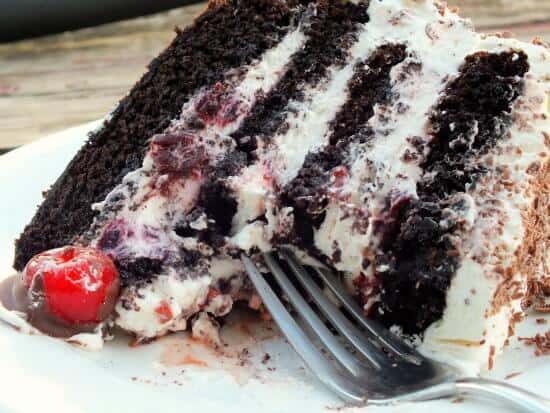 If you can't find the chocolate balsamic or toasted sesame oil locally they do have it on Amazon:
It really does make a difference and you will use it on lots of things - marinating strawberries, cakes, ice cream...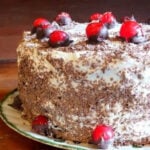 Black Forest Cake with Balsamic and Rum Roasted Cherries
Print
Save
Go to Collections
Rich, smoky, sweet, tart, amazing Black Forest cake with four layers of luscious. The cherries are marinated and then roasted for the most flavor.
As an Amazon Associate I earn from qualifying purchases.
Ingredients
Cake
2 ⅛

cups

flour,

all purpose

2

cups

sugar

¾

cup

dark cocoa powder,

Hershey's Special Dark

1 ½

teaspoons

baking powder

¾

teaspoon

baking soda

¾

teaspoon

salt

3

eggs

1

cup

milk

½

cup

toasted sesame oil

,

I like La Tourangelle

1

teaspoon

vanilla extract

1

tablespoon

balsamic vinegar

,

chocolate

¼

cup

Kirsch
Filling
30

ounces

pitted tart cherries

,

2 15-ounce cans drained

30

ounces

pitted sweet cherries

,

2 15-ounce cans drained

1

cup

white sugar

2

tablespoons

rum

2

tablespoons

balsamic vinegar

,

chocolate
Frosting
1

teaspoon

vanilla extract

4

cups

heavy whipping cream

⅓

cup

confectioners' sugar

¼

cup

sugar
Garnish
12

Maraschino cherries

3

ounces

bittersweet chocolate
I earn a commission from Instacart from qualifying purchases.
Instructions
!Cake
Preheat the oven to 350F

Grease pans, cut a circle from wax paper to fit the bottom of each pan, smooth the paper into the pans, grease and flour.

In the bowl of a mixer combine the flour, 2 cups of sugar, cocoa, baking powder, baking soda, and salt.

Add eggs, milk, oil, balsamic, and vanilla, beat on low until blended.

Beat on medium for one minute.

Pour into prepared pans.

Bake for 35 minutes or until a toothpick inserted in center comes out clean.

Cool for five minutes in the pans.

Run a knife around the edge of the pans and turn the cakes out on the counter.

Remove the waxed paper carefully.

Cool thoroughly.
!Filling
Drain the cherries and put them into a large bowl.

Add the balsamic and the rum.

Mix well.

Let marinate two hours or overnight.

Preheat oven to 450F

Drain well and pat dry with paper towels.

Sprinkle with two tablespoons of sugar.

Place on a nonstick cookie sheet and place in oven.

Roast until juices get thick and cherries start to caramelize, about 20 minutes.

Stir the cherries often while they are roasting.
!Frosting
Add the confectioner's sugar to the whipping cream.

Beat well until peaks begin to form.

Add granulated sugar and vanilla.

Beat until very thick and spreadable.
!Assembly
Cut each cooled cake into two layers.

Brush the cut side of each layer with Kirsch.

Place the first layer on a cake plate, cut side up.

Top with about ½ cup of the whipped cream.

Spread about ⅓ of the cooled cherries over the top.

Place the next layer of cake on top, pressing down gently.

Spread about ½ cup of the whipped cream on the layer.

Top with about ⅓ of the cherries.

Repeat with the next layer.

Add the top layer of cake cut side down.

Slide about 4 straws down through the layers to keep the cake stable.

Cover the top and sides with a thick layer of whipped cream.

Chill.
!Garnish
Dry Maraschino cherries well.

Melt 1 square of the chocolate.

Dip the lower half of the cherries in the chocolate.

Chill on a wax paper covered plate.

Grate the remaining squares of chocolate and press onto the sides of the cake, gently.

Top the cake with the chocolate covered cherries.
Nutrition Facts
Calories:
859
kcal
|
Carbohydrates:
110
g
|
Protein:
8
g
|
Fat:
44
g
|
Saturated Fat:
22
g
|
Cholesterol:
152
mg
|
Sodium:
272
mg
|
Potassium:
615
mg
|
Fiber:
6
g
|
Sugar:
82
g
|
Vitamin A:
1350
IU
|
Vitamin C:
10.4
mg
|
Calcium:
138
mg
|
Iron:
3
mg
Sign up for the emails and never miss another recipe!!
We'll never share your email or send you spam. Pinkie swear.