Creamy bright pink frosting and sprinkles cover these easy drop cookies. Be sure not to over-bake them!
Don't want to scroll through the page to get to the recipe? Use the table of contents to click on the section you want to go to.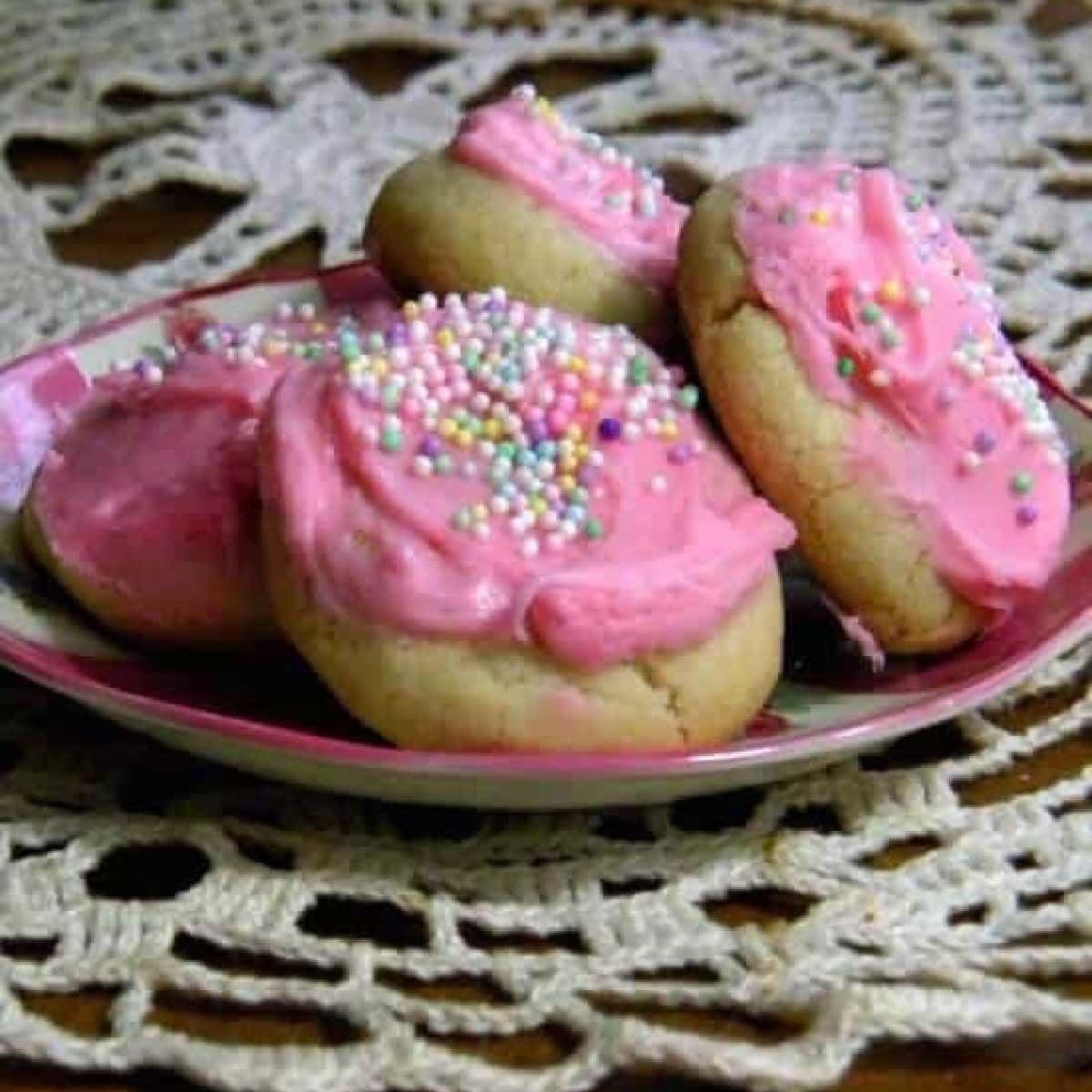 Jump to:
❤️ Why you'll love it
Tastes better than from the grocery store (and cheaper, too)
A big batch of nostalgic, thick cookies that just melt in your mouth
Say "goodbye" to chilled dough—skip that if you need cookies ASAP
If the brightly colored, sprinkled Lofthouse cookies made you excited as a kid, you'll adore these soft sugar cookies with buttercream frosting.
The perfectly-sweet buttercream frosting uses just a touch of cream cheese for balanced flavor both kids and adults love—just don't forget sprinkles!
🥫 Storage
This is the best sugar cookies recipe, and I'm basing that on the fact that we never have any leftovers. (I swear, these cookies make you lose self-control!)
However, if you have a few remaining, storage is easy. Place the buttercream-frosted sugar cookies in an airtight container, or cover your platter with some plastic wrap.
Due to the cream cheese in the frosting recipe, you'll have to refrigerate the cookies—they'll stay good for about five days. (The original Lofthouse cookies were packed with chemicals, which is why they were fine at room temperature. Another perk of homemade!)
Since there's just a little bit of cream cheese in the frosting, you can freeze leftover cookies.
They'll stay good, frozen, for about a month. Be sure to wrap them extra well with plastic, and let them thaw at room temperature until gloriously soft again.
You'll find more information on storing buttercream frosted cookies in this post.
📖 Variations
If you have some pastry flour, feel free to use it instead of all-purpose flour—the soft sugar cookies will turn out even more tender. Cake flour will work, too!
For "wedding cake" cookies, swap the vanilla extract with almond extract. It doesn't taste as similar to Lofthouse cookies, but it's good.
If you don't have sour cream and can't get to the store, use buttermilk.
Chocolate buttercream tastes just as good on these classic sugar cookies. Feel free to make it yourself or buy premade.
Though pink frosting is most well-known to Lofthouse cookies, you can use any color of buttercream you like! Feel free to get creative for party themes, birthdays, and holidays.
Instead of regular sprinkles, top the cookies with mini chocolate Easter eggs for a festive touch. Or, use crushed peppermint candy if it's Christmas time!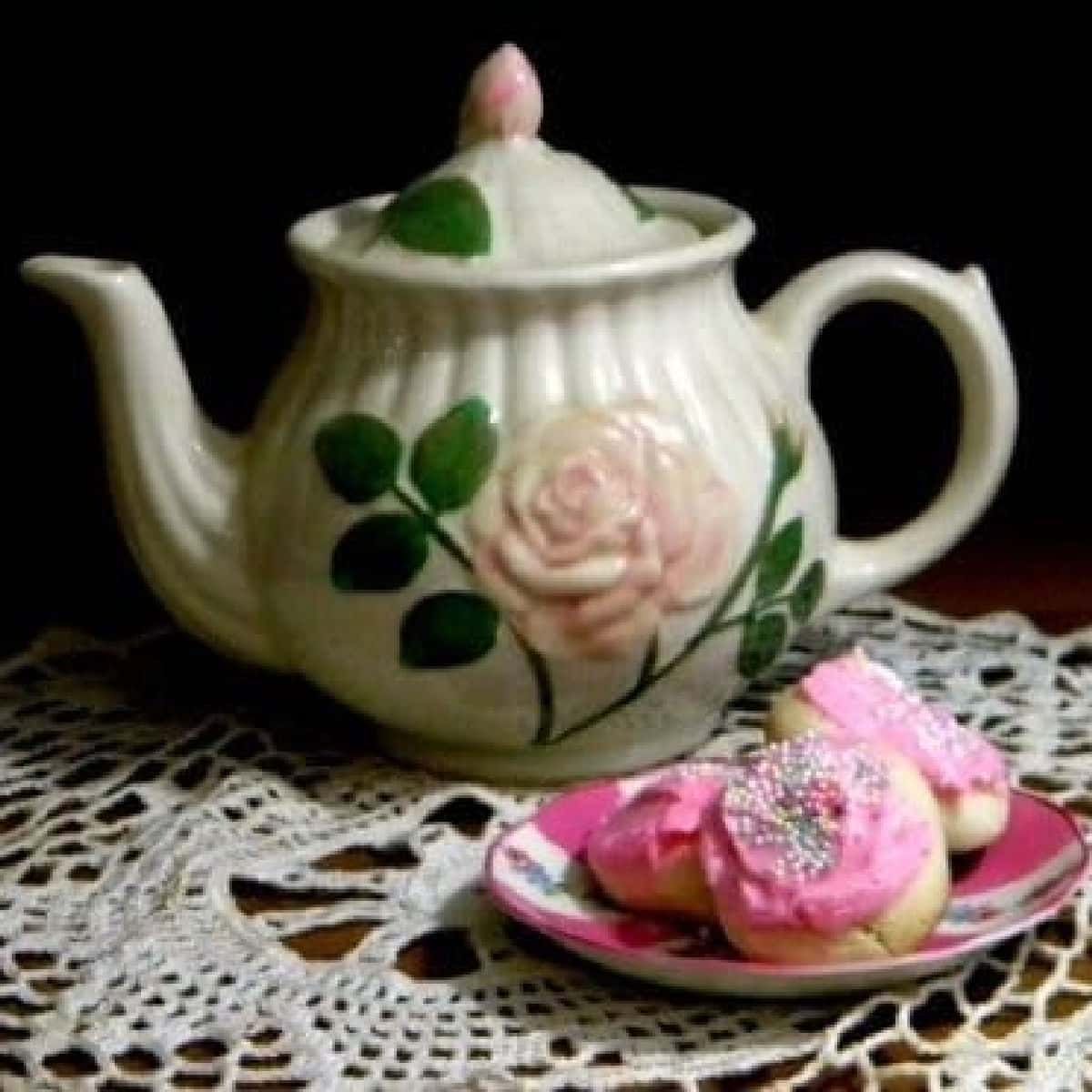 💭 Things to know
Expert Tip: Sift your powdered sugar before adding it to the butter. This easy step makes your frosting so, so, so much smoother!
Once you add the flour and the other dry ingredients, don't mix too much. Otherwise, your cookies will lose their signature soft texture.
Rather than scooping the flour out of the package, it's best to fill the measuring cup with a spoon. Then, level off the top with a knife.
Room-temperature butter is important for both the cookies and frosting, so pull it out in advance!
If you need to microwave the butter to speed up the softening, be careful. Use the half-power setting, and don't let any of the butter melt!
Only chill the sugar cookie dough if you plan on using a rolling pin. Otherwise, just drop the dough in spoonfuls onto a baking sheet.
Use a cookie-dough scoop to portion the dough more evenly.
The edges will only turn slightly golden, and the cookies will continue to set as they cool, so don't accidentally over-bake them. Think of your favorite Lofthouse cookies: remember how pale they were? Tasty!
After adding the heavy cream and coloring, replace the whisk (if you used it) with the paddle attachment. Turn your mixer to low speed and let it run for a few minutes. This will remove any air bubbles from your vanilla frosting so that it looks as smooth as it tastes!
If you want your cookies to have a polished appearance, let them cool before frosting. If they're warm, your buttercream will melt.
Feel free to use a piping bag to apply the frosting, or simply swirl it on with a spatula or butter knife.
👩‍🍳 FAQs
What does it mean to "cream" butter and sugar?
This is a baking term that means to combine or mix. Once properly creamed, the butter/sugar mixture will look paler in color than when you began, and it may even have grown a little in volume. It takes about 5 minutes.
How do I store the cookies unfrosted?
Great question! Once the baked cookies have cooled, you can store them at room temperature for one or two days, tightly covered. Or freeze them.
Does the frosting crust for stacking?
This sugar cookie frosting has a touch of cream cheese in it for extra creaminess and flavor balance. However, it doesn't crust quite as much as a classic American buttercream. You could probably get away with stacking after they're chilled, but I don't recommend it.
Can I use royal icing for decorating?
I can't stop you, now, can I? However, this recipe creates a fluffy sugar cookie, which is perfect for vanilla buttercream. You'll have better luck using royal icing on cut-out cookies, like these. (That's the best sugar cookie recipe to use with cookie cutters, too!)
Does frosting have to be refrigerated?
Yup—since this frosting has a bit of cream cheese, it does. However, not all buttercream needs refrigeration. You can learn more about the different types of buttercream here.
Wait, what are Lofthouse cookies?
Only the best soft frosted sugar cookies known to humankind! (Well, maybe after this recipe, of course.) They're an old-fashioned, store-bought cookie with a cake-like texture and ultra-fluffy, smooth frosting. Don't run to the store, though. You can make them at home!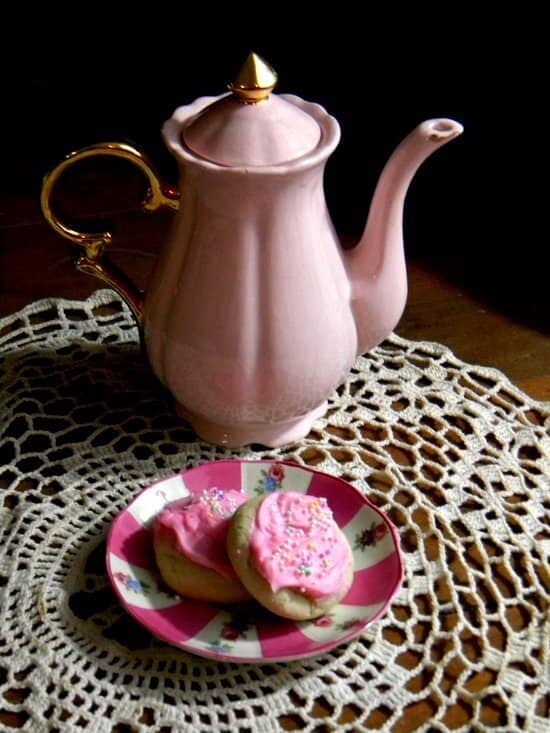 📚 Related recipes
When you're craving fragrant, chewy sugar cookies with just a slightly crisp edge, these Bakery-Style Cookies are what you need.
Old-Fashioned Snickerdoodles have the perfect balance of sweet, cinnamon-brown sugar flavors. There's a reason they're a classic!
Extra frosting? Use it up in these Coconut Chocolate Chip Cookies. The frosting goes in the batter and is key to its delicious flavor and texture.
🍽️ Serve with...
Traditional Southern Coffee Punch is a great way to make any small gathering feel like a party! It goes great with buttercream sugar cookies.
Patriotic Fruit Salad is fun and festive, no matter the season. Plus, fresh fruit is the perfect complement to cookies on a cookout dessert table!
Hamburger Noodle Casserole tastes like childhood, and it's super easy to prep. Voila—you just planned your nostalgic dinner for tonight!
📞 The last word
This copycat Lofthouse cookies recipe recreates the soft, puffy sugar cookies of childhood.
If you click on the number of servings in the recipe card you can adjust the measurements up or down for the exact number of servings you need. Don't forget that you can click on "add to collection" to save it to your own, private recipe box!
If you love this recipe please give it 5 stars! ⭐️⭐️⭐️⭐️⭐️
📖 Recipe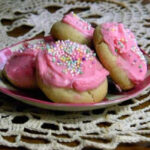 Soft Sugar Cookies with Buttercream Frosting
Print
Pin Recipe
Save
Saved!
Puffy, buttery soft sugar cookies with buttercream frosting are a copycat recipe of the Lofthouse cookies you remember from childhood. Pink frosting, sprinkles... these have it all.
As an Amazon Associate I earn from qualifying purchases.
Ingredients
Cookies
¾

cup

butter

,

room temperature

1

cup

sugar

1

egg

,

room temperature

2

tablespoons

sour cream

,

room temperature

2

teaspoons

vanilla extract

2 ½

cups

flour

1

teaspoon

baking soda

¼

teaspoon

salt
I earn a commission from Instacart from qualifying purchases.
Instructions
Cookies
Preheat oven to 350F.

Line baking sheets with silpat or parchment paper.

Cream the butter and sugar on medium-high speed until very pale and fluffy - about 3 minutes.

Add the egg, and beat until it's all mixed in.

Stir in the sour cream and vanilla on low speed just until combined.

Scrape the bottom and sides of the bowl to make sure none of the mixture is sticking.

Add the flour, baking soda and salt and mix together until just incorporated.

If you're going to roll them out then stop here and chill for at least an hour.

Drop by rounded teaspoons on the prepared baking sheets - for bigger cookies use a tablespoon.

Bake for 8 to 10 minutes, or until the edges are set and just barely beginning to turn golden - do not overbake!

Cool completely before frosting.
Frosting
Beat together all ingredients except cream and food coloring until smooth.

Add cream and food coloring last to achieve the desired thickness and color.

Frost cooled cookies generously and add sprinkles.
Notes
Storage:
If you have leftovers place them in an airtight container, or cover your platter with some plastic wrap and refrigerate for up to about 5 days.
Freeze for a month or so.
Tips:
Sift your powdered sugar before adding it to the butter. This easy step makes your frosting so, so, so much smoother!
Once you add the flour and the other dry ingredients, don't mix too much. Otherwise, your cookies will lose their signature soft texture.
Rather than scooping the flour out of the package, it's best to fill the measuring cup with a spoon. Then, level off the top with a knife.
Room-temperature butter is important for both the cookies and frosting, so pull it out in advance!
If you need to microwave the butter to speed up the softening, be careful. Use the half-power setting, and don't let any of the butter melt!
Only chill the sugar cookie dough if you plan on using a rolling pin. Otherwise, just drop the dough in spoonfuls onto a baking sheet.
Use a cookie-dough scoop to portion the dough more evenly.
The edges will only turn slightly golden, and the cookies will continue to set as they cool, so don't accidentally over-bake them. Think of your favorite Lofthouse cookies: remember how pale they were? Tasty!
After adding the heavy cream and coloring, replace the whisk (if you used it) with the paddle attachment. Turn your mixer to low speed and let it run for a few minutes. This will remove any air bubbles from your vanilla frosting so that it looks as smooth as it tastes!
If you want your cookies to have a polished appearance, let them cool before frosting. If they're warm, your buttercream will melt.
Feel free to use a piping bag to apply the frosting, or simply swirl it on with a spatula or butter knife.
You'll find more helpful tips and variations in the body of the post.
Nutrition Facts
Calories:
137
kcal
|
Carbohydrates:
21
g
|
Protein:
1
g
|
Fat:
6
g
|
Saturated Fat:
3
g
|
Cholesterol:
20
mg
|
Sodium:
109
mg
|
Potassium:
14
mg
|
Fiber:
1
g
|
Sugar:
14
g
|
Vitamin A:
183
IU
|
Calcium:
6
mg
|
Iron:
1
mg
Nutrition information is estimated as a courtesy. If using for medical purposes, please verify information using your own nutritional calculator. Percent Daily Values are based on a 2000 calorie diet.
Sign up for the emails and never miss another recipe!!
We'll never share your email or send you spam. Pinkie swear.
First published February 9, 2012. Last updated for readability and editorial corrections May 1, 2023.
✍🏻 A note from Marye...
I know y'all don't always like the stories bloggers tell so when I have one I try to put it at the very bottom so you can read or skip as you like.
Lofthouse cookies are a recipe that I have been trying to re-create for most of my adult life. I have so many good memories attached to them that eating them is (in most cases) a guaranteed way to lose the blues.
When I was little Dad got transferred to a different office and we moved from Dallas to just outside of Philadelphia for a few years.
RIght smack in the center of probably one of the most historic areas of the United States.
You couldn't drive a mile without passing stone houses that were built in the 1600s and had witnessed war, peace and everything in-between for over 300 years.
I didn't have to learn about the mules that pulled flatboats along the canals because I visited those canals many times, and viewed the faded trails that the animals trudged along day after day.
History was a living thing to me, sometimes more real than the world I lived in and I escaped to the woods more than once to hunt for arrowheads, musket shells, and other relics of those who had walked those woods before me.
I was, as you probably figured out, quite a loner - content with my one best friend, my thoughts, and my books. I loved living there and when I think of home those woods are one of the two images that come to my mind.
You know how you always fondly remember the foods you ate when you were a kid?
Soft pretzels smeared with bright yellow mustard, hot from the cart and wrapped in crisp paper that crackled with every salty bite - these were not the pretzels you find in the malls today.
They were a unique texture and flavor, a flavor that could not be reproduced without the crisp autumn air, the dirty hands of the grinning vendor, and the sounds of downtown Philadelphia echoing past the tall buildings.
Yodels, pretzels, hoagies, cheesesteaks, and Lofthouse cookies were the foods that I consumed as much as my parents would allow it.
Lofthouse cookies were sweet but not too sweet. They crumbled across your tongue as you bit into them, sending buttery vanilla crumbs to the edges of your mouth, encompassing every tastebud and coaxing it to life. Once chewed and swallowed there was a faintly salty aftertaste that was so pleasant that it made you want to take another bite but at the same time you almost didn't want to because that lingering saltiness was so enticing.
The frosting was creamy and I always remember it being pink, although perhaps it wasn't.
And looking backward 55 years those cookies seemed to have a magic all their own; one which ( if I could only remember the secret code) could whisk me back to that time and that place.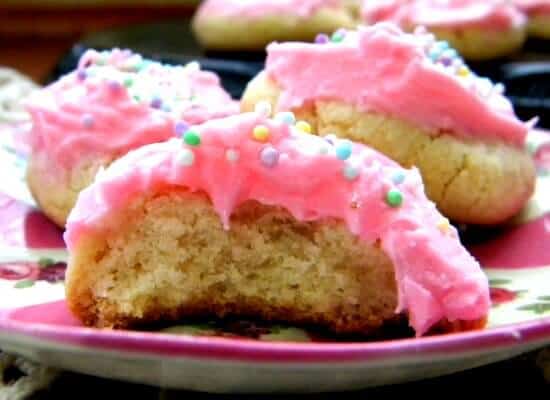 As many times as I tried to make these I could never get them right - or at least I could never get them the way that I remember them.
That's probably the biggest hurdle to overcome when you are recreating a flavor from childhood. It doesn't have to taste the way it really did, it only has to taste the way you remember it.
The frosting was always too sweet, or not creamy enough... the cookie was too cakey or too crumbly... maybe it had too much vanilla or not enough butter. Whatever the problem, the recipes never ever were right.
Until now.
These are exactly as I remember them. I won't guarantee that they are exactly as YOU remember them but only that they are crumbly, tender with a delicate flavor and a perfect almost-salty aftertaste, and that the frosting is creamy and not too sweet.
And pink.
With sprinkles.
You can roll them out if you like - just chill the dough first. I prefer them rolled into balls and placed on the cookie sheets without chilling at all. They puff slightly as they bake but instead of getting cakey the insides become honeycombed with air bubbles and crumbs...and flavor.
I don't know if this is your memory but it is mine - and I'd love to share it with you. Don't forget the frosting - pink.