Easy air fryer sugar cookies are just minutes away! I used a premade sugar cookie dough but it's a great way to bake small amounts of any of your favorite cookie recipes.
Table of Contents
❤️ Why you'll love it
Since air fryers cook with circulating hot air, your cookies will come out evenly crisped on the outside and soft and chewy on the inside. You'll get a perfect cookie every time.
You can enjoy all of your favorite cookies without having to turn on the oven, and you won't have to worry about making a mess.
Cooking with an air fryer is also very quick and easy, so you can have fresh cookies in no time!
There's nothing like a fresh, warm cookie - am I right?
You can adapt almost any homemade dough recipe to an air fryer! You can even use it to bake cookies from frozen dough.
🥄 Equipment
The following are affiliate links. We are a participant in the Amazon Services LLC Associates Program, an affiliate advertising program designed to provide a means for us to earn fees by linking to Amazon.com and affiliated sites.
You'll need the following items to make this recipe successfully.
🥫 Storage
Normally you won't need to worry about storage because you'll just make one or two at a time. Baked cookies can be stored in an air-tight container for up to one week.
Cookies can also be frozen in a freezer-safe container or ziploc freezer bag for up to three months.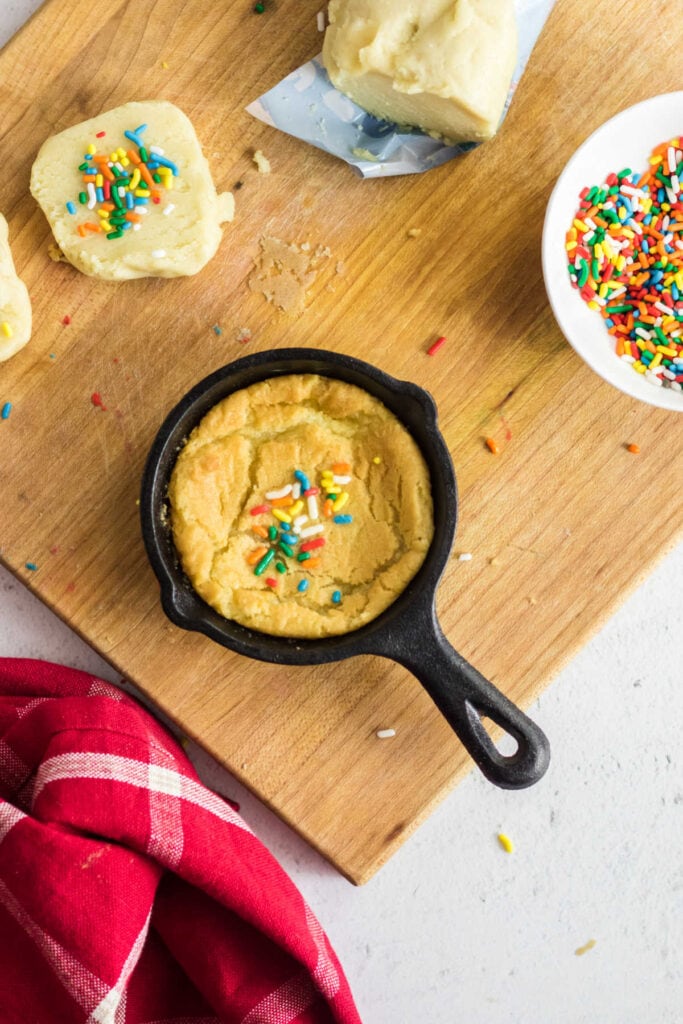 💭 Things to know
Expert Tip: This is the perfect way to make your favorite cookies even more delicious. The first time you do it, watch carefully so that not only does it turn out well but also in what temperature and duration that works best for them!
This recipe is for raw premade dough only, not frozen cookie dough.
If you don't have a mini cast iron skillet or pie plate, you can use a special air fryer parchment paper.
Be careful the parchment paper doesn't touch the heating element during baking time.
Don't use regular parchment paper.
Be sure to add cookies in a single layer for best results.
The number of cookies that you can bake at one time will depend on the size of your air fryer basket. This method is great when you only want to bake one or two cookies.
You can use this method to cook other types of cookie dough, like chocolate chip cookies, peanut butter cookies, or even snickerdoodles.
I used Pillsbury sugar cookie dough but you can use homemade cookie dough as well.
👩‍🍳 FAQs
How long do you cook cookie dough in the air fryer?
Cook time will vary depending on the size and type of cookie dough, however, for these sugar cookies, you will cook them for 4 to 5 minutes.
What temp should you air fry your cookies?
To bake sugar cookies in an air fryer, set the temperature to 320 degrees or 20 degrees less than the regular oven temperature called for. The cookies will cook quickly, so keep an eye on them to prevent burning.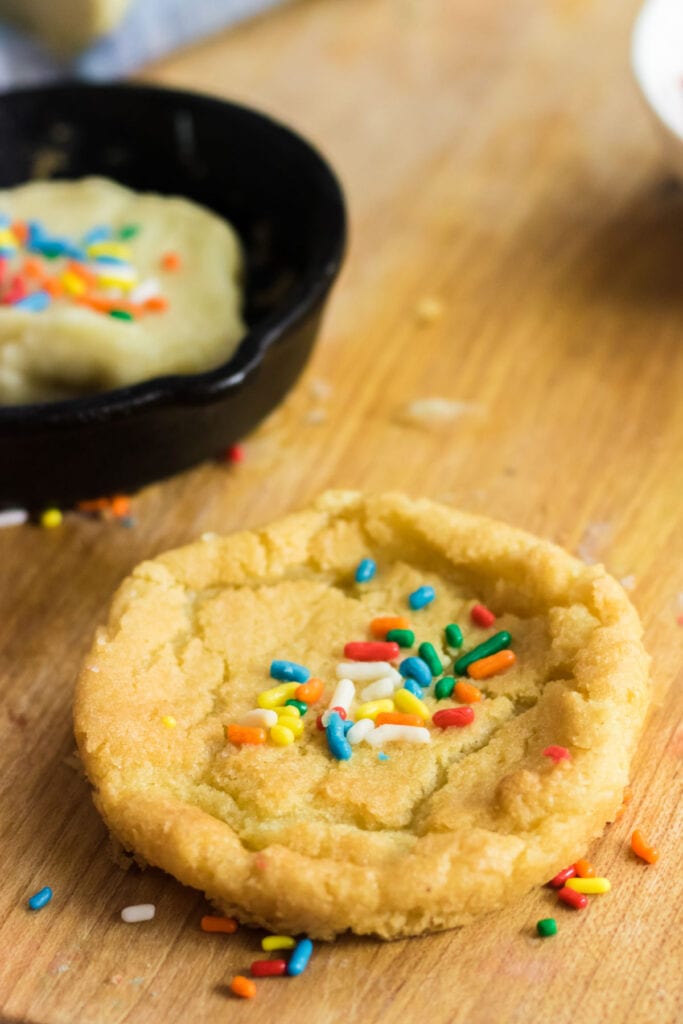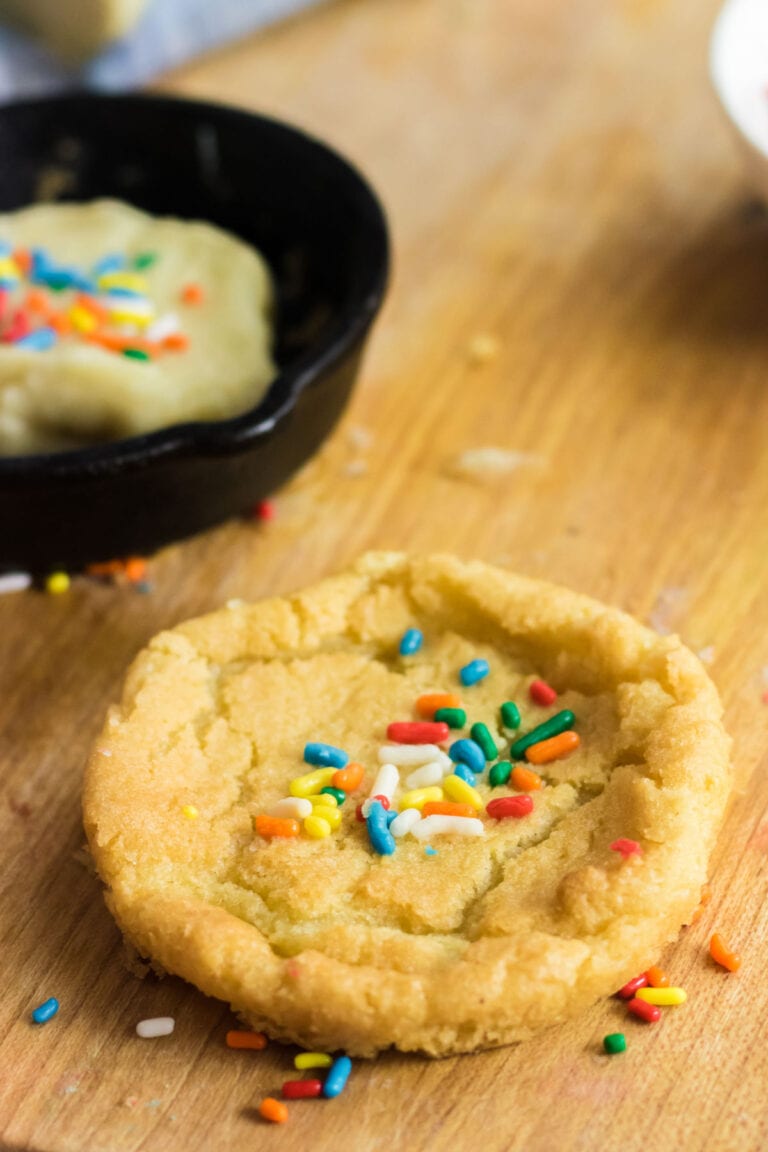 📚 Related recipes
All of these cookies bake well in an air fryer.
📞 The last word
I love making homemade cookies in my air fryer!
Chocolate chip air fryer cookies have an unbelievably crispy edge with gooey, chewy middles. Sugar cookies are the perfect balance of crispy and chewy, and all the other traditional recipes I've tried have been a huge success, too.
This is the easy way to bake cookies in small batches. I love it!
How to Make Sugar Cookies in an Air Fryer
Time needed: 6 minutes
Making sugar cookies in an air fryer is SO easy! Once you try it you'll be hooked.
Choose a baking pan.


Any baking pan that will fit in your air fryer will work. I like the small iron skillets the best because I feel they create a better texture.

Slice or separate cookies.

If you are using a tube of refrigerated cookie dough you'll want to slice cookies about ¼-inch thick.

Place on baking pan.

Place one cookie on your baking surface. There's no need to grease or oil it.

Put on rack in air fryer.

Put the baking pan holding the cookie on the rack in the air fryer. I like to center mine as much as possible so it gets a good flow of air.

Set heat for 330F

Set the heat for 330F or about 20 degrees lower than your regular recipe calls for.

Set timer for 5 minutes.

Set the timer for 5 minutes. You'll want to check the cookie about halfway through to see how it's doing and then I check it again at about 4 minutes - just to make sure it doesn't overbake.

Let cookie cool in baking pan for a few minutes.

Remove from the air fryer carefully - it will be hot! Let the cookie cool in the baking pan a few minutes to firm up and then enjoy!