These coconut white chocolate chip cookies have perfectly crispy edges and chewy middles with a sweet, buttery flavor that makes the coconut really sing. White chocolate chips? They're just icing on the cake, so to speak. Tropical flavored cookies that are perfect for summer snacking.
For this recipe you'll need: flour, baking powder, baking soda, salt, butter, brown sugar, white sugar, vanilla, egg, white chocolate chips, pecans, dried pineapple (optional)
If you're in a hurry click to go straight to the white chocolate chip cookies recipe.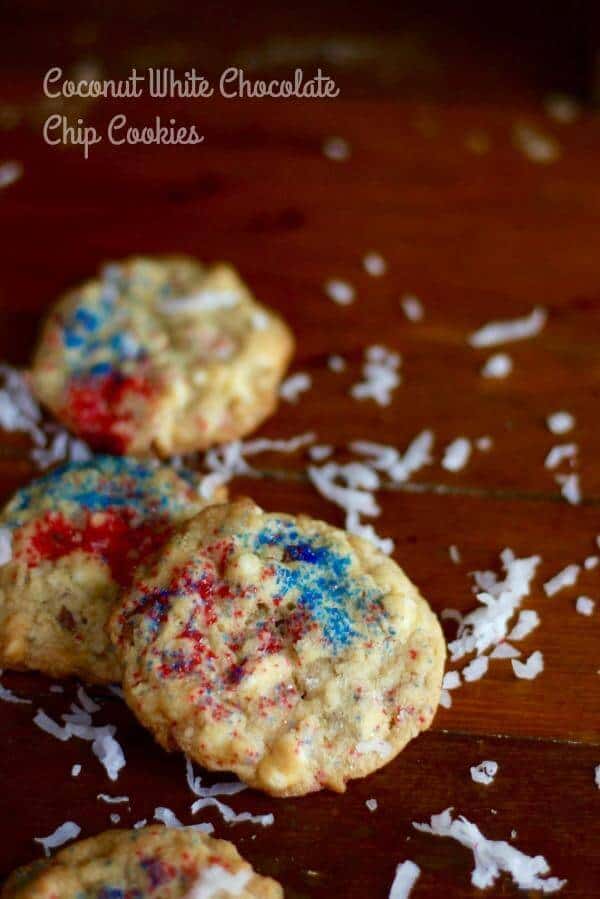 Coconut seems to be one of those ingredients that people either love or hate. Personally? I love it. I love the sweet, tropical flavor. I love the texture when it's toasted. I love it with chocolate. I love it with whipped cream. I. Just. Love. It.
At the moment I have just one son overseas in Korea. It's nice to have the other two in the states -- not near enough to see them often but definitely more than when they are halfway around the world. As much as I'd like to say I am one of those great moms that sends cookies weekly but sadly I am not. They are lucky if I get it together enough to send a box a couple of times a year. Well, Matt's birthday is July 11 and he's going to be 24.
Geez.
Anyway I had a couple of things to send to him so I decided to take the time to bake cookies, too. A box takes about 11 days to to get from Dallas to Korea so the cookies are usually not fresh but still good. After I sent the box I found out he was TDY away from the base for an indefinite amount of time.
THEN I remembered part of the reason I don't send them cookies. The dang things are usually stale by the time they get them. So, as of today the cookies are waiting for Matt. Hopefully he'll get them before they are petrified lumps. I'll let you know.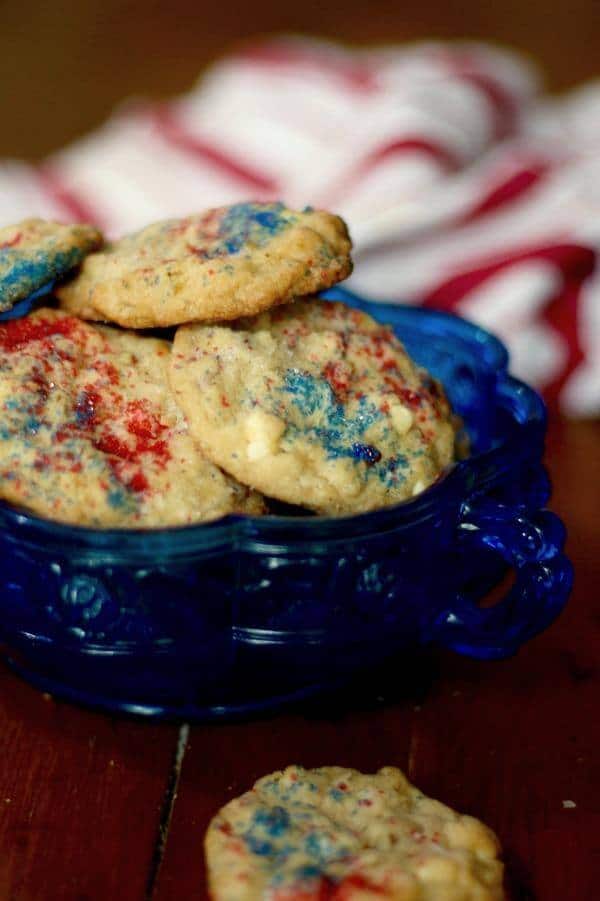 These are a very rich cookie because of all of the butter and white chocolate. Like all my chocolate chip cookie recipes you need to slightly undercook them and then let them cool before you eat them or they'll fall apart. Undercooking just a tiny bit is what gives them those chewy middles. I love them way too much!
So, Matt can't get to his coconut white chocolate chip cookies but there's no reason you can't enjoy them. Make a couple of batches and see what you think. Add in some dried pineapple for even more tropical flavor!
The following contains affiliate links. If you click through and buy then I get a small commission which doesn't affect your cost. This money is used to keep Restless Chipotle up and running smoothly. Thank you so much for being a part of Restless Chipotle!
A good vanilla is imperative. This is my favorite commercial vanilla -- lots of flavor. If you want to add a little tropical flavor this dried pineapple is just right.
Here's the coconut white chocolate chip cookies recipe. I hope you like it!

📖 Recipe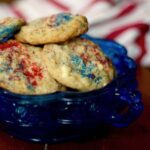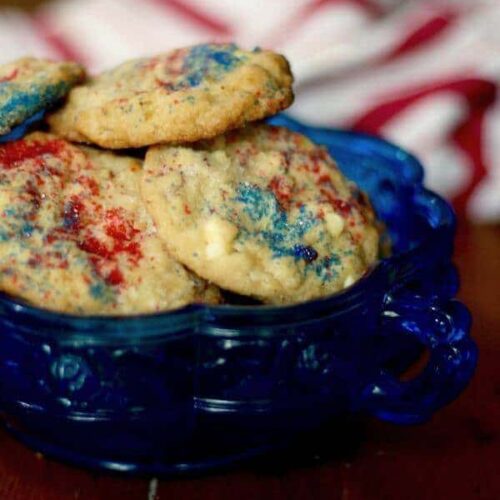 Coconut White Chocolate Chip Cookies
Print
Save
Saved!
Chewy, rich cookies with crispy edges have a bright tropical flavor that's just right for summer snacking. These freeze well baked or unbaked.
As an Amazon Associate I earn from qualifying purchases.
Ingredients
1 ⅔

cups

all-purpose flour

¾

teaspoon

baking powder

½

teaspoon

baking soda

½

teaspoon

salt

¾

cup

butter

,

room temperature

¾

cup

packed brown sugar

⅓

cup

granulated sugar

1

teaspoon

vanilla extract

1

large egg

2

cups

white chocolate chips

1

cup

flaked

,

sweetened coconut, toasted

1

cup

chopped

,

toasted pecans

½

cup

chopped

,

dried pineapple
I earn a commission from Instacart from qualifying purchases.
Instructions
Preheat the oven to 375F.

Stir the flour, baking powder, baking soda, and salt together.

Set aside.

Cream the butter, brown sugar, and sugar together until light and fluffy.

Mix in the vanilla and egg.

Quickly stir the dry ingredients into the butter mixture until well blended.

Fold in the white chocolate chips, coconut, and pineapple.

Drop by teaspoonfuls on a ungreased baking sheet.

Bake for 8 to 10 minutes, or until set but still slightly underdone.

Remove from oven.

Let cool for 5 minutes before removing from baking sheet.
You'll find more helpful tips and variations in the body of the post.
Nutrition information is estimated as a courtesy. If using for medical purposes, please verify information using your own nutritional calculator. Percent Daily Values are based on a 2000 calorie diet.
Sign up for the emails and never miss another recipe!!
We'll never share your email or send you spam. Pinkie swear.
If you liked these coconut white chocolate chip cookies you may also like...
Cranberry Oatmeal White Chocolate Chip Cookies
Blueberry White Chocolate Chip Cookies
Strawberry White Chocolate Chip Cookies Easy Peasy Pleasy
Inside Out Chocolate Chip Cookies Sally's Baking Addiction