Buttermilk is that substance that maintains life and is the foundation of nearly every recipe in the South. It runs through our veins and finds its way into almost every recipe. It is good stuff. really good stuff, although you would not have convinced me of that when I was a kid.
My dad drank it. In a glass. With salt and pepper. It was not appetizing. The end.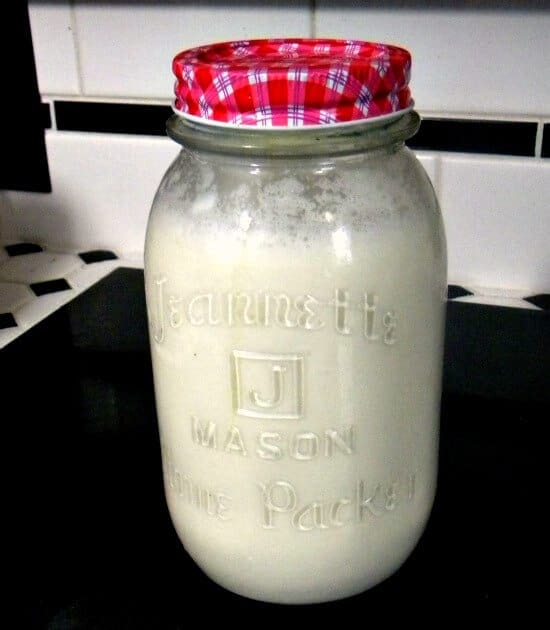 Somewhere in my adult life, when I learned to cook, buttermilk became a staple ingredient. It makes pancakes fluffier, chicken tenderer, cakes rise higher, and frosting takes on a tang. It is also really healthy stuff. Buttermilk is one of those cultured dairy products, like yogurt, that contains probiotics.
The thing is - have you ever really LOOKED at the ingredients of your standard grocery store buttermilk?
Cultured nonfat milk (this has the buttermilk starter in it)
Milk
Nonfat milk
Modified cornstarch (Hello GMOs)
Sodium Citrate
Carrageenan (actually not bad... it's seaweed and acts as a thickener)
Mono- and Di-glycerides
Locust bean gum
Salt
Vitamin A Palmitate
You know, I am pretty sure most of that never saw the interior of a cow's udder. While most of that isn't inherently bad - it isn't what buttermilk used to be made of, either. Plus, it is really hard to find whole buttermilk at the store - and I really don't like the low-fat version.
So, the alternative is to make your own. It isn't difficult and it doesn't need any special stuff. You will need a starter and for that I just use regular buttermilk. From the store. Once you have cultured your own buttermilk you just save a cup of it to start the next batch. Eventually the culture may weaken and you will need to get a new container of buttermilk from the store and begin the process again.
You can also buy starter cultures if you want to be a purist. I usually just get the stuff from the store. Bad me.
Here is the thing. Whenever you are working with cultures you have to make sure that you only introduce the bacteria (culture) that you want. This means that you have to sterilize the equipment you are going to use. One more time. Always sterilize your equipment. Heat a big pot of water just to boiling and put the jar and lids in it for a few minutes. Lift it out, put it upside down on a freshly washed tea towel and let it come to room temperature. While that isn't sterile enough for surgery it will be fine for our purposes.
Now. This is my way of making it. I like a rich, creamy buttermilk. You can use all whole milk if you want. You can use raw milk. You can use lowfat milk. It's up to you. As I said I prefer a higher fat content.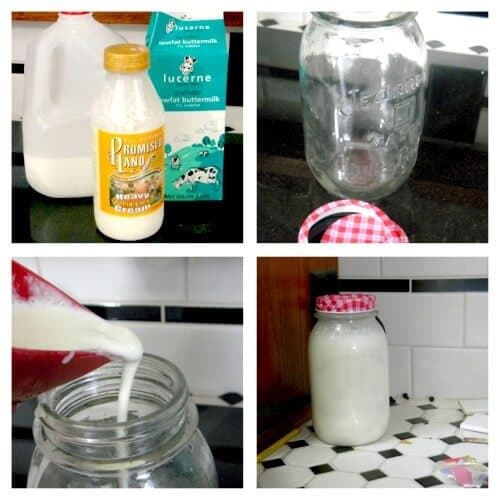 How to Make Buttermilk
Measure 2 3/4 cups of milk into the jar.
Add 1/4 cup heavy cream
Add 1 cup of buttermilk
Screw on the lid tightly
Shake vigorously
Put it in a warm place for 24 hours
After 24 hours (less if your house is warm, more if it is very cold) you should have a tangy, thick buttermilk. Use it in any recipe that calls for buttermilk but save one cup to make your next batch. Keep it tightly covered in the fridge.
Easy. Unlimited. And only microscopic amounts of all that stuff that was in the commercial kind.
Happy? You bet. Go make some pancakes.