When you know how to make buttermilk you'll never worry about running out again. There's several ways to do it - and I'm sharing all of them!
You'll find over 50 ways to use this in the Best Buttermilk Recipes category!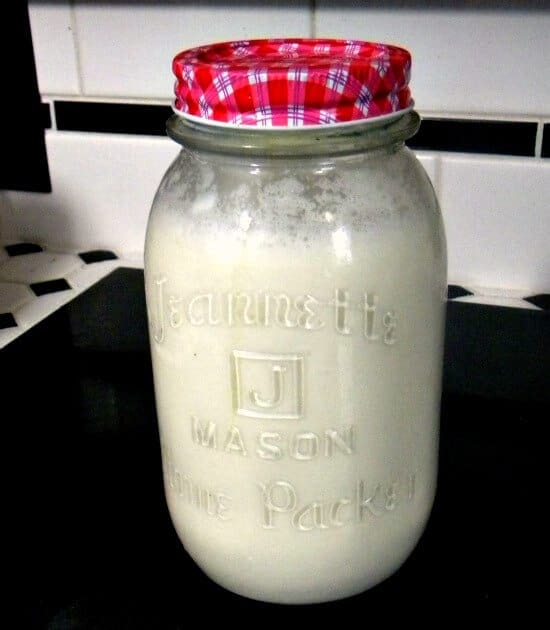 Jump to:
The magic ingredient
Somewhere in my adult life, once I learned to cook, buttermilk became  a staple ingredient.
It makes pancakes fluffier, chicken more tender, cakes rise higher, and frosting takes on a tang.
It's also really  healthy stuff. Buttermilk is one of those cultured dairy products, like yogurt, that contains probiotics. It's the secret sauce for millions of prizewinning recipes!
It's magic.
What is it?
In the past buttermilk was what was leftover in the churn after mama had finished making butter. At some point she started buying butter at the grocery store and the world had to come up with another way to get it.
The answer was culturing milk with friendly bacteria, similar to the way yogurt is made.
How to make cultured buttermilk
Making homemade real buttermilk, the cultured kind, is really easy.
Once you have cultured your own buttermilk you just save a cup of it to start the next batch. Eventually the culture may weaken and you will need to get a new packet of culture or container of buttermilk from the store and begin the process again.
Safety
Whenever you are working with cultures you have to make sure that you only introduce the bacteria (culture) that you want.
This means that you have to sterilize the equipment you are going to use.
One more time. Always sterilize your equipment. Here's how -
Heat a big pot of water just to boiling.
Put the jar and lids in it for a few minutes.
Lift it out, put it upside down on a freshly washed tea towel and let it come to room temperature.
While that isn't sterile enough for surgery it will be fine for our purposes.
Ingredients
Quart jar with lid
1 quart milk, 85 degrees - Any kind of milk is fine including soy, oat, almond, goat, etc...
Instructions
Sterilize a quart jar in hot water. It needs to be completely submerged for 10 minutes.
Add the 85F milk to the jar.
Add the starter culture.
Don't stir but let it sit for 10 minutes.
Stir to dissolve and cover.
Let sit at room temperature (about 72F) for 12 to 24 hours, or until thick.
Refrigerate.
Recultured
Another way to make homemade buttermilk is to reculture it by adding some cultured buttermilk to regular milk. This way you can create your own from what's leftover after you bake.
You can reculture your homemade buttermilk up to 4 or 5 times before you'll need a fresh starter (either the powder above or buttermilk from the store.)
Ingredients
1 quart milk, 85F
¼ cup buttermilk from the store
Instructions
Sterilize a 1 quart jar as above.
Add the milk and buttermilk to the jar and cover.
Shake to blend.
Let stand at room temperature as above.
Refrigerate.
Buttermilk substitutions
Homemade cultured buttermilk is the best and no matter what you substitute for it your results will be a little different.
Vinegar and milk
This is the most common buttermilk substitute.
Add 1 tablespoon vinegar to a measuring cup.
Fill to the 1 cup mark with milk.
Let stand for 5 to 10 minutes.
It will look a little curdled - that's ok.
Lemon juice and milk
Add 1 tablespoon lemon juice to a measuring cup.
Fill to the 1 cup mark with milk.
Let stand for 5 to 10 minutes.
It will look a little curdled - that's ok.
Other substitutions
Cream of tartar
Add 2 teaspoons cream of tartar to 1 cup of warm milk.
Stir well.
Let stand 5 to 10 minutes.
Sour cream
Mix ⅔ cups sour cream with ⅓ cup of milk or water.
Whisk until smooth.
Let stand for 5 to 10 minutes.
Kefir
Add milk or water to kefir until it's the consistency of buttermilk.
Mix well.
Yogurt
Mix ¾ cup unflavored yogurt with ¼ cup milk or water.
Stir to blend.
Rich buttermilk
This is my favorite! When I make buttermilk I like to add a little cream to the mix to make it more rich.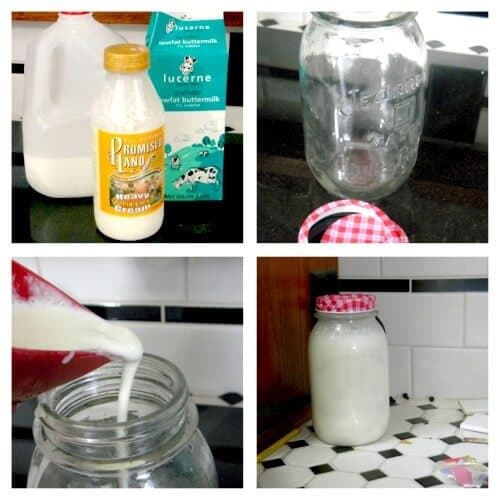 Measure 2 ¾ cups of milk into the jar.
Add ¼ cup heavy cream
Add 1 cup of buttermilk
Screw on the lid tightly
Shake vigorously
Put it in a warm place for 24 hours
After 24 hours (less if your house is warm, more if it is very cold) you should have a tangy, thick buttermilk. Use it in any recipe that calls for buttermilk but save one cup to make your next batch. Keep it tightly covered in the fridge.
Recipes
First published 2/27/12. Last updated 12/18/20 for better readability and more in depth information.