Buttermilk banana bread might just be the best banana bread recipe in the known universe. The buttermilk, oil, and brown sugar keep it moist and the super ripe bananas give it deep banana flavor. If you need to use up some brown, overripe bananas that the family won't touch this is your new favorite recipe. Easy to make and freezes well.
For this recipe you'll need: oil, butter, buttermilk, very ripe bananas, lemon juice, eggs, white sugar, brown sugar, vanilla, flour, baking soda, salt, pecans.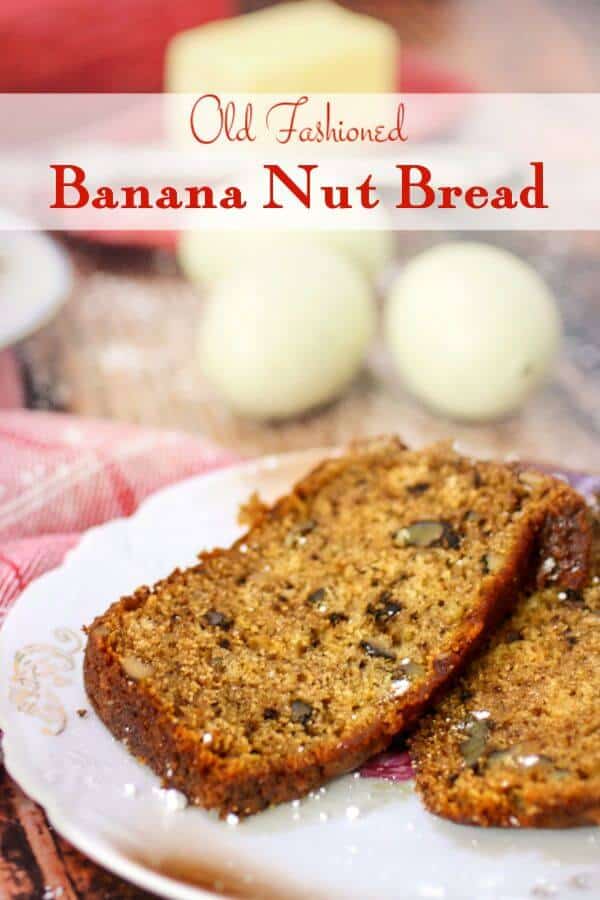 Recipe Backstory
I love finding great deals on bananas at the grocery store. Our store will have one of the big grocery bags of bananas marked $2.00 every couple of weeks and I snatch them up.
Of course, that means that within a couple of days I have gooey, overripe bananas that no one wants to eat. If there's a lot of them I'll blend them and freeze them in 1 cup sizes to use later on. Just add a little lemon juice so they don't get too dark.
My favorite way to use up bananas is either this banana walnut layer cake or banana bread. This buttermilk banana bread is rich, moist, and buttery – almost like a pound cake. Also, if you toast the pecans the flavor is so much better! Just put the chopped pecans on a cookie sheet and bake at 350F, stirring often until they become fragrant. So easy.
Let them cool before using, though.
FAQs
This recipe is Easy – it's a good recipe for a beginner.
What is the best banana bread recipe?
Personally, I think this one is. It's got a lot of rich banana flavor, is sweet but not too sweet, and stays moist for as long as it lasts.
How do you make easy banana bread?
Banana bread is not complicated – most recipes are easy enough for beginners.
How do you make moist banana bread?
The secret is twofold – 1). Use super ripe bananas – they should be black and almost pour out of the peels but not be molded. 2). I use half oil and half melted butter. Oil keeps the banana nut bread moist while the butter gives it flavor – best of both worlds!
Do you have to use baking soda in buttermilk banana bread?
Yes. The baking soda helps to neutralize natural acids in the bananas and buttermilk. Please don't try to substitute baking powder for the baking soda in this recipe.
How do I make bananas ripe faster?
Put them in a brown bag and twist it closed. Ethylene, a natural gas produced by fruit, will build up speeding up the ripening process.
How many bananas do I need for banana quick bread?
Figure on about 1/2 banana puree for every large banana, or 1/3 cup for every medium one. This measurement doesn't have to be precise… a little over or under isn't a problem.
Can bananas be too ripe to use in banana bread?
If the bananas are bubbling or moldy they're too ripe – other than that use your own judgement.
Why didn't my banana loaf rise? Why did it sink in the middle?
It could be one of several reasons:
Your leavening was out of date or had weakened for some other reason (baking soda or baking powder weakens with age or moisture).
You may have mis-measured.
You may have over mixed.
The batter was too wet – the consistency of the batter can change depending on how ripe the banana is. If it's too wet it will weigh the bread down and it won't rise.
If it sunk in the middle it wasn't cooked through.
Buttermilk Banana Bread Cook's Notes
Homemade banana bread is easy to make but here are a few tips to help –
Measure your flour by lightly spooning it into the measuring cup then leveling it off with the back of a knife.
Be sure to mash the bananas really well. I will usually pulse them in the blender a little to get them really smooth. I don't like biting into chunks of banana in my banana bread.
Don't over stir the batter. It will be thick and a little lumpy.
Always let the loaf cool completely before slicing or it may crumble.
Substitute walnuts, macadamias, or other favorite nuts for the pecans.
I like just a dusting of powdered sugar but you can also make a thin Confectioner's glaze to go over it by mixing confectioner's sugar with enough melted butter to give it the right consistency for a glaze.
You can store most quick breads, wrapped well, on the counter for up to 2 days. After that you risk mold so freeze for longer storage.
Omit the nuts if you want to!
You May Need…
The following are affiliate links. We are a participant in the Amazon Services LLC Associates Program, an affiliate advertising program designed to provide a means for us to earn fees by linking to Amazon.com and affiliated sites.
What's new? A brand new store full of things to help you make the recipes, celebrate the days, and create the memories! Check out Restless Chipotle & Co. As always, thanks so much for being a part of Restless Chipotle!
I use these Pyrex glass loaf pans for all of my bread baking whether I'm making yeast bread or quick breads. I love that they're easy to clean and last forever.

More Recipes That Use Up Ripe Bananas
If you need some help coming up with ideas on how to use up overripe bananas you've come to the right spot! Here are some of my favorites from here on Restless Chipotle.
Easy Buttermilk Banana Bread Recipe
Quick breads are the perfect addition to brunch or a weekend breakfast and, of all of the varieties, banana bread recipes seem to be perennial favorites! If you happen to be looking for a gluten free banana bread check out this GF Banana Bread recipe from Gimme Delicious.
If you love this moist buttermilk banana bread please give it 5 stars.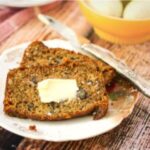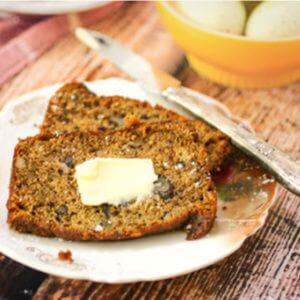 Buttermilk Banana Bread
Print
Add to Collection
Go to Collections
If you'd like the bread to be a lighter golden brown use all regular sugar instead of part brown sugar.
Total Time
1
hour
5
minutes
Servings
20
slices/servings
As an Amazon Associate I earn from qualifying purchases.
Ingredients
1/2

cup

oil

,

, peanut, sunflower, walnut, other light oil

1/2

cup

butter

,

,melted - unsalted -room temperature

2/3

cup

buttermilk

2

cups

banana

,

very ripe - should almost be a liquid

1/2

tablespoon

lemon juice

4

eggs

,

room temperature

1 3/4

cups

white sugar

3/4

cup

brown sugar

1/2

teaspoon

vanilla

3 1/2

cups

flour

2

teaspoons

baking soda

1/2

teaspoon

salt

2/3

cup

pecans

,

, pecans -coarsely chopped
Instructions
Grease and lightly flour 2 loaf pans.

Beat the oil, butter, eggs, vanilla, both sugars and buttermilk until well blended.

Beat in the banana and lemon juice.

Mix the flour, baking soda and salt and stir into the banana mixture until well blended.

Add the chopped pecans and gently stir into the batter by hand.

Spoon into two greased loaf pans and bake at 350f for 1 hour or until a toothpick stuck into the center of a loaf comes out clean. *IMPORTANT oven times vary from place to place and oven to oven... Start checking at the 50 minute point!

Cool in pans for 15 minutes then gently turn out and finish cooling.

Dust cooled loaves with Confectioner's sugar.
Notes
These loaves freeze well. Wrap cooled loaves snugly in plastic wrap and place in a freezer container. Freeze for up to 3 months. 
Nutrition
Serving:
1
slice
|
Calories:
320
kcal
|
Carbohydrates:
48
g
|
Protein:
3
g
|
Fat:
13
g
|
Saturated Fat:
3
g
|
Cholesterol:
13
mg
|
Sodium:
229
mg
|
Potassium:
149
mg
|
Fiber:
1
g
|
Sugar:
28
g
|
Vitamin A:
170
IU
|
Vitamin C:
2.1
mg
|
Calcium:
24
mg
|
Iron:
1.2
mg
Tried this recipe?
Tag me!! @Marye_RestlessChipotle