This buttermilk brined roast chicken recipe is unbelievably delicious. Even though it takes time it's super easy, too.
To say that Texans are fond of their buttermilk is like saying that a cat is fond of catnip. Buttermilk goes in everything. You pretty much can't make biscuits, cakes, or doughnuts with out it — and once you are done reading this you won't be able to make roast chicken without it either.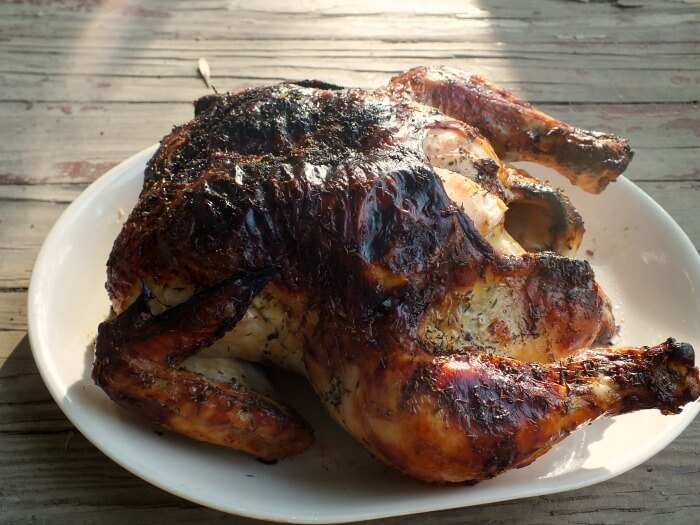 Choose the largest chicken you can find. It will have more usable meat per pound and is more economical.
You'll prepare this chicken, put it in a large bag, then cover it with buttermilk and let it sit for 8 hours or overnight. The brine begins breaking down the tough fibers in the meat as it marinates. Although it was once thought that the breakdown of tissue was caused by acids in the brine we now know it is a reaction between the calcium and an enzyme found in the meat that causes it to age (in a good way) very quickly. Be warned, if you leave the meat in the buttermilk too long you will end up with meat-mush.
This particular recipe is marinated longer than usual because you are using a whole chicken. If you are doing just chicken breasts then you won't want to marinate it longer than 45 minutes or so.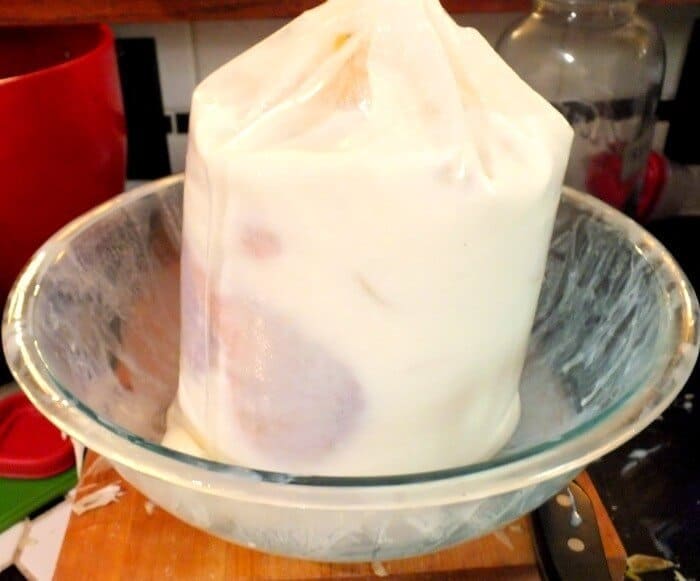 By the time your roast chicken is done and the meat is buttery tender with juices drizzling down the with every slice, your stomach is going to be doing some serious growling. This dish is not just going to make your mouth water — it's going to make it gush. The aroma of it as it is roasting is enough to make a person sing, you know — if they actually could sing on key and all. Lemony and garlicky scents waft through the house and linger after the dishes are done. If you don't want to roast it you can also use a rotisserie.
Serve this chicken with some steaming biscuits, mashed potatoes, greens with bacon and balsamic, and a pecan pie for dessert. That's one of those meals that women used to make when they wanted to get themselves a husband. You could probably at least get some new shoes out of it — it's that good.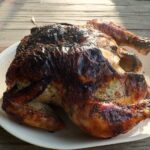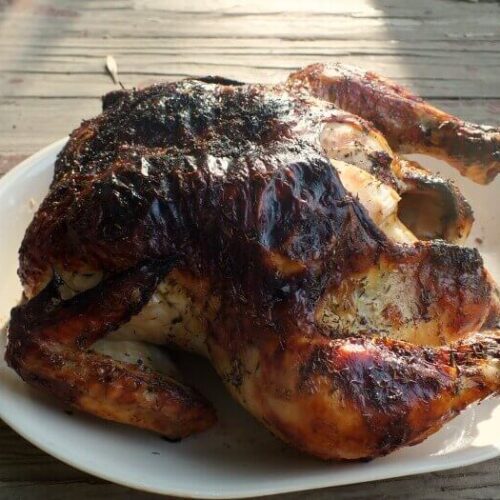 Buttermilk Brined Roast Chicken
Print
Save
Go to Collections
Butter-tender chicken with a delicate garlic and lemon flavor is achieved by brining in buttermilk for a minimum of eight hours.
As an Amazon Associate I earn from qualifying purchases.
Ingredients
1 ½

lemons

1

quart

buttermilk

4

garlic cloves

,

, crushed

1

tablespoon

kosher salt

1 3 ½-

to 4-pound roasting chicken

1

bunch fresh thyme

¼

cup

unsalted butter

,

, room temperature
Instructions
Mix the buttermilk, garlic, and salt in a bowl.

Put the chicken in a large bag and pour the buttermilk mixture over the top.

Seal, pressing out all of the air, and put in the refrigerator. Keep it in a large bowl in case of leakage.

Brine for 8 to 24 hours.

Remove chicken and rinse. Don't save the buttermilk for anything - it is not usable.

Pat dry inside and out.

Slice half of a lemon.

Gently loosen the skin on the chicken and slide the lemon slices between the meat and the skin.

Place the remaining half lemon and half of the thyme in the cavity of the bird.

Rub the skin with butter, season with salt and pepper.

Sprinkle liberally with the remaining thyme, chopped fine.

Place the chicken on a roasting rack and cook at 425 for 30 minutes.

Reduce to 350 and roast until thermometer inserted into the thickest part of the thigh reads 160, about 25 minutes more.

Let stand for ten minutes before carving. The temperature will continue to rise to a safe 165F.

Discard the lemon and serve.
Notes
Buttermilk and lemons are not figured into the nutrition info since they are discarded.
Sign up for the emails and never miss another recipe!!
We'll never share your email or send you spam. Pinkie swear.
If you liked Buttermilk Brined Roast Chicken you may also like...
Baked Chicken in Cream with Hatch Chiles RestlessChipotle