Wondering what to serve with old-fashioned tuna noodle casserole? There are so many good side dish options to choose from, you'll never be bored with dinner again!
Experimenting with different flavors and ingredients is a great way to make a complete meal the whole family will love. It makes dinner time easy on you and delicious on the taste buds.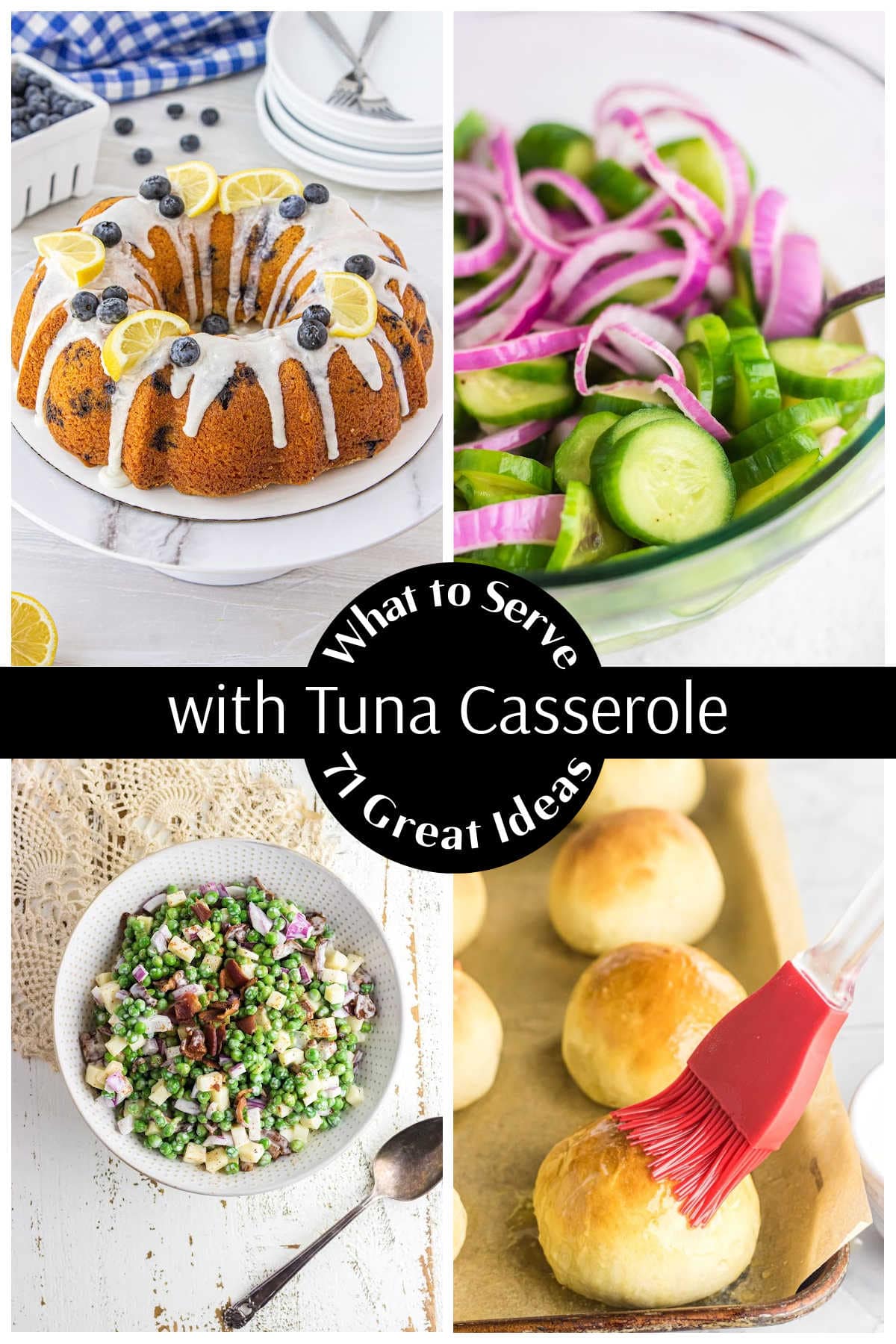 Table of Contents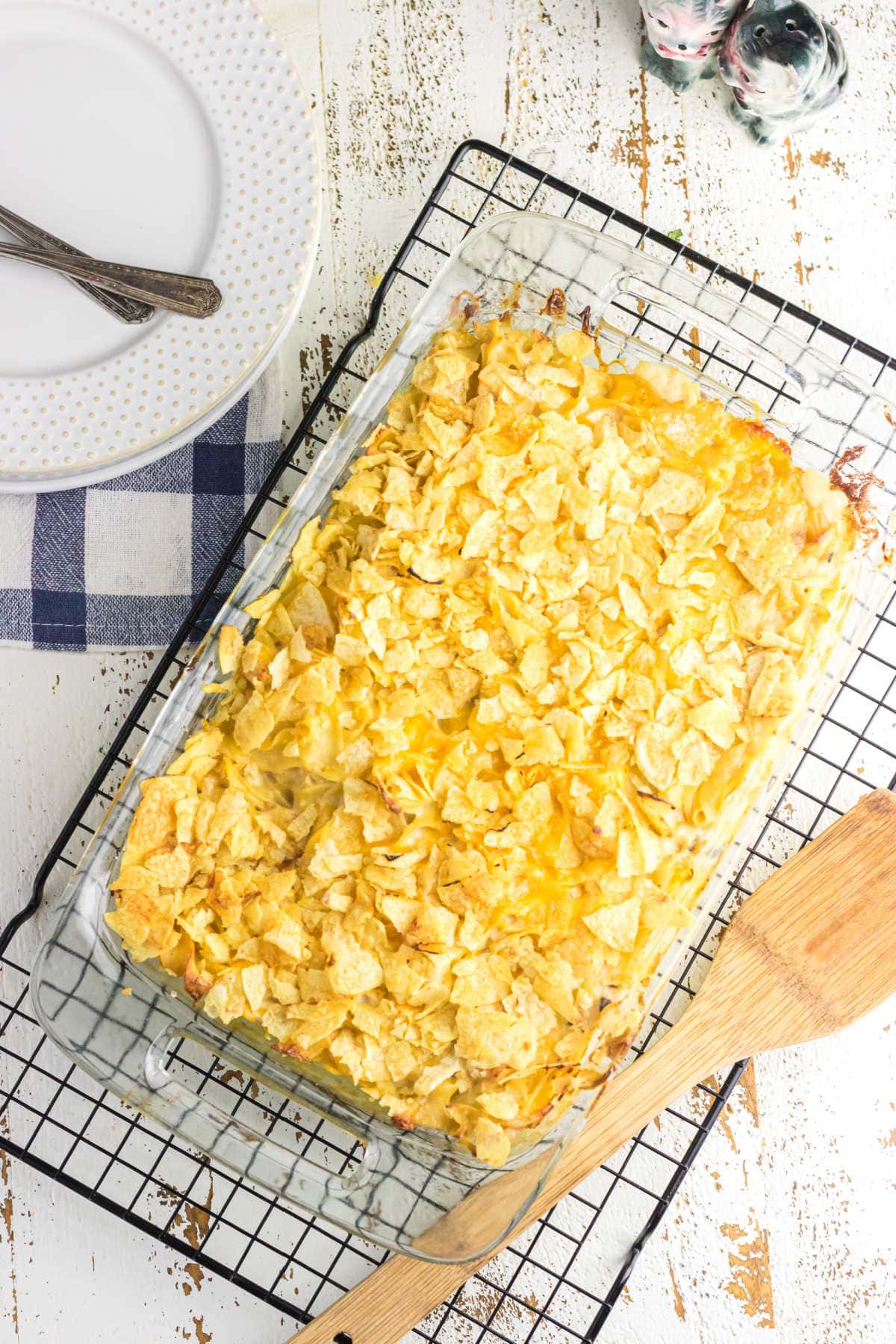 ❤️ Why we love it
Tuna is cheap but also a good source of hearty protein
A great option on busy weeknights (make it ahead or freeze leftovers)
It's topped with potato chips—need I say more?
Cheesy tuna noodle casserole is a classic American dish that's finished prepping in just a few, easy steps. It's a family favorite that's been passed down for generations because everyone enjoys its simple, comforting flavor!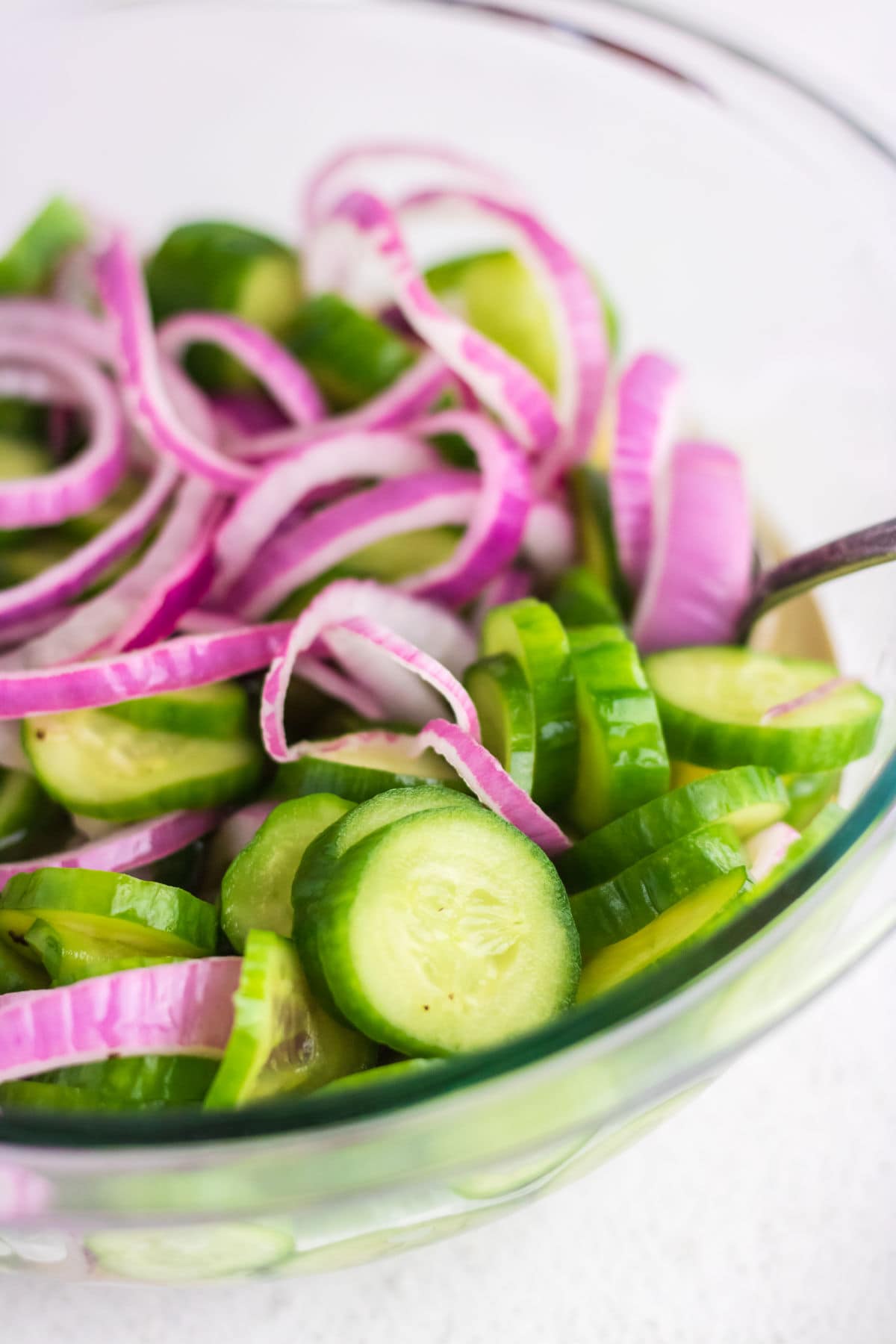 🥦 Vegetables and Sides
Vegetables are a great side to serve with tuna casserole because they add some much-needed crunchiness to the creamy sauce and textures. The bonus? These simple recipes are so easy to make!
Southern cucumber salad (shown above in all its crisp, fresh glory)
Sweet peas/green peas
Roasted Brussels sprouts
Fresh green salad
Bacon-wrapped asparagus
Steamed mixed veggies
Pan-fried crispy Brussels sprouts
Steamed asparagus
Side salad with tomatoes and cucumbers
Bibb lettuce salad
Roasted red peppers and green beans
Wedge salad
Oven-roasted broccoli
🥖 Breads
There are so many different types of bread, and almost all of them are a good choice for serving with tuna casserole. Classic comfort food just isn't the same without a roll or breadstick on the plate!
Take-and-bake grocery store baguettes
Pretzel rolls
Crescent rolls
Frozen dinner rolls
Rustic bread (made in a cloche)
Cheesy bread
Texas toast
Garlic knots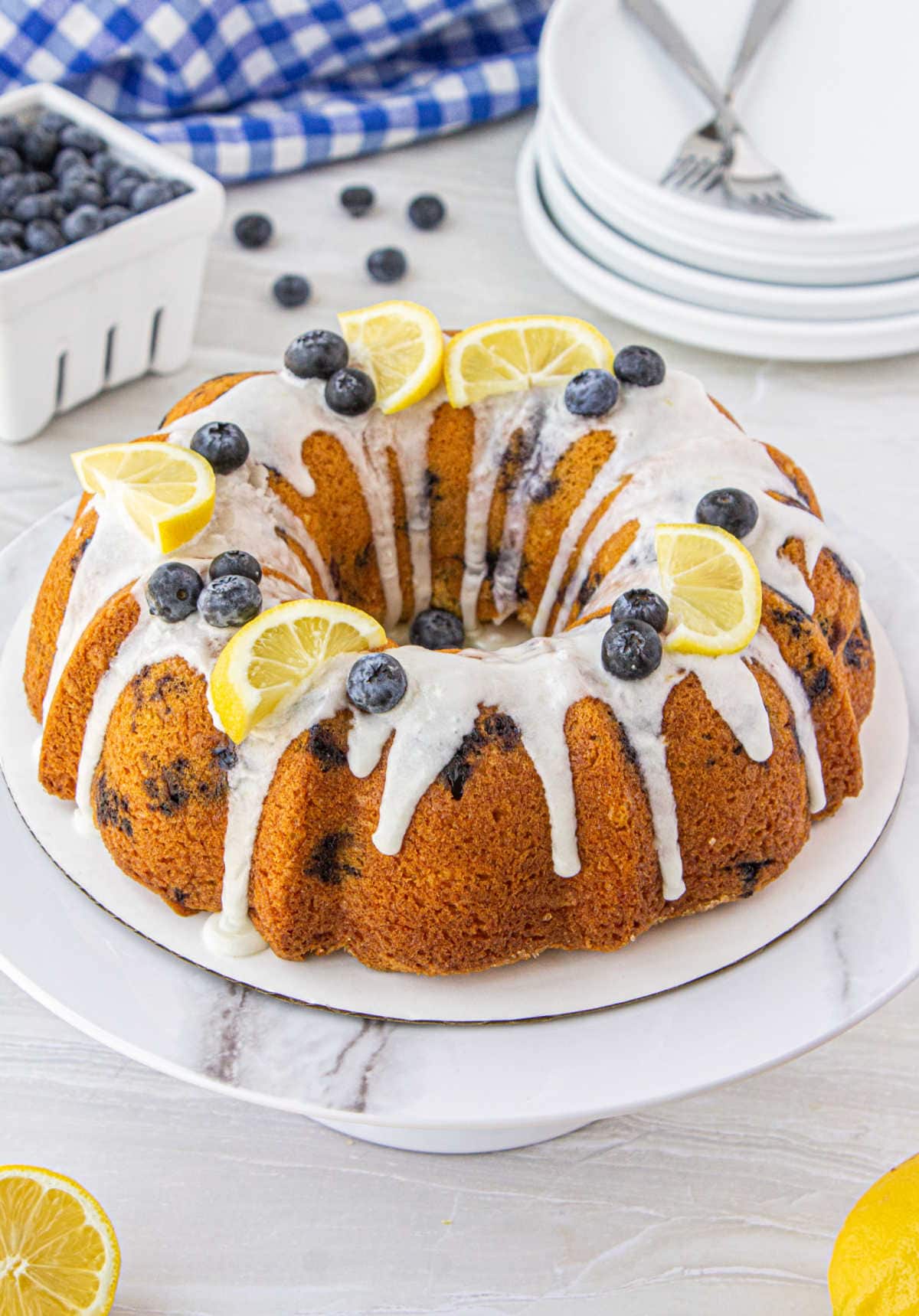 🍰 Desserts
Every main dish deserves a little something sweet at the end—it's only fair! Serve these desserts on tuna casserole night for a homestyle meal from start to finish.
Apple crumble
Carrot cake
Baked Alaska
Fresh fruit
🍷 Wine and cocktails
Even leftover tuna casserole can feel like a fancy date night out if you serve a little wine or a cocktail with it! These choices best complement the delicious, easy meal.
Sparkling Rosé
Manhattan cocktail
Beaujolais
French 75 cocktail
Pinot Grigio
Martini
Cotes du Rhone wine
Rum 'n Cola
Pinot Noir
Riesling
🍇 Garnish
Despite its crunchy topping and cheesy sauce, tuna casserole can still use some garnish. Don't forget to set these out on the dinner table for the perfect finishing touch.
Freshly grated parmesan cheese
Black pepper
Lemon juice (to squeeze over steamed veggies)
Hot sauce
Chopped parsley
Fresh chives
💭 Things to know
These tips will help you to have the best tuna noodle casserole ever—and, yes, that's exactly how the kids will describe it, too!
Following an easy tuna casserole recipe is the first step to success.
Wide egg noodles are usually used in the classic dish, but you can swap them with elbow macaroni, rotini, or another similar pasta.
Don't overcook the noodles. Add them into the casserole "al dente" or they'll get mushy during baking.
You can use a variety of ingredients as your crunchy topping. Get creative with Ritz crackers, cornflakes, homemade bread crumbs, Panko breadcrumbs, crushed Chex, or something similar from your pantry!
Sometimes, a shallower baking dish will cause your casserole to dry out. If you struggle with this, try using a deeper casserole dish next time.
Always let tuna casserole cool for a couple of minutes before digging in. Not only is it piping hot at first, but cooling lets the sauce thicken up.
Prep the casserole ahead of time and cover it with plastic wrap. Store in the fridge for two days. Then, pop it in the oven when you're ready!
You can freeze an unbaked tuna casserole for up to three months. Let the frozen casserole thaw overnight before cooking as directed.
Store tuna casserole leftovers in an airtight container and they'll last, refrigerated, for up to four days.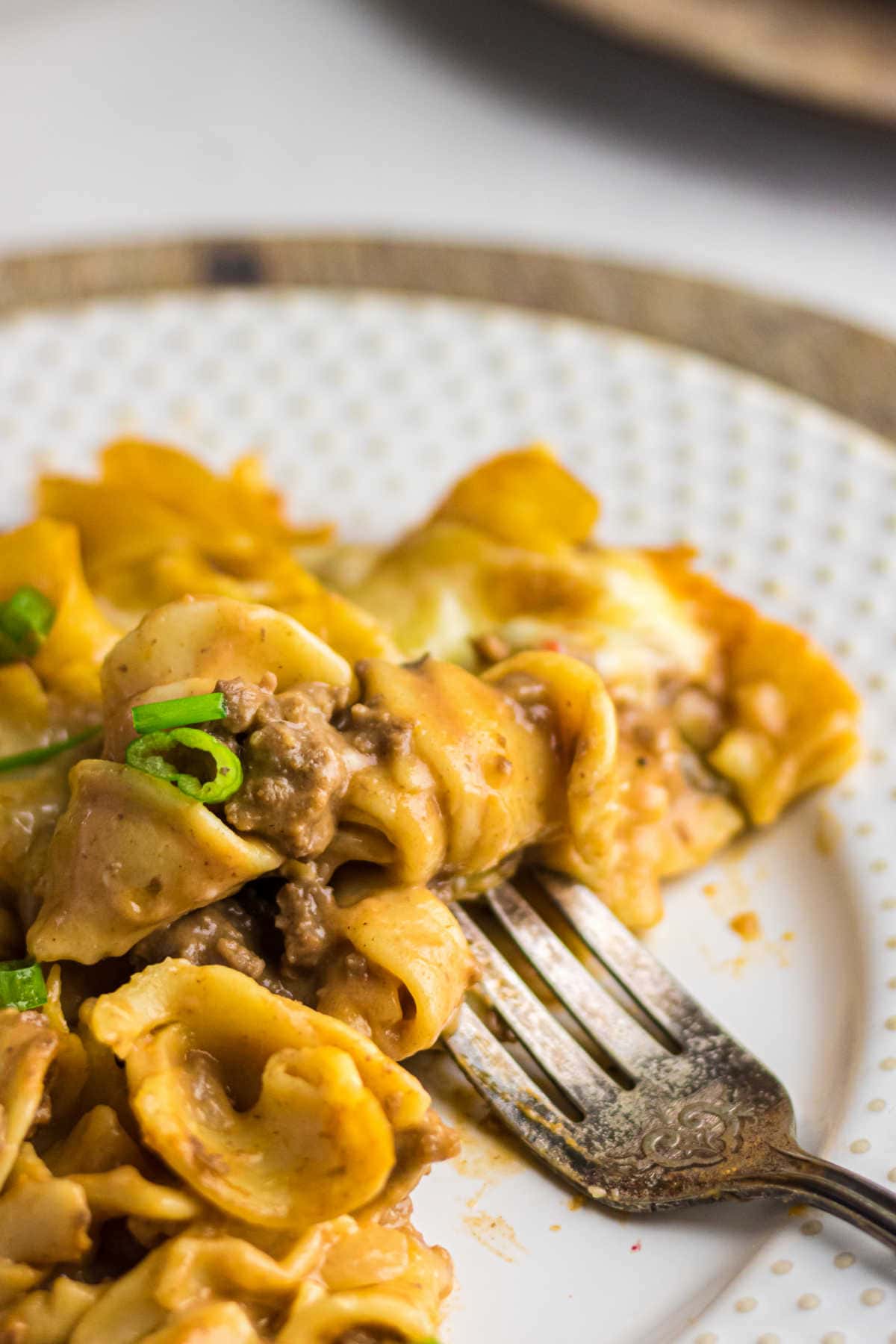 These side dishes also go with...
The best side dishes are versatile, so in addition to tuna casserole, they're great to serve with these main meals, too.
These side dishes DO NOT go with...
Need something else for your dinner plan this week? Here are a few recipes that are totally different from a tuna fish casserole, but still tasty on their own.
Don't serve tuna casserole with...
This vintage casserole goes with a lot of great sides but beware of the following - they just don't work with the noodles!
baked beans
pasta or macaroni of any kind
mashed potatoes or any kind of potatoes really
winter squash
rice
stuffings
corn
black beans, navy beans, etc
Old-fashioned tuna noodle casserole is an easy classic. My mom usually just chopped up some iceberg lettuce and slapped some Catalina dressing on the table!
Any kind of raw, crunchy vegetable is perfect - sliced bell peppers, celery, carrot sticks, etc.
This is such a hearty main dish that you can get away with quick and easy side dishes if you don't have time for cooking anything. Or, consider a make-ahead side dish to keep things super easy!
What do you like to serve with tuna casserole? Leave a comment and give us your ideas!