Tender, spicy roast cauliflower is delicious as a side dish or as an appetizer with Ranch or Bleu Cheese dip. Try it just once and you will be addicted.
Spicy roasted cauliflower is a unique side dish that takes cauliflower to a whole new level of flavor. Perfect with pretty much any main dish it's kinda sweet, kinda spicy, and all kinds of yum.
Roasted vegetables are appearing on menus everywhere - and with good reason. They are easy to make and the roasting process brings out more flavor than you can even imagine.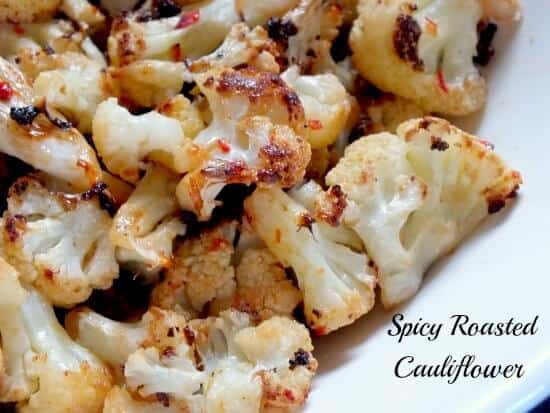 I happen to love cauliflower. To be honest, there aren't many vegetables I don't like - I am not a big meat eater at all. Anyway, cauliflower has been a favorite my whole life. My mom use to cook it in milk and when it was done she would ladle it into a bowl, add a creamy, yellow pat of butter, and a few twists of pepper. It would come to the table, fragrant, milky steam wafting up from the bowl, the butter melting and creating puddles of color in the whiteness of the dish.
It was beautiful to behold.
This spicy roasted cauliflower recipe was obviously inspired by God. I am not being disrespectful - I am being honest. Tender and sweet cauliflower is bathed in a spicy olive oil and then roasted to perfection.
When I was in Birmingham I met the folks that create Gourmet Garden herbal products. These things are amazing. They are fresh herbs made into a paste and stored in tubes - like a tube of hand lotion. You squeeze out the amount you need for the recipe - all ready minced and ready to go. They stay fresh in the refrigerator, too. You can find them in the produce section of your store. If your grocer doesn't carry them I would strongly suggest begging, pleading, and offering cupcakes as an incentive. They are really that good.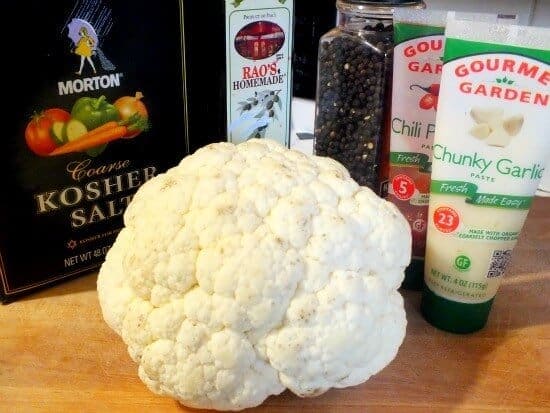 Funny story - In Birmingham at the conference I stopped to chat and taste some of the product that Gourmet Garden had displayed. I immediately reached for the chili paste and was promptly warned that it was super spicy. I smiled and said, "Eh, I'm from Texas." You know, like that explained everything, right? So help me, I don't know why they thought it was terribly spicy - they must have been from Maine or something. Anyway I could have licked the plate, it was so good.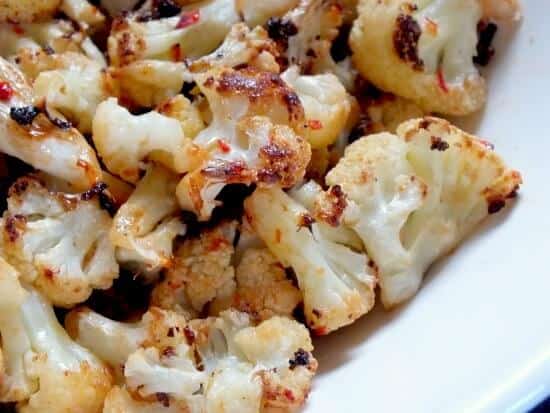 So, basically you cut the cauliflower into small florets, mix up the marinade, and then roast the whole shebang for about 15 to 20 minutes. What comes out of the oven is deliciously aromatic, beautiful to behold, and will knock your socks off - especially if you add too much spice.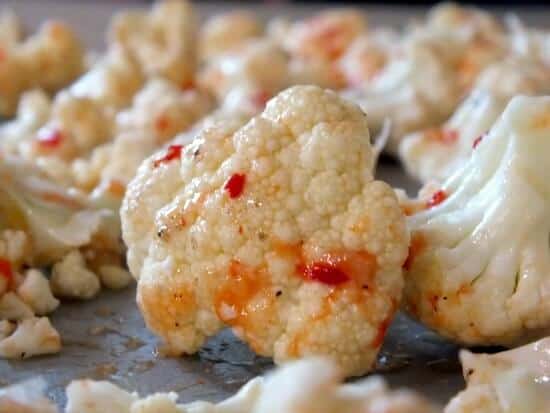 I promise you that as I am writing about this my mouth is watering. OMG, it is just that addictively good. And you know I don't lie - especially not about food!
Roasted cauliflower will go with anything. The roasting brings out sweet flavor and adds a nice texture and color because of how it caramelizes around the edges. Even though there is olive oil on the vegetables it isn't oily or greasy.
Have I mentioned how good this stuff is? O.k... Have I mentioned how easy it is?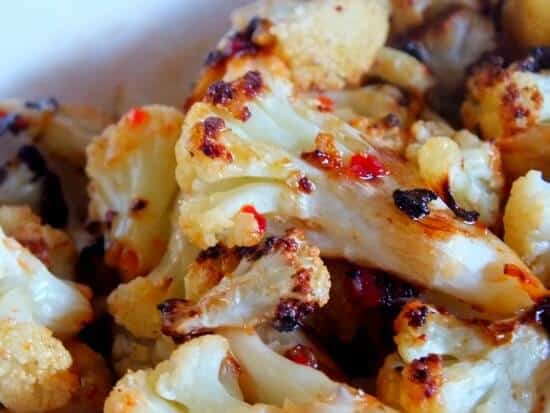 You can leave the spicy roasted cauliflower florets a little bigger and use this as an appetizer - just serve with blue cheese or ranch to dip the cauliflower in. Ready to give it a try?
Yeah. I thought so.
📖 Recipe
Spicy Roasted Cauliflower
Print
Save
Saved!
Tender, spicy roast cauliflower is delicious as a side dish or as an appetizer with Ranch or Bleu Cheese dip. Try it just once and you will be addicted.
Ingredients
1

head of cauliflower

,

, washed and broken into florets

3

tablespoons

olive oil

,

(don't scrimp on quality)

1

tablespoon

of Gourmet Garden Chunky Garlic

1

tablespoon

of Gourmet Garden Chili Paste

,

, hot or mild (if you like heat use the Hot Chili Paste but add it a little at a time.)

Kosher salt

Freshly ground pepper
I earn a commission from Instacart from qualifying purchases.
Instructions
Preheat the oven to 450F.

Brush a cookie sheet with a little olive oil.

Mix the 3 tablespoons of olive oil, and herbs until

well blended

.

Taste and add salt and pepper as needed.

Pour over the cauliflower and mix gently so that all of the florets are covered with the oil.

Let the cauliflower rest in the oil for 20 minutes or so.

Spread florets out on the cookie sheet.

Place in oven and roast for about 20 minutes or until tender and the florets have begun to caramelize.

Stir the cauliflower often during roasting - don't allow it to burn.
Notes
Gourmet Garden products are available in the produce section of many grocery stores. If you can't find the products substitute fresh minced garlic and Sweet Thai chili or hot sauce to taste.
You'll find more helpful tips and variations in the body of the post.
Nutrition Facts
Calories:
86
kcal
|
Carbohydrates:
5
g
|
Protein:
2
g
|
Fat:
7
g
|
Saturated Fat:
1
g
|
Polyunsaturated Fat:
1
g
|
Monounsaturated Fat:
5
g
|
Sodium:
29
mg
|
Potassium:
287
mg
|
Fiber:
2
g
|
Sugar:
2
g
|
Vitamin C:
46
mg
|
Calcium:
21
mg
|
Iron:
0.4
mg
Nutrition information is estimated as a courtesy. If using for medical purposes, please verify information using your own nutritional calculator. Percent Daily Values are based on a 2000 calorie diet.
Sign up for the emails and never miss another recipe!!
We'll never share your email or send you spam. Pinkie swear.