Whether you're grilling on the weekend or hosting a casual backyard get-together you'll find plenty of classic southern cookout side dishes and expert tips to make it perfect!
A new favorite is this easy cornbread salad. Give it a try!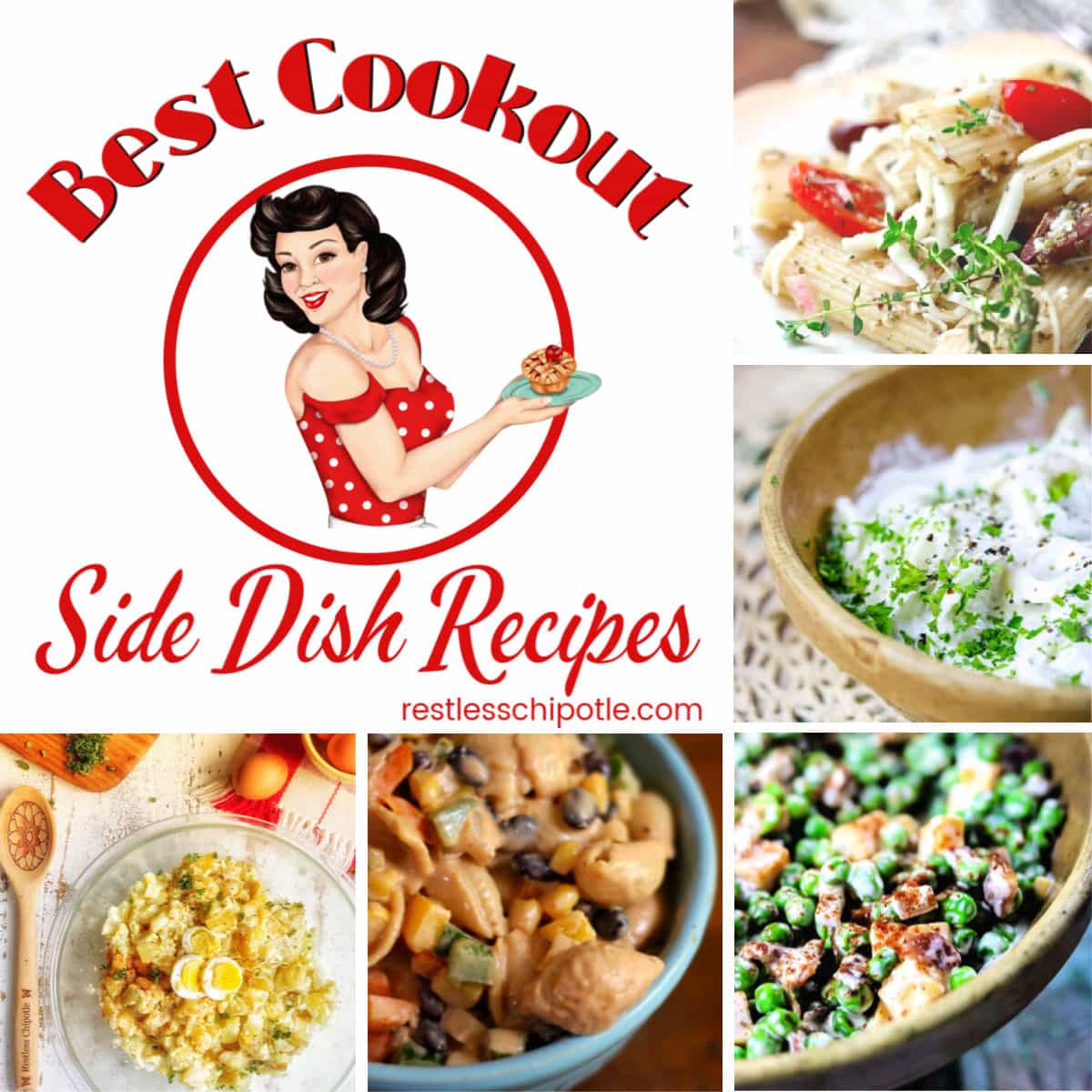 Jump to:
Old Fashioned Macaroni Salad
Recipe: Macaroni Salad
Let's start with everyone's favorite side dish - Mom's macaroni salad! Creamy, tangy, and wonderfully make ahead!
It's the classic recipe that Mom no doubt got from the back of the Hellmann's mayonnaise jar and welcome at backyard barbecues all summer long.
Potato Salad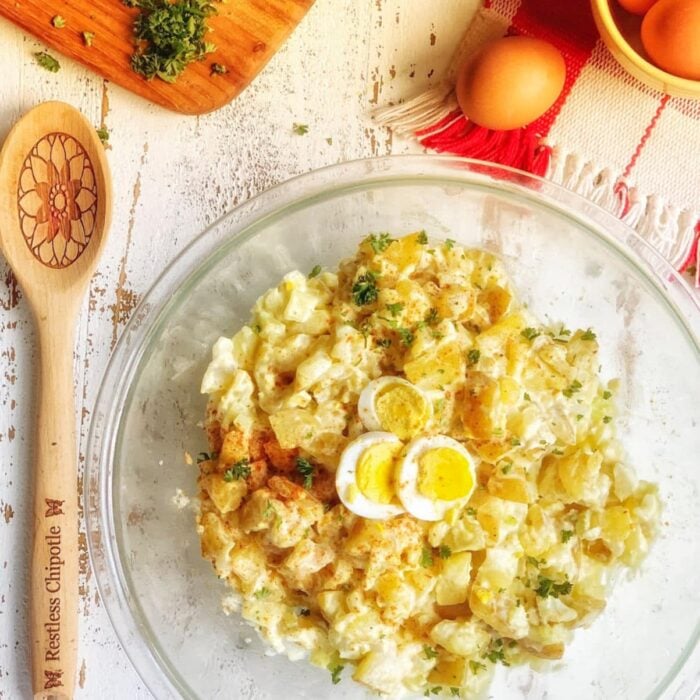 Recipe: Potato Salad
Potato salad is definitely one of the best cookout side dishes ever! It goes together easy, everyone loves it because it's full of delicious flavors, and it can be made ahead of time!
Just make sure to keep it on ice if you're serving outside.
BBQ Macaroni Salad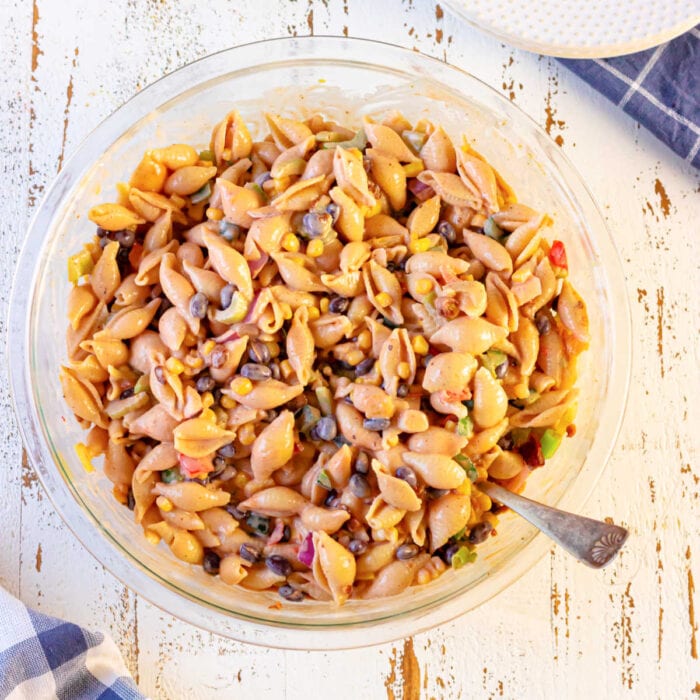 Recipe: BBQ Macaroni Salad
This quick side dish recipe is perfect for your next cookout! When you want to really make people take notice of the (usually) ignored side dishes serve this easy BBQ macaroni salad!
It's creamy like the original but this has some sweet heat and southwestern goodness!
Pea and Cheese Salad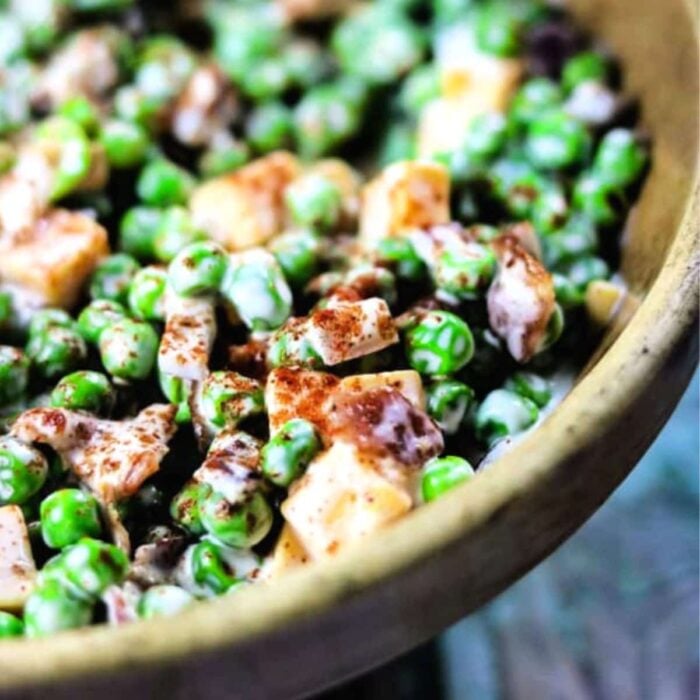 Recipe: Pea & Cheese Salad
Use fresh or frozen peas for this luscious, southern style pea salad recipe! Sweet green peas, crispy bacon, and cheddar are mixed together with red onion and a yummy mayonnaise based dressing. A great side dish for any cookout!
Grilled Pear Salad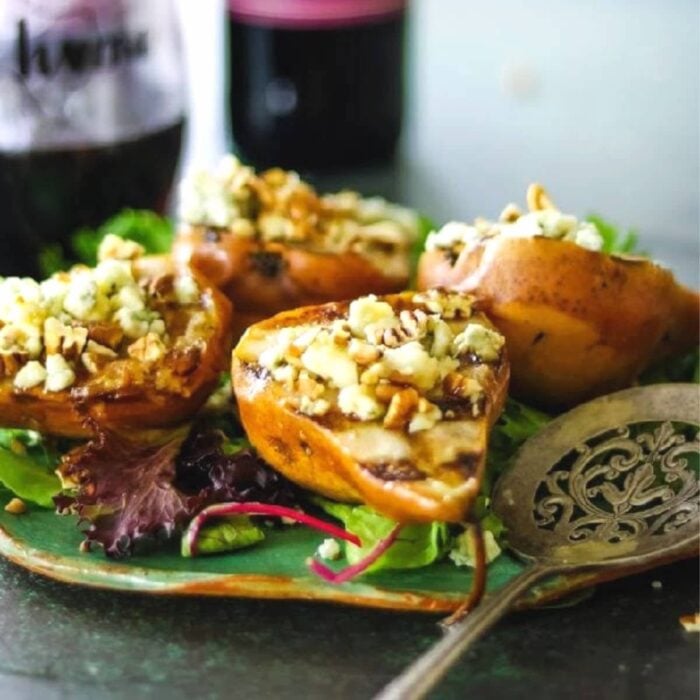 Recipe: Grilled Pear Salad
I've taken the southern classic pear salad and updated it by grilled the pears to perfect, caramelized sweetness and adding a sprinkle of bleu cheese and chopped pecans then drizzling with honey. Simple and delicious!
Italian Pasta Salad with Vinaigrette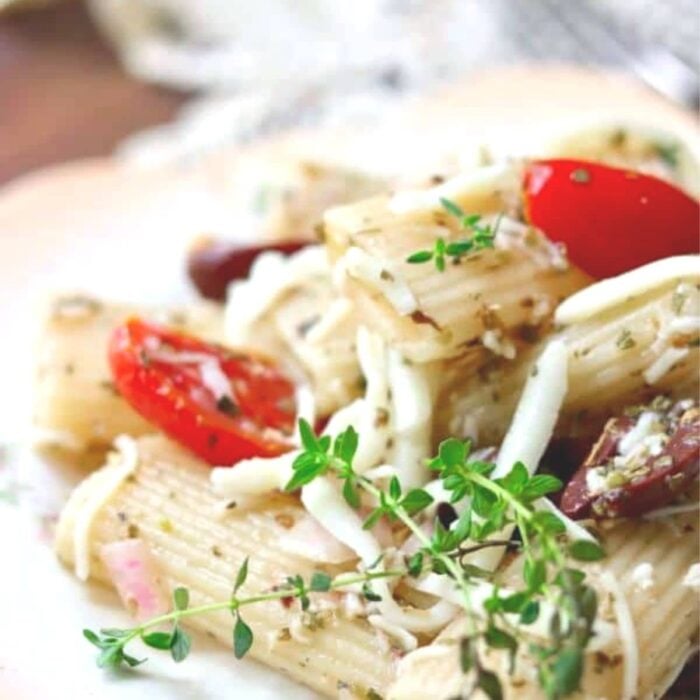 Recipe: Italian Pasta Salad
This makes it into the collection of best cookout side dishes because it tolerates heat! No worries about spoilage like with mayo based dressings. Fresh, bright flavors - it will disappear fast. It needs to be made the day before serving.
Creamy Cucumber Salad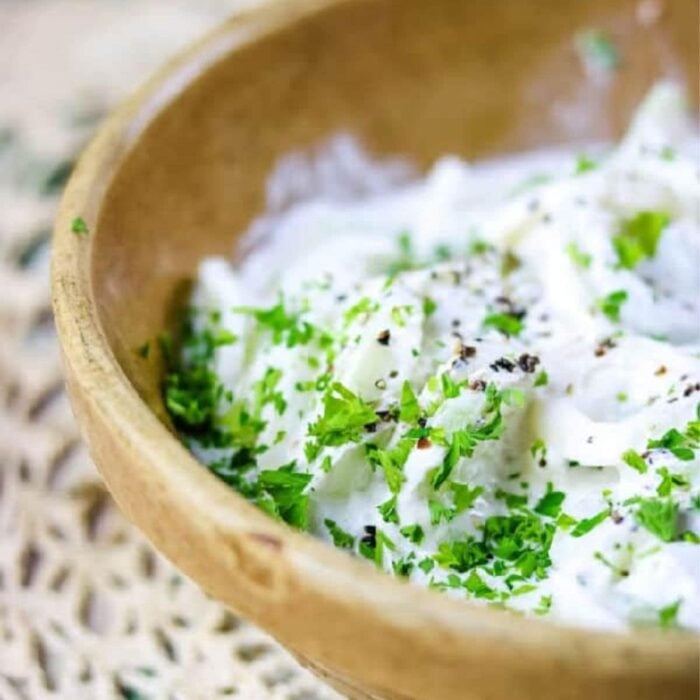 Recipe:Cucumber Salad
I grew up on this soothing summer side dish! Cucumbers are stirred together with a sour cream based dressing and some herbs to make a simple dish that's perfect on the hottest summer day.
Italian Green Bean Salad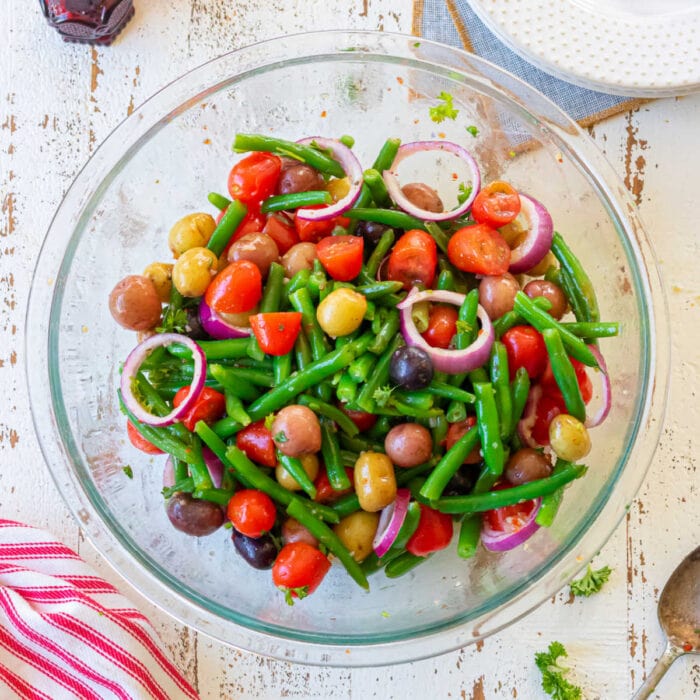 Recipe: Green Bean Salad
This is the perfect side dish to take to potlucks because it can sit out at room temperature (or even the summer heat) for hours and not go bad. The dressing is a zesty Italian dressing that soaks into the potatoes, tomatoes, and green beans. SO good!
Grilled Potato Packets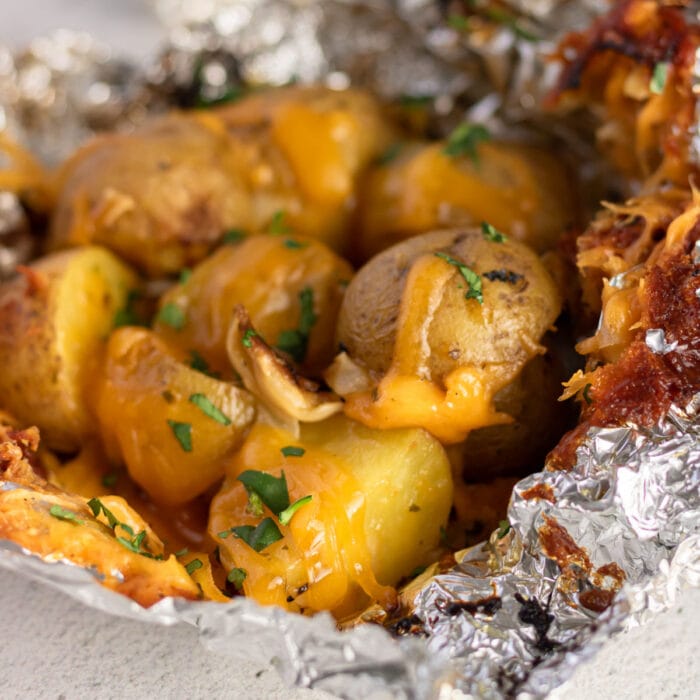 Recipe: Grilled Potato Packets
These are perfect for camping and cookouts because the foil packets can go right in the coals! Potatoes, Ranch seasoning, cheese... it's so good!
Tortellini Pasta Salad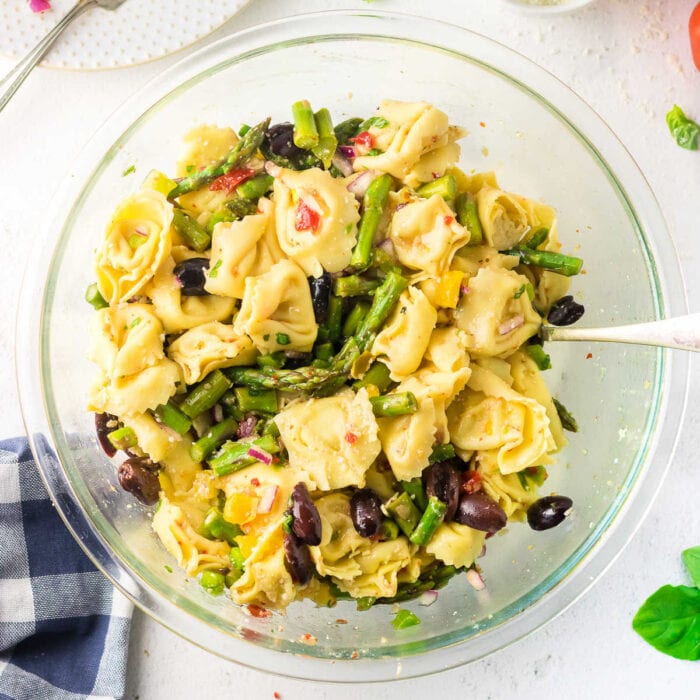 Recipe: Tortellini Pasta Salad
Cheese filled tortellini, olives, asparagus - it's all in this delicious summer side dish! Be sure to let this one sit overnight before serving - it's so much better the second day!
💭 Tips
We love a summer cookout - and I consider Memorial Day a practice run for 4th of July and Labor Day!
Expert Tip: Keep cookout side dishes made with mayonnaise on ice during serving. You can do this by putting the serving bowl in a bigger bowl filled with ice and checking it often.
Some people bring good side dishes to potlucks and summer parties - while others bring bowls of magic that disappear fast and have people lining up to get the recipe.
Here are some tips to make sure you're in the second bunch.
Most summer sides are best if made a day ahead and allowed to chill overnight.
You can usually get away with making these recipes two days ahead of time and keeping them tightly covered in the refrigerator.
Pastas are best if they are overcooked a little bit before they're added to the rest of the ingredients in pasta salads. Tender pasta soaks up more of the dressing that way.
Make sure you bring all the ingredients to room temperature before mixing - hot pasta or potatoes will quickly cook the celery in a dish and make it limp.
Keep salad with a creamy dressing cold in a cooler or by setting the serving bowl in a big bowl of ice.
Put away leftovers quickly and throw away anything that you're not sure stayed cool enough. A little food is not worth the possibility of an ER visit!
A sliced tomato salad is one of those super easy side dishes for a cookout when you make it with those vine ripe tomatoes that are abundant now. If you're in a hurry just wash, slice thick, sprinkle with salt and pepper and drizzle with balsamic vinegar or a zesty Italian dressing. Voila! (Plus leftovers make a great tomato sandwich!
📚 Related recipes
Here are more of my favorite cookout side dish ideas.
🍽 Equipment
The following are affiliate links. We are a participant in the Amazon Services LLC Associates Program, an affiliate advertising program designed to provide a means for us to earn fees by linking to Amazon.com and affiliated sites.
Here are a few tools to make your summer cookouts safer and easier!
Chilled Serving Bowl keeps cold foods safely cold! The stainless steel serving bowl fits into another container that holds plenty of ice.
Surface thermometer is perfect for checking the surface temperatures of side dishes to make sure they are in the safe zone of 40 degrees F or cooler. You can also use it as a family thermometer to check kids' temperatures while they sleep.
Mesh covers keep the flies and other bugs off of your cookout side dishes while you're grilling -- and you don't have to keep covering and uncovering with plastic wrap! I love these things.
You'll find more great recipes in the side dish category. Now, go fire up that grill and get cooking!
First published June 13, 2020. Last updated June 4, 2021 to add more side dish recipes and more tips and inspiration.