Whether you're grilling on the weekend or hosting a casual backyard get-together you'll find plenty of great cookout side dishes and expert tips to make it perfect!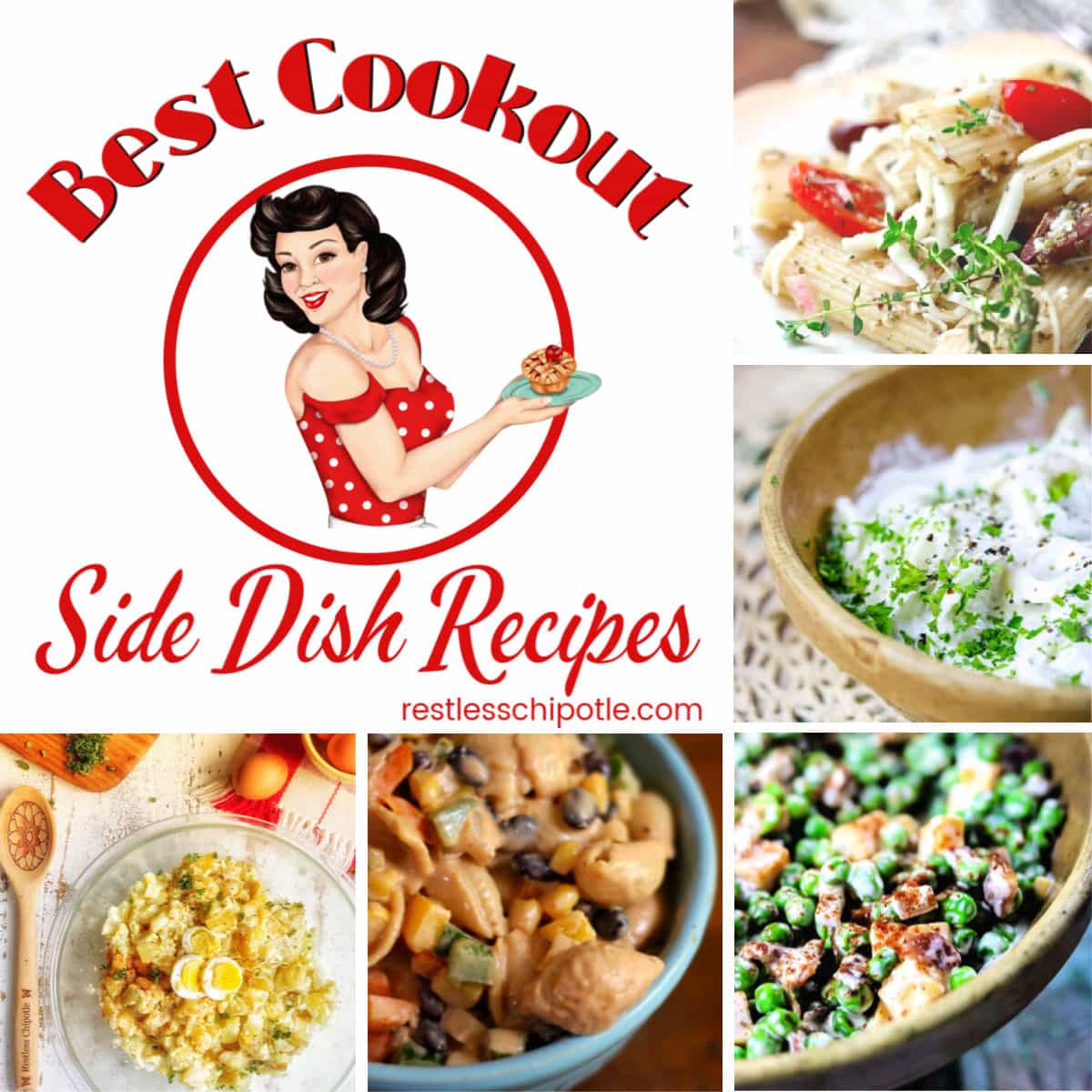 Jump to:
💭 Tips
Expert Tip: Keep cookout side dishes made with mayonnaise on ice during serving. You can do this by putting the serving bowl in a bigger bowl filled with ice and checking it often.
Some people bring good side dishes to potlucks and summer parties - while others bring bowls of magic that disappear fast and have people lining up to get the recipe.
Here are some tips to make sure you're in the second bunch.
Most summer side dishes are best if made a day ahead and allowed to chill overnight.
You can usually get away with making these two days ahead of time and keeping them tightly covered in the refrigerator.
Pastas are best if they are overcooked a little bit before they're added to the rest of the ingredients. They soak up more of the dressing that way.
Make sure you bring all the ingredients to room temperature before mixing - hot pasta or potatoes will quickly cook the celery in a dish and make it limp.
Put away leftovers quickly and throw away anything that you're not sure stayed cool enough. A little food is not worth the possibility of an ER visit!
Old Fashioned Macaroni Salad
Potato Salad
BBQ Macaroni Salad
Pea and Cheese Salad
Grilled Pear Salad
Italian Pasta Salad with Vinaigrette
Creamy Cucumber Salad
🍽 Equipment
The following are affiliate links. We are a participant in the Amazon Services LLC Associates Program, an affiliate advertising program designed to provide a means for us to earn fees by linking to Amazon.com and affiliated sites.
Here are a few tools to make your summer cookouts safer and easier!
Chilled Serving Bowl keeps cold foods safely cold! The stainless steel serving bowl fits into another container that holds plenty of ice.
Surface thermometer is perfect for checking the surface temperatures of side dishes to make sure they are in the safe zone of 40 degrees F or cooler. You can also use it as a family thermometer to check kids' temperatures while they sleep.
Mesh covers keep the flies and other bugs off of your cookout side dishes while you're grilling -- and you don't have to keep covering and uncovering with plastic wrap! I love these things.
You'll find more great recipes in the side dish category. Now, go fire up that grill and get cooking!