Nearly every Texas cook worth their salt has their own recipe for black eyed pea salad, also called Cowboy Caviar. My version is fresh and spicy with a simple lime dressing that allows the flavors to shine through. It's delicious in the summer served with grilled meats or as a lucky side dish on New Year's Day. Make it a day ahead of time for the best flavor.
For this recipe you'll need: Olive oil, cider vinegar, sugar, cooked black eyed peas, red onion, jicama (optional), cilantro, celery, jalapeno, limes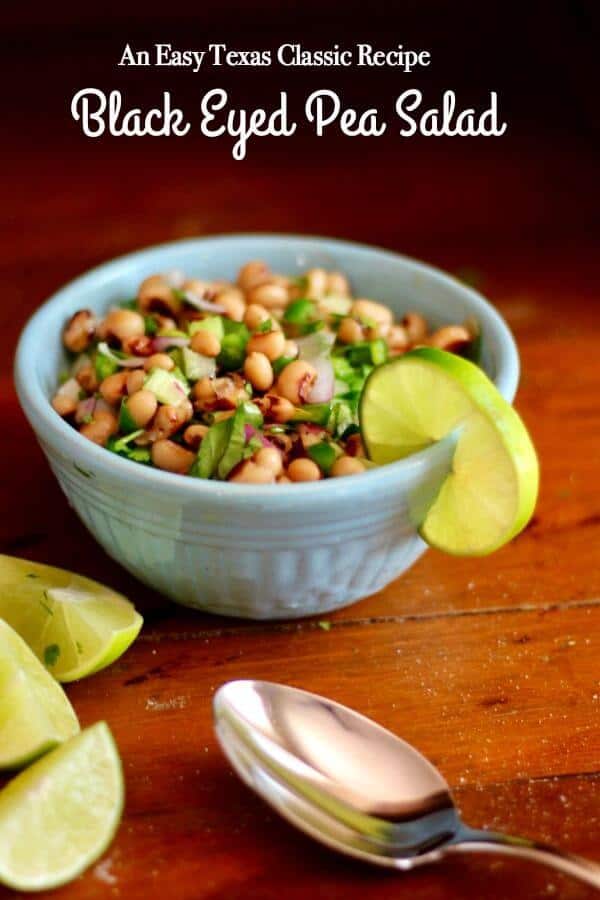 Black eyed pea salad is often called Texas Caviar, Cowboy Caviar, or even Black Eyed Pea Salsa. There are as many varieties of the dish as there are Texans making it so you could find everything from corn to bacon in a black eyed pea salad recipe. I like to keep mine simple because I love the earthy flavor of the black eyed peas.

The Restless Chipotle Channel
Black eyed peas were served a lot in my house growing up. My parents had reached adulthood during the Great Depression and even though Dad was in a position that paid very well they never stopped being thrifty. I grew up with fresh vegetables from the vegetable garden and lots of vegetable based meals. Black eyed pea soup in the winter and black eyed pea salad in the summer were routinely on the menu. Even today I can quite happily open a can of black eyed peas and just eat them with a spoon right out of the can.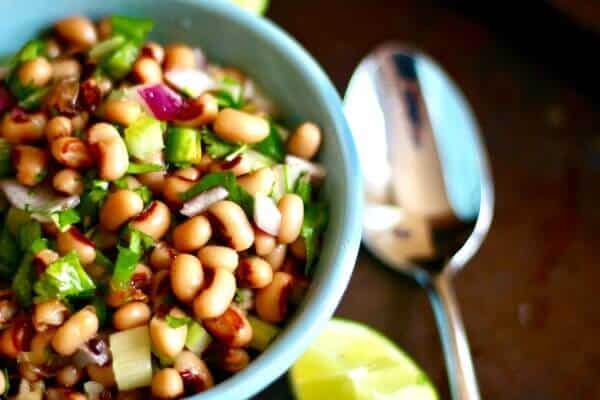 The key to this dish is keeping it simple and fresh then letting it sit over night so that it all kind of blends together. The black eyed peas lend an earthy taste and a soft, buttery texture while the celery and jicama add crunch. Spicy jalapenos and sweet red onions lend both crunch and flavor. Cilantro always tastes like summer to me so I usually add a lot – even more than is called for in this recipe. I realize not everyone is as enamored of it as I am! The vinaigrette is just a quick blend of cider vinegar, sugar, and olive oil with some cracked black pepper and a pinch of salt. Right before serving a squeeze of lime brightens the flavors and it's ready to go.
Inexpensive and delicious.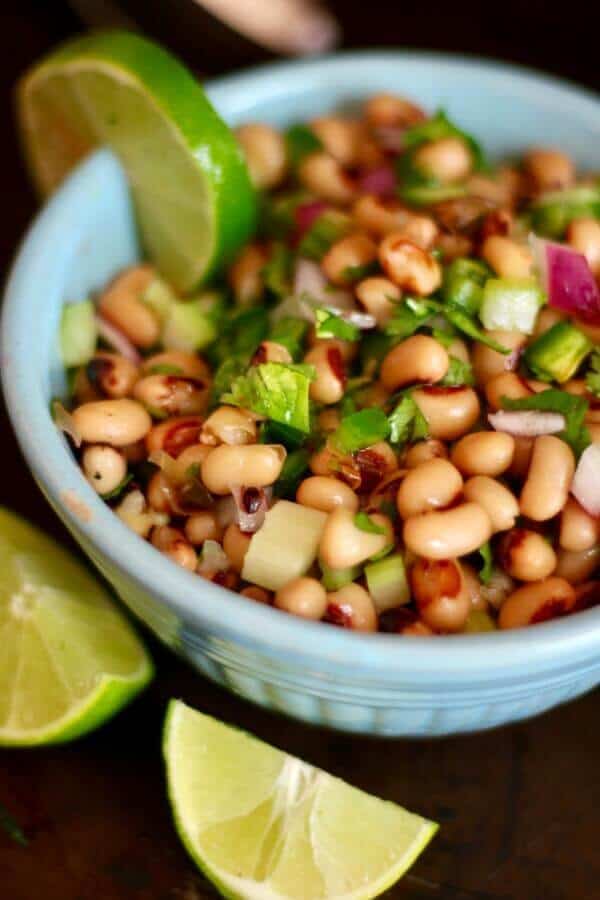 YOU MAY NEED…
The following are affiliate links. We are a participant in the Amazon Services LLC Associates Program, an affiliate advertising program designed to provide a means for us to earn fees by linking to Amazon.com and affiliated sites.
Ok.. you probably don't really need this but if you like real Texas food this Texas Backroad Restaurants cookbook serves up recipes from the diners and cafes in the small Texas towns that you generally don't hear about. I love these types of cookbooks!
Black Eyed Pea Salad Recipe
You can now change the serving sizes on recipes. Just hover over the serving size and adjust it up or down. The recipe will automatically adjust. Cool, huh? If you like this Cowboy Caviar recipe please give it 5 stars!
Print Recipe
Black Eyed Pea Salad
Black eyed pea salad is a quick and easy side dish, full of fresh flavor. It's perfect with grilled meats.
Ingredients
3/4

cup

olive oil

1/2

cup

cider vinegar

1/2

cup

sugar

,

or to taste

1/4

teaspoon

cracked black pepper

,

or more to taste

3

cups

black eyed peas

,

cooked

1/2

cup

red onion

,

diced

1/2

cup

jicama

,

chopped, optional

1/2

cup

cilantro

,

chopped

1/4

cup

diced celery

,

diced

2

fresh jalapenos

,

seeded and chopped

2

limes

,

cut into wedges
Instructions
Blend the oil, vinegar, sugar, and black pepper.

Shake well and set aside.

Stir together the black eyed peas, red onion, jicama, cilantro, celery, and jalapenos in a bowl.

Pour the oil mixture over the top.

Stir to coat the vegetables.

Cover and refrigerate overnight.

Just before serving check taste and add salt and pepper if needed.

Serve with lime wedges to squeeze over the top.
Notes
Flavor is best if it's allowed to develop for at least 4 hours.
Nutrition
Calories:
420
kcal
|
Carbohydrates:
38
g
|
Protein:
6
g
|
Fat:
27
g
|
Saturated Fat:
3
g
|
Cholesterol:
0
mg
|
Sodium:
107
mg
|
Potassium:
322
mg
|
Fiber:
6
g
|
Sugar:
20
g
|
Vitamin A:
3.7
%
|
Vitamin C:
18.1
%
|
Calcium:
3
%
|
Iron:
14.2
%
If you liked this Texas classic black eyed pea salad recipe you may also like…
Candied Jalapenos, Slow Cooker Pozole Verde, Jalapeno Sausage Kolaches
This recipe is part of Meal Plan Monday #95 – head over there and check out the great recipes!