Cowboy Caviar, also called black eyed pea salad, is a quick and easy side dish, full of fresh flavor. It's perfect with grilled meats.
Cowboy Caviar is required at summer potlucks and picnics! Nearly every Texas cook worth their salt has their own recipe for black eyed pea salad, also called Cowboy or Texas Caviar. My version is fresh and spicy with a simple lime dressing that allows the flavors to shine through. It's delicious in the summer served with grilled meats, as a salsa type dip with chips, or as a lucky side dish on New Year's Day. Make it a day ahead of time for the best flavor.
First Published: February 2, 2017... Last Updated: May 13, 2019
Ingredients you'll need: Olive oil, cider vinegar, sugar, cooked black eyed peas, red onion, jicama (optional), cilantro, celery, jalapeno, limes
Cowboy Caviar Recipe Has Many Variations
Cowboy Caviar is often called Texas Caviar, Black Eyed Pea Salad, or even Black Eyed Pea Salsa. There are as many varieties of the dish as there are Texans making it!
You can find everything from corn to bacon in the variations of this recipe. I like to keep mine simple because I love the earthy flavor of the black eyed peas and I want it to shine.
Budget Friendly Summer Recipe
Black eyed peas were served a lot in my house growing up. My parents had reached adulthood during the Great Depression and even though Dad was in a position that paid very well they never stopped being thrifty. I grew up with fresh vegetables from the vegetable garden and lots of vegetable based meals. Black eyed pea soup in the winter and black eyed pea salad in the summer were routinely on the menu. Even today I can quite happily open a can of black eyed peas and just eat them with a spoon right out of the can.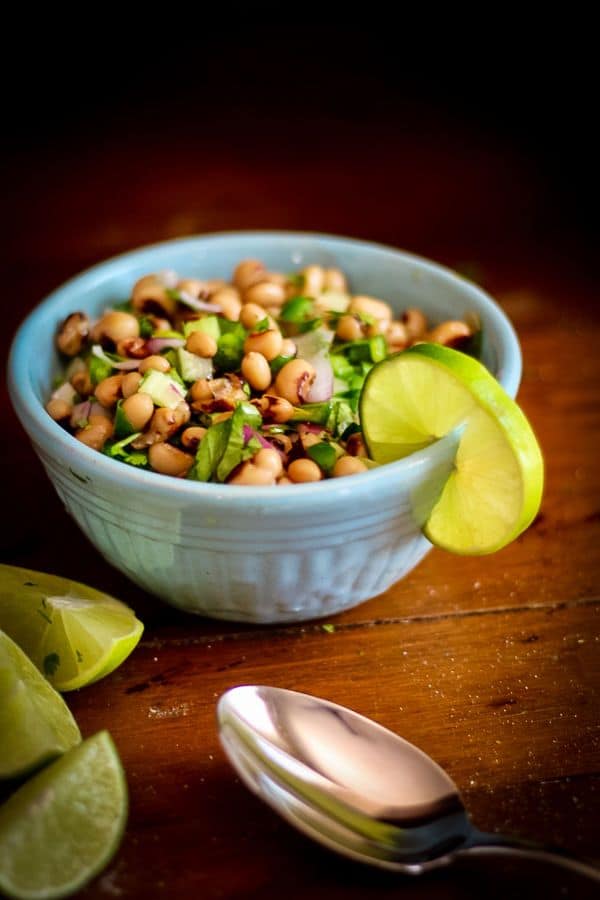 Tips for This Recipe
The key to this dish is keeping it simple and fresh then letting it sit over night so that it all kind of blends together. The black eyed peas lend an earthy taste and a soft, buttery texture while the celery and jicama add crunch. Spicy jalapenos and sweet red onions lend both crunch and flavor. Cilantro always tastes like summer to me so I usually add a lot - even more than is called for in this recipe.
I realize not everyone is as enamored of it as I am! The vinaigrette is just a quick blend of cider vinegar, sugar, and olive oil with some cracked black pepper and a pinch of salt. Right before serving a squeeze of lime brightens the flavors and it's ready to go.
Inexpensive and delicious, the perfect side salad for summer!
Cowboy Caviar Variations
This recipe has plenty of variations - we're kind of a laid back bunch here in Texas and will almost always look the other way if you stray from the original recipe.
Just don't put Italian dressing in there. We'll judge you for that for sure.
Fresh or frozen corn
Bell peppers (green, red, yellow, or orange... or all)
A little chipotle paste
Avocado
Lemon instead of lime
Red wine vinegar instead of apple cider vinegar (if you must)
Chopped tomatoes
Black beans
Blackened poblano pepper
As I said before - I like my black eyed pea salad pretty simple but you can certainly try it with all the bells and whistles.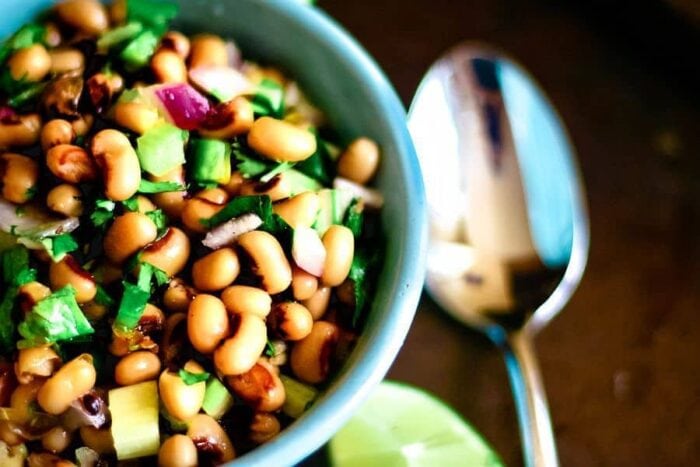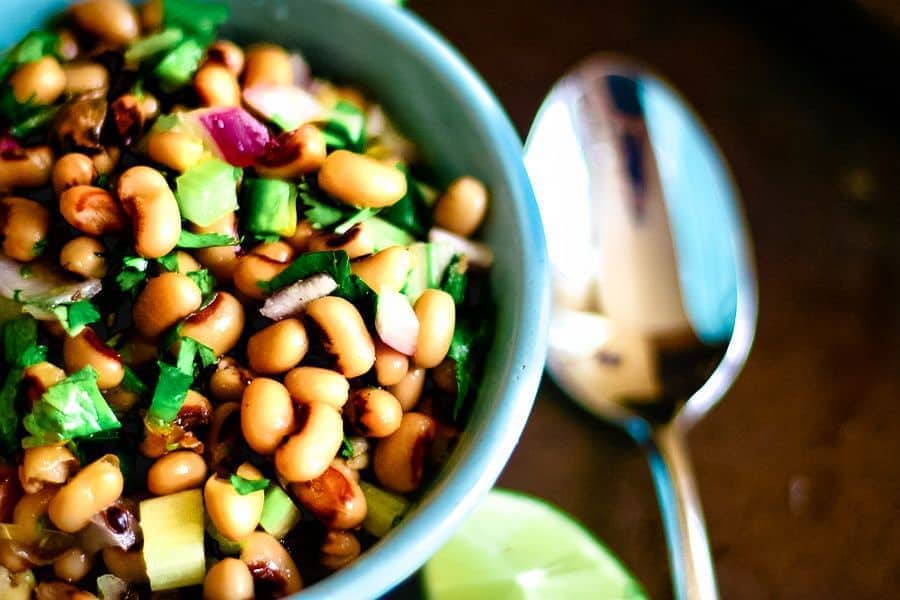 Cowboy Caviar FAQs
Cowboy Caviar is one of those iconic recipes that isn't well-known outside of its region. If you've got questions I've got answers!
What is Cowboy Caviar?
Glad you asked. It's considered by some to be a side dish and by others to be a dip. It's often called Texas Caviar or Black Eyed Pea Salad and there is NO actual caviar in it at all!
Who Invented Cowboy Caviar?
Well now, that's an interesting story. Helen Corbitt, although not a Texan by birth, was head chef at Neiman Marcus's Zodiac Room. She was asked to prepare a menu with only Texas products and created this recipe as one of the options. It became SO popular that Neiman's canned it and sold it in their store. Side note: Helen did not like black eyed peas.
Can You Make It Ahead of Time?
You sure can! Don't let anyone fool you - real cowboy caviar is best if it's made the night before you plan to serve it so that all the flavor gets soaked into the vegetables. Oh my gosh - it's so good.
Can You Make Cowboy Caviar Recipe without Cilantro?
Sigh. Yes, I suppose you can. If you must. You might want to add chopped parsley instead.
How Long Does Cowboy Caviar Keep?
You can keep it for 5 days or so in the fridge. The sugar and vinegar helps preserve it so I think it will be fine longer than that - we've always eaten it all well before day 5 so I can't tell you for sure.
Is There Real Caviar in Cowboy Caviar Recipe?
Ew. No.
Can You Freeze It?
Nope. It's so easy to throw together that there's no need. If you did freeze it the texture would be awful.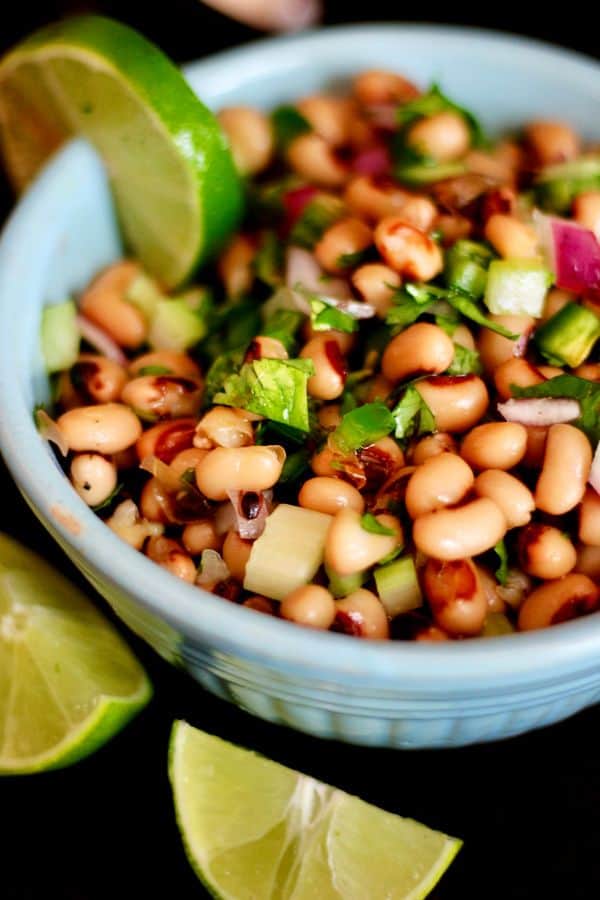 More Great Summer Recipes
I love summer! Here are some of my favorite summer recipes for cookouts, bbqs, and potluck picnics.
And here are some great hints for summer potlucks and parties!
YOU MAY NEED…
The following are affiliate links. We are a participant in the Amazon Services LLC Associates Program, an affiliate advertising program designed to provide a means for us to earn fees by linking to Amazon.com and affiliated sites.
What's new? Check out my Restless Chipotle & Co. Store on Amazon where you'll find all kinds of nostalgic goodness! Thanks so much for being a part of Restless Chipotle!

Ok.. you probably don't really need this but if you like real Texas food this Texas Backroad Restaurants cookbook serves up recipes from the diners and cafes in the small Texas towns that you generally don't hear about. I love these types of cookbooks!
Cowboy Caviar Recipe
I love this stuff and I can eat it all day long. I like it on chips, as a side to bbq and burgers, mixed in with fried potatoes... you name it. Take it to your next cookout or potluck and see if it doesn't disappear quickly!
If you like this Cowboy Caviar recipe please give it 5 stars!
You can now change the serving sizes on recipes. Just hover over the serving size and adjust it up or down. The recipe will automatically adjust. Cool, huh?
📖 Recipe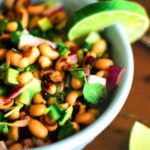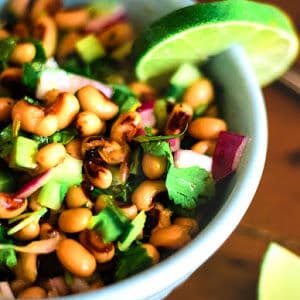 Cowboy Caviar
Print
Save
Saved!
Cowboy Caviar, also called black eyed pea salad, is a quick and easy side dish, full of fresh flavor. It's perfect with grilled meats.
Ingredients
¾

cup

olive oil

½

cup

cider vinegar

½

cup

sugar

,

or to taste

¼

teaspoon

cracked black pepper

,

or more to taste

3

cups

black eyed peas

,

cooked

½

cup

red onion

,

diced

½

cup

jicama

,

chopped, optional

½

cup

cilantro

,

chopped

¼

cup

diced celery

,

diced

2

fresh jalapenos

,

seeded and chopped

2

limes

,

cut into wedges
I earn a commission from Instacart from qualifying purchases.
Instructions
Blend the oil, vinegar, sugar, and black pepper.

Shake well and set aside.

Stir together the black eyed peas, red onion, jicama, cilantro, celery, and jalapenos in a bowl.

Pour the oil mixture over the top.

Stir to coat the vegetables.

Cover and refrigerate at least 8 hours or overnight.

Just before serving check taste and add salt and pepper if needed.

Serve with lime wedges to squeeze over the top.
Notes
Flavor is best if it's allowed to develop for at least 8 hours. 
You'll find more helpful tips and variations in the body of the post.
Nutrition Facts
Calories:
420
kcal
|
Carbohydrates:
38
g
|
Protein:
6
g
|
Fat:
27
g
|
Saturated Fat:
3
g
|
Cholesterol:
0
mg
|
Sodium:
107
mg
|
Potassium:
322
mg
|
Fiber:
6
g
|
Sugar:
20
g
|
Vitamin A:
185
IU
|
Vitamin C:
14.9
mg
|
Calcium:
30
mg
|
Iron:
2.6
mg
Nutrition information is estimated as a courtesy. If using for medical purposes, please verify information using your own nutritional calculator. Percent Daily Values are based on a 2000 calorie diet.
Sign up for the emails and never miss another recipe!!
We'll never share your email or send you spam. Pinkie swear.