Zesty, crunchy, and fresh! This cauliflower salad recipe is full of summer flavor. Fresh veggies are marinated for a couple of hours in a lemony olive oil vinaigrette for a side dish is as deliciously refreshing as dropping off a rope swing into a swimming hole!
For this recipe you'll need: cauliflower, cherry tomatoes, cucumbers, onions, Bell peppers, fresh parsley, jalapeno, fresh cilantro, fresh mint, garlic, olive oil, and lemon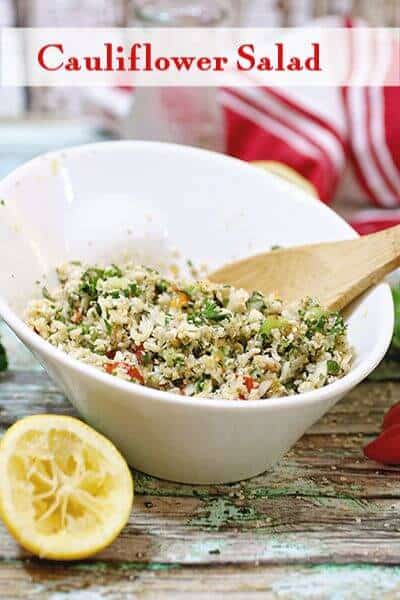 Jump to:
Hot Days and Summer Salads
I love summer. Especially as I've gotten older I just don't like that feeling of being cold - I just can't get enough clothes on to warm me up! Well, as you can probably guess - that's not a problem in Texas in July!
My Dad was born in 1917 and my mom in 1918, which put them at ages 13 and 12 when the Great Depression hit. Dad said it never made a lot of difference to him because they were poor anyway, mom said she never really noticed since they lived on a farm, but both of them (for whatever reason) valued thriftiness and self reliance above all.
By the time I came along they were in their early 40s and Dad was doing well career-wise. That didn't stop them from creating a big vegetable garden everywhere we lived so that they could grow as much of their own food as possible.
And, using electricity "all willy-nilly" was definitely frowned upon. You didn't use lights in the daytime unless it was raining... and you definitely didn't heat up the kitchen during summer.
I grew up eating dinners made up of fresh corn, vegetables of all kinds, and lots of salads. We ate very little meat unless it was the weekend and Dad was grilling outside.
This cauliflower salad recipe is not from my childhood but the fresh flavors and simple ingredients are definitely something my parents would have approved of. I think your family will approve as well!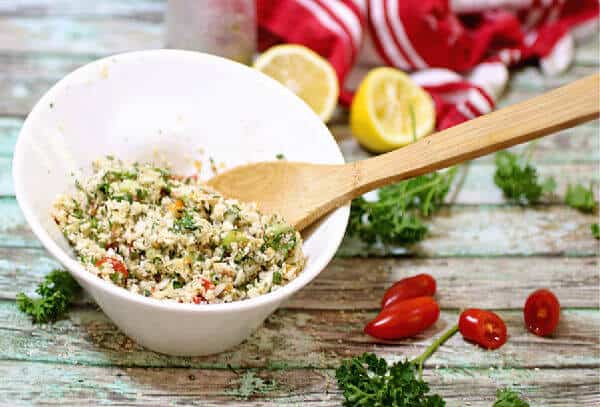 Recipe Tips
Seriously y'all, this gorgeous summer salad is so easy to make I expect you'll be making a lot of it and creating your own variations! Here are some tips:
Using a food processor makes this simple but pulse carefully, stopping every few seconds to check the size of the cauliflower bits. You don't want mush.
Some people like the cauliflower bigger and some like it smaller - you can break the cauliflower apart and use the flowerettes instead of chopping it. If you do that let it marinate overnight so it has a chance to pick up flavor.
Make this a main dish salad by adding grilled chicken breast.
Substitute lime for the lemon.
You can make this cauliflower salad a day ahead of time but not more than that - it loses texture.
Crumbled Feta or Queso Fresco cheese is a nice addition. Either stir it in or sprinkle it on top.
What to Serve with Cauliflower Summer Salad
We all need a go to menu for those days when life is busy and it's just too hot to cook.
Rotisserie chicken from the deli.
Cauliflower Salad (I make it with extra vinaigrette because I like dipping the bread into the leftover dressing)
Baguette from the bakery section
Sugared fresh strawberries with a little whipped cream
Really y'all. Does it even get easier than that without actually going out to eat? I don't think so. More ideas ...
Grilled chicken
Grilled steak with chimichurri
Just about anything!
How to Make Cauliflower Salad Step By Step
This cauliflower salad recipe is one of my favorite summer dishes because it goes together so easily.
One: Gather the ingredients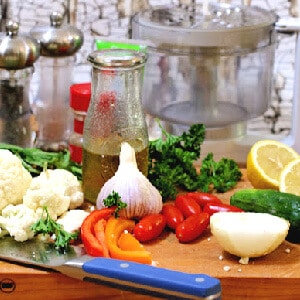 You'll need cauliflower, cherry tomatoes, cucumbers, onions, Bell peppers, fresh parsley, jalapeno, fresh cilantro, fresh mint, garlic, olive oil, and lemon
Two: Prepare the Cauliflower
Use a food processor, chop by hand, or just break the cauliflower into small flowerettes.
Three: Press the Liquid Out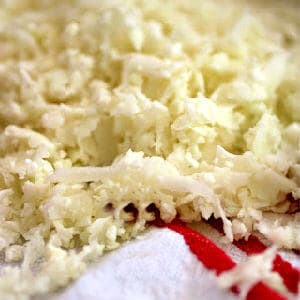 Put the chopped cauliflower onto a clean tea towel and roll the towel up. Firmly press as much of the water out as possible.
Four: Chop the Remaining Ingredients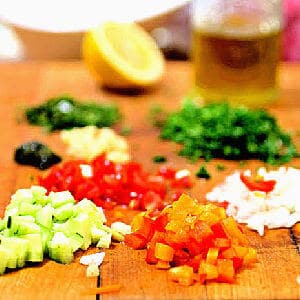 Chop the remaining ingredients as directed in the recipe. Mix the oil and lemon juice, shaking well.
Five: Combine All Ingredients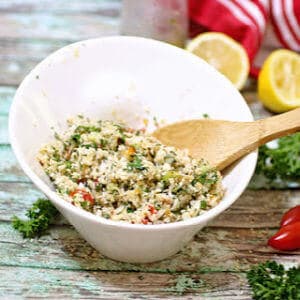 Combine all the ingredients and stir well. Cover and refrigerate for at least 2 hours or up to 24 hours.
You May Need...
The following are affiliate links. We are a participant in the Amazon Services LLC Associates Program, an affiliate advertising program designed to provide a means for us to earn fees by linking to Amazon.com and affiliated sites.
What's new? Check out my Restless Chipotle & Co. Store on Amazon where you'll find all kinds of nostalgic goodness! Thanks so much for being a part of Restless Chipotle!
A food processor makes this cauliflower salad even easier. I really love this Kitchenaid food processor in my favorite color! Also, if you've never used a mezzaluna to chop herbs you are definitely missing out. This is the one I have and I use it all the time.
More Easy Summer Salad Recipes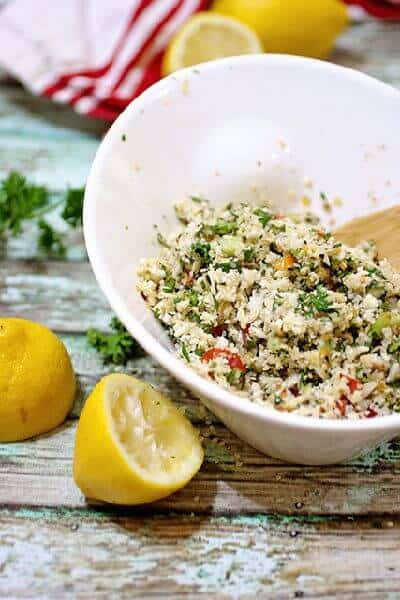 Marinated Cauliflower Salad Recipe
If you're anything like me this easy summer salad is going to be featured in a prominent place on your meal rotation! It's absolutely fantastic for potlucks, too!
📖 Recipe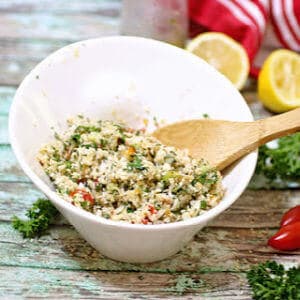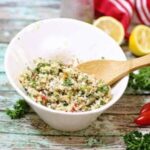 Cauliflower Salad Recipe
Print
Save
Go to Collections
Easy marinated cauliflower salad is a crunchy, satisfying summer side dish that goes with all kinds of grilled meats. It's best if it marinates several hours before serving.
As an Amazon Associate I earn from qualifying purchases.
Ingredients
4

cups

cauliflower

,

grated (grate first then measure 4 cups)

16

cherry tomatoes

,

chopped

½

cup

cucumbers

,

peeled and diced

½

cup

onions

,

peeled and diced

½

cup

Bell peppers

,

diced

⅓

cup

fresh parsley

,

finely chopped

¼

cup

jalapeno

,

finely chopped

¼

cup

cilantro finely

,

chopped (optional)

¼

cup

fresh mint finely

,

chopped

1

tablespoon

garlic

,

chopped

½

cup

olive oil

2

tablespoons

lemon juice

Salt and pepper

,

to taste
Instructions
Grate the cauliflower in your food processor or just chop finely.

Wrap it in a towel and apply pressure to remove as much moisture as possible.

Combine the cauliflower and the remaining ingredients in a bowl.

Mix gently.

Chill for a couple of hours or overnight - this allows the flavors to blend.
Nutrition Facts
Calories:
150
kcal
|
Carbohydrates:
6
g
|
Protein:
1
g
|
Fat:
13
g
|
Saturated Fat:
1
g
|
Cholesterol:
0
mg
|
Sodium:
22
mg
|
Potassium:
298
mg
|
Fiber:
1
g
|
Sugar:
2
g
|
Vitamin A:
790
IU
|
Vitamin C:
53.8
mg
|
Calcium:
26
mg
|
Iron:
0.8
mg
Sign up for the emails and never miss another recipe!!
We'll never share your email or send you spam. Pinkie swear.