Rich and sweet, the fig and vanilla flavors compliment the bourbon while the orange and balsamic vinegar keep it from being too sweet.
The Bourbon Old Fashioned Cocktail is a classic recipe that has been enjoyed since before Abe Lincoln threw his stovepipe hat into the political ring. (I wonder if they called it an "Old Fashioned" back then?) Here, I've updated this classic winter cocktail by muddling figs with vanilla fig balsamic vinegar and adding it to the mix. It's a warming drink that is best enjoyed in front of a crackling fire while watching the snow fall outside. Or, by the pool under some palm trees. Whatever.
For this recipe you'll need: Bourbon, orange, vanilla fig balsamic vinegar, brown sugar, orange bitters, dried figs, rosemary sprig, ice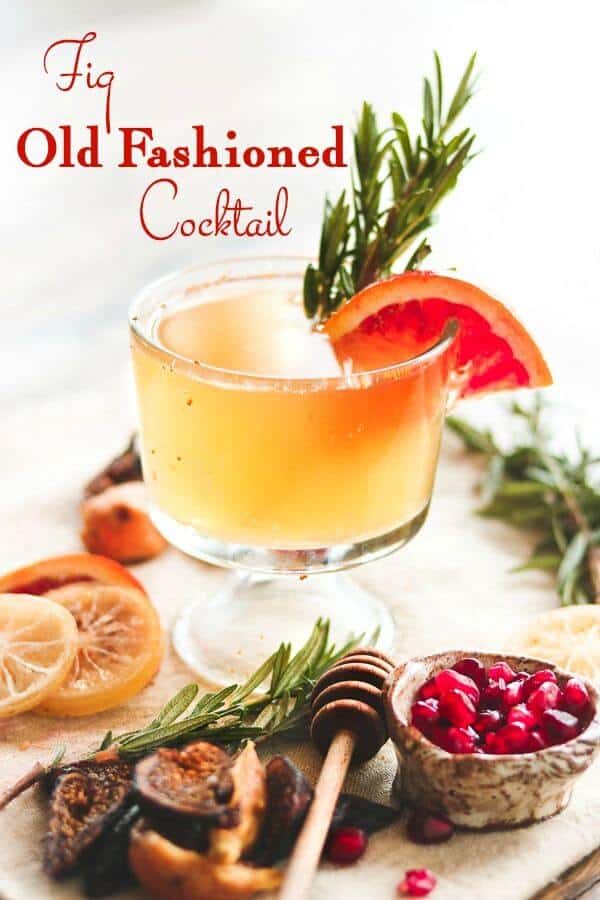 In Search of the Perfect Winter Cocktail
It's no secret that I really enjoy a good cocktail now and then, but at the same time I am definitely a homebody. Going to bars is just not my thing, which means I had to learn to make drinks at home. It wasn't too difficult; I grew up in the age of Mad Men and I could mix a dry martini by the time I was six or seven.
The thing is that I like sweet, girlie drinks. I don't want my throat to be on fire from straight bourbon or vodka or whatever. I didn't go to college so I never learned to do shots.
I've always loved a classic Old Fashioned because of the rich, sultry, and very complex flavors. It's definitely one of my favorite bourbon cocktails but you do have to start with a really good bourbon. Here, the sweet fig and brown sugar bring out the caramelly flavors of the whiskey while the slight acidity in the orange and balsamic vinegar balance it all out. Sometimes I'll add a pinch of chipotle because the smoky flavor enhances it beautifully.
I honestly think it's the best Old Fashioned cocktail recipe I've ever tasted. If you like figs you'll love this!
Bourbon Old Fashioned FAQs
Have questions about an Old Fashioned cocktail? Here are the answers you might be looking for - if you have any other questions definitely ask me in the comments! I don't always get right back to you... because life.... but I will answer eventually!
Experience level: easy
What does old fashioned cocktail taste like?
The basic Old Fashioned cocktail is made with whiskey - I prefer bourbon, bitters, and sugar - then whatever additions you're going to make. It is sweet and complex with the caramel and vanilla flavors usually found in bourbon balanced by a little tang from the orange. It's a strong, sweet cocktail and you have to enjoy bourbon in order to enjoy a classic Old Fashioned.
My fig Old Fashioned takes the flavor a little deeper with the sweet heaviness of fig and rich balsamic vinegar to balance it. If you had to narrow it down, though, the flavor profile with be sweet with a strong bourbon undertones.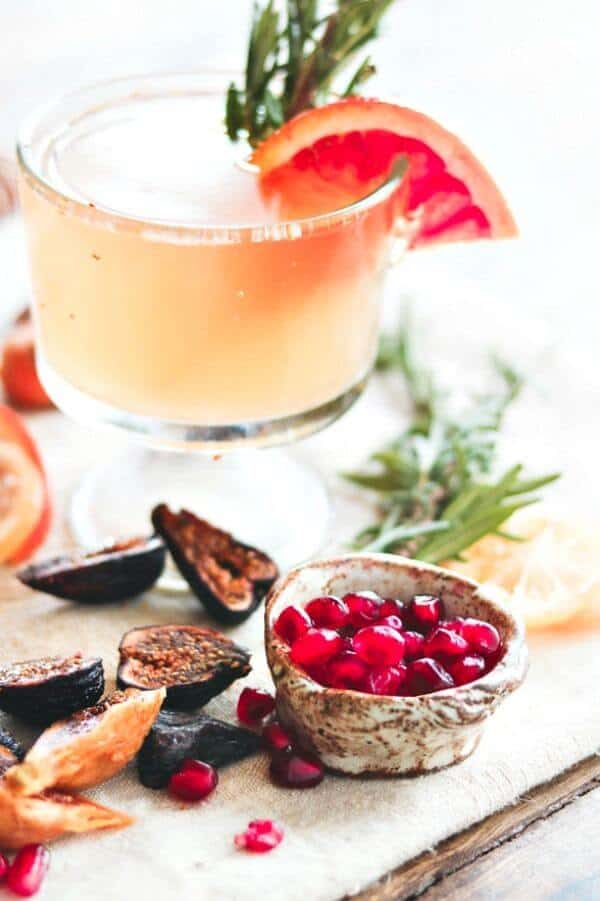 Fig adds sweet, rich flavor to this adaption of the classic Old Fashioned Cocktail.
Whats the difference between a Manhattan and an Old Fashioned?
Both use whisky but an Old Fashioned is sweeter because it's made with sugar while a Manhattan is made with Sweet Vermouth. A Manhattan has a bit more of an alcohol bite.
Should You Shake an Old Fashioned?
If a drink is made with all alcoholic spirits then you should stir it but if you've added any kind of texture or heavier liquid it needs to be shaken, and shaken hard. Shaking causes the liquids to mix smoothly and adds tiny air bubbles which adds flavor and lightness to the drink.
How do you make the Best Old Fashioned cocktail ever?
It's a simple cocktail to make. Here are the instructions for making a classic Old Fashioned but be sure to follow the instructions for the Fig Old Fashioned in the recipe - they're a bit different.
Place the sugar in the bottom of an Old Fashioned glass.
Sprinkle 3 dashes of bitters on top and muddle.
Add an ice cube.
Pour in the bourbon.
Stir and garnish with an orange slice.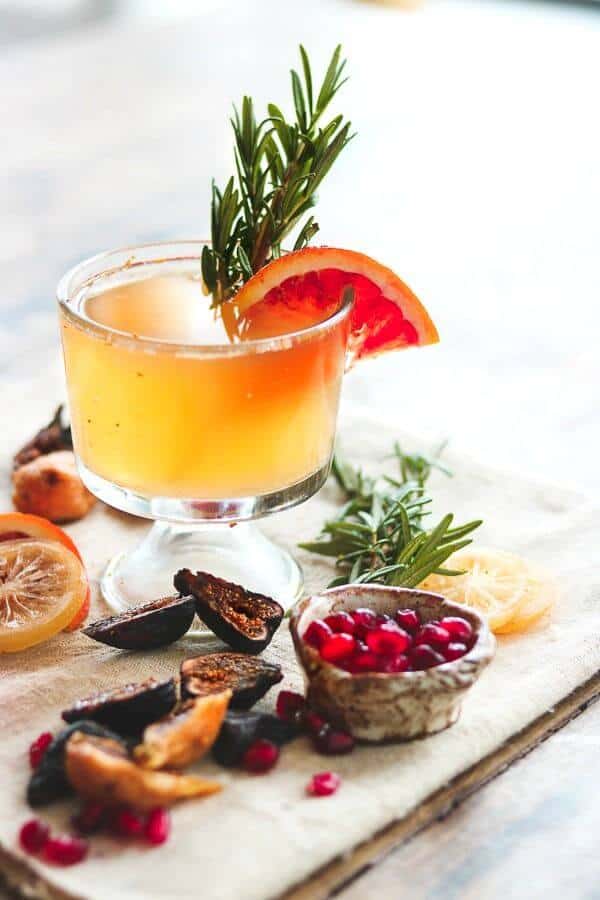 The rosemary sprig in this Fig Old Fashioned looks pretty AND adds just a hint of herbal flavor.
You May Need
The following are affiliate links. We are a participant in the Amazon Services LLC Associates Program, an affiliate advertising program designed to provide a means for us to earn fees by linking to Amazon.com and affiliated sites.
What's new? Check out my Restless Chipotle & Co. Store on Amazon! Thanks so much for being a part of Restless Chipotle!
Pretty on the rocks glasses show this cocktail off beautifully!

More Cocktails You'll Love
As I said I kinda love a good cocktail. Here are some more of my favorites.
You should also try this Bourbon Amaretto Cocktail from Spicy Southern Kitchen - it's amazing.
This fig Old Fashioned will have a little pulp in it unless you double strain it into the glass.
Fig Old Fashioned Cocktail Recipe
I think this is the best old fashioned I've ever tasted, to be honest. I love the combination of the fig, vanilla, and bourbon. It's a little heavy for warm weather but so perfect in cold weather! You can infuse your bourbon with fig by adding dried figs to it for about a month and then use that for this recipe but that's a whole 'nother post and it's not required here. Any good bourbon will work just fine.
If you love this recipe please give it 5 stars.
📖 Recipe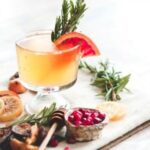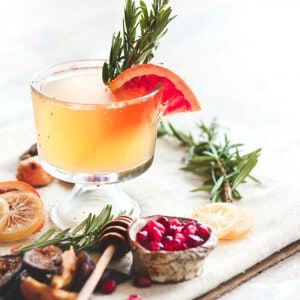 Fig Old Fashioned Cocktail
Print
Save
Saved!
Rich and sweet, the fig and vanilla flavors compliment the bourbon while the orange and balsamic vinegar keep it from being too sweet.
Ingredients
1

dried fig

½

teaspoon

brown sugar

1 ½

ounces

bourbon

½

ounce

orange juice

1

teaspoon

"fig and vanilla flavored" balsamic vinegar

Dash orange bitters

Rosemary sprig

Orange wheel
I earn a commission from Instacart from qualifying purchases.
Instructions
Remove the fig's stem and cut it into quarters.

Put fig pieces in the bottom of a shaker.

Add the brown sugar and muddle until it becomes a paste.

Add bourbon, orange juice, vinegar, bitters, and small sprig of rosemary.

Fill the shaker with ice, and shake vigorously.

Strain into an ice-filled highball glass.
Notes
If you are bothered by texture double strain this cocktail. You may use regular balsamic in place of the fig/vanilla combination.
You'll find more helpful tips and variations in the body of the post.
Nutrition Facts
Calories:
136
kcal
|
Carbohydrates:
9
g
|
Protein:
0
g
|
Fat:
0
g
|
Saturated Fat:
0
g
|
Cholesterol:
0
mg
|
Sodium:
3
mg
|
Potassium:
54
mg
|
Fiber:
0
g
|
Sugar:
7
g
|
Vitamin C:
7.1
mg
|
Calcium:
13
mg
Nutrition information is estimated as a courtesy. If using for medical purposes, please verify information using your own nutritional calculator. Percent Daily Values are based on a 2000 calorie diet.
Sign up for the emails and never miss another recipe!!
We'll never share your email or send you spam. Pinkie swear.