The leaves are as crimson as they'll get. Chilly autumn breezes encourage you to slip into your comfiest sweater. That means it's time to sip this maple syrup old fashioned in front of the fire. Bourbon, maple syrup, and a splash of orange juice combine to create a classic cocktail more suited for worn jeans than a sophisticated cocktail dress.
For this recipe you'll need: bourbon, orange juice, real maple syrup, Maraschino cherries, lime or orange slices, ginger beer, orange bitters.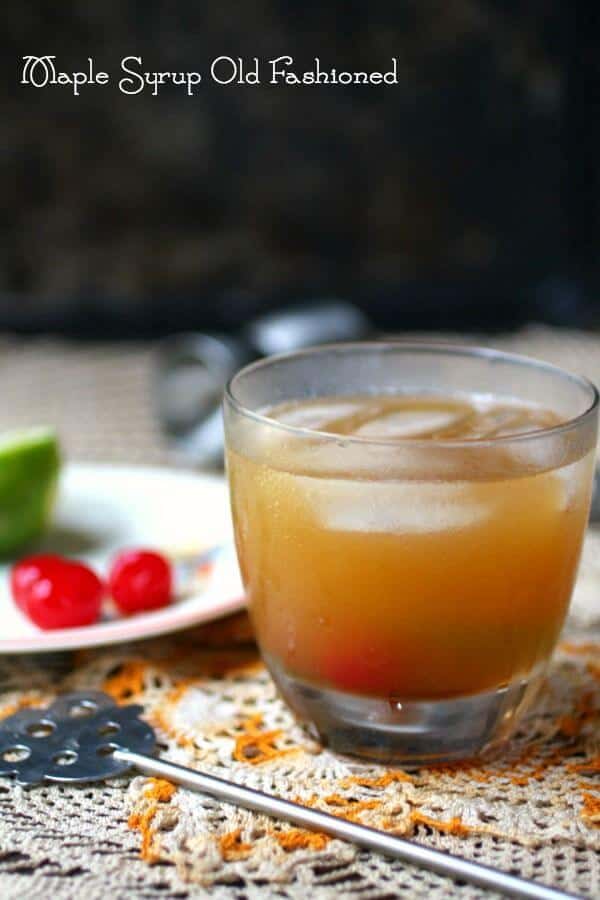 Maple Syrup Old Fashioned Backstory
I loved Mad Men. I didn't watch it when the episodes were new. Nope, I waited until it was discontinued and then binge watched it on Netflix. That seems to be how I watch most television shows that aren't food-centric.
Anyway, I loved it for a lot of reasons. Every episode was like opening a door to my childhood. The fashions, the makeup, the way the homes were decorated -- it felt like it was pulled straight from my life. I learned to mix drinks while I was still in elementary school, I watched the Apollo launches, I sat on the stairs and watched my parents cocktail parties unfold. Don Draper even resembled my dad in looks and roguishness. They were both men that overcame their pasts to become successful no matter what and they both had a dark side.
The cocktail culture of the 1960s was new again in the second decade of the 21st century. I wish some of the other social customs of those days would become popular again. Things like graciousness, politeness, social graces... Certainly not everything was good in those days but I wish we'd learn to hang on to the good things and let go of the bad things from each generation.
Losing Graciousness
Social media has been a great way to meet people from all over the world. I have friends in nearly every state and many countries. I love keeping up with them and chatting on Facebook. It's awesome to pray for eachother. These friendships are as real as any real life friendships I've had. Some of them are more real.
But along with that we have lost our sense of social propriety I think. Cyber -bullying, trolling, and nasty comments are all too common. Things we'd never say to someone's Face we spit out like verbal poison on Facebook. It's never been more apparent than this election season. People who've been considered friends have said unbelievable things to each other because they had different political opinions. There have been verbal wars so vile that I feel like I need a bath after I've experienced it.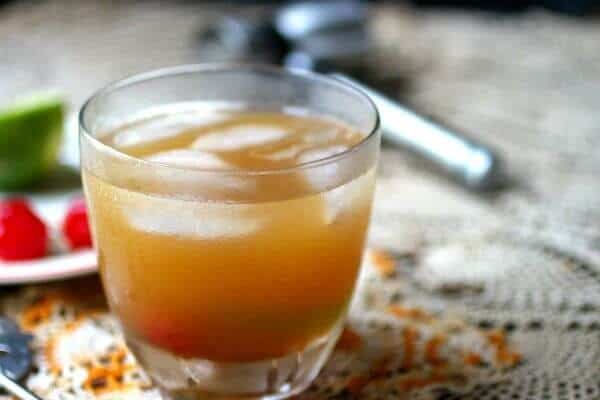 In the 60s people could be nasty but it was a sophisticated nasty. It was a tone of voice or a raised brow, it might be the way someone laughed at your joke or completely ignored you. It was hurtful but it was rarely devastating.
Strong Opinions without Damaging Words
The election will be over in a few days. There are strong feelings on both sides, no doubt about that. Still, it's not worth shredding someone or losing friends because of your view. If you can't allow someone else to have a different opinion without name calling or resorting to ugliness don't try to come back and tell the world how empathetic you are and how much you care about people. This time next week we'll know. By this time next week we'll be back to posting pictures of our lattes and cookies. We'll be ready to get back to normal life.
Some of the things that have been said in anger won't be going away.
I don't know. Politeness goes a long way but over the last few weeks I've learned that when politeness fails there's always cocktails... like this maple syrup old fashioned!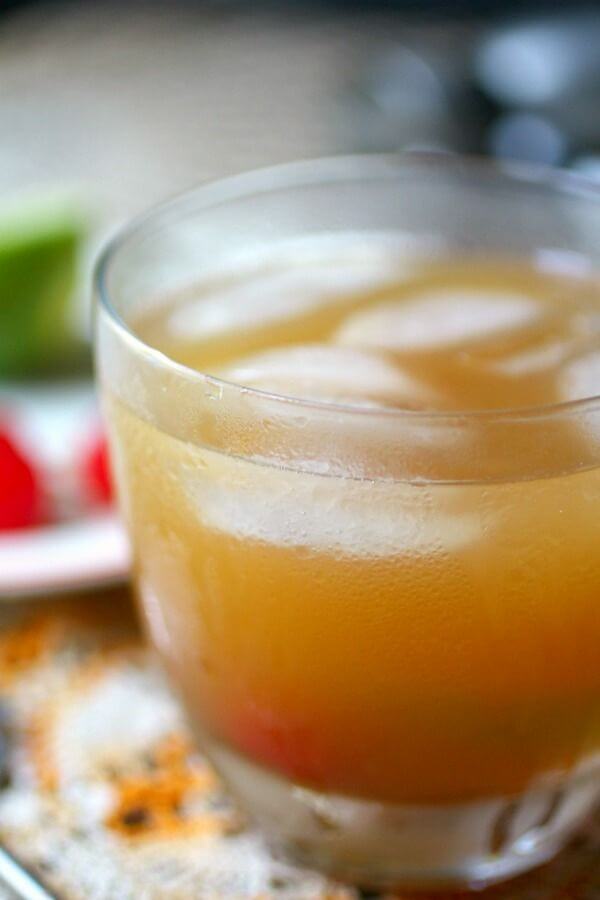 Use a really good bourbon. I use a bourbon from a Texas distillery that I like a lot. If an old fashioned tastes bad nine times out of ten you've chosen a cheap bourbon. An orange slice would have been a better garnish than the lime but honestly I didn't have an orange but I DO have a plethora of limes.
Maple and bourbon are good autumn flavors and they go together beautifully in this maple syrup old fashioned. Give it a try and let me know your thoughts.
YOU MIGHT NEED…
The following are affiliate links. We are a participant in the Amazon Services LLC Associates Program, an affiliate advertising program designed to provide a means for us to earn fees by linking to Amazon.com and affiliated sites.
Orange bitters really take this cocktail over the top. So good!
Maple Syrup Old Fashioned Cocktail
This maple syrup Old Fashioned is as comfortable as your favorite flannel shirt and old jeans! There's nothing fussy or pretentious about it - just pure bourbon and maple goodness! If you love this recipe please give it 5 stars.

📖 Recipe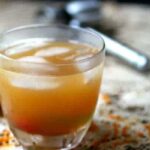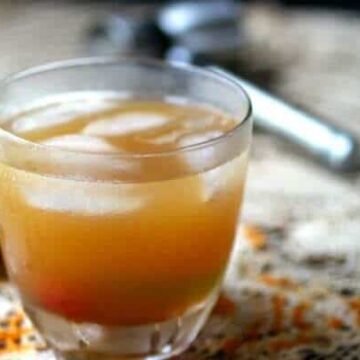 Maple Syrup Old Fashioned Cocktail
Print
Save
Saved!
An autumn flavored old fashioned cocktail. This maple syrup old fashioned is a twist on the classic cocktail. Maple adds sweetness and flavor.
As an Amazon Associate I earn from qualifying purchases.
Ingredients
3

ounces

bourbon

1

ounce

maple syrup

1

ounce

orange juice

Squeeze of lime

2

ounces

to 4 ginger beer

2

dashes of orange bitters

2

Maraschino cherries

Lime wheel

Ice
I earn a commission from Instacart from qualifying purchases.
Instructions
Stir the bourbon, maple syrup, and orange juice together in a glass.

Add a squeeze of lime and 2 dashes of orange bitters.

Add the ice.

Pour in the ginger beer.

Drop in 2 Maraschino cherries and garnish with the lime wheel.
Notes
Use an orange wheel instead of the lime if you like.
You'll find more helpful tips and variations in the body of the post.
Nutrition information is estimated as a courtesy. If using for medical purposes, please verify information using your own nutritional calculator. Percent Daily Values are based on a 2000 calorie diet.
Sign up for the emails and never miss another recipe!!
We'll never share your email or send you spam. Pinkie swear.
If you liked this Maple Syrup Old Fashioned recipe you may also like these Restless Chipotle favorites...
From left to right: Pumpkin Spice Daiquiri, Bourbon Peach Tea, Clementine Kentucky Mule