I'm bringing a rum cocktail to #SundaySupper this week in a big way. This frozen banana daiquiri recipe is one I've refined over the years until it is sweet, refreshing perfection just like a Caribbean cruise! Bruleed banana gives this fun tiki drink a unique punch of flavor. Get ready to relax and dream of warm Caribbean beaches, y'all!
For this frozen banana daiquiri you'll need: spiced rum, banana liqueur, pineapple juice, lime juice, simple syrup, chipotle in adobo, ice, (Angostura bitters and dark rum optional for the float on top)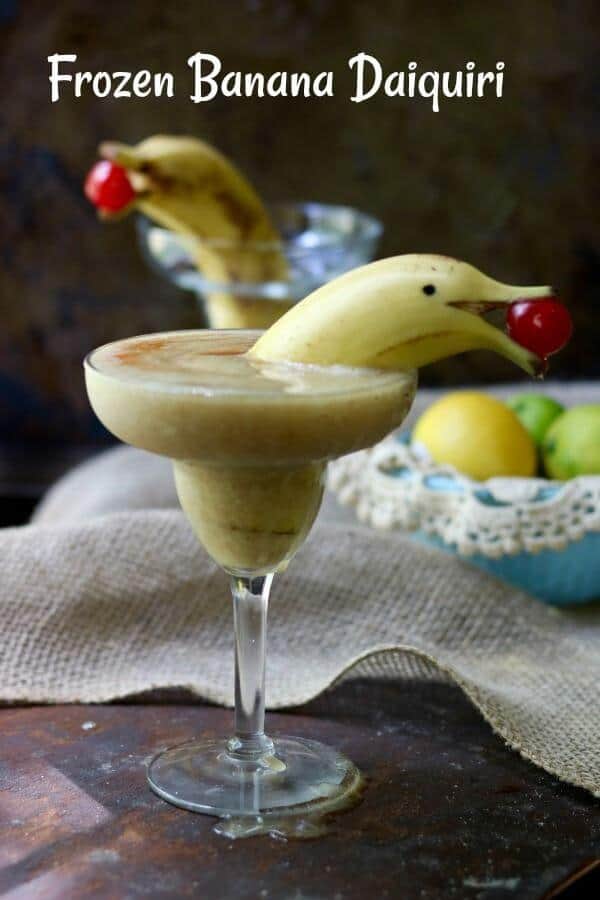 When I think of sipping a cocktail I don't think of leaning on a bar Madmen style -- I think of sitting on the balcony of a cruise ship watching the clouds float by and listening to the turquoise water tapping out a melody on the sides of the ship. Of course, you have to listen really close because, depending on where your cabin is, your fellow passengers are often more interested in being loud than listening to the soft sounds of the water.
I am one of those immature people that likes girlie drinks. Sweet, slushy, creamy... and served in a tall glass with an umbrella at the top! If they're a pretty color so much the better!
According to Wikipedia daiquiri is a rum cocktail that was invented by an American mining engineer, named Jennings Cox, who was in Cuba at the time of the Spanish–American War. It's thought that William A. Chanler, a US congressman who purchased the Santiago iron mines in 1902, introduced the daiquiri to clubs in New York in that year. We know that the author, Hemingway, loved the drink so much there is a version that was named after him. Y'all, this classic cocktail has been held by more famous people than...
Nah. That would be tacky.
The thing is that it more or less lost favor and celebrity status sometime in the late 1970s. The daiquiri purists will tell you that this is not a daiquiri because of the excess ingredients. To me that's like saying that your mom isn't your mom because she put on a little lipstick. Sometimes you just have to gild the lily. This frozen banana daiquiri cocktail does just that.
A little lily gilding. A little fancy-ing up of the classic rum cocktail.
So, classic cocktail aficionados and daiquiri purists you might want to move on. You won't like what you're about to see.
I don't drink much on cruises because those cocktails are expensive! I may treat myself to one or two but thats about it. There's so much to do besides drink and gamble... And who goes on a cruise ship to sit at a slot machine anyway? It's crazy! Every cruise we've been on there are just scads of people sitting in the interior of the ship gambling, drinking, and smoking (it's usually the only place on board that you can smoke). If that's what they go to do I don't understand why they don't just take the red eye to Las Vegas. It seems like it would be cheaper -- or maybe not.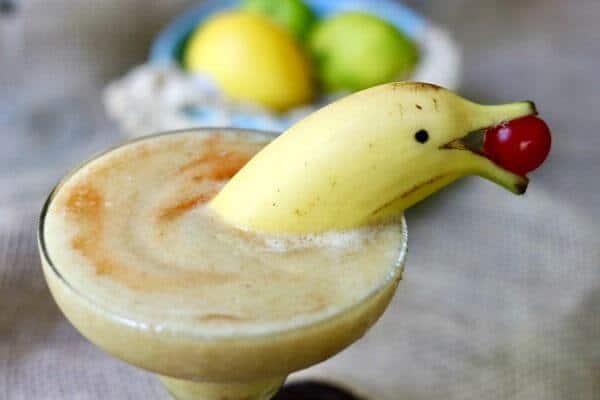 It just seems sad to be surrounded by all of the opportunities for adventure and choose to spend your time that way. I'll tell you though, I had one experience that made me strongly consider staying on board and hitting the casino myself!
A few years ago we took the kids that still lived at home on a 5 day cruise to the Western Caribbean. It was my second cruise and the kids' first cruise and we were really looking forward to the experience. My husband has been on at least a billion cruises but he loves them and doesn't mind revisiting the places he's already been.
Well, this particular time the kids and I were going snorkeling and my husband was going to take the chance to scuba dive. We went our separate ways and planned to meet back on board for dinner. I have to tell you I was a little nervous about being on my own with the kids but as we got closer to the snorkeling area I got more excited.
After a brief introduction and instruction time we went out into the water and pretty much entered a whole 'nother world. It was so peaceful and SO beautiful! The main irritation was we kept swimming through clouds of minuscule baby jellyfish that you could barely see with your eyes but you'd get these zaps of sting.
Once it was over we came back on shore and dried off then shopped for a little bit. Dear Lord, I caught sight of myself in a shop mirror and I looked like the sea witch from The Little Mermaid. My hair hung in wavy strings because it was so inundated with salt and sand, my waterproof mascara had given up trying to stay put and it ran down my face in Alice Cooper-esque streaks of black. My nose was burnt, my shoulders were burnt, and my bathing suit cover up slapped wetly around my legs like a flag in a thunderstorm.
It was not a pretty sight.
I cleaned up the mascara problem as best I could with spit and my beach towel then we headed back to the ship and got in the line to get onboard. I felt like I was doing great at the adulting thing because we were on time AND I had all the kids with me plus we'd shopped and picked out little gifts for our friends.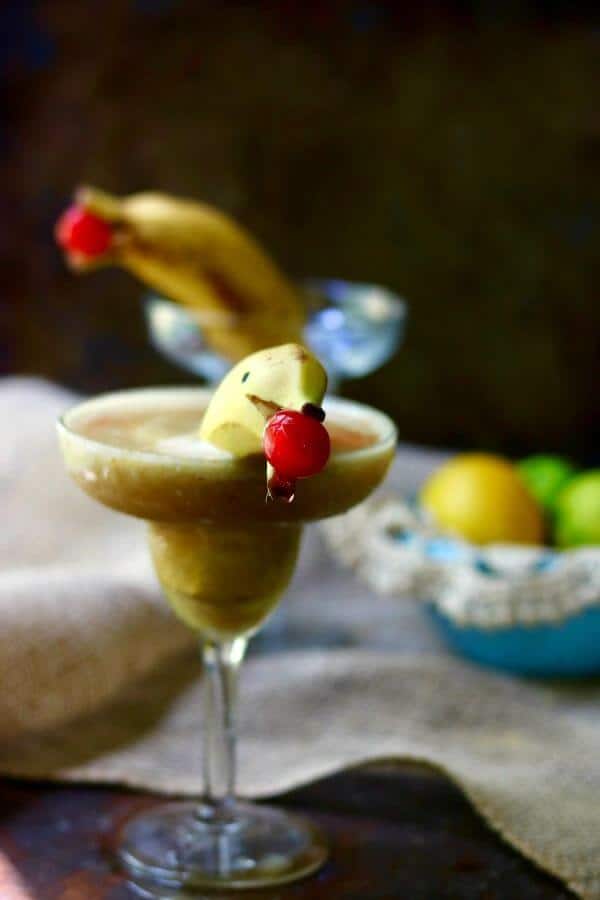 I have an unhealthy fear of being left behind. Being out away from the ship scares me to an extent because I'm afraid I lose track of time and end up on the dock watching the back end of the cruise ship on the horizon line.
So being a responsible mom I sent the kids through security first. I confidently stepped up to the security checkpoint and handed them my ship ID. She scanned it, looked at me, looked at the picture that came up on the computer, and looked at me again.
"This isn't you, ma'am."
I swear to you every adult cell I had in my body turned tail and ran leaving me standing there on jelly-legs with all of the cells of a guilty 7 year old. My voice quavered, "Yes, that IS me."
"No ma'am". Step over to the side please."
Well, my kids' eyes were as big as saucers as I moved over to the holding area while they stood uncomfortably in the ship, not really knowing what to do.
"Go back to the rooms and get ready for dinner," I choked out with as much confidence as I could stir up. I wanted to say, Mommy will always love you - even if I am in a Central American jail cell. Even in my stressed state I knew that the kids were old enough to roll their eyes at the drama of that so what I said was, "I'll be there as soon as I can."
My 18 year old son stepped back to be by my side and my 16 year old took the other three back to the rooms. Well, long story short they called in the head of security for the ship and he let me through. I more or less held it together until my husband got back and when he walked through the door I ended up in a blubbering heap on the floor trying to sob out my story - with my son translating.
I treated myself to a cocktail or two or ten that night and I'll tell you - this frozen banana daiquiri would have been just the thing to soothe my frazzled nerves.
Make the Garnish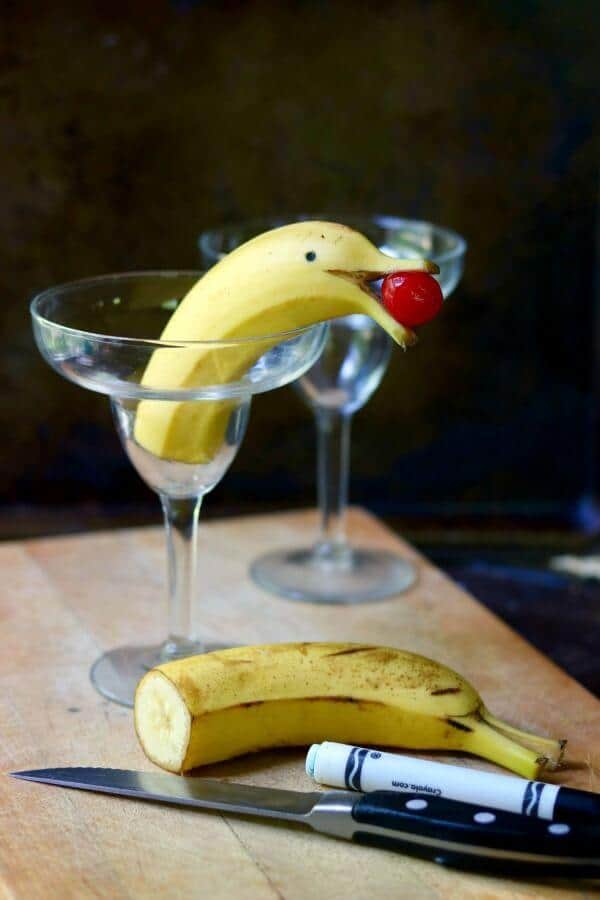 The garnish I've used is SO cute, isn't it? It's super simple, too. I'll try to get a video done this week so you can see how it's done.
Cut about 3 inches off the bottom end of a banana leaving the peel intact.
Slice the stem in two pieces to create the "mouth" but don't cut into the banana.
Use a sharpie to add dots for eyes.
Push a maraschino cherry into the mouth.
Push into margarita glasses then fill with the cocktail.
Variations on this Banana Daiquiri Recipe
So, this frozen banana daiquiri is a yummy rum cocktail exactly as written but there are a few variations I've come up with over the years you might like to try.
Use orange juice instead of pineapple juice
Substitute half the banana with frozen strawberries or peaches
Add a tablespoon of heavy cream
Float blue curaçao on top instead of the rum
Use creme de cocoa instead of the pineapple juice - but keep in mind the drink will have 1 ounce more alcohol
Use a coconut cream like Coco Loco in place of the simple syrup and juices
For a virgin version leave out the alcohol and simple syrup and use 2 ounces of Coco Loco plus 3 extra ounces of pineapple juice
YOU MIGHT NEED…
The following are affiliate links. We are a participant in the Amazon Services LLC Associates Program, an affiliate advertising program designed to provide a means for us to earn fees by linking to Amazon.com and affiliated sites.
What's new? Check out my Restless Chipotle & Co. Store on Amazon where you'll find all kinds of nostalgic goodness! Thanks so much for being a part of Restless Chipotle!
Everyone could do with a few more umbrellas in their life! Cocktail umbrellas that is... If you never can get your favorite cocktails to taste like the ones you buy then you might be missing the bitters.

Frozen Banana Daiquiri Recipe
Too rich and creamy? For a lighter, but still very tiki, cocktail how about this bright, Caribbean blue drink?
I have to give a big thank you and a shout out to Christie from A Kitchen Hoor's Adventure for hosting this week's #SundaySupper! Be sure to check out all the great recipes linked below the frozen banana daiquiri recipe below.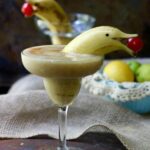 Frozen Banana Daiquiri
Print
Add to Collection
Go to Collections
Smooth and creamy, this tiki style drink will whisk you away to warm, sunny beaches and blue skies -- even if you're really sitting in a crabgrass filled yard with your feet in a kiddie pool.
As an Amazon Associate I earn from qualifying purchases.
Ingredients
Bruleed Banana
1/2

teaspoon

brown sugar

1

banana
Daiquiri
2

ounces

spiced rum

1/2

ounce

banana liqueur

1

ounce

pineapple juice

1/2

ounce

lime juice

3/4

ounce

simple syrup

1/2

teaspoon

chilpotle in adobo

,

,mash to a paste

1/3

cup

ice

Dark rum and Angostura bitters for float

,

optional
Instructions
Bruleed Banana
Sprinkle brown sugar on the banana.

Using a torch, brulee it until the sugar is melted and bubbling and the banana has caramelized a little.
Cut into chunks and freeze.
Diaquiri
Combine all ingredients except the dark rum and Angostura bitters in a blender.

Blend at low speed for a few seconds then high speed until smooth.

Finish with a float of dark rum and some Angostura bitters, if desired.
Nutrition
Calories:
306
kcal
|
Carbohydrates:
54
g
|
Protein:
1
g
|
Sodium:
56
mg
|
Potassium:
459
mg
|
Fiber:
3
g
|
Sugar:
40
g
|
Vitamin A:
75
IU
|
Vitamin C:
17.3
mg
|
Iron:
1.1
mg
Sign up for the emails and never miss another recipe!!
We'll never share your email or send you spam. Pinkie swear.
If you liked this frozen banana daiquiri cocktail you may also like...