If you are looking for a special cocktail this Key Lime Pie Margarita might just be it. It's creamy, tangy, and sweet just like your favorite Key Lime pie but it definitely has that margarita kick to it! Perfect for Cinco de Mayo or any of your summer parties!
For this recipe you'll need: Reposado Tequila, Midori, coconut rum, key lime juice, sweetened condensed milk, pinch of confectioner's sugar, lime slices, ice, a blender, green sugar or graham cracker crumbs for the rim of the glass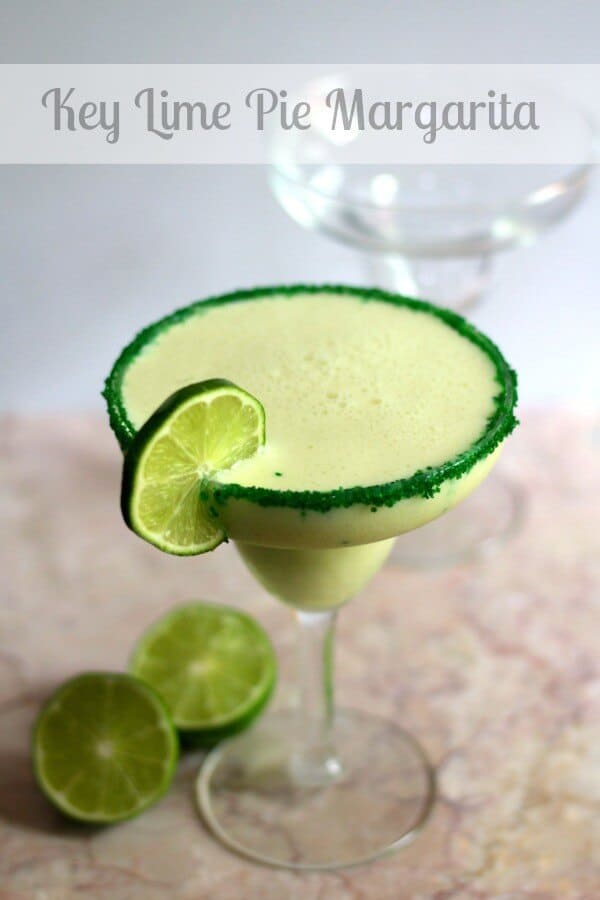 Key Lime Pie Margarita Is Calling Me
I will be the first to admit that I don't really love regular margaritas -- I want mine sweet, slushy, and as large as possible so that I don't have to get up from my chair to refill it very often. This margarita is sweet, creamy/slushy, and you can make it as big as you want. It is SO good with tangy lime, creamy vanilla, and a touch of coconut flavor that it's almost a dessert. I was making them this morning and trying to get it exactly right for the pictures. At my house the BEST time for me to take pictures is between 9 am and 11 am so you can see the problem, right? I am finishing this post and heading to the gym so the yummy margarita I made is staring at me from across the table as I write. There's no way I'm getting through shoulder day after drinking a margarita so it will have to wait until later.
So tempting. I mean, it's practically a lime version of an Orange Julius, right? Breakfast smoothie? No?
In November I was at my stepdaughter's birthday party with my husband. The party was hosted by my husband's ex-wife and his ex-sister-in-law. It's really kind of crazy but he and his ex have managed to remain friends through it all. Sometimes it makes me super uncomfortable but she is very sweet and includes me in everything. I always have mixed feelings because on the one hand I like her a lot but on the other.... my husband's ex-wife. I mean... you know... she's been there before. Kinda weirds me out.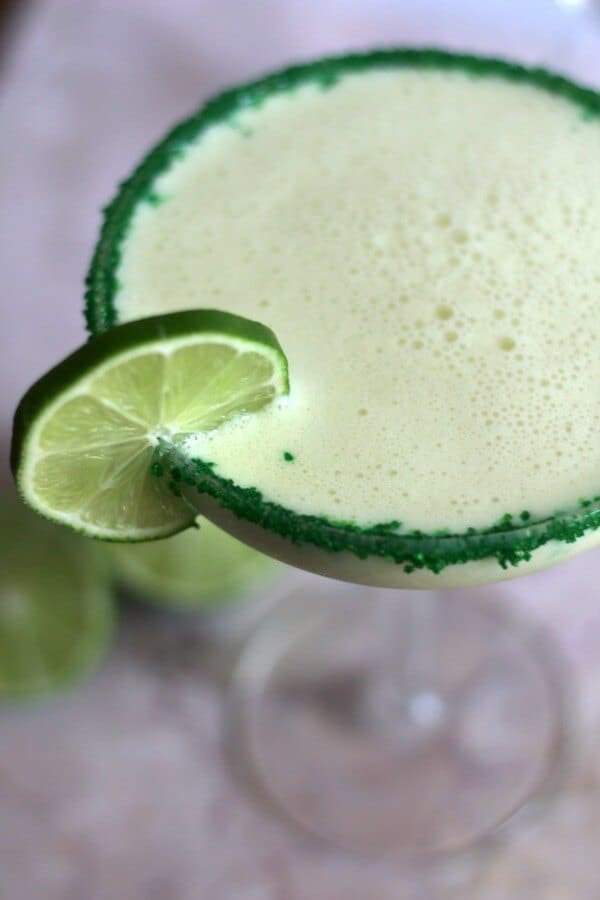 ANYWAY, the point is, we were at this party at a little Mexican restaurant that served margaritas. Side note, I always wear heels when I am going out... and by heels I mean generally 4 inches or more. I figure if I can still walk in stilettos I haven't drank too much...
So, my husband's ex-sister-in-law was like, "You have to try their margaritas!"
So I did. They were the plain, lime kind with ice but not slushy. They didn't seem TOO strong. Only they kept ordering them for me... I tested my heels once or twice and I thought I was ok. When I got up to leave I felt the margaritas hit me but I felt pretty stable. I did knock my chair and a glass of water over BUT that was my lack of grace more than my having too much to drink. I walked (on heels, mind you) out to the car and got in -- still felt kind of light-headed but pretty much ok.
In fact I felt pretty much ok until I got home, went to the bathroom, threw up everywhere, and then passed out in the bed. Sigh. Margaritas.
SO when you drink margaritas stick to the girly, slushy, sweet ones because you start feeling full before you've had THAT many... at least in my experience.
You May Need...
The following are affiliate links. We are a participant in the Amazon Services LLC Associates Program, an affiliate advertising program designed to provide a means for us to earn fees by linking to Amazon.com and affiliated sites.
What's new? Check out my Restless Chipotle & Co. Store on Amazon where you'll find all kinds of nostalgic goodness! Thanks so much for being a part of Restless Chipotle!

I have used a lot of different ingredients, and many times I do choose the generic or lesser known brand. When it comes to sweetened condensed milk, though, it's Eagle Brand all the way. They have NOT paid me... I just am very loyal to the product. Also, be sure to use KEY LIME juice not just lime juice. It really does make a difference! Finally, I love my ceramic knives for cutting things quickly and evenly, like the lime slices for this drink. These are on sale and a really good deal.
Key Lime Pie Margarita Recipe
Just in time for Cinco de Mayo and all of your summer barbecues I present to you - The Key Lime Pie Margarita!
If you love this recipe please give it 5 stars!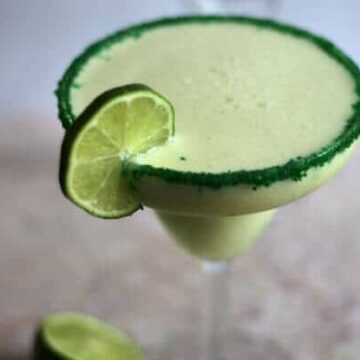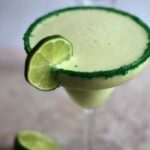 Key Lime Pie Margarita
Print
Add to Collection
Go to Collections
Creamy, tangy, and sweet this slushy margarita tastes like your favorite key lime pie! This makes 2 small margaritas or 1 grande! Difficulty level 1/10
As an Amazon Associate I earn from qualifying purchases.
Ingredients
3

ounces

Reposado tequila

2

ounces

sweetened condensed milk

1 ½

ounces

Midori

1 ½

ounces

key lime juice,

or more...depends on your taste

1

ounce

coconut rum

½

ounce

vanilla vodka

Generous pinch of Confectioner's Sugar

Ice

Green sugar or graham cracker crumbs for the glass rim

Sliced lime for garnish
Instructions
Mix the tequila, sweetened condensed milk, Midori, key lime juice, coconut rum, vanilla vodka, confectioner's sugar, and about 6 ice cubes in the blender.

Blend until smooth.

Meanwhile dip your fingers into some of the sweetened condensed milk and run it around the tops of the glasses.

Roll the rims in green sugar crystals or graham cracker crumbs.

Pour the Key Lime Pie margarita in the glasses and garnish with the sliced lime.
Nutrition Facts
Calories:
300
kcal
|
Carbohydrates:
25
g
|
Protein:
3
g
|
Fat:
2
g
|
Saturated Fat:
2
g
|
Cholesterol:
10
mg
|
Sodium:
37
mg
|
Potassium:
130
mg
|
Sugar:
24
g
|
Vitamin A:
76
IU
|
Vitamin C:
7
mg
|
Calcium:
81
mg
Sign up for the emails and never miss another recipe!!
We'll never share your email or send you spam. Pinkie swear.
If you liked this Key Lime Pie Margarita you may also like...
Sunset Margarita Will Cook for Smiles
Blue Margarita The Weary Chef